I haven't put together a tablescape in a hot minute, but I figured an invitation to participate in a blog hop was a good enough excuse. I put together some Valentine's day table decor using soft purples and pinks, and of course the promise of many desserts.
Flip to the bottom to check out the list of other bloggers participating in the hop. Next on the list is: Katherine's Corner.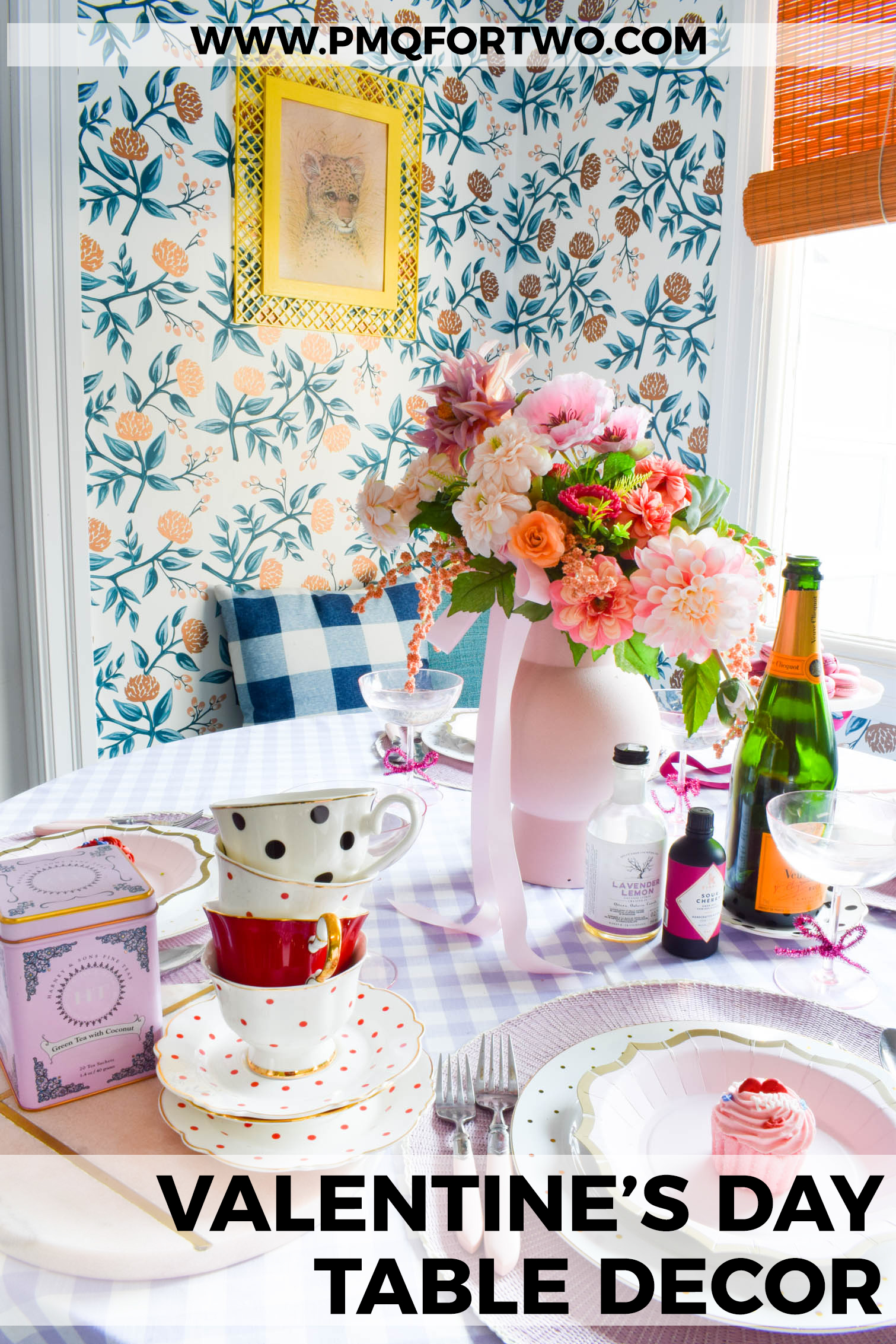 Thank you to Chloe for the invitation and the kick in the pants that got me to set a table again! Instead of just eating off a plate while standing in the kitchen.
Valentine's day Table Decor Ideas
I've done all of kinds of table decor themes, but for Valentine's day I wanted to keep things simple and purple… and pink.
Purple Table Decor
Purple is definitely having a moment in my house. Soft shade of lilac, raspberry, ultra violet etc. I'm here for it. Little did I know I've been collecting purple pieces for a while, so this was a natural choice for a colour palette.
Simple Place Settings
I've had some pretty ornate ones, but for a dessert dinner – what else do you eat for Valentine's Day Dinner – I wanted to put out enough cutlery for every conceivable kind of dessert: cupcake, icecream, pie, cookies. You can never be too prepared.
Valentine's Day Beverages
I love the fancy curves of a tea cup, so I've got a few ones out, along with some tasty tea. Even if someone just wants to drink chocolate syrup from one, I'm down with that.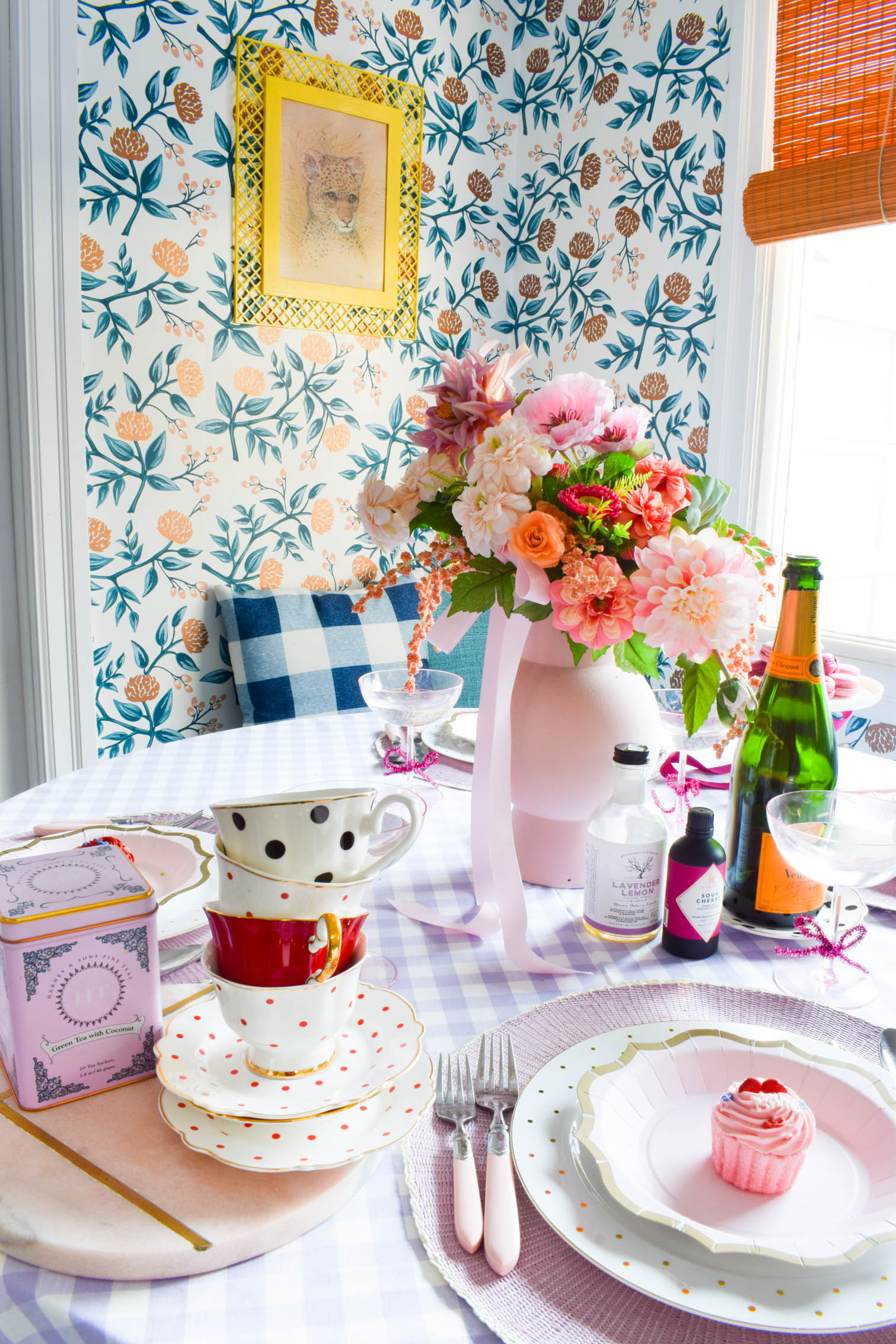 I also put out some champagne. There should always be champagne! I thought my guests might enjoy Sour Cherry and Lavendar Lemon syrups as a fun punch to the bubbles.
Pink Feminine Floral Centerpiece
I used a similar display in my Derby Day themed baby shower, and even added another pink bow.
Bow Champagne Coupes
I used little pink pipe cleaners to tie bows around the stem of my champagne coupes. These are from Sugar & Cloth , and I've had them for a few years now. Even though they're disposable, I give them a good wash after each use.
I even added a bow to the macaron dish! Stop me before I put bows on everything.
Even though this tablescape isn't nearly as ornate as some I've done in the past, it's simple and feels right. The perfect setting for an intimate dessert shmorgasbord.
Make sure you check out the others in the hop!
Celebrate and Decorate
Home and Gardening With Liz
Debbee's Buzz
Panoply
Bluesky at Home
Red Cottage Chronicles
Living With Thanksgiving
Home is Where the Boat Is
Everyday Living
Corner of Plaid and Paisley
My Family Thyme
Intelligent Domestications
White Arrows Home
Life and Linda
My Thrift Store Addiction
Calypso in the Country
PMQ for Two
Katherine's Corner
Create With Cynthia
Sweet Sensations
Our Crafty Mom
The Painted Apron
The Little Yellow Corner Store