You guys! Our Butterfly Wallpaper Entryway makeover is finally done. In the process I acquired some new pieces, did stage 1 of our entryway closet makeover, and brought our main floor to 90% completion!
This is another one of those projects where I deluded myself into thinking I could crush it in a weekend, and then realized I'm now apparently indecisive, and it took like a month. When did this happen? oh ya, when I had a baby and realized I can't devote 48 straight hours to to anything, let alone 3 hours.
*Spoonflower, Ruggable, Golden Select & Velux sponsored this post, but all thoughts are my own. Thank you for supporting the brands that make PMQ for two possible.
Butterfly Wallpaper Entryway
Our main entryway hallway was kind of a mess. It's been the thoroughfare for many of our projects, and the ugly pink carpeting was just gross. It had been there forever, so we were keen to rip it out.
I wanted to bring fresh colours, fresh vibes, and some butterfly wallpaper to our entryway, as a way of tying in all the florals we have in the house. Flowers and butterflies go together right?
This is what we started with (see below), well, actually there was wallpaper but I tore that out the first month in this house.
See how it feels narrow, and dingy, and cramped? No bueno. It clearly doesn't jive with the rest of the house.
Butterfly Hallway Makeover Plans
The plan was to lay down new Golden Select flooring to match dining room, mud room, and nursery (and eventual rest of the house), add two Velux Sun Tunnels, paint, and add some fresh flair to match the house vibe.
Pre-pasted Butterfly Wallpaper
The Watercolor Butterfly Wallpaper print was one from My Giant Strawberry, an artist on Spoonflower, which I had saved on several boards over the years.
I created a whole collection with other patterns and prints, so once I settled on that one, I sourced some art prints, paint and two runners from Ruggable.
Installing the Butterfly wallpaper
Having installed wallpaper a few times now, using the pre-pasted wallpaper from Spoonflower was easy. I followed the instructions written on the packaging, and it took me a few hours to do the entire space while listening to podcasts. It was pretty chill.
Working around the sconces was tricky, but I didn't feel like having the electricians over to un-wire them, and then re-wire them, so I just kinda let them hang while I worked around them.
The console table had to come down, so as I pasted over the anchors I made sure to poke little holes in the wallpaper so that I would be able to easily find them when I re-installed the table.
If you're like me, you've seen the ads on the internet and thought "rugs that go in the washing machine?"
Let me tell you, in a house with 2 cats, one dog, a baby and two adults, we have a lot of traffic going up and down that hallway. I need something I can easily clean, but also something that won't slide all over the place when Bruce goes running down the hallway, and it has to be stylish too.
The Ruggable runners intrigued me, so I partnered with them to test drive two of them. We've had them in the space for 3 weeks now, and they're pretty amazing. They clean as easily as promised, stay down, and are holding-up nicely to traffic.
I'm definitely going to consider them for other high traffic areas like the mudroom, and the basement patio door. Here, we've got the Broken Stripe (in black) rugs.
Use code: FUNPMQ15 for 15% off a Ruggable of your choice!
Velux Sun Tunnels
I'll have a whole other post outlining more information about them, sit tight! In the meantime, I can tell you that they are a cost-efficient way of adding natural sunlight to a space where you might have otherwise added a pot light or wall sconces.
These went in shortly before Christmas, but since nothing else was complete I've waited until now to showcase them.
Much like the skylight in the kitchen, we absolutely love them, and can't wait till all the summer light is streaming in through them.
Golden Select Flooring
This was a labor of love right before Christmas as well. Dan did the flooring over the course of a week leading up to the holidays. We've done an extensive installation guide post with the dining room, so check that out!
Butterly Wallpaper Entryway
I won't make you scroll much longer, here's the revealed space! I painted the walls in the hallway a lovely shade of blue, but I'm not sure if I'll keep them this shade. I think it might be too light as a transitory space. We'll see once I've lived with it a bit longer.
Let's all collectively appreciate the majesty that is, the completed butterfly wallpaper entryway. I'm so happy with how it turned out.
This lovely piece hangs across from the mirror in the entryway. It's a beautiful piece I found at my local Homesense. The colours are a lovely compliment to the water colors in the butterfly wings.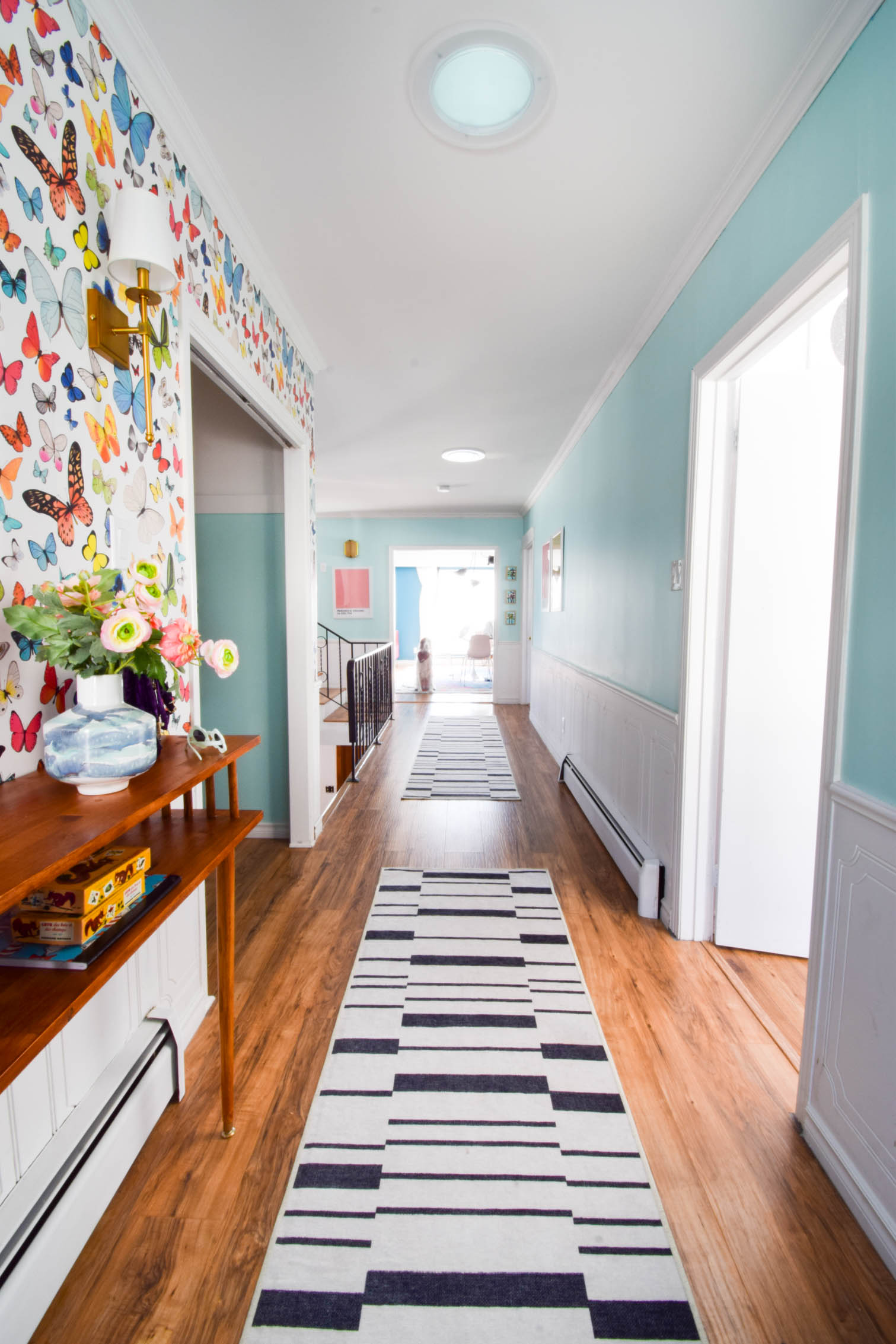 I transformed the closet area we had. When we re-did the floors, we took the doors off their hinges. It left a big hole, and we have plans to finish it similarly to the mudroom, with beadboard. We haven't gotten around to it yet, but we added hooks and a bench.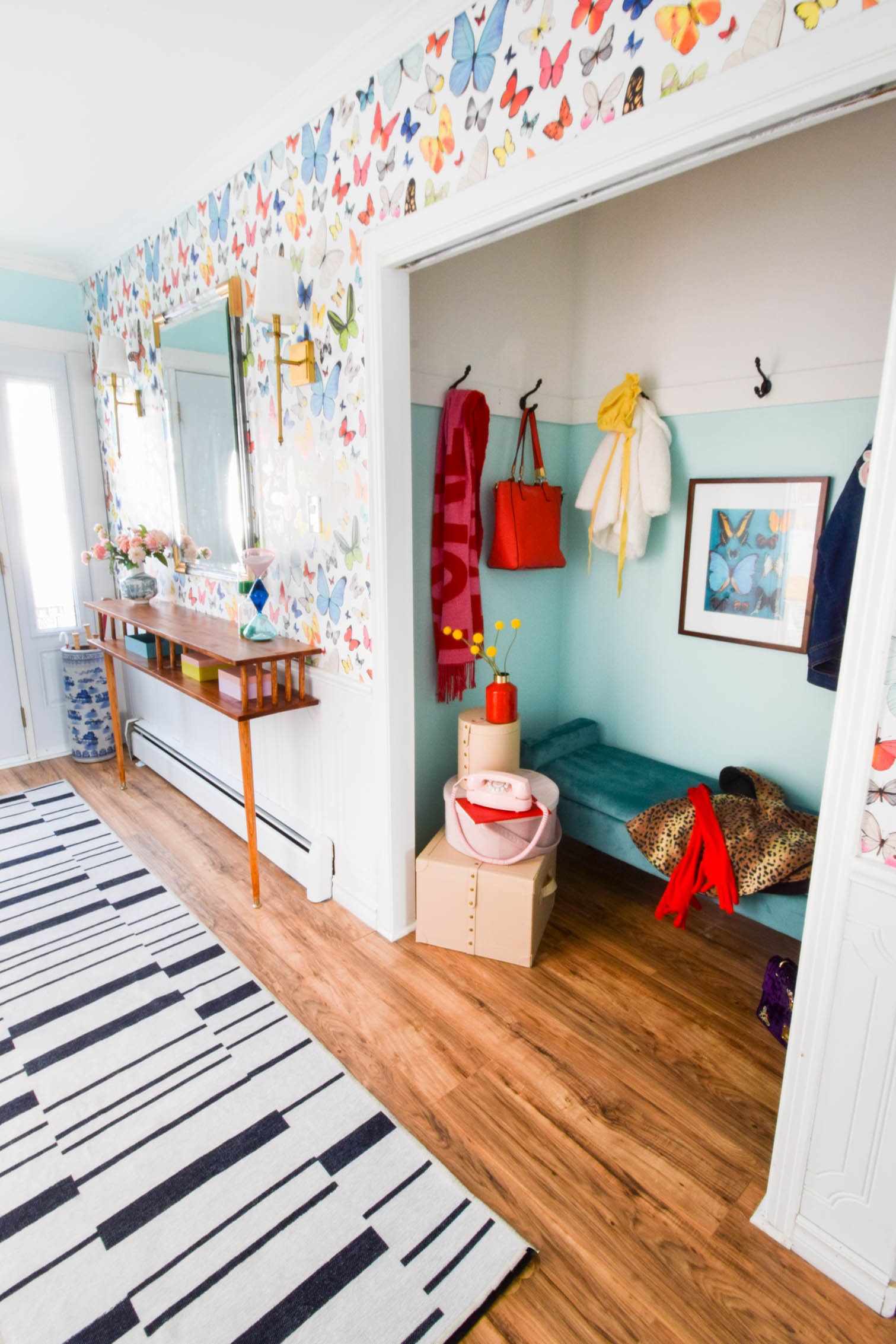 Don't mind me, I'm just being fancy and ordering plane tickets for a jet-setting voyage around the world with the whole fam.
I love that with the runners, they go the length of the hallway, and are a compliment to the design, instead of a distraction.