We made it! We completed another One Room Challenge, and our colourful vintage laundry room and mud room is perfectly useful. While the space has been done for a few weeks now, our final missing pieces arrived and the space has been functioning at full utility for a while now.
Make sure you go check out the link-up with all the other linking participants in this edition of the ORC, and check out what the official ones are up to. I've got more than a few friends participating this time around, and I'm so excited to see what they get up to.
* Blanco, BEHR Paint, Home Depot, Alexandria Moulding, Emtek & Hudson Valley Lighting sponsored this post, but all thoughts are my own. Thank you for supporting the brands that make PMQ for two possible.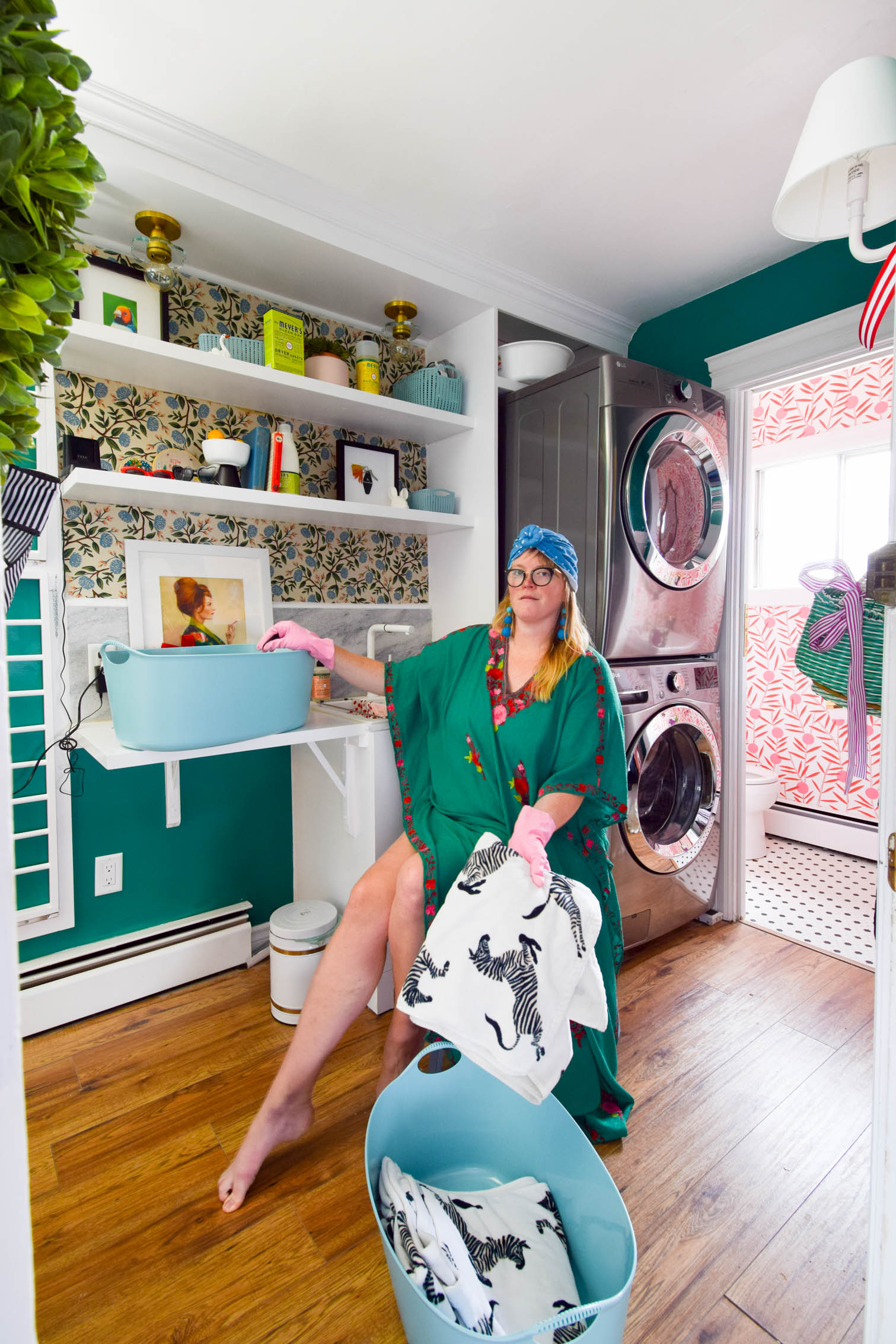 To be honest, I've shown off a lot of this space already, so I'm going to use this reveal post to showcase some fun elements, and of course, my love of all things campy.
If you look at the photos, and think to yourself "gee, the lighting is different in a few of these photos," it's because it is. We have a baby and I can't do a mega shoot in a day anymore, instead they're broken up over several days.
Floor plan for a shared mudroom and laundry room
When we started the powder room this summer, we had to lay a lot of ground work for the mudroom and laundry room, and we're so glad we did.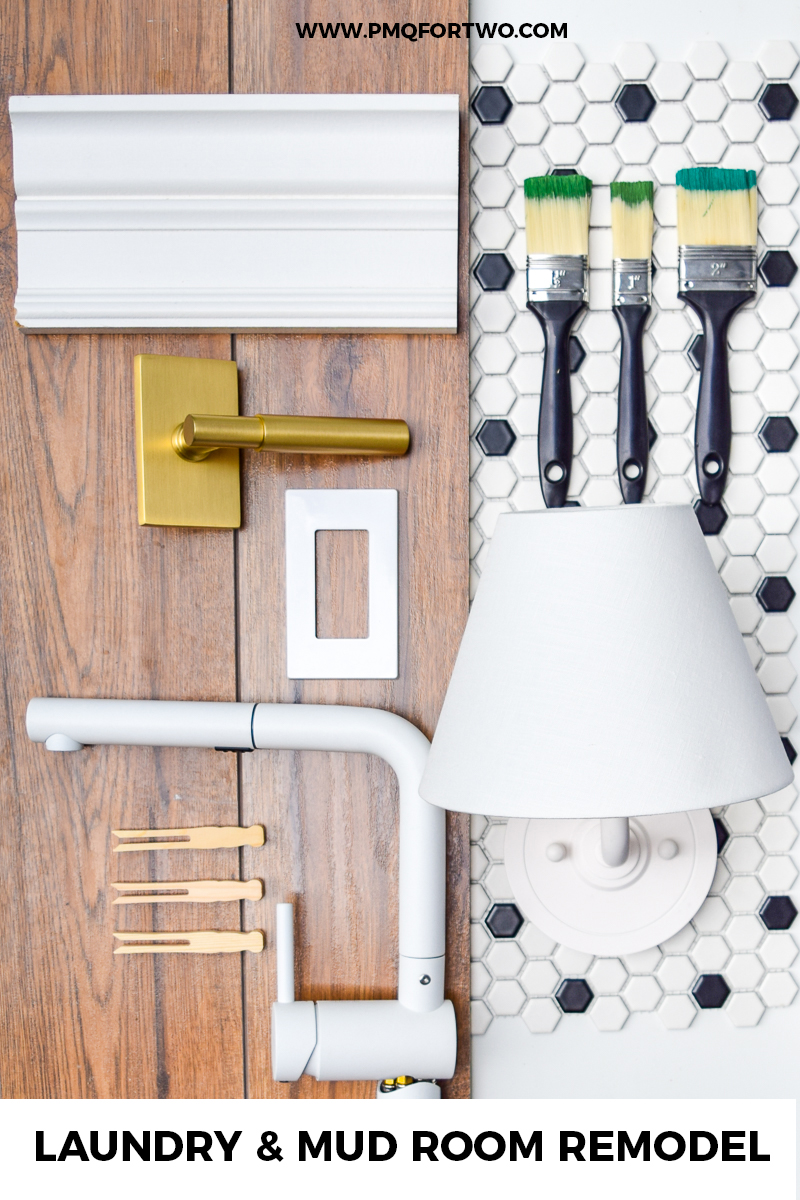 As you can see from the after, we combined spaces, created new ones, and streamlined everything.
It also meant moving hook-ups, water lines and more. In the end it was totally worth it.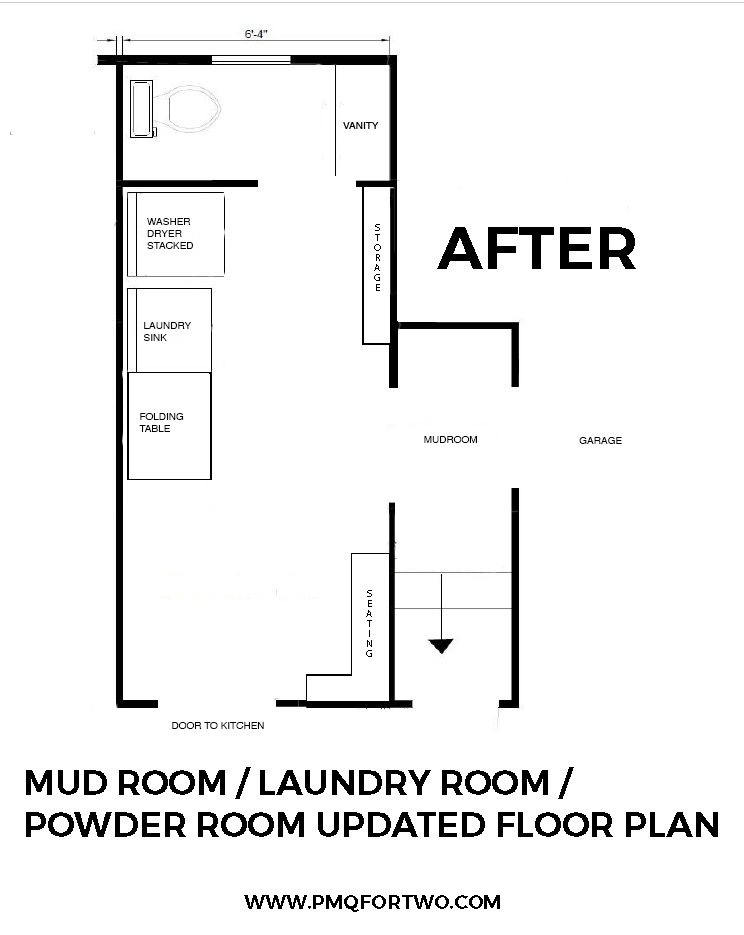 The Retro Mud Room

I'm a tall lady (6′) so with heels on, you can see spoiled we are with ceiling height. The shelving is all the way at the ceiling so that it doesn't interfere with seating on the bench.
Velvet Storage Bench
The new addition to this corner – the final piece – is this blue bench from Home pop. I've got a direct link in the sources section at the bottom of the post. It has super handy storage, because the main part lifts up! How neat is that.
Mud Room Storage and shelving
We Added the shelving above this area, as a way to store baskets and items that don't quite live in the garage, or the kitchen. It's working for now!
Beadboard walls
The Mud room side of things is super practical. We added bead board along the walls because of how durable it is, and how easy it is to keep clean.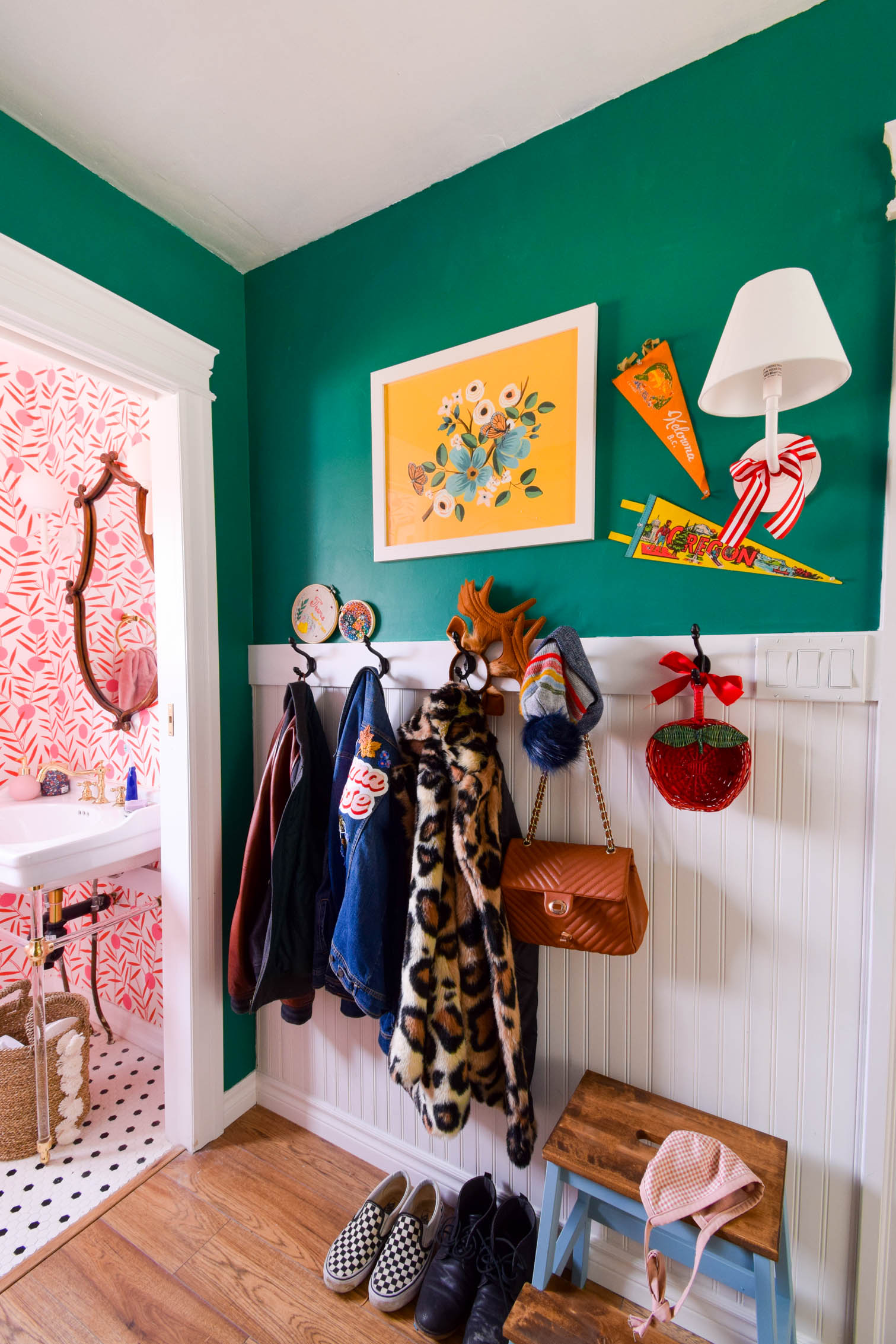 The Vintage Laundry Room
This side of things started off really strong, and then I held off on showing it until we had the missing sconces! It sat 99% complete when I showed you guys how to hang fabric as wallpaper, and is now 100% complete.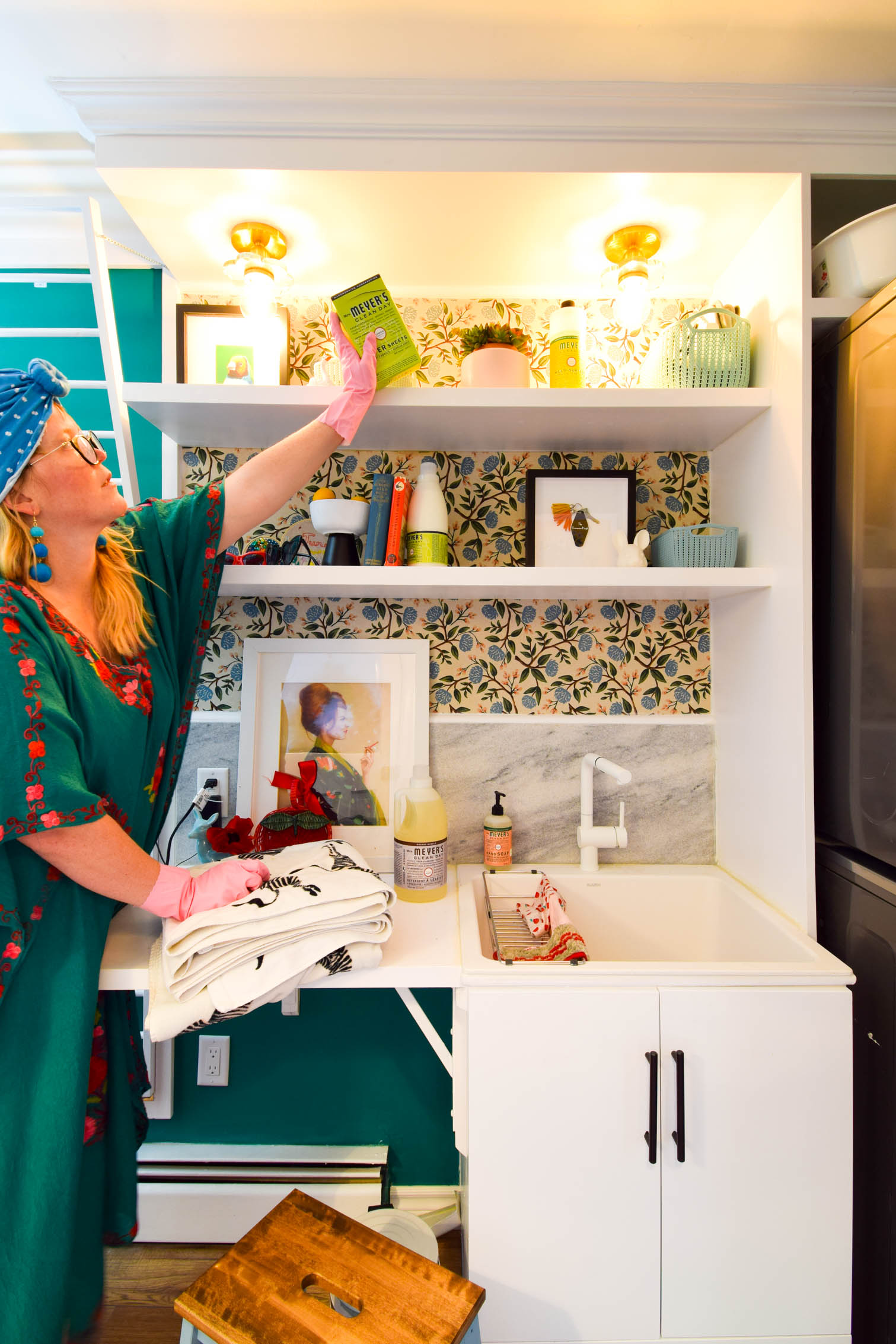 Check out why we love our BLANCO LIVEN laundry sink
Laundry Drying Rack
Our custom drying rack is amazing. With the two levels, we have the ability to hang many things, and in different ways! It hols a million baby onesies, or a mix of adult and baby clothes.
Laundry Room Sink
No surprise here, we used a BLANCO sink for the laundry room. Their LIVEN sink is made of the same material as the farmhouse sink in the kitchen.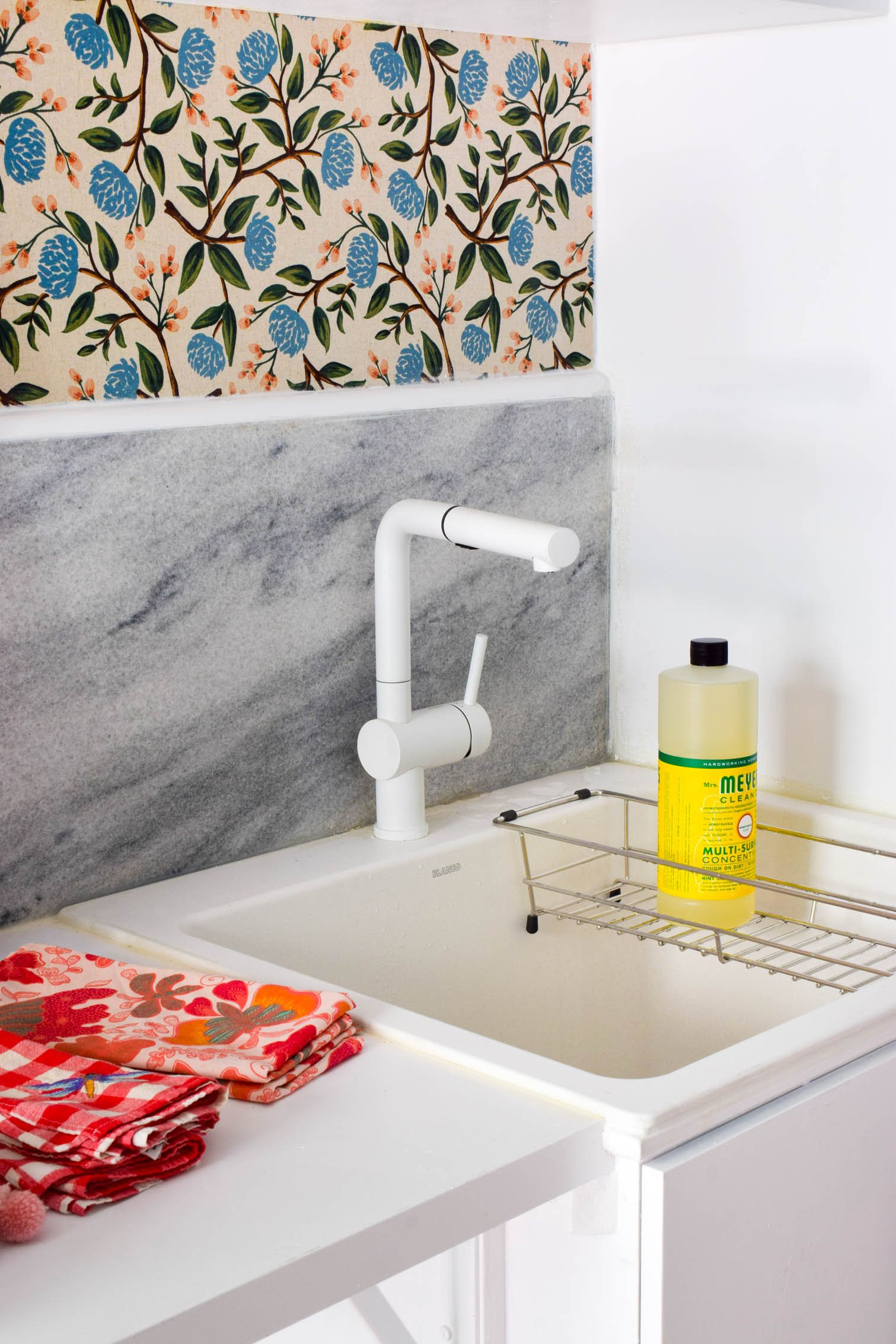 The laundry sink is deep and sturdy. It also cleans like a dream, and blends seamlessly with the white countertops and cupboard. It's a dream come true as far as laundry utility goes.
I can easily wash heavy stains, pre-soak, or do my delicates with ease.
The LINUS faucet is equally handy. We opted for something with a pull-out feature so that we could easily reach all the corners of the sink, and any hard to clean items.
The laundry rack is equally useful. It sits in the sink, and allows me to keep wet items like sponges, scrubbers, or even dry small items like a bib.
Laundry Room Step Stool
I painted and stained an IKEA stool to use for utility purposes. It's great as a seat, a foot rest (when putting on boots), and helps me reach the items on the top shelf as needed.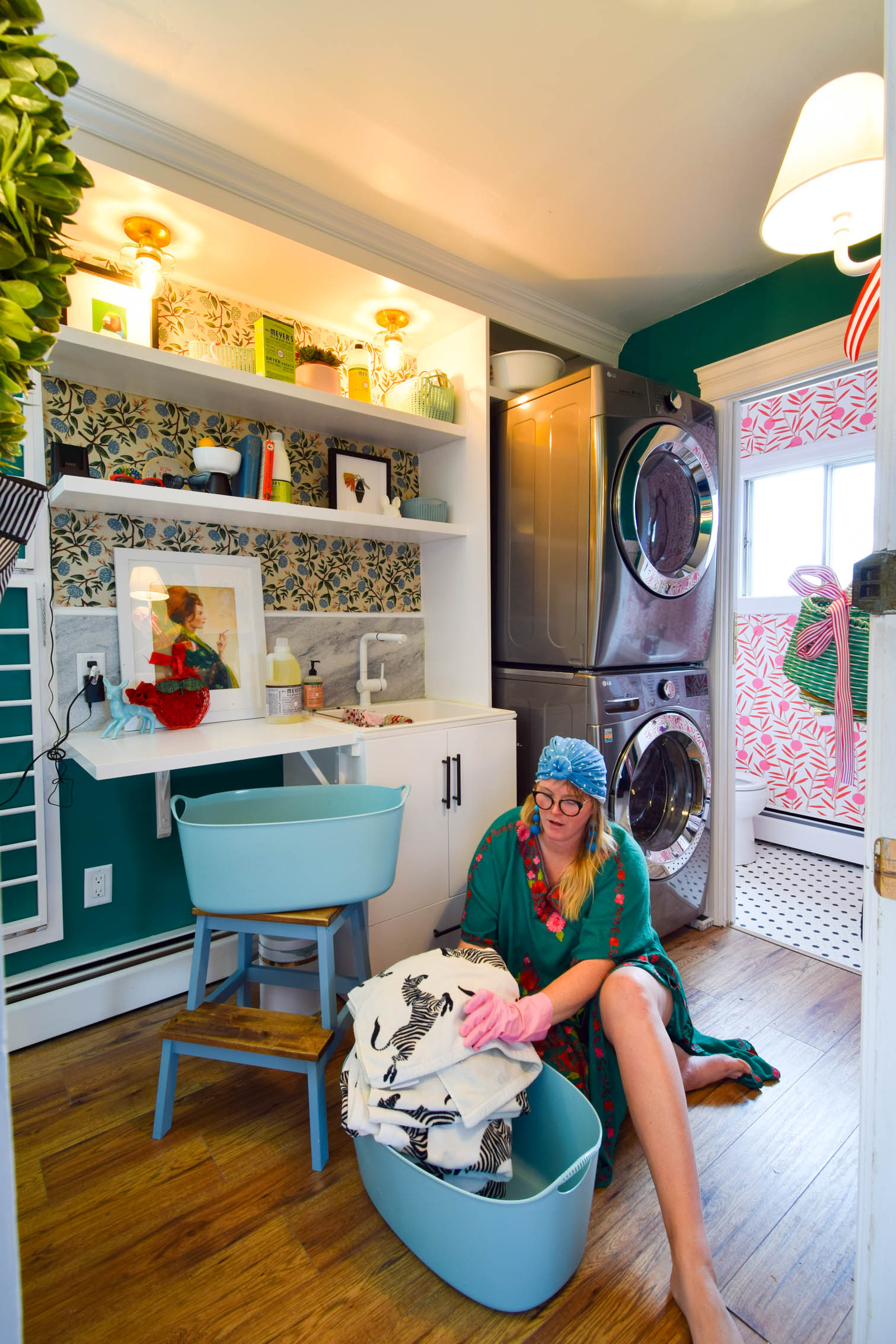 It also holds the laundry baskets perfectly when I'm loading or unloading the washer and dryer. Win!
Shared Laundry room & mud room
Having these two spaces shared makes life easy. We come in from the garage with dirty clothes? great, into the wash. We have space to set the car seat down and get prepped before walking out the door, or vice versa.
With the nice seating bench we can sit to put shoes on, instead of falling all over the place while holding a baby. And with a powder room just off it, it's the perfect "back end" to the house that love is transforming.
Colorful Vintage Laundry Room Sources
Paint: Soapstone MQ4-14 by BEHR
Beadboard: Alexandria Moulding Primed Fiberboard Wainscot Kit – 1/4 In. X 7 In. X 96 In. (3-Pack)
Wall Hooks: Richelieu Classic Forged iron Hook – 922
Fabric as Wallpaper: using fabric as wallpaper
Wall Sconces: SIGNATURE NO.1 MDS601-WH from the Mark D. Sikes Collection
Blue Bench: Fulton in Aqua from Homepop
Flooring: Golden Select Flooring in Sandstone
Ceiling lights (above shelves): the Alexa sconce H357101-PN
Laundry unit: custom built using items from Home Depot
Casing & Trim around doors: Option M casing, and this architrave from Metrie
Yellow Floral Print: Monarch Art Print
Woman portrait: Pasadena Housewife. Art Print.
Laundry Sink: BLANCO LIVEN™ in white Silgranit
Laundry Faucet: BLANCO LINUS™ Pullout Silgranit
Laundry Cabinet: retrofitted cupboard from Home Depot
Pennants: Vintage and thrifted
Round white mirror: IKEA LANGESUND
Step Stool: IKEA BEKVÄM
Blue laundry tubs: IKEA TORKIS