Last week I showed off the laundry side of things in the laundry room/mudroom, and this week I'm showing off the mudroom side! I'll have everything in content soon enough. But for now, here's the beadboard mudroom situation, as part of the fall One Room Challenge.
Make sure you go check out the link-up with all the other linking participants in this edition of the ORC, and check out what the official ones are up to. I've got more than a few friends participating this time around, and I'm so excited to see what they get up to.
* Home Depot Canada, Alexandria Moulding & Hudson Valley Lighting sponsored this post, but all thoughts are my own. Thank you for supporting the brands that make PMQ for two possible.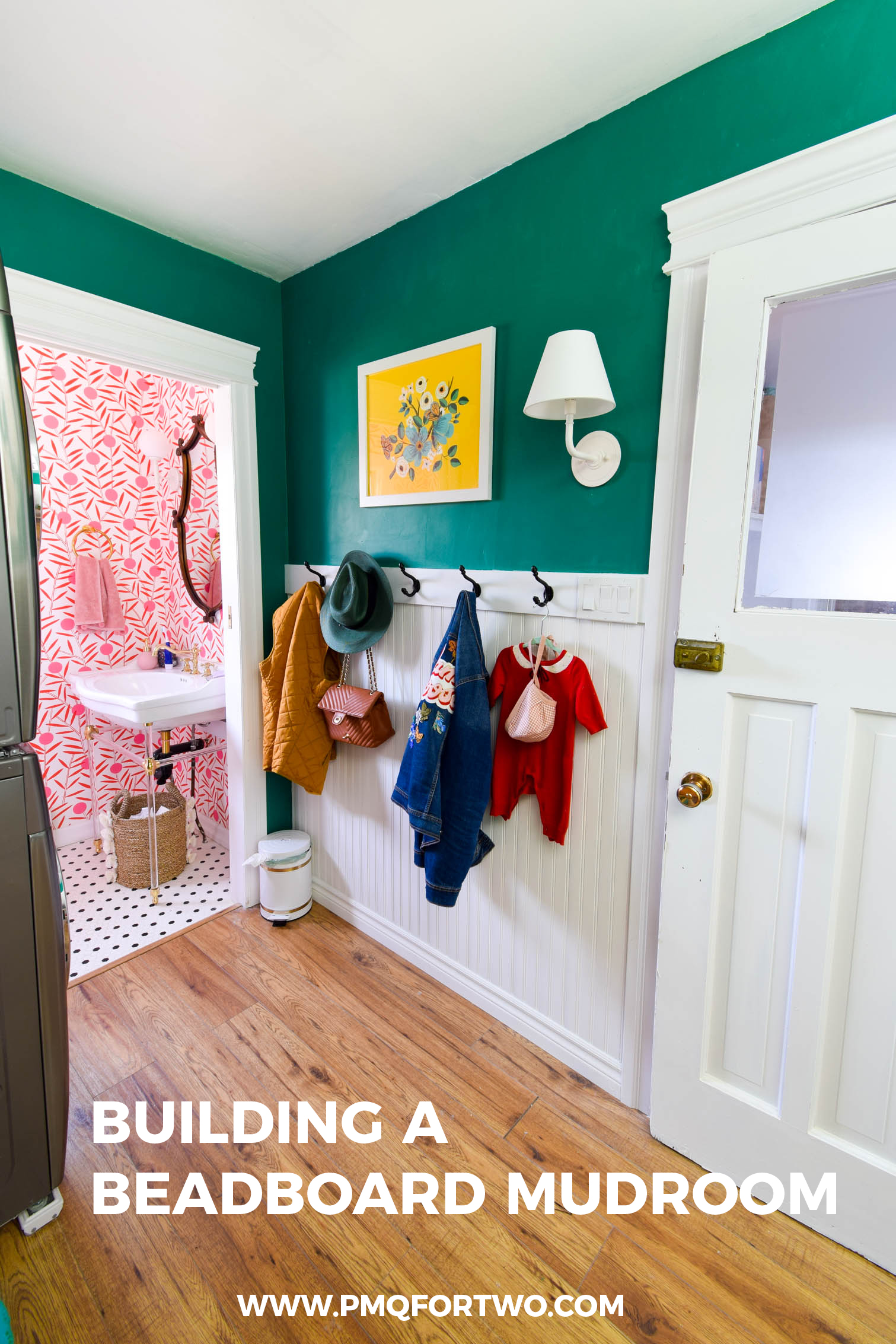 What is beadboard?
To quote Apartment Therapy "Beadboard is a row of narrow wood planks lined up vertically on the wall. In between each wood plank is a little indentation or ridge—also known as a "bead". The vertical boards are capped off by strips of horizontal molding, which finish off the seams."
I've used it before in our renter friendly bathroom, where we wanted the vintage pink bathroom look but couldn't tile, and it was a dream to work with! Easy to install, easy to take down, and easy to care for.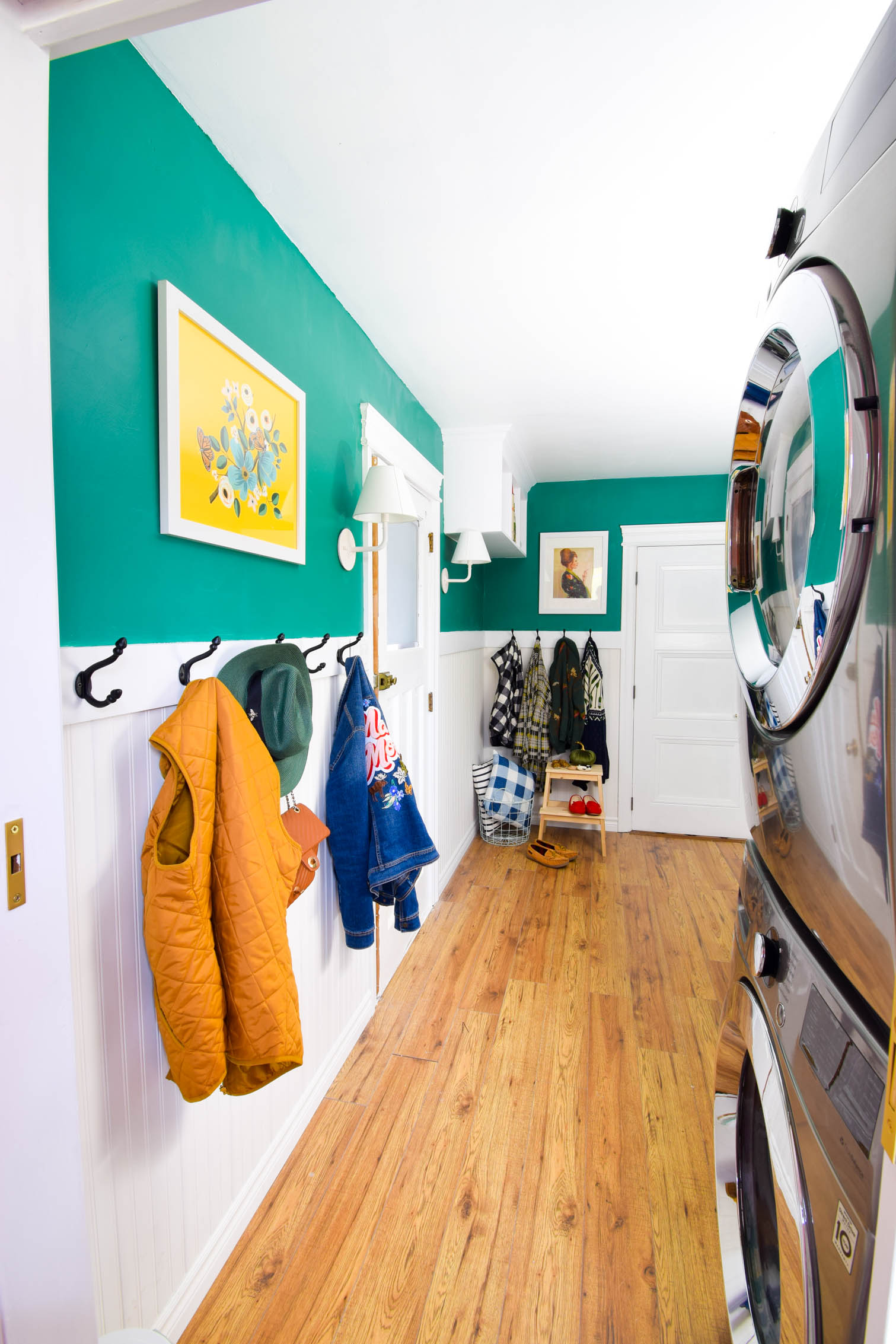 Why beaboard in the mudroom?
When we started planning the laundry room/ mudroom space, we knew that it had to withstand high traffic and lots of knocking around. Between the car seat, grocery bags, army kit, and more, the walls were going to take a beating.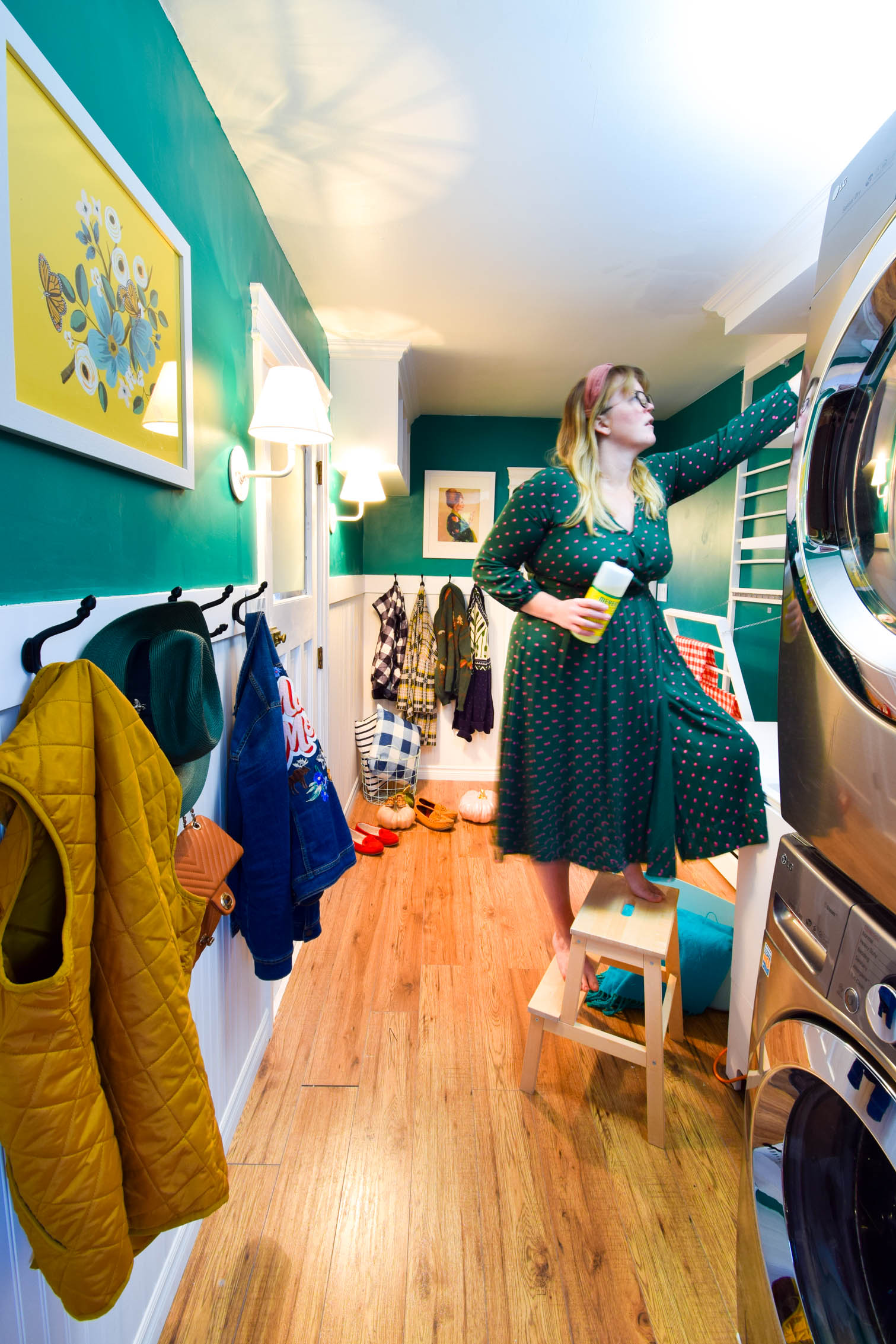 The mudroom is a thoroughfare between the garage and the kitchen, so it had to be designed with all those elements in mind.
Alexandria Moulding beadboard
Instead of having to touch up the paint, or fix dents in the drywall occasionally, we opted for a more durable solution with a stylish finish – beadboard! We bought Alexandria Moulding Primed Fiberboard Wainscot Kit – 1/4 In. X 7 In. X 96 In. (3-Pack) from our local Home Depot. Having used it before, we were familiar with its durability and easy installation.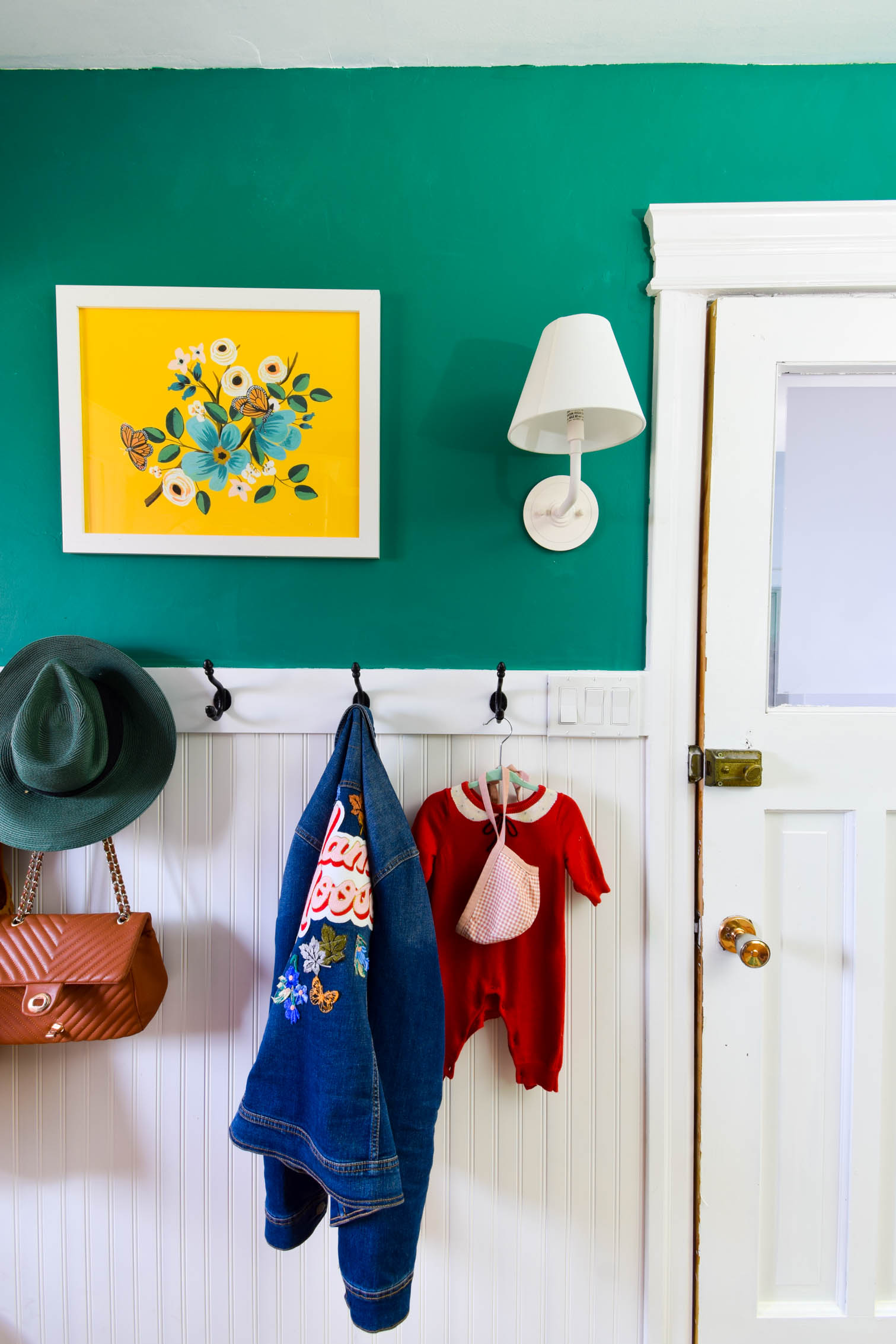 Alexandria Moulding makes a variety of products available at Home Depot, beyond just moulding and trim. They've got products like dowels, decorative wood appliques, beadboard, and more.
How to install beadboard
This is actually a pretty straight forward process, and one that I can explain in a few steps right here:
assuming you're using the Alexandria Moulding

Primed Fiberboard Wainscot Kit – 1/4 In. X 7 In. X 96 In. (3-Pack)

, and don't need to cut the panels down to a shorter height, you can pretty much start nailing them to the wall.

The packs of beadboard come with 3 panels that are meant to fit together, much like laminate flooring. They click into each other along the long side, so do just that.
Before starting, remove any baseboards, since the panels run all the way to the floor, and will then be covered in a new baseboard.
Start in a corner, at the beginning of the wall, and nail the panels to the wall using a brad nailer, along the top and bottom of the panels.
Once a wall is complete, nail in your new baseboards using a brad nailer (putty holes). We used Alexandria Moulding

3/8 inch x 3-7/8 inch x 8 ft. Primed Fibreboard Colonial Base.
Adding Wall Hooks
Because we planned to add hooks to the top rail of the beadboard, we went with Alexandria Moulding Primed Fibreboard Base 1/2 Inches x 4-1/2 Inches x 96 Inches that had been notched along the back at the bottom, to allow it to sit over the top of the beadboard while being flush against the wall.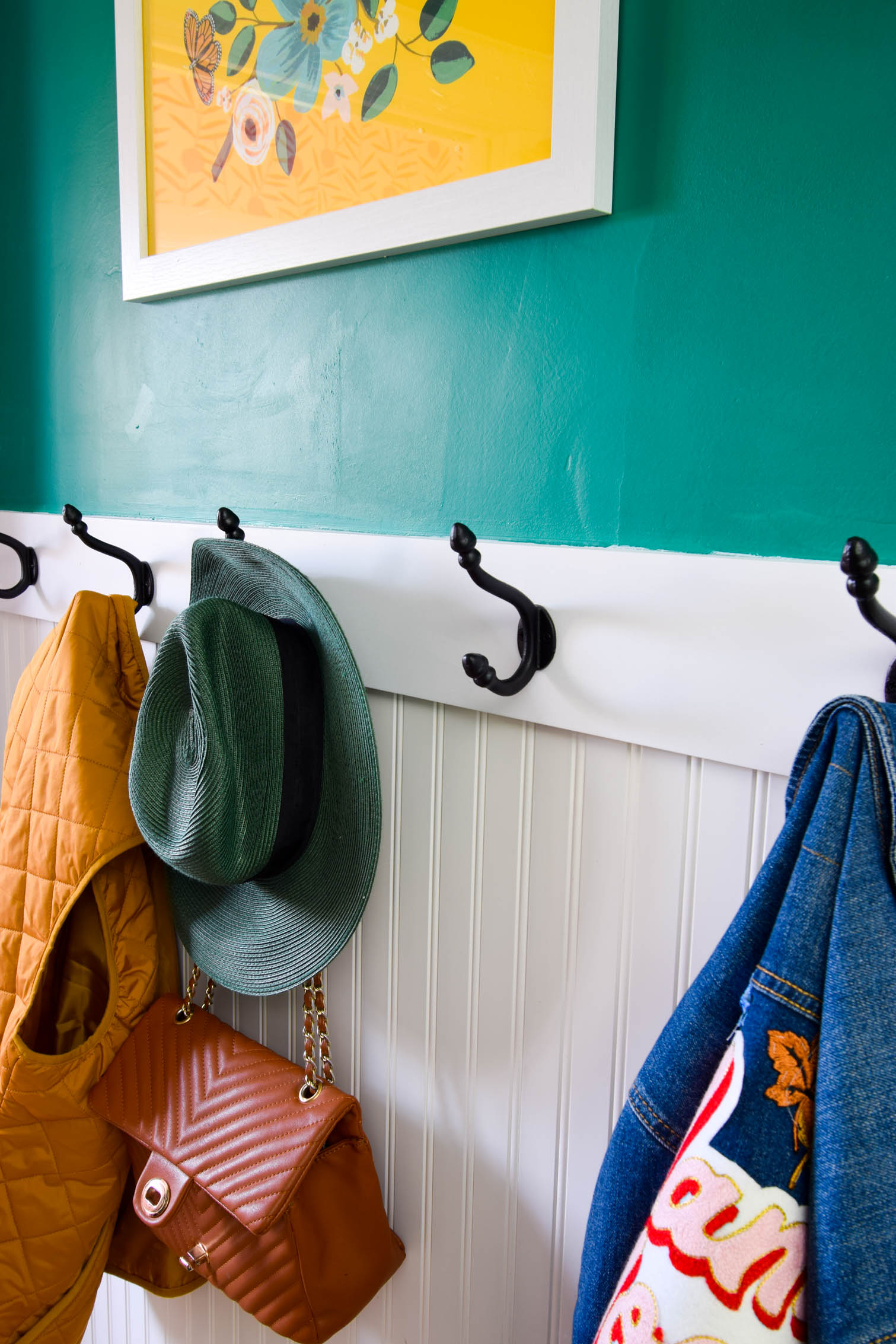 I chose 8 x Richelieu Classic Forged iron Hook – 922 for the space. While I would have liked something a little more retro, these are good sturdy hooks, and they'll stand-up to daily use – especially with heavy winter coats!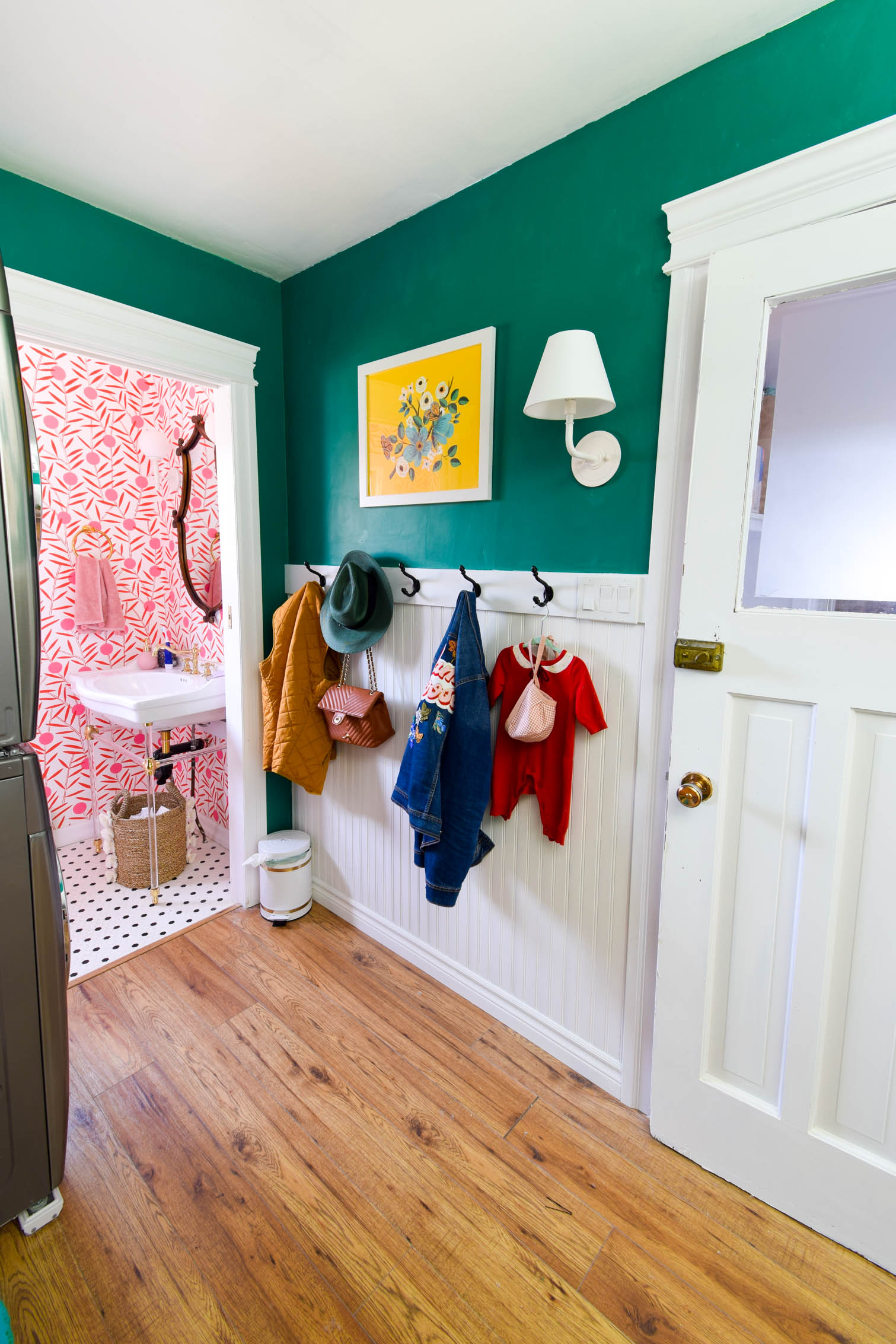 Mudroom shelving
While I'm keeping some details for the big reveal, it's safe to say that every mudroom needs shelving, and ours was built using items from the Home Depot, and finished with Alexandria Moulding crown. We chose Alexandria Moulding Primed Fibreboard Ogee/Crown 5/8 In. x 3-5/16 In. because it went with the baseboard, and the other mouldings we have in the house.
More on this in the reveal though. So stay tuned!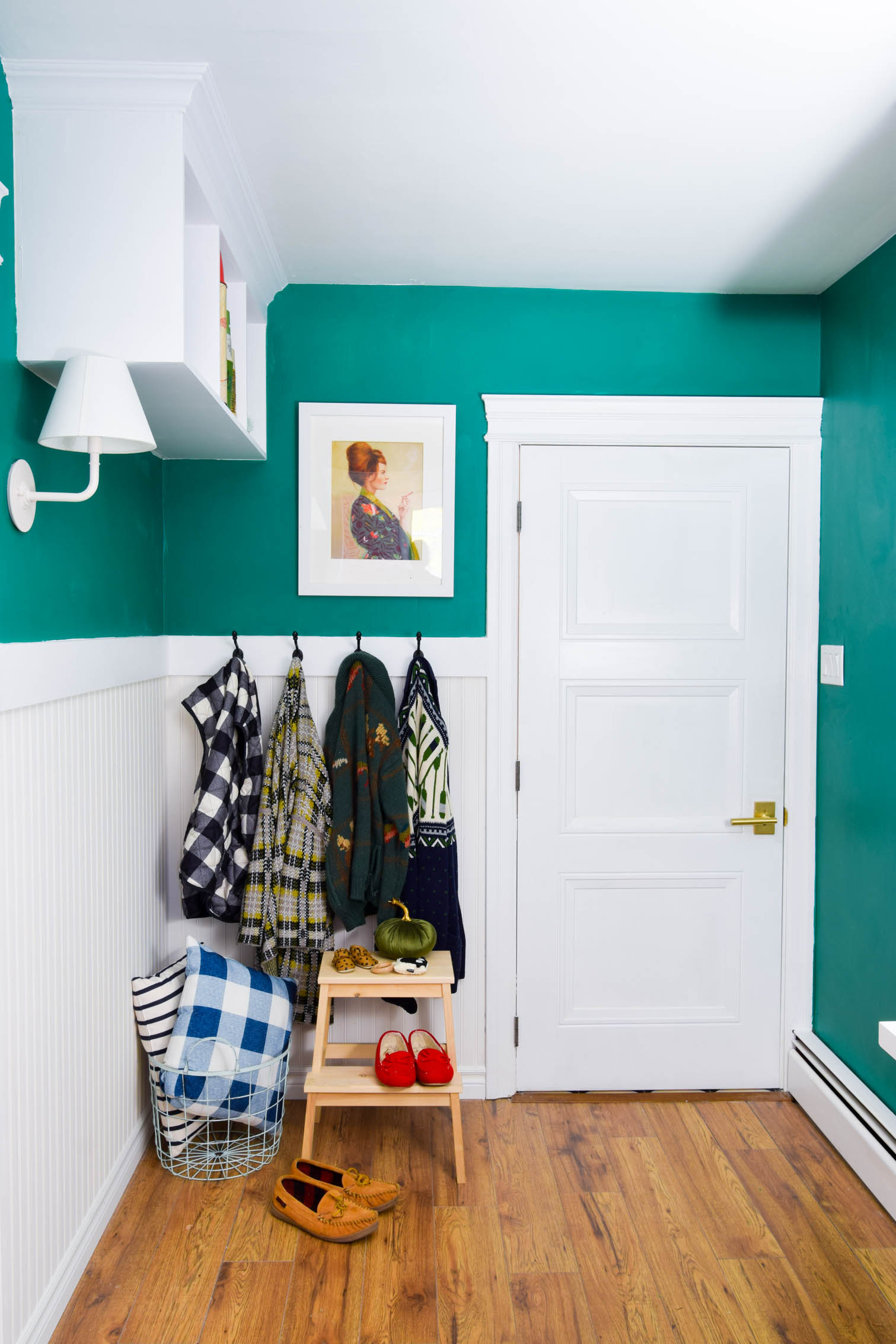 REMODEL TO-DO LIST
Spray paint the space
Install flooring
Hang door to garage
Add architrave + trim to doors into the space (from garage and powder room)
Stack & hook-up washer & dryer
Install laundry sink
Install countertop
Create drying racks
Build bench + shoe storage
Build coat racks
Add Lighting
Install Sun Tunnel