*updated October 23rd 2019
There's something to be said for a simple craft that makes an impact. My DIY witch silhouette decor is just that! Using thrifted frames, vinyl and paint, I created some beautiful silhouettes to hang amongst the gallery wall display this halloween.
These may be a bit more "me" than "spooky" but they're plenty fun, and you can easily put all kinds of creepy silhouettes in the frames. I'll be adding mine to our entryway decor this year (to be unveiled in the next few weeks) but you could easily sprinkle them throughout the house to turn up the dial on spooky. P.S. Last year I created a spooky adult Halloween Playlist, so if you're in the mood // here // P.P.S.I hinted at these in this week's newsletter. So if you're not already signed-up…
*Expressions Vinyl provided the paint for review, but all thoughts are my own.  Thank you for supporting the brands that make PMQ for two possible.
*The following product links contain affiliate links. Thank you for supporting the brands that make PMQ for two possible.
What you need to create Witch Silhouette Decor
How to create diy silhouette witch decor
Paint your frames white. I used a simple sponge brush and applied 2 coats. If it's a good paint it will dry quickly.
Using a finer paint brush, I applied a black border around the inside of the frame along the edges. You could add another border in gold or brown, or make it bigger. Whatever you want! For this step you can be as precise as you want to be. As you can see, my lines aren't the straightest, but since these silhouettes are supposed to look "found" I didn't want them to be too perfect.
Cut-out your with silhouettes using your Cricut Explore Air. p.s they just came out with new colours!
Don't forget to scale it to the right size! My oval portraits were quite large, so I needed to cut 5″x 9″ but could have cut bigger.
You'll need a Circut Design Space account and a credit card to purchase the two witch silhouettes.  Don't forget to peel away the negative space vinyl. Using transfer tape or a tool of your choice, remove the witch silhouettes from their backing and place them on the dry frames.
OPTIONAL: If you don't have a Cricut, you can always sketch your own witches and paint them in, or find a stencil to create your own DIY Witch Silhouette Decor.
Using ribbon scraps you can apply little foulards, bows etc. You get the point! I added the little pops of colours because it wouldn't be "me" without them. I also have a ribbon collection that would impress Marie Antoinette.
DIY Witch Silhouette Decor
Hang them in your house and among your decor. Go on! Lead the kids to believe your blood line narrowly escaped from Salem 😉 Meet the sisters – Margaret, Goodie, and Brumhilda. These ladies will put a spell on you.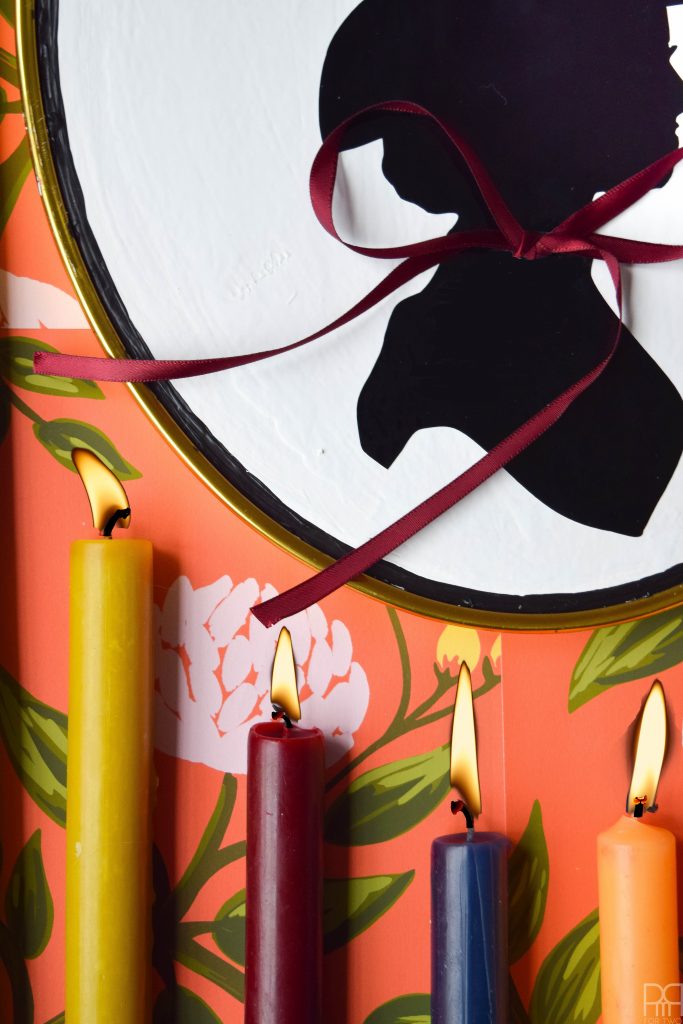 How do they do it? Maybe a little magic.
What silhouettes would you put for your DIY Witch Silhouette Decor? I've also seen silhouettes with bat wings, Frankenstein, as well as a host of other spooky characters.