Playing with your baby is about so many things. Stimulation, bonding time, growth, but also FUN! Since we try to do a lot of things around here, I wanted to share my Colourful baby play time ideas with you guys, including June's awesome play time trunk, full of items from our local Homesense.
* Homesense sponsored this post, but all thoughts are my own. Thank you for supporting the brands that make PMQ for two possible.

Colourful baby play time ideas
We knew from the get go that we wanted to provide stimulating and engaging toys and activities for June. At her age (6 months) it means we've gotta be there with her playing, but it also means giving her the tools and toys for engaging independent play.
We're trying to keep the number of toys limited – because how many toys does a kid really need – so started building her a toy trunk, full of toys and books that we can swap in and out at any time. If it fits in the trunk, it's part of her toy game!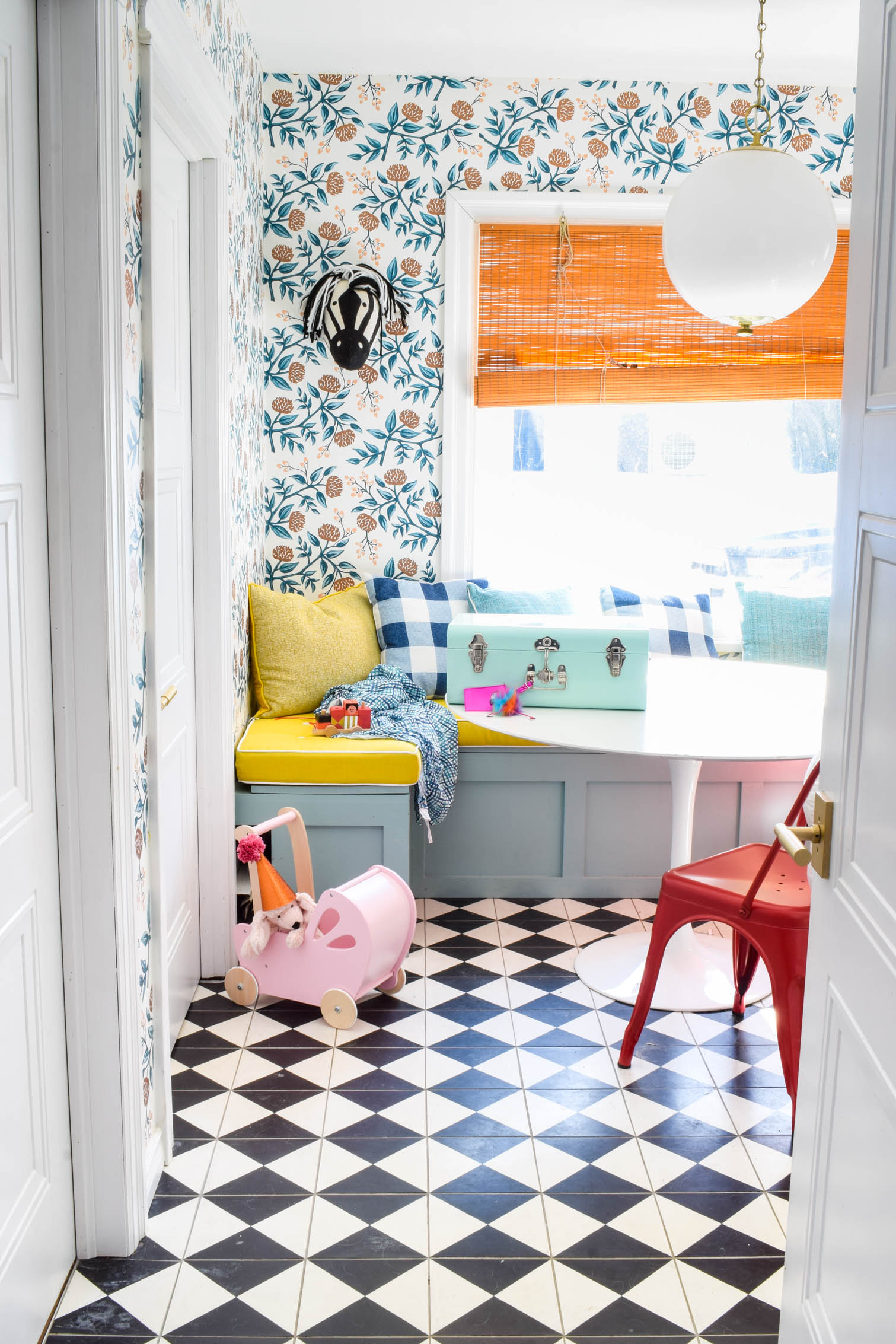 We bought the trunk at Homesense for 34.99$ and love that it has a latch (to close all the way), and is durable enough that she'll be able to knock it around as she plays and grows.
I added a travel tag to it, because inside that trunk lie the tools to imaginative travel and adventure! The fact that it's bright pink with a fuzzy multi-coloured flamingo, is just the icing on the cake (we snagged it for 6.99$).
Bright Colours
All the baby books will tell you that bright colours with lots of contrast, are key in helping your child's development – especially in the early stages, as they can better distinguish with the contrast.
As she's grown older, we've added more and more complex hues, and more interesting patterns. The mixing and matching games that Homesense stocks from FAO Schwartz, are a delight. Each box was 12.99$, and has richly coloured tiles that help create all kinds of games.
Reading Time
It's not just RuPaul, reading really is fundamental, and I love that Homesense carries french and english books for all levels.
We've found some old favourites, new ones that are fast favourites, and all kinds of books across a variety of levels, at great prices.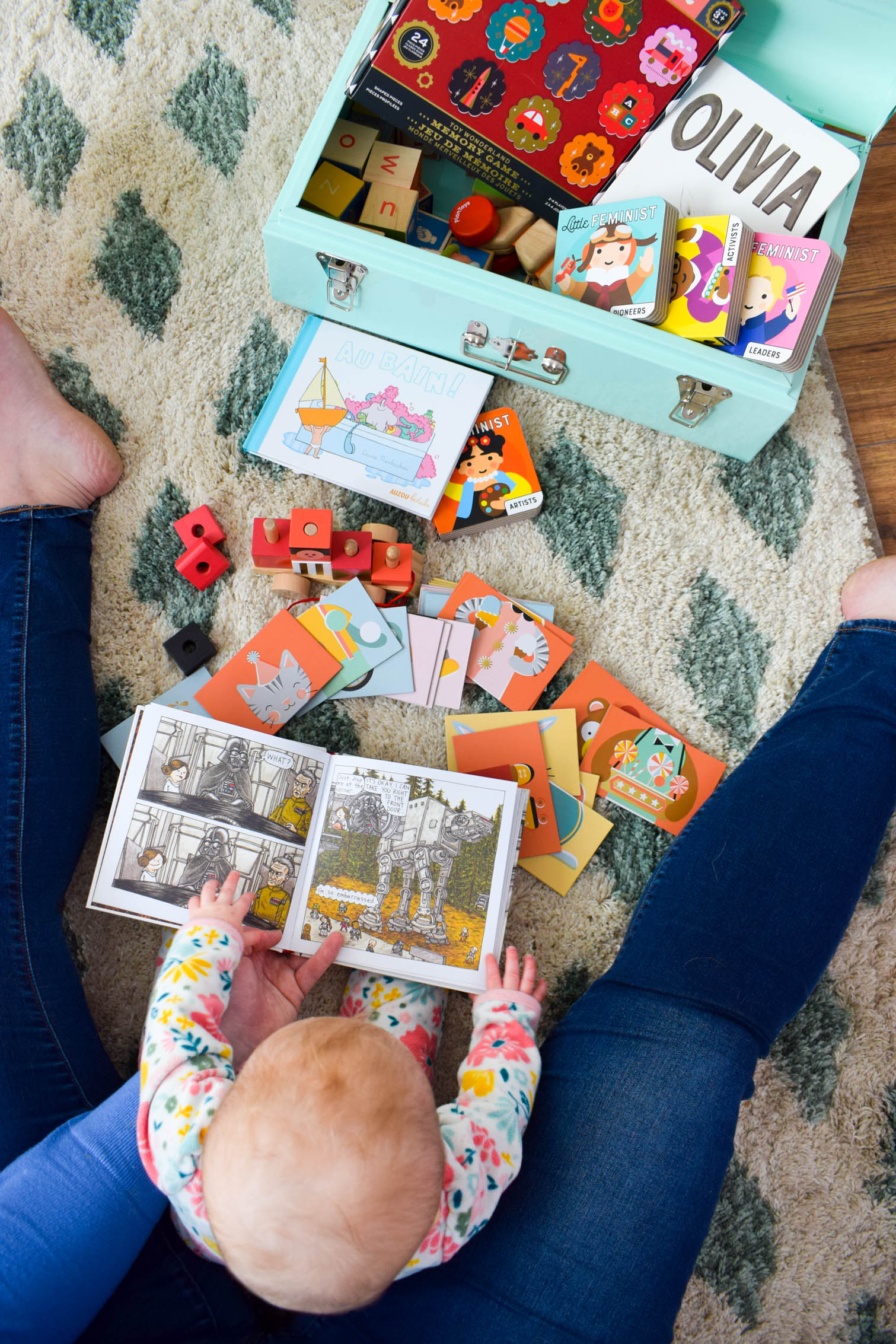 Playing with different textures
Because touching, grabbing, and eventually putting everything everything in her mouth, is still a priority for her, I wanted to find wood toys, or imaginative pieces that provided a variety of textures.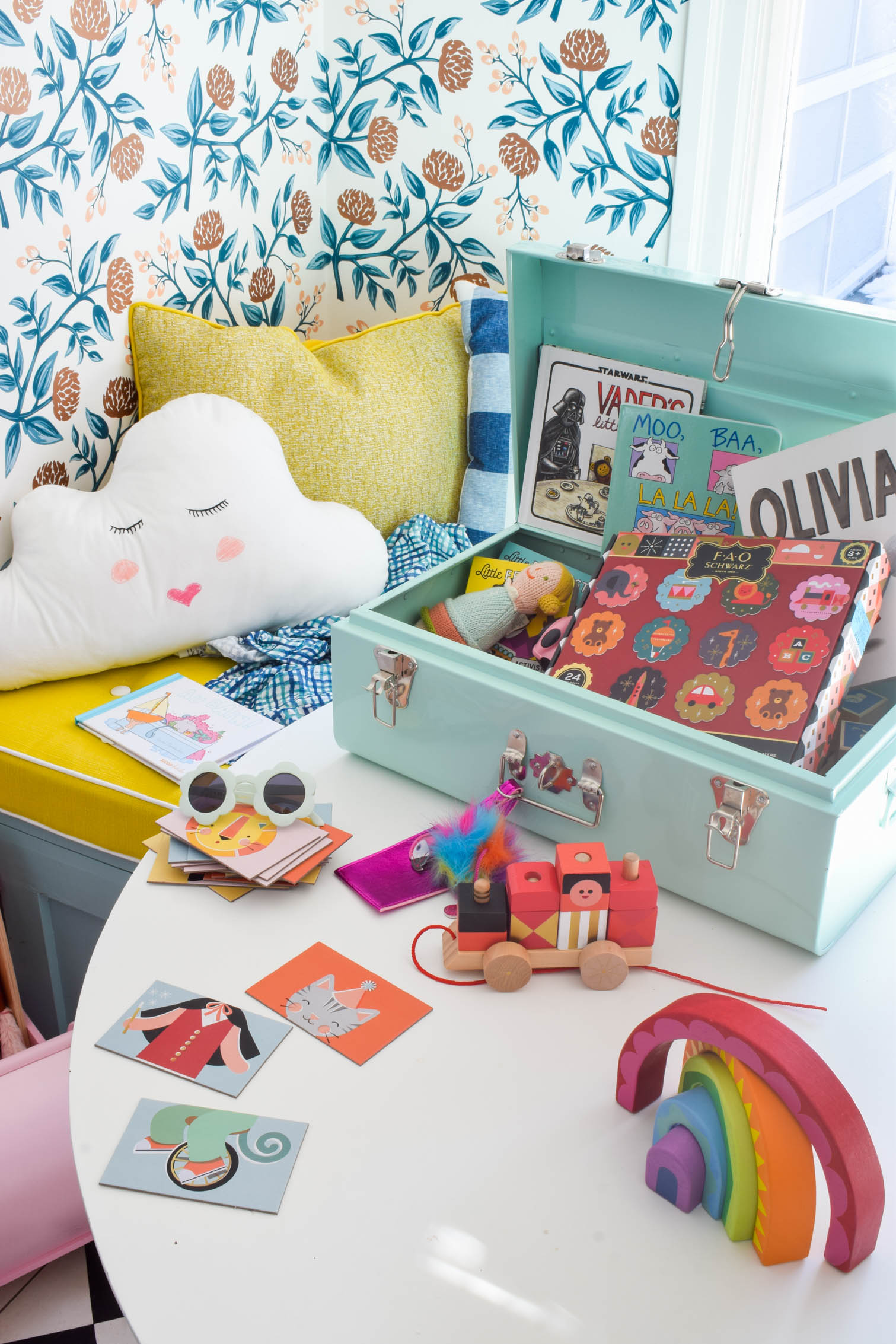 Her wood rainbow from Le Van Toys is a great example, as is the wood train with stacking blocks that allows her to reconfigure the toy (or just sample each piece).
Toys with Movement
As soon as I spotted the pink stroller, I knew we had to have it. Although I bought it because I love it, I have a feeling once JB is walking in a few months, she'll be all over it.
In the meantime, toys like her train, her cars, and other toys with wheels, help her spark moving and creative adventures.
Textiles for Play
While a blanket may not seem like an obvious toy, anything can be used for playtime if you want to.
I've been grabbing blankets, bibs, sleep bags, and pillows from Homesense' children section for months now. This blue swaddle from Aiden + Anais is beautiful, but also great for playing peek-a-boo.
Meanwhile the cloud pillow is just darling, and I'm sure will become a character in her playtimes stories.
Animal Friends
I've wanted to add a plush animal head to the mix for ages, and when I saw that Homesense had zebras and lions and swans, I knew a zebra would fit right in. Add him to our bunnies, tigers and lions, and we've got quite the menagerie.
All in all, June is surrounded by colourful, playful and imaginative toys and books that we found at our local Homesense.