We're rounding the corner of this One Room Challenge, and I think it's safe to say that we're essentially done! I've just got a few more finishing touches, but the space is complete and now I'm just fluffing.
Make sure you go check out the link-up with all the other linking participants in this edition of the ORC, and check out what the official ones are up to. I've got more than a few friends participating this time around, and I'm so excited to see what they get up to.
* Hudson Valley Lighting sponsored this post, but all thoughts are my own. Thank you for supporting the brands that make PMQ for two possible.
Vintage Laundry Room Decor
I've been trying to find the guiding style for this space since we finished the main elements. I wasn't sure if a retro laundry room would work as the go-between for the retro glam kitchen and the glam powder room, but once I started styling the space, I eventually found the style we'd go with – a vintage feel, that's still retro.
My biggest inspirations for interiors and DIYs are Kate Space & Wes Anderson – this is no mystery. What I love the most about them is how they marry vintage, retro, eclectic and colourful styles together. I like to think I've got my own spin on it, and this vintage laundry room is the perfect example.
Vintage Laundry Room Wall Decor
Because this space has to be supremely functional, there isn't much room for silly decor or overly cluttered floor space, so everything that is traditionally me, has to go on the walls! Hence the vintage laundry room wall decor.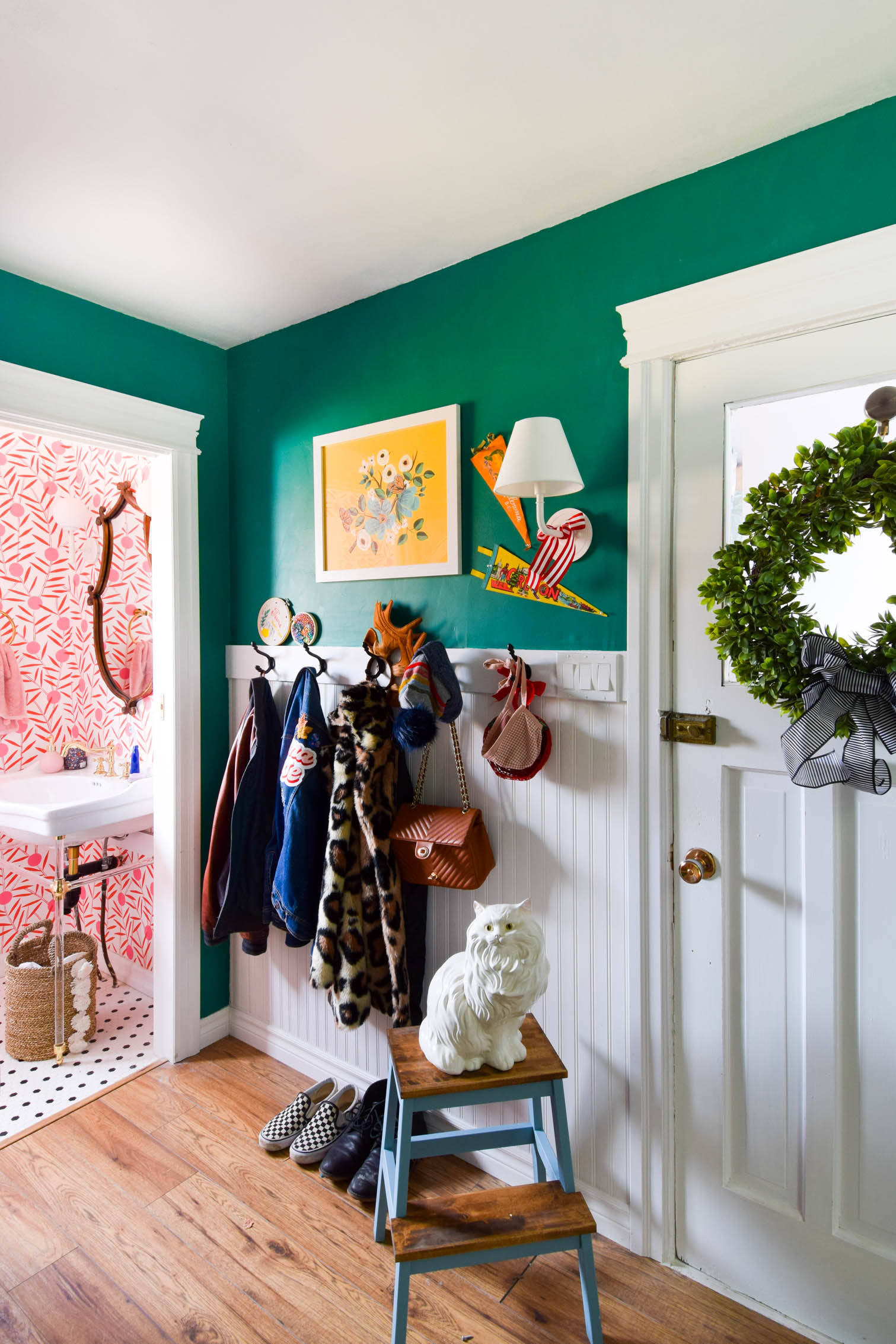 Vintage pennants
I think my biggest nod to Wes Anderson's creative musings (Rushmore? anyone?) are the vintage colourful pennants. I thrifted these bad boys, and am very pleased by the pop of colour they bring to the space.
Vintage laundry room lighting
Which brings us to the next decorative element in this space – the vintage laundry room lighting. These wall sconces from Hudson Valley Lighting are quite simply amazing.
The SIGNATURE NO.1 MDS601-WH from the Mark D. Sikes Collection is clean, simple, and doesn't distract. I tend to chose stand-out pieces, but there definitely something to be said for a fixture that feels like it fits in – instead of dominating.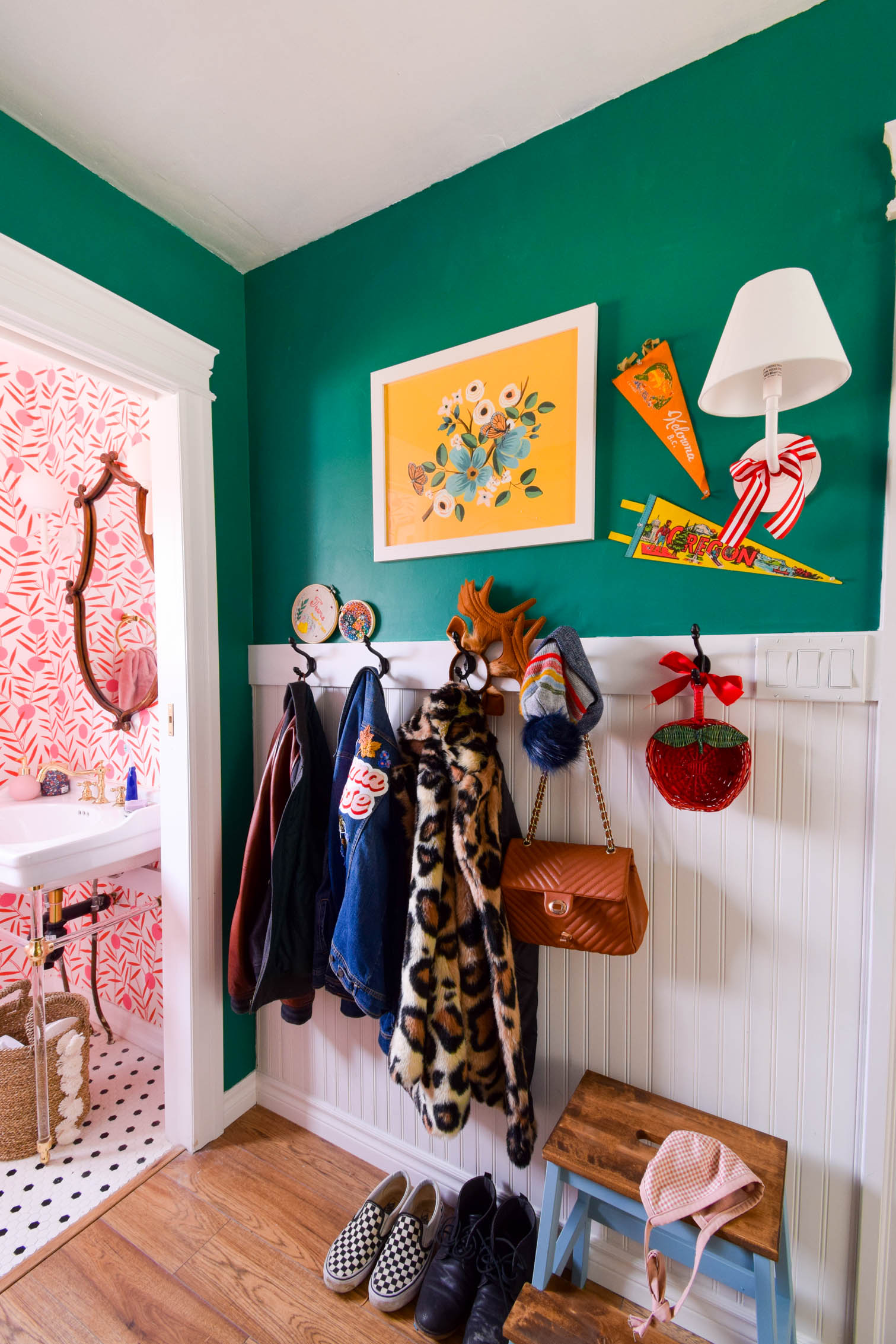 I added the bows for fun, they feel like a touch of Kate Space, and I'm all about that. We've got one on each side of the door, giving us lovely lighting as we come and go
As you can see, they've actually got quite the elegant swooping necks on them. I love them!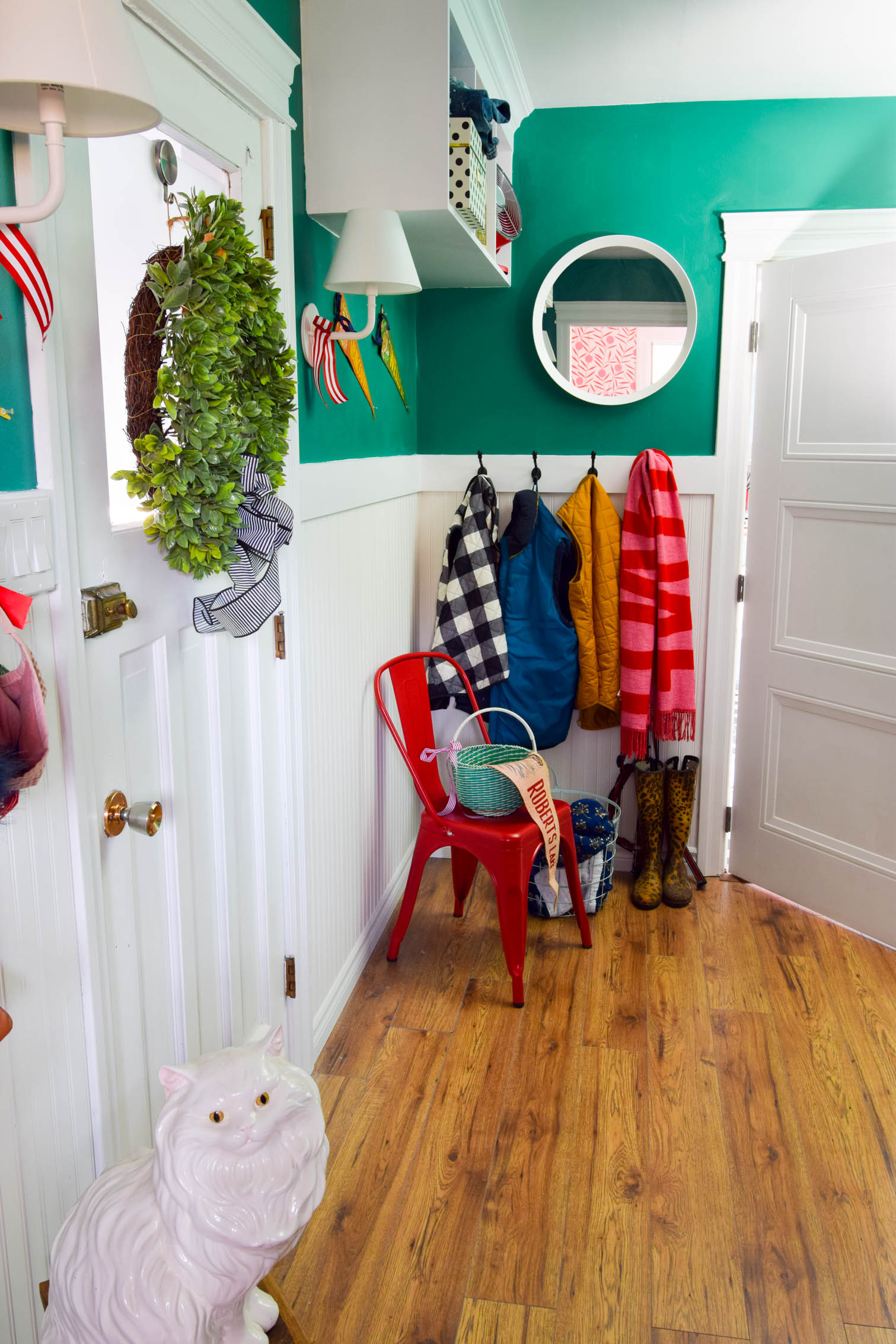 Retro laundry room decor
When it comes to the rest of the decor, it's small touches that make the space feel at home within the house.
Vintage baskets
I've added thrifted pieces when possible, and am always looking for charming and unique touches that I can bring to the space to make it feel like it was always there.
These colourful baskets are a treat, and feel right at home.
Colourful Books
I'm starting a new collection! Bird watching books and retro homemaking books. If I spot any, I'll be adding to the shelves on the laundry side of things. Their well worn pages hold much history, and many beautiful images.
Art and flowers
These are a no-brainer, but I've got a mix of florals and small curated art the sit amongst the shelves. I only need so much laundry detergent on those shelves, so the rest is for fun!
REMODEL TO-DO LIST
Spray paint the space
Install flooring
Hang door to garage
Add architrave + trim to doors into the space (from garage and powder room)
Stack & hook-up washer & dryer
Install laundry sink
Install countertop
Create drying racks
Build bench + shoe storage
Build coat racks
Add Lighting
Install Sun Tunnel <– only thing remaining!