The entire time I was pregnant with JB, all I wanted was lemonade. I waned limonatta, pink lemonade, lemon setlzer, and iced lemonade slushie. I.COULD.NOT.GET.ENOUGH. What I really wanted was a Lemon Drop Martini, but you know how that goes. So that now I can safely enjoy a cocktail, I couldn't wait to try a Lemon Drop Martini using Stirrings' cocktail mix.
*Stirrings sponsored this post, but all thoughts are my own. Thank you for supporting the brands that make PMQ for two possible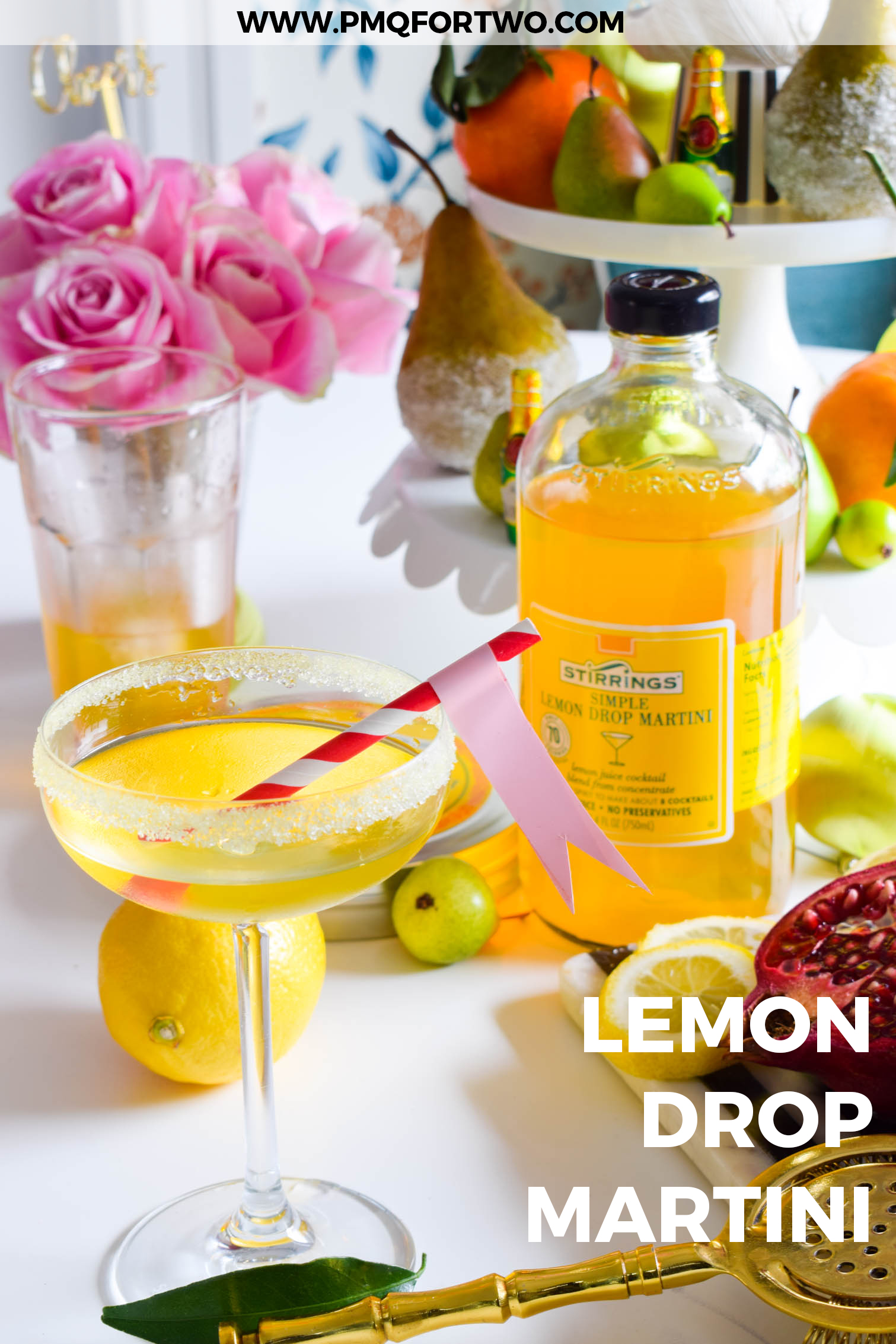 What is a Lemon Drop Martini?
It's a delightfully tasteful vodka and lemon based cocktail. Much like lemonade, there's a sugary and sweet balance to the drink, one that Stirrings get just right with their Lemon Drop cocktail mix.
How do you make a Lemon Drop Martini?
If we're getting simple, there's two ways to do things: the hard way and the easy way. I like to do things the easy way when I can. #callmelazy Stirrings cocktail mixers and rimmers are the best thing since sliced bread since they allow me to easily whip-up a cocktail with no hassle.
What do you need to make a lemon drop martini?
You'll need Stirrings' Lemon Drop Martini mix and rimmer, Vodka of your choice, a tall glass full of ice, a strainer, and blood orange bitters for an extra punch of flavour.
You can serve your lemon drop martini in a traditional V-shaped martini glass, or you use the more delicate curves of a coup (my favourite glassware).
Start by filling your ice glass with Stirrings Lemon Drop Martini Mix. There are instructions on the label for exact proportions.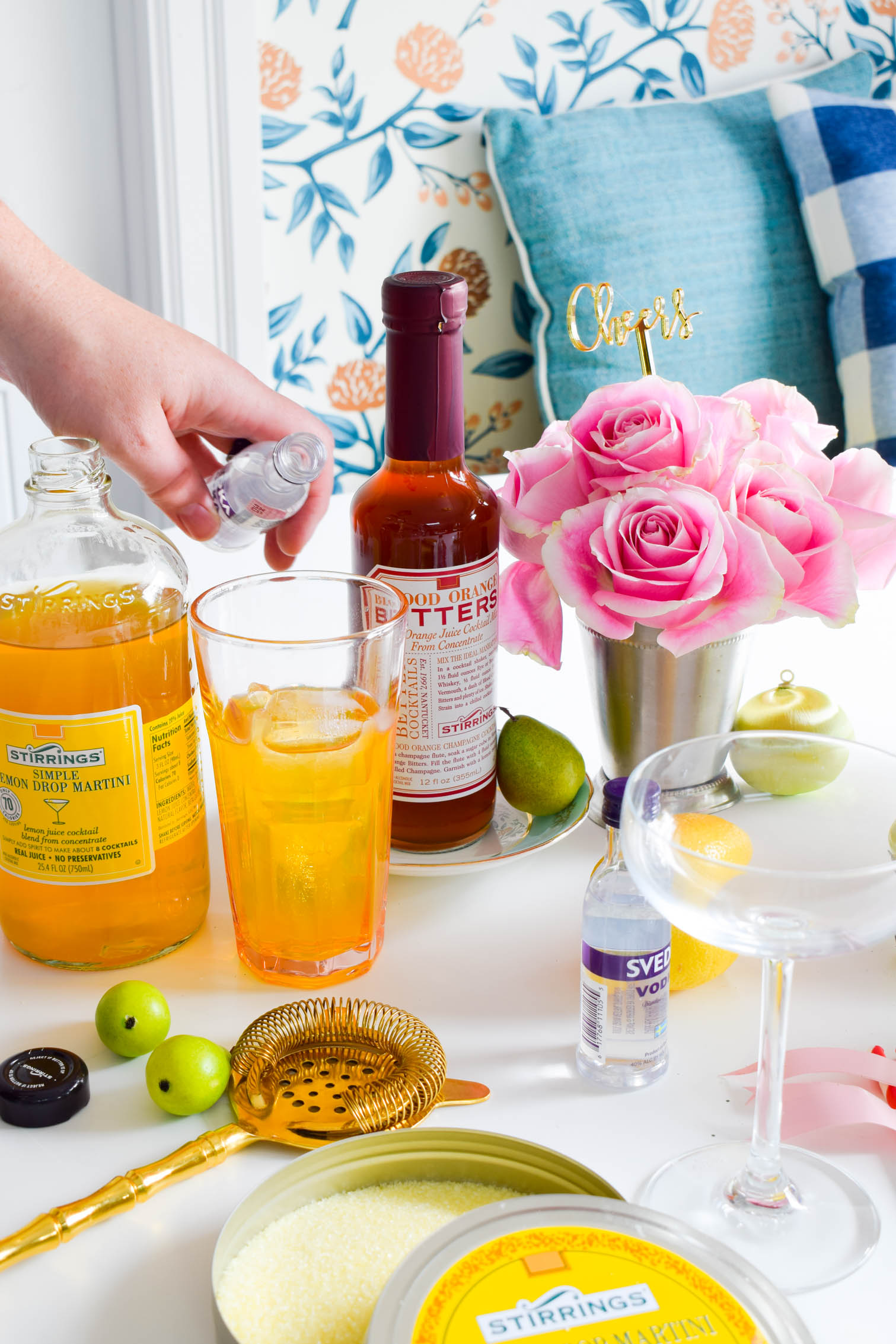 Then, add your vodka to the lemon drop martini mix. Before pouring your drinks, you'll want to rim your glasses using the handy rimming tin.
Strain and pour into the rimmed glass.
Blood Orange Lemon Drop Martini
OK, so you can add a dash of blood orange bitters (from Stirrings' line of bar ingredients) for an extra flavour and more more colour.
I use a straw/finger combo to suction a few drops at a time until it tastes right.
Citrus Drop Martinis
Easy peasy. I kept the garnish simple and just added a fun straw. This is one of those cocktails that will go down quickly, so you don't want too fancy a finish.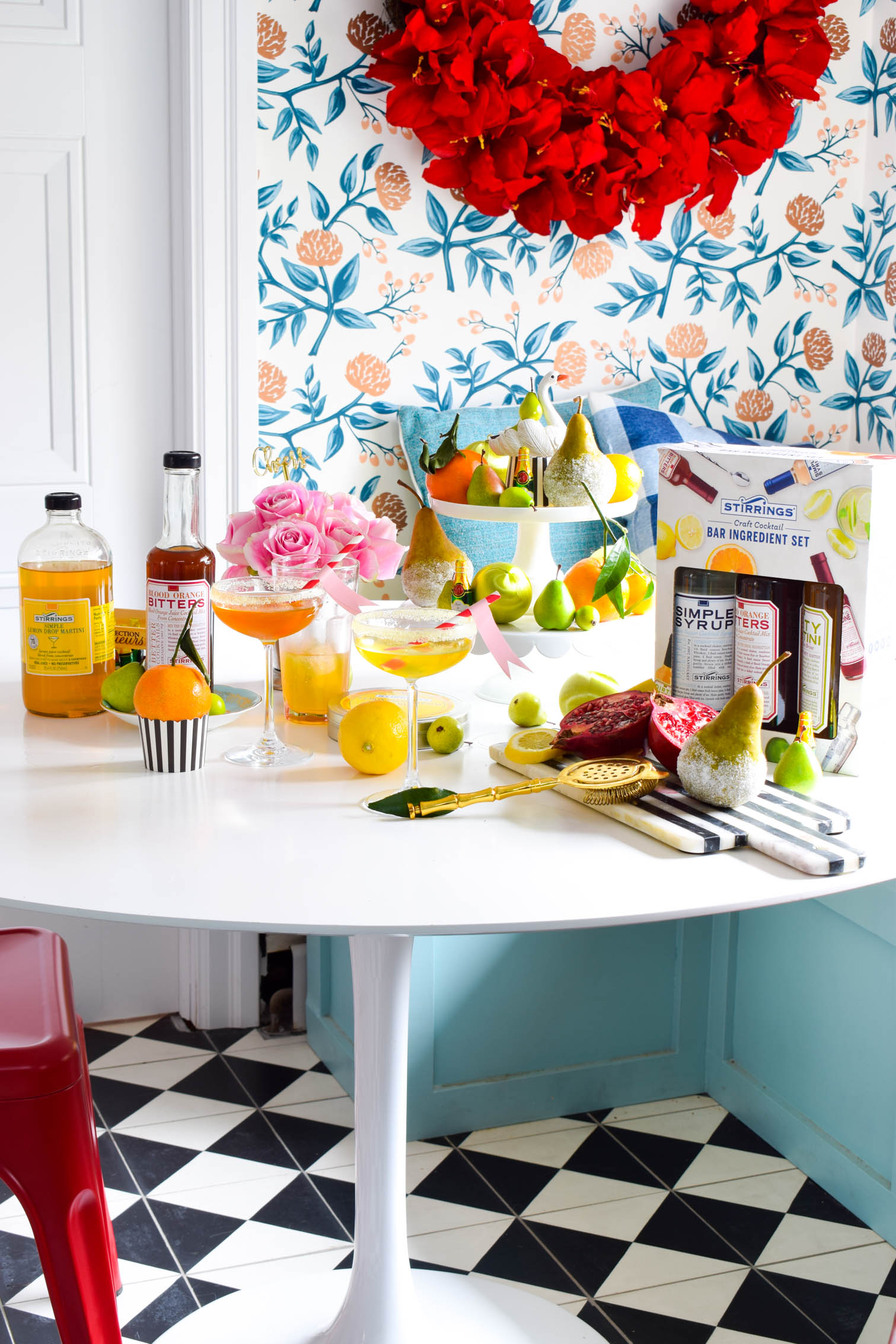 If you're not sure what you want to make, but you know you want to up your cocktail game, consider a bar ingredient trio set! Stirrings has got some fabulous products, that are all made with high quality ingredients.
I used their pomegranate syrup for my watermelon margaritas (virgin and non-virgin) this summer.
Yield: 1 Martini
Lemon Drop Martini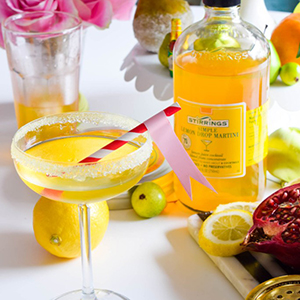 Make a delightfully tasteful vodka and lemon based cocktail with this simple lemon drop martini recipe.
Ingredients
Stirrings' Lemon Drop Martini mix and rimmer
Vodka
Ice
Strainer
Blood orange bitters
Instructions
Fill your ice glass with Stirrings Lemon Drop Martini Mix.
Rim your glasses using the handy rimming tin.
Add your vodka to the lemon drop martini mix.
Strain and pour into the rimmed glass.
Add a dash of blood orange bitters