Spring is in the air! It may not be spring outside (snow up to my belly button over here!), but I'm starting to add little pops of spring inside the house, hoping that it prompts mother nature outside. In true me fashion, I'm starting with the bar cart! I thought I'd show you guys 4 ways to do spring bar cart styling with Stirrings mixers & bar ingredients.
*Stirrings sponsored this post, but all thoughts are my own. Thank you for supporting the brands that make PMQ for two possible.
In using the same bar set-up, I want to show you how you can hit any and all style points without breaking the bank. Stirrings mixers, bar ingredients and rimmers, are a must-have for any host or home mixologist, they're great value, and the sets make for the perfect hostess gift. Small touches like art, lighting, decor, and the right accents go a long way to enhance the look, but really, it's all about the good stuff on the bar.
Bloody Mary's & Spring Bar Styling
I actually wrote a recipe a few springs ago for a Ceasar as a way of celebrating the opening of patio season (!), and I think it still holds just as well today as it did then. However I'd add that the Bloody Mary is almost better, because Clamato juice ain't everybody's thing. Here in Canada we like to load ours with all kinds of things like bacon, olives, celery stalks and even pizza! It's more of a meal with a drink, but for your spring bar set-up, you want to keep things simple, and bring out the pomp when the guest arrive.
A well placed parasol never hurt either, I mean, who doesn't want to pretend they can go hang out in the garden with a fancy cocktail at any hour of the day?
Stirrings makes a Bloody Mary Mix as part of their line of Mixers (which come in 10 flavours). The glass bottle has got a #lewk that is undeniable, and it's a step above the cheaply packaged plastic things you find in the grocery store. Hard pass! My spring bar cart has to look good, otherwise why bother.
While you're at it, don't forget the rimmers! They really do make life easier, especially the ones from Stirrings. The rimmers come in these circular tins, and all you have to do is open the packaging and dump the salts back into the tin. No need to fuss with a plate, and when you're done you can put the lid back on and you're good to go until the next time. I added some Old Bay seasoning to my set-up, because it really does go with everything, and those who want a bit more kick can flavour to their liking.
A Bloody Mary is often served in a highball glass (or a water glass), so make sure you've got a few on hand. I chose some pink glassware because it will amplify the red of the tomato juice once served. They also feel like great transitional pieces, like the gingham napkins.
I
In terms of extra styling on your Bloody Mary Spring Bar Cart, don't forget some contrasting pops of colour. I chose deep blues, tulips that pick-up on the mixer, and a piece of abstract art to play off the other tones present.
Don't be afraid to use things like cake stands to enhance the height of some elements, or to serve on. Adding varied heights helps keep the visuals interesting.
Easter Spring Bar Styling
Easter! Whether it means something more for you, or it's just an occasion to get together for brunch on a long-weekend, adding cute bunnies and pastel easter eggs to your bar cart is a fun way to create a vibe and a mood.
Since this set-up feels feminine, I thought of the Cosmopolitan Mix and Blood Orange Martini Mix, Bitters and Rimmers that Stirrings makes.
These are honestly a must for any bar situation. All you do is combine the contents of the mixer, with the right alcohol, and serve! I recommend a pitcher, but if you really wanted to go on a glass by glass basis you could. A pitcher also makes it easier to serve afterwards.
Since the Easter bar is all about pink and pastels, I added some cute gingham napkins, a few glittery carrots, and some art that I felt reflected the mood.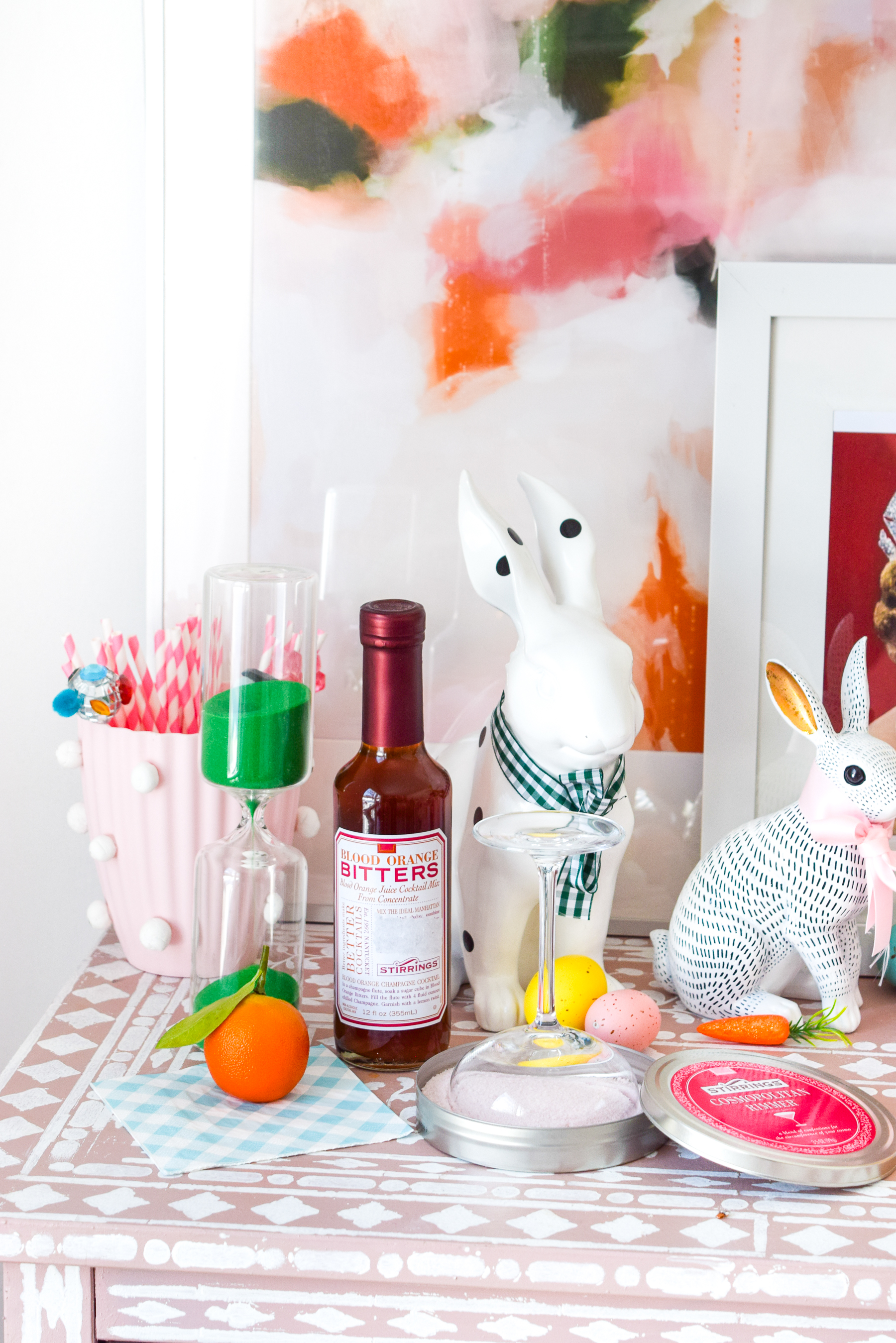 The bunnies are something I've been collecting for a few seasons now, so I'm starting to get quite the little den. And just like I'm playing around with size and colour with these long-eared companions, I decided this spring would be the time I tried out some new cocktails.
Well, not me specifically, but Dan. #bunintheoven That being said, blood orange is not a flavour profile I'm familiar with, so we were particularly excited to receive the mixer and bitters as a way of expanding our palette.
Cinco de Mayo Spring Bar Cart Styling
Finally! It's time to bust out your Otomi, your pinatas, and explore more playful and colourful decor. I made all kinds of things for Cinco de Mayo last year, including a party in a box, ombre margarita glasses, and threw a big party. You know what I wish I had done more of? Enjoying a good marg. I'm taking care of that this year, at least in concept.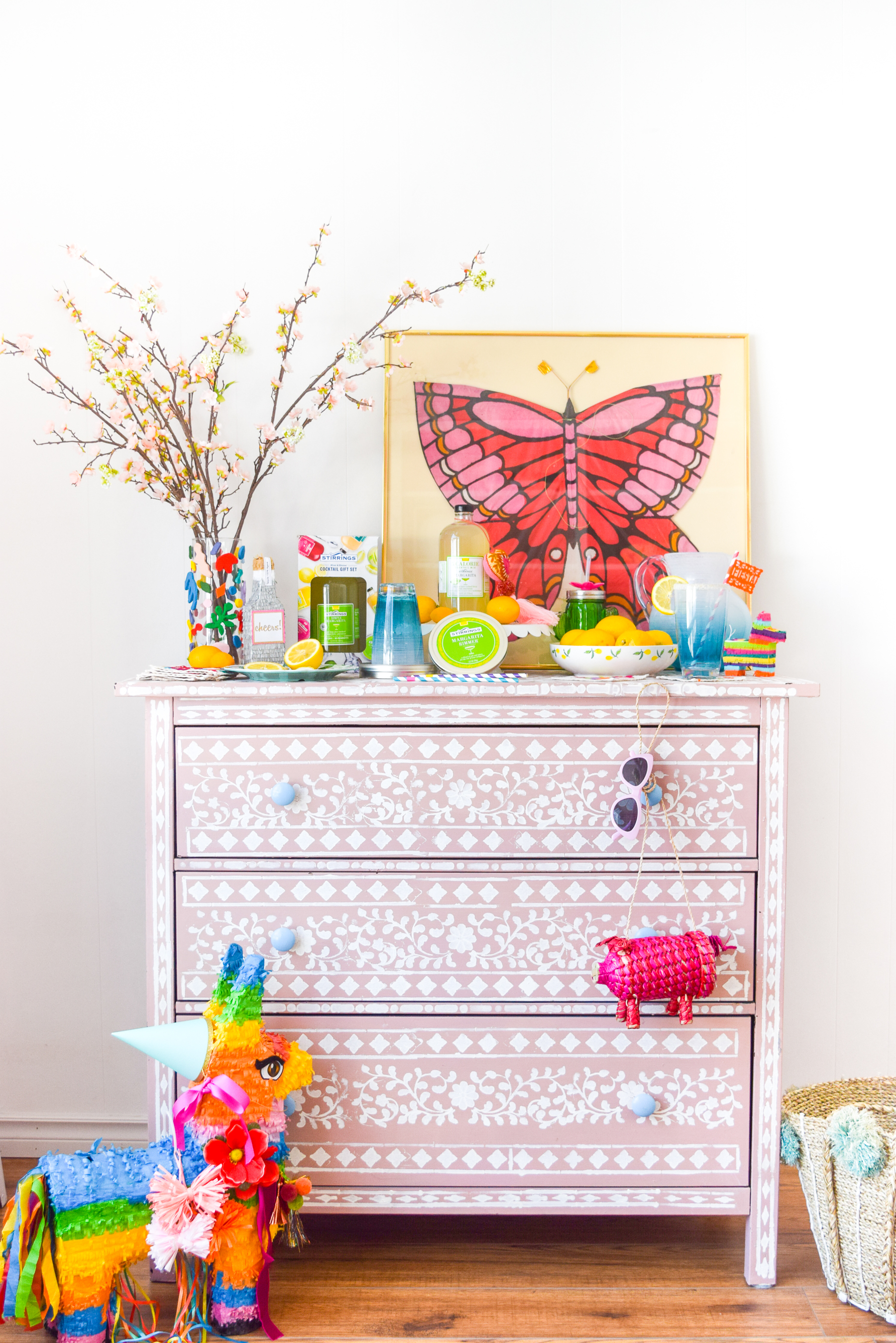 You wanna know what I'm super into? Low sugar ingredients. Since we started our Keto lifestyle last year, carb intake has been something on our radar, even now as we've moved into a more permissive eating pattern, we still check labels. I love that the Stirrings line of products are low carb, and if Calories is something you're watching, they have 5 cal cocktail mixers! Jump for joy y'all.
In terms of cinco specific touches you can add, mini pinatas, colourful cocktail napkins, and bold art go a long way. This giant butterfly kite normally sits in the living room, but it felt like the right fit on this spring bar cart.
In terms of glassware, there are no hard and fast rules, but most people use the big coupe. That works with a slushy, but if you're serving a margarita on the rocks you may want something a little different. These ombre tumblers leave lots of room for ice cubes (that will keep your drink cool), and look pretty cool too.
While you're at it, give the whole thing as a gift set! Stirrings sells sets of mixer and rimmers, that come neatly packaged in a box that's easy to wrap. I love it! It makes my job easier this spring, especially with a million things on my mind.
Lemons & Lemon Drops Spring Bar Styling
I immediately think of lemons when I think of spring. I'm not sure why, but they're such a refreshing change of pace from winter's slumber, and really hint at everything Mother Nature has around the corner for us. What goes will with lemons? A Lemon Drop Martini of course.
Throw in a bowl or two full of fresh lemons, and Stirrings' Lemon Drop Rimmer, you've got the beginnings of a slick cocktail.
While you wouldn't use grenadine, simple syrup or dirty martini mix here, they are cocktail essentials, and any good bar set-up should have them. Let's admit it, these bottles are pretty chic, and the packaging makes them easy to display even if they remain unopened for a bit.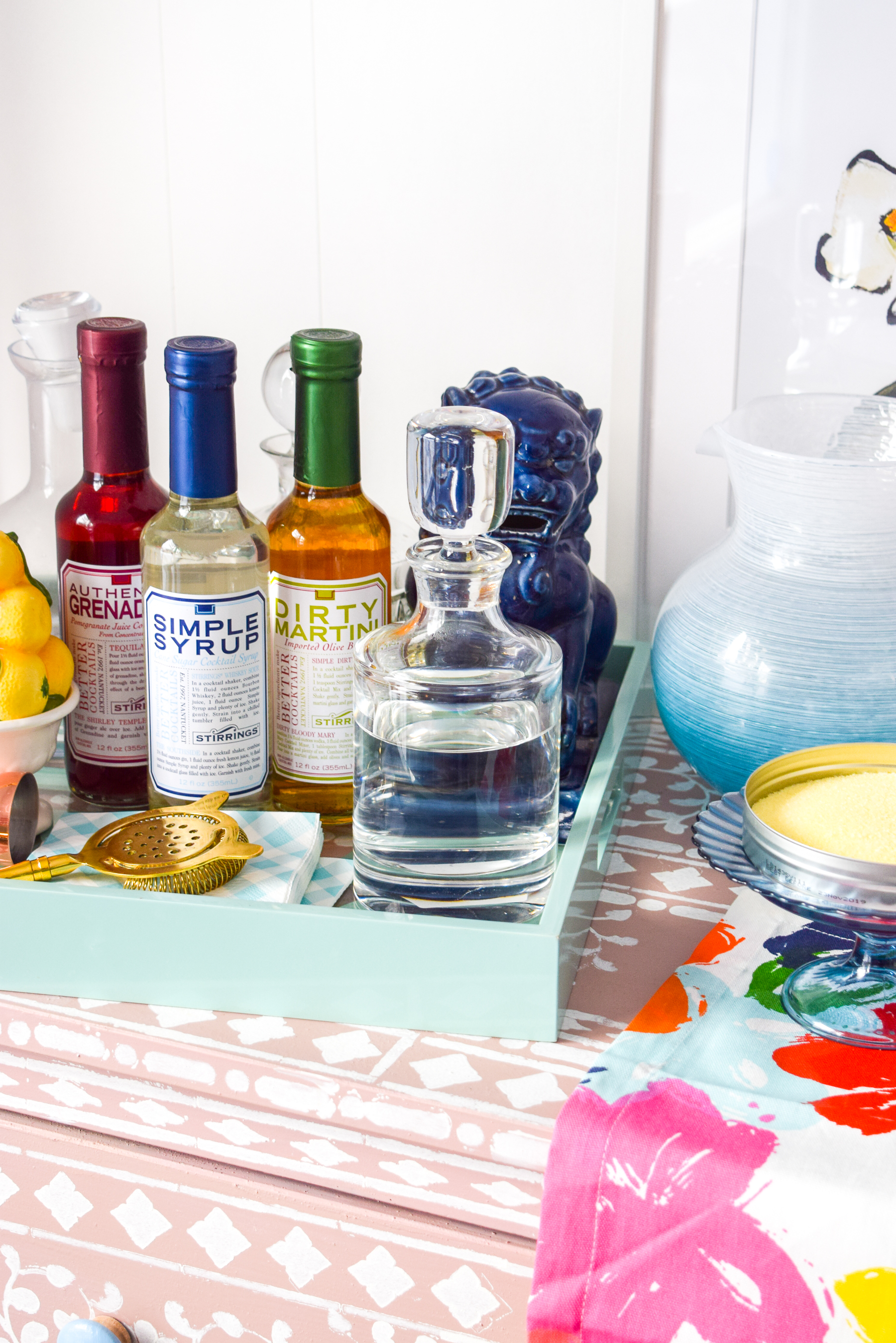 Don't forget to add bold florals in the form of linens, art, and of course real flowers! Tulips are in season now through Easter, and you should be able to find them just about everywhere for a good price.
In terms of colours, blue and yellow are kind of the perfect catch-alls for spring, since they go so well with all the delicate patterns that arrive, and play well with green. Breathe some spring vibes into your cart with addition of well chosen dishes and glassware to feel like Spring is truly here.
Playing around with glassware is a fun element of styling, and one that gets overlooked! Don't rely on the traditional martini glass, have fun with shape and size!
You'd be surprised how a simple glassware change can up your spring bar styling.
Spring Bar Styling Essentials
To summarize! You want fresh florals, linens that compliment your colour scheme, art that reflects the mood, and some killer bar cart essentials. Stirrings line of mixers, rimmers, bar ingredients, and gift sets make for a solid foundation, and then you've just gotta make sure you have the right alcohol pairing to make a drink.