Even though it's been fall around here for a while – and its always Halloween in my soul – I'm rolling-out some sneak peeks of my home in fall. It's a feast for the eyes, and full of colorful fall decor ideas, so let me know which ones you like the most!
I'm also taking part in the It's A Colorful Life Fall Tour, hosted by Jennifer of Dimples & Tangles. I messed-up my days and was slated to go live yesterday, but instead I'm today. So if you joined me from Haneen's Haven – welcome! Head to the bottom to see a list of all the participants and links to their tours.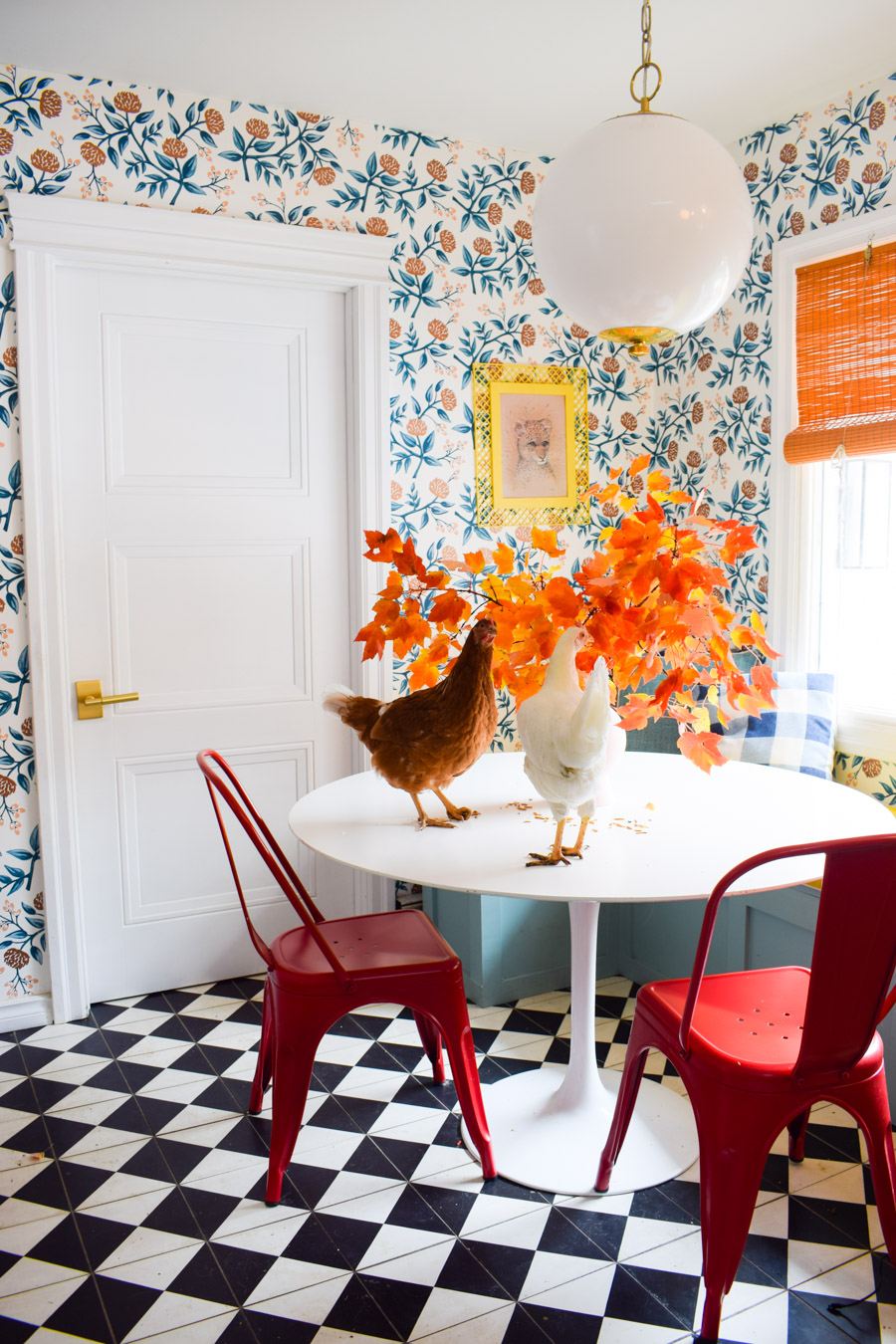 I'd say the chickens are a fabulous addition to our fall home. They made an appearance in my summer tour, but they were just chickens then. They're fully fledged ladies now! Only Tina and Linda were interested in participating this time, Louise opted to stay in the coop.
Check out our Urban Chicken Coop Plans
If we start at the front, you'll see my cornucopia of pumpkins. Aren't they lovely?!
I opted for mauves, terracottas, and pinks. I think they're a stunning compliment to our new white exterior.
I made a pumpkin & star hoop wreath for the fall front door. I think it looks fab with all the pumkins.
June's MCM playhouse even got one! I just made it smaller and added a pinata moon.'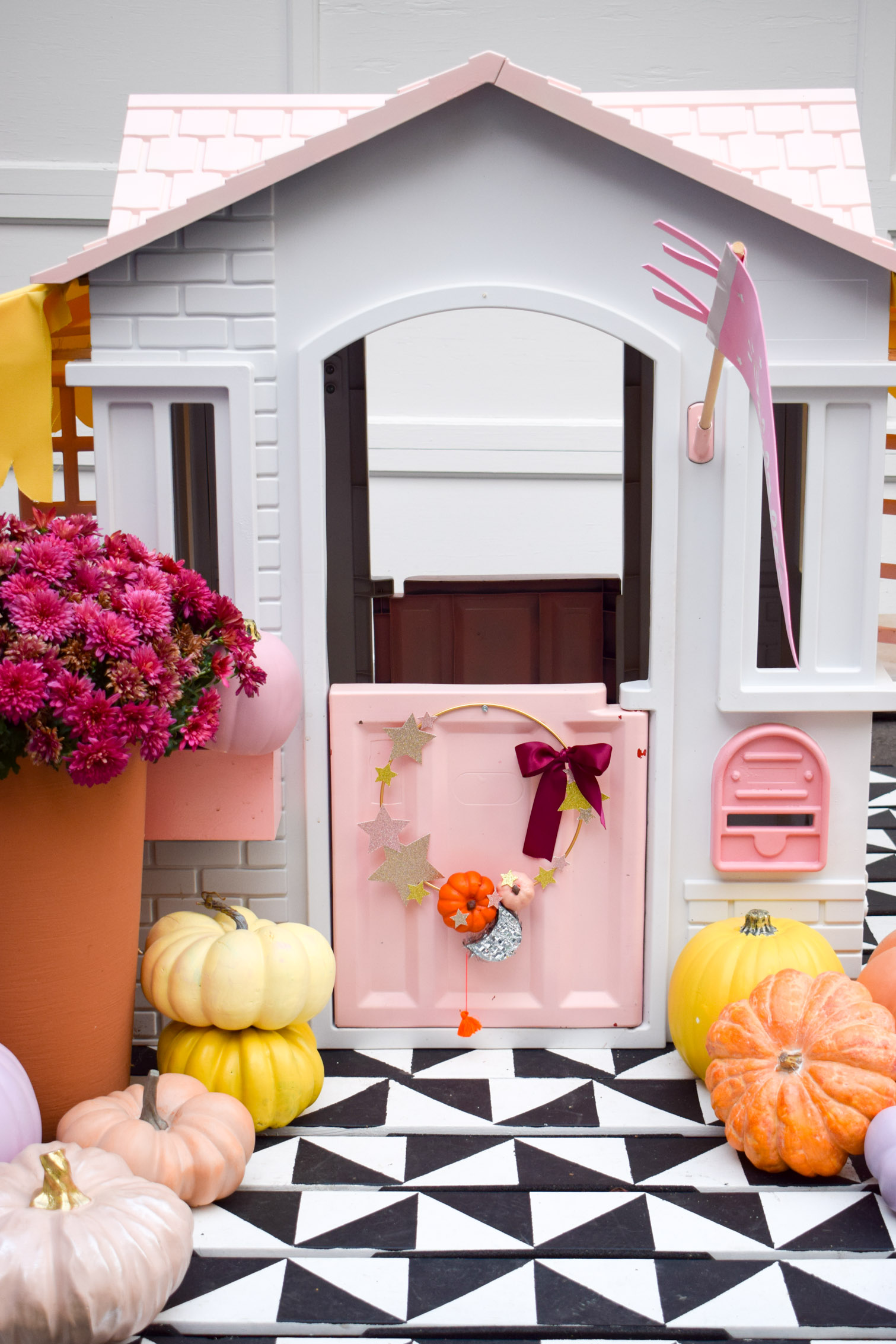 For this year's fall decor, I've kept it very simple inside. A few branches of leaves from our stunning trees made it into the house, along with the chickens.
I added some bug treats to the table to make it slightly more enticing for them. Don't worry, everything was scrubbed down after, and none of the other pets were around while I was photographing the chickens. I'm afraid they would prove too enticing a snack for the cats and Bruce.
(Bruce is photoshopped-in, here below)
Once you make it into the dining room, not much is going on, but only because we're not entertaining inside the house for the forseable future. I did however move a small bar situation up to the dining room.
Taking a page from Kate's literal (and web) book – Drinking with Chickens – I took them by the bar to see if they fancied a cocktail.
Tine was digging the idea of an Aperol Spritz, so I indulged and we shared it with our Skeleton friend in the living room.
I spy some of June's toys that didn't get picked-up before I took photos.
Cheers, darling!
If you're so inclined as to decorate for Halloween, I've got a fun Halloween Mask Wreath in the other corner of the living room.
As you can see, a Witch has left her hat. I wonder what else she left!
Found her brooms! I've got a handy tutorial for how to make witch brooms, so if you're in the market for a new ride, check it out!
I think she may have also done something to the plants, because they're looking different than the fall mums I usually plant.
The only other place we're really feeling fall this year, is on the wood balcony. After redoing it this summer, our wood decking is a nice dry space to enjoy a warm cup of coffee and listen to a podcast.
Thanks for checking-out my fall home tour full of colorful fall decor ideas.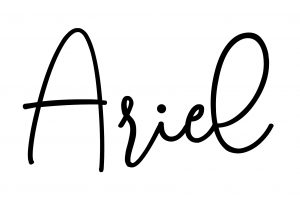 MONDAY:
TUESDAY:
WEDNESDAY:
FRIDAY:
Join us on Instagram by following #ItsAColorfulLifeTour