June's outdoor play area is looking pretty good! I gave a Little Tykes playhouse a spray paint and awning makeover, and built a floating deck to go underneath it.
* Multy Deck sponsored this post, but all thoughts are my own. Thank you for supporting the brands that make PMQ for two possible.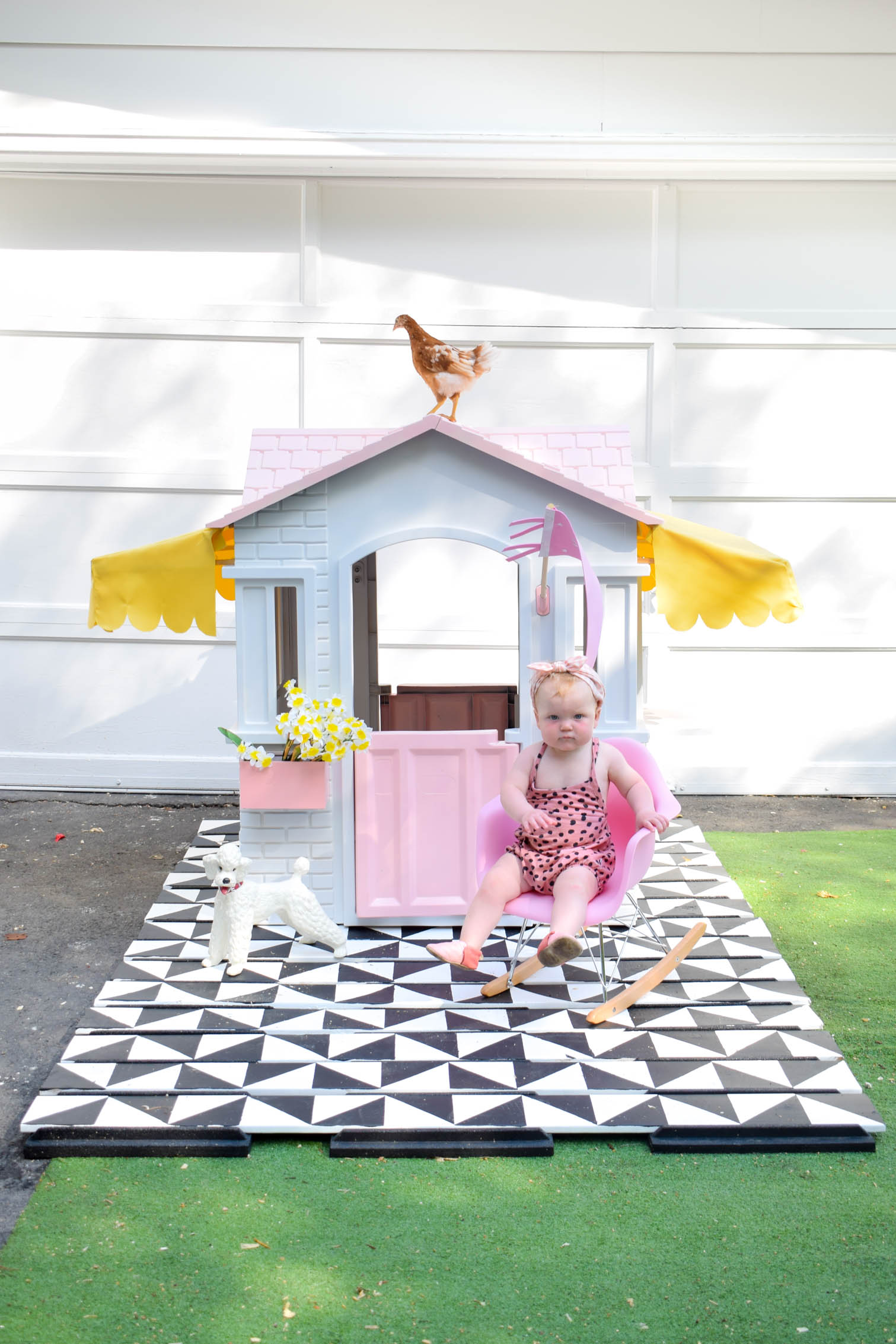 Little Tykes Playhouse Makeover
If you've been snooping around Pinterest this summer, you'll have seen some amazing playhouse makeovers. People take faded, old, plastic or wood playhouse, and give them a fresh lick of paint, a few accessories, and they've got a completely different playhouse.
I used the Cape Cottage from Little Tykes. I had to buy mine new, but the colours were awful so I turned it around with white and pink.
How to paint a Little Tykes playhouse
You do not want to roll or brush paint onto a plastic playhouse. Your best bet is to use a paint sprayer, or spray paint. Get a formula that bonds with plastic, and plan on 1 can for per side of each panel.
4 panels, painted on both sides = 8 cans of spray paint
2 roof panels, painted on both sides = 4 cans
2 doors, painted on both sides = 2 cans
I also painted the plastic screws, the roof attachments etc. to match.
I've done many spray paint projects, so if you need any pointers on technique on tips, feel free to peruse those.
DIY Playhouse Deck
It's fine and dandy to have a freshly painted playhouse, but if it sits on the ground and gets stuck in the mud, ice, and grit of childplay, it will quickly fade.
After using the Multy Deck tile system on our balcony makeover, I knew it was the perfect solution for a floating deck in June's play area.
I've got a quick video showcasing how we used it in this space. If you're looking for the specific tutorial I used for the pattern, it's from the A Beautiful Mess site.
Why we built a floating deck under a playhouse
A few reasons actually! Safety, longevity, and ease.
Safety: Using a little deck under her playhouse gives us something to screw the base of the house into. It won't get blown away and won't tip.
Longevity: With the recycled rubber bases, the wood boards sit out of the water/snow/ice/dirt, so not only will they last longer, but so will the playhouse.
Ease: Using the Multy Deck tiles to create a floating deck is actually super easy, so why not, especially given the first two. PLUS, if we want to change the design on the deck later on, we easily can because the system comes apart with little to no fuss.
I opted not to but a boarder around the deck, but only because I'll move it into the garage when the snow hits, and it will be easier to move the assembled panels if there's no extra trim.
Mid Century Playhouse Makeover
So now that you know the how and why, here's what it looks like! We even got the chickens in on it.