One of the big components in our house exterior makeover this summer, was the new front door. Choosing a front door is actually more anxiety inducing than I thought it would be, but it doesn't have to, so I wrote-up my tips thoughts on the process. Including why we worked with a local distributor – Targett's Windows and Doors.
*Targett's Windows & Doors sponsored this post, but all thoughts are my own. Thank you for supporting the brands that make PMQ for two possible.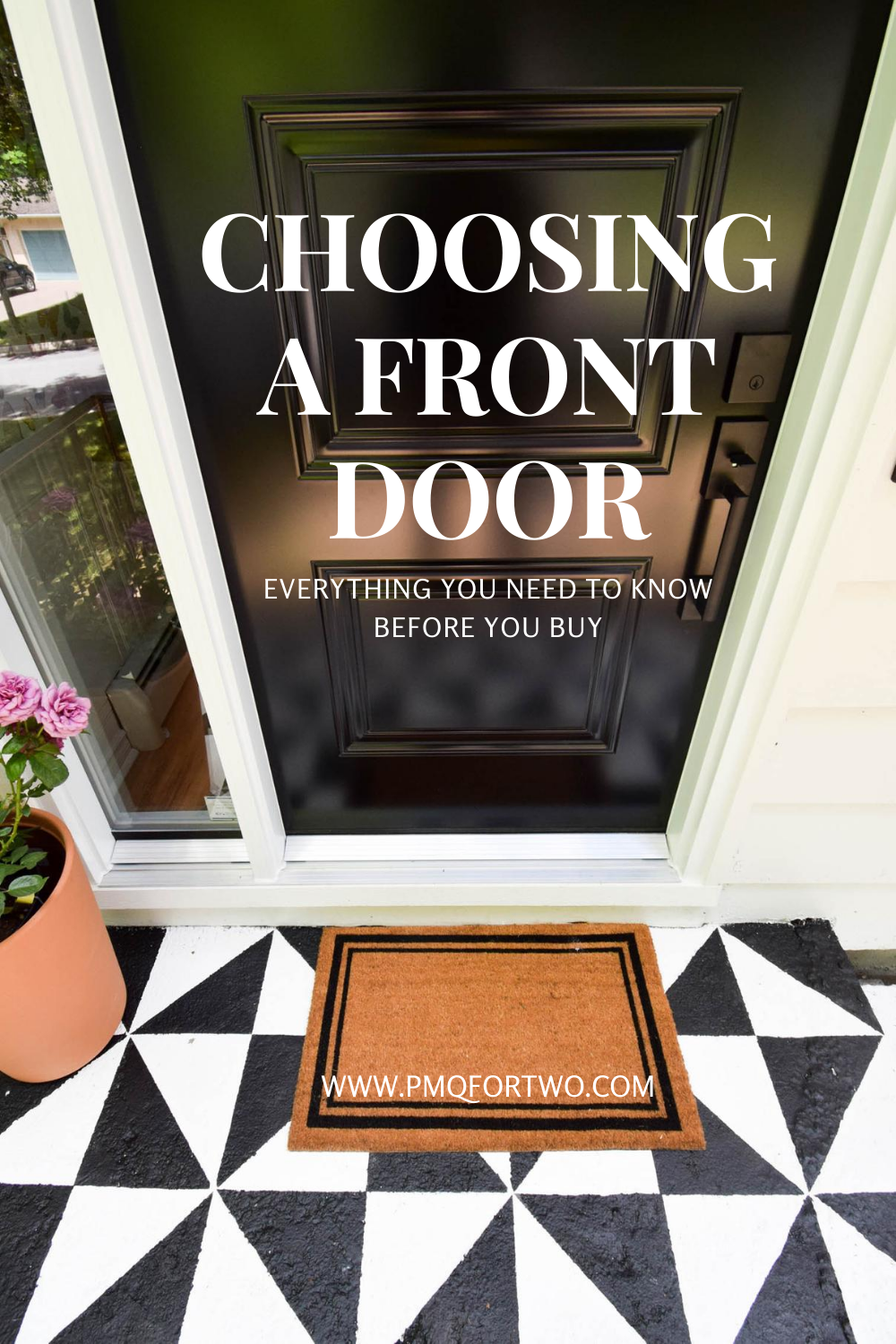 As I outlined in my intro post about our plans for the exterior, we wanted an exterior door that seemed era appropriate for our hose. The motto for this house has been updating it from mid century, to mid century modern.
Check out last year's "one year update" on our MCM flip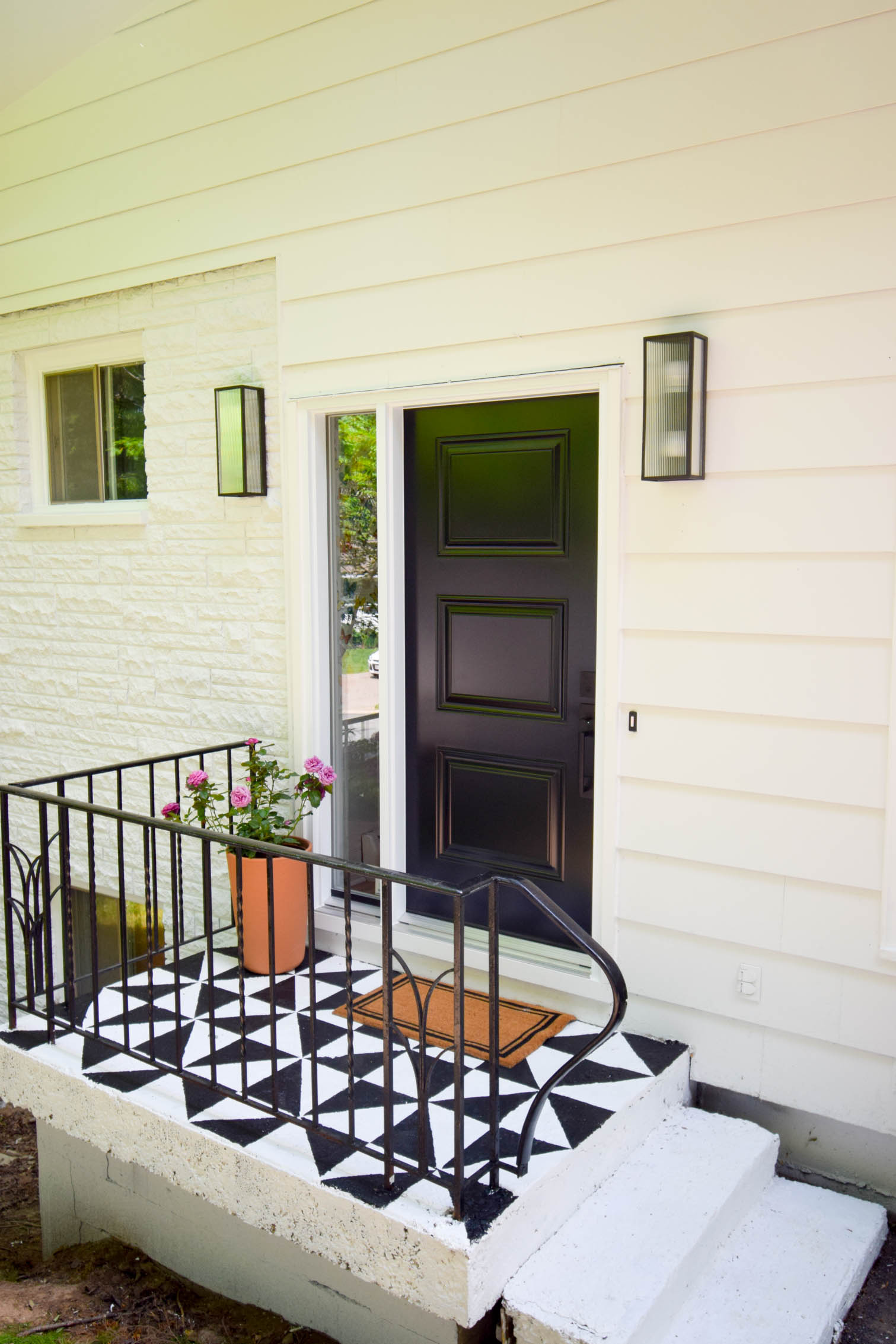 Choosing a Front Door: what you need to know
House Style
Our house is a Mid Century home, so there's only so many door styles that we could choose, while maintaining design integrity. Shopping within a curated collection on the Global Windows & Doors (one of the brands available through Targett's) site made things a bit easier to pick.
As much as I love the look of some of the traditional doors, it just wouldn't work with our house and what we're trying to do.
These are some other doors we considered, so if you're in the market, what about these?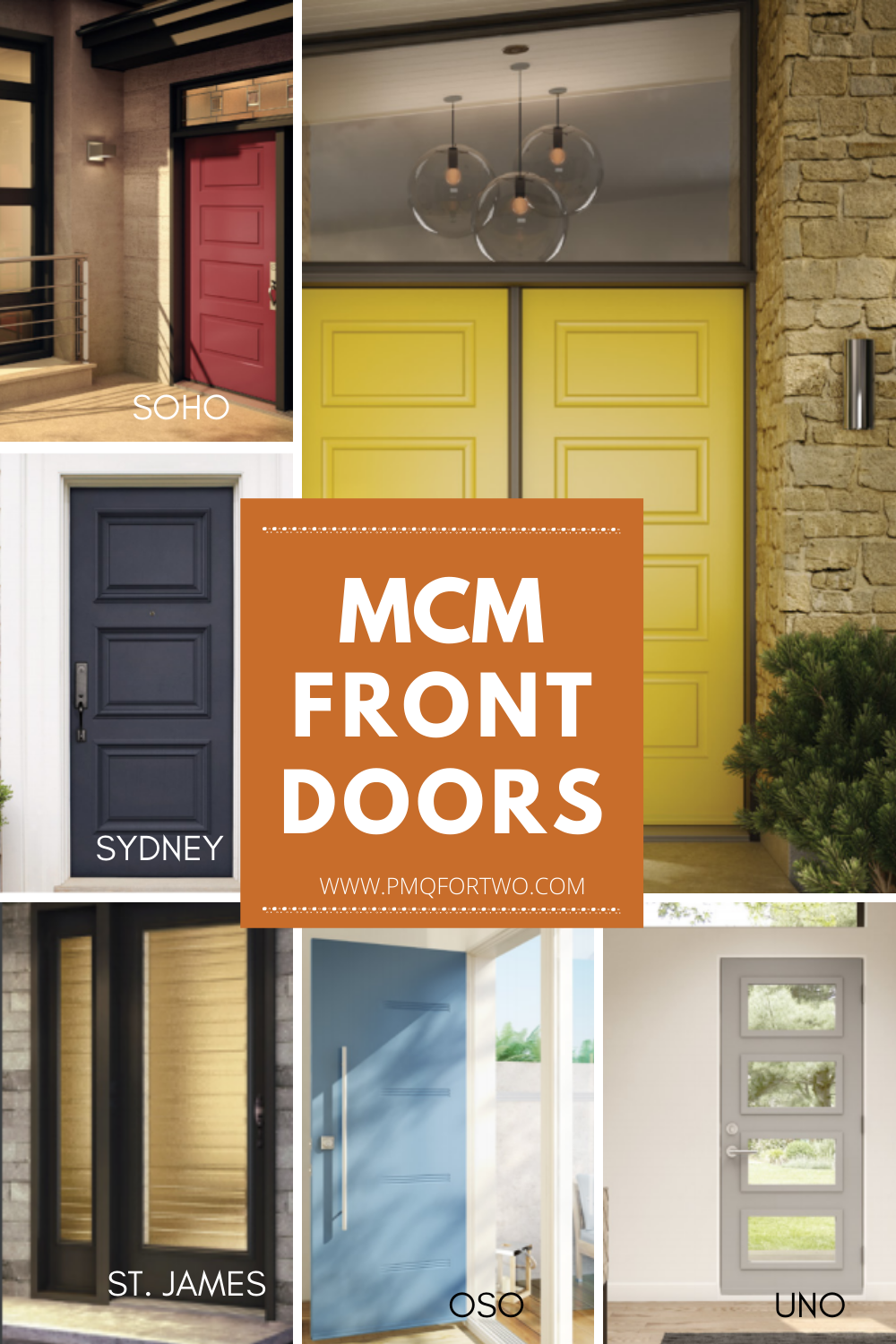 In the end, we chose the Sydney, a steel door that matched the profile of all our interior doors, and existing garage door.
Other doors on your property
It's not as simple as finding a style you like – or is it?
Does your front door have to match other exterior doors?
No, but it should be complimentary. Our other exterior doors have inset panels, but we had them painted white to match the siding so that they wouldn't be an area of focus.
Does your front door have to match interior doors?
Not necessarily, but I wanted ours to, to create greater unity and visual cohesion.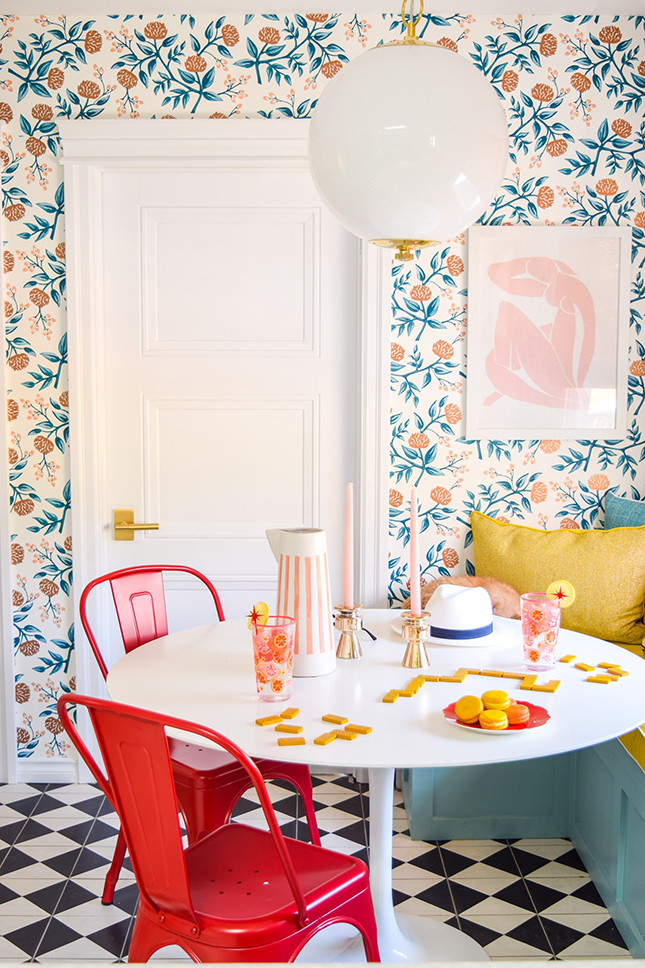 Do the materials have to match?
Yes, I recommend sticking to wood if all your other exterior doors are wood. Same goes with steel and fiberglass doors.
As the Best Pick Reports states:
Fiberglass doors are energy efficient and low maintenance. Fiberglass doors can be manufactured in almost any color or texture, and they can be painted if your exterior color scheme changes in the future.

Wood doors are beautiful and customizable, but they do require consistent maintenance to protect the wood from the elements. If your front porch is not covered, be sure to also purchase a glass storm door to help prevent the wood door from warping or deteriorating.

Steel doors are cost effective and very durable. Though they don't come in quite as many texture options as fiberglass doors, steel doors can be painted. Steel doors require less maintenance than wood doors, but because any bare metal will rust, you'll need to be sure to paint over any scratches or dents.
Front Door Handle Set
We chose a set that matched the rectangular and modern angles of our front door. We wanted a handle, not a knob, so the San Clemente from Weiser was the obvious choice when looking at the options.
We opted for a key lock, but only because we'll get a digital lock when she get a Ring doorbell.
Digital vs. Key Door Locks
I don't know about you, but the smart home systems are super intriguing, and the smart locks are just a part of that.
I've had concerns about weather durability (in -/+ 40c temperatures) and re-sale, but they've been around for a few years now, and there are some serious pros to a digital or smart lock.
ease of use: Weiser offers some that you can remotely unlock the house with (for a service call, visiting guest etc.)
integration in a smart house system
safety: lost a key? easily change the code. Forget to lock the house? use an app to lock it.
The pros of keeping a lock & key system are also pretty strong:
no app or code. Everyone knows how to put a key in a lock
No need to worry about changing codes or app access when you move
you know exactly who has access to your house (those with keys!)
Shopping Local
Yes, you can buy doors at big box stores, but buying local has its advantages. We shopped locally with Targett's Windows & Doors, and had a great experience:
you can ask a knowledgeable sales rep about what's trending locally (especially if near-future resale is a consideration). When I walked into Targett's I was able to have a serious conversation about popular doors and colour options.
customer service is local and often easier to access. Doors come under a warranty, and you'll have an easier time getting a service call or maintenance if you buy from a local dealer. No waiting on the phone with 1-800 numbers.
Shopping local is important! And when possible, and the price is right, I prefer to shop locally.
Thrifting vs. Buying a new door
We went with a new door for a few reasons:
more energy efficient: a new pre-hung door comes with all the latest and greatest in caulking, insulation and seals. If you were losing heat out through a draught, you won't anymore.
better safety considerations: locks are changing (see digital vs. key locks) and we wanted to make sure the door would be compatible with new technologies
Sure, we could have hunted and thrifted for an older original door, but it would:
likely be less energy efficient (or not at all). A lot of the older front doors are hollow!
require regular maintenance: older doors are often wood, and that materials requires regular upkeep
and it likely wouldn't come in a jamb, so we'd have to hang it and that's a head-ache we don't want.
Popular front door colours
Black and White are the most popular door colours. So if you're buying something new to fit-in with the street, or increase value for resale, one of those two colours is your best bet.
That being said, most people buy a front and pick a colour because they like it.
Painting a door vs. Having it painted by the manufacturer
A few of you asked how I got such a seamless finish on my front door. I didn't, the manufacturer did.
Global/Targett's offers a great palette of colours, but will also colour match if you're trying to get a particular shade.
When you have the door painted before installation it's often powder coated and done for duraility, and the paint job comes under warranty. Not only that, but some doors are built slightly differently depending on the colour.
Check out our red painted door
When you paint the door yourself, you've got brushstrokes, a handle to contend with (I'm certainly not capable enough to take the handle off myself, let alone re-attach it), and the durability just isn't there. As someone with a dog who paws at the door to let me know he wants in, my painted doors never lasted long.
Sidelights & glass insets
If you have a simple front door with no sidelights, cool. Skip ahead. If like me you have a sidelight or two, taking those into consideration is equally important when updating your door.
Often, the manufacturers have matching styles for your door choice, and those are your best bet. You can even opt to have them closed-in, but I wanted to add more light with ours.
why we opted for a simple sidelight window
In the process of changing our front door, we got rid of the centre glass medallion (and lost the light it gave), so adding more light back was important to me.
Because the side window is made by the same people who make door, the quality is top notch, and it's well insulated. So we'll get all the light in the winter, but no cold.
Because we ordered through Targett's the installation was easy to set-up. It took them about 3hrs to have the old door out, and put the new door in. Not bad!
The installers took the old door away, cleaned-up any mess they made, and were able to match the trim work to the Metrie Casings we have on the inside.
Our new MCM front door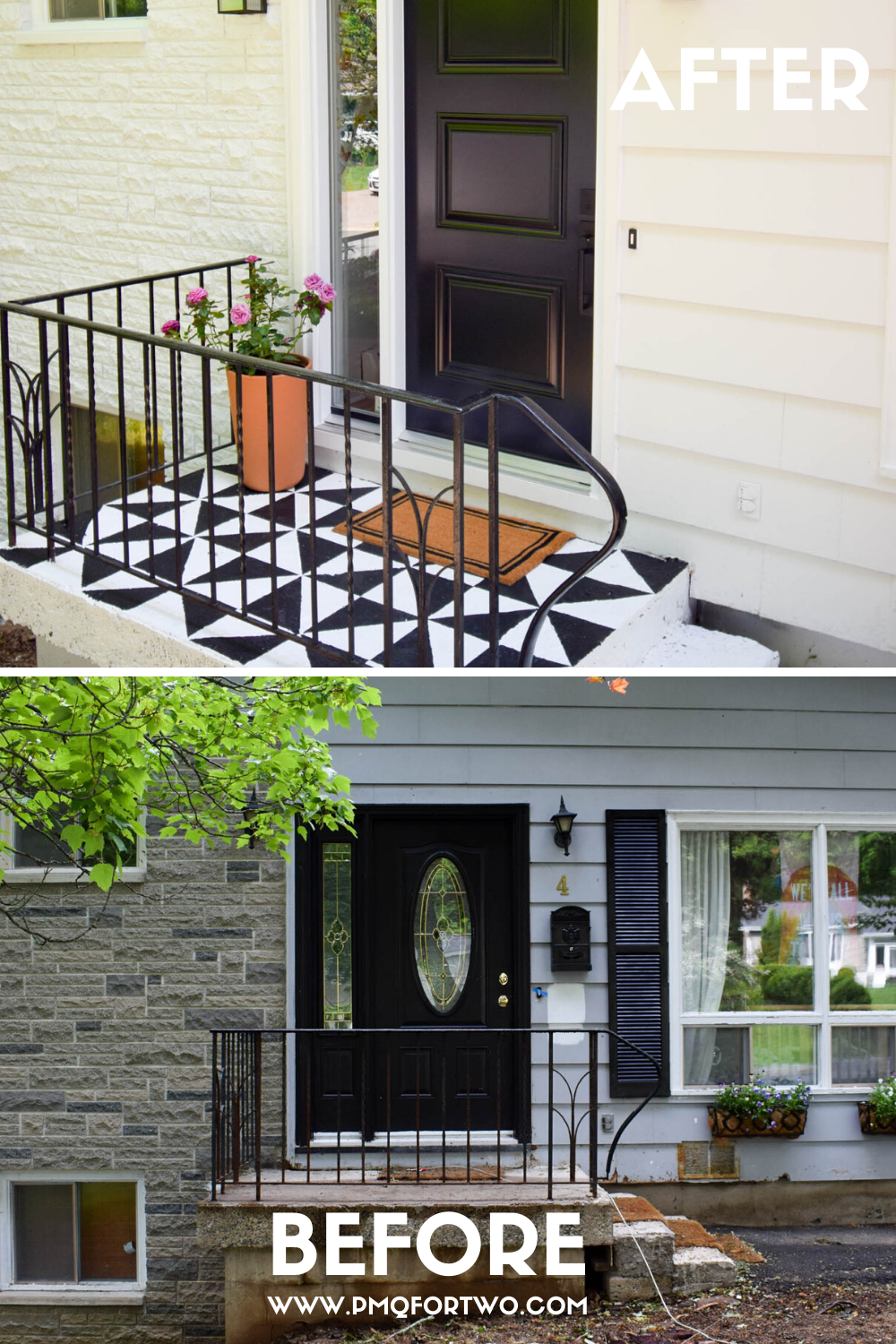 With the light fixtures, geometric front step, and crisp white paint, the Sydney really shines in place.