I have achieved demi-god status – I got approval to paint my front door! That's right, no more ugly white door for me! Of course, if you live locally to me you'll have seen me painting it the past few weeks, and a temporary set back where the door was actually blue for a while, but in the end it has all been worth it. I've chosen to unveil the to you with my colourful Christmas front porch as part of Taryn Whiteaker Designs porch hop.
If you're new to PMQ for two and reading this you'll wonder "why did she need approval to paint a door?" and for that you can read about PMQs // here //. While you're at it, you should also check out my project gallery // here //.
*DecoArt sponsored this post, but all thoughts are my own. Thank you for supporting the brands that make PMQ for two possible.
Bruce is also super happy to meet anyone who comes to the front door, but he's been having a blast lately with the mailman and all the deliveries I've been getting. Poor guy.
Like I mentioned above, I ha originally wanted to take the front door in a blue direction because I thought it would complement the brown siding of our Q. I had not considered the two blues I've already got on our curb side decor, and once the paint went on it all felt wrong. I completed the door for good measure, but it really wasn't working.
Thankfully I still had a jar of red Curb Appeal paint leftover from the Oromocto SPCA Curbside Makeover, and I knew how good it looked, so I did an about face and painted over the blue. Haven't looked back since!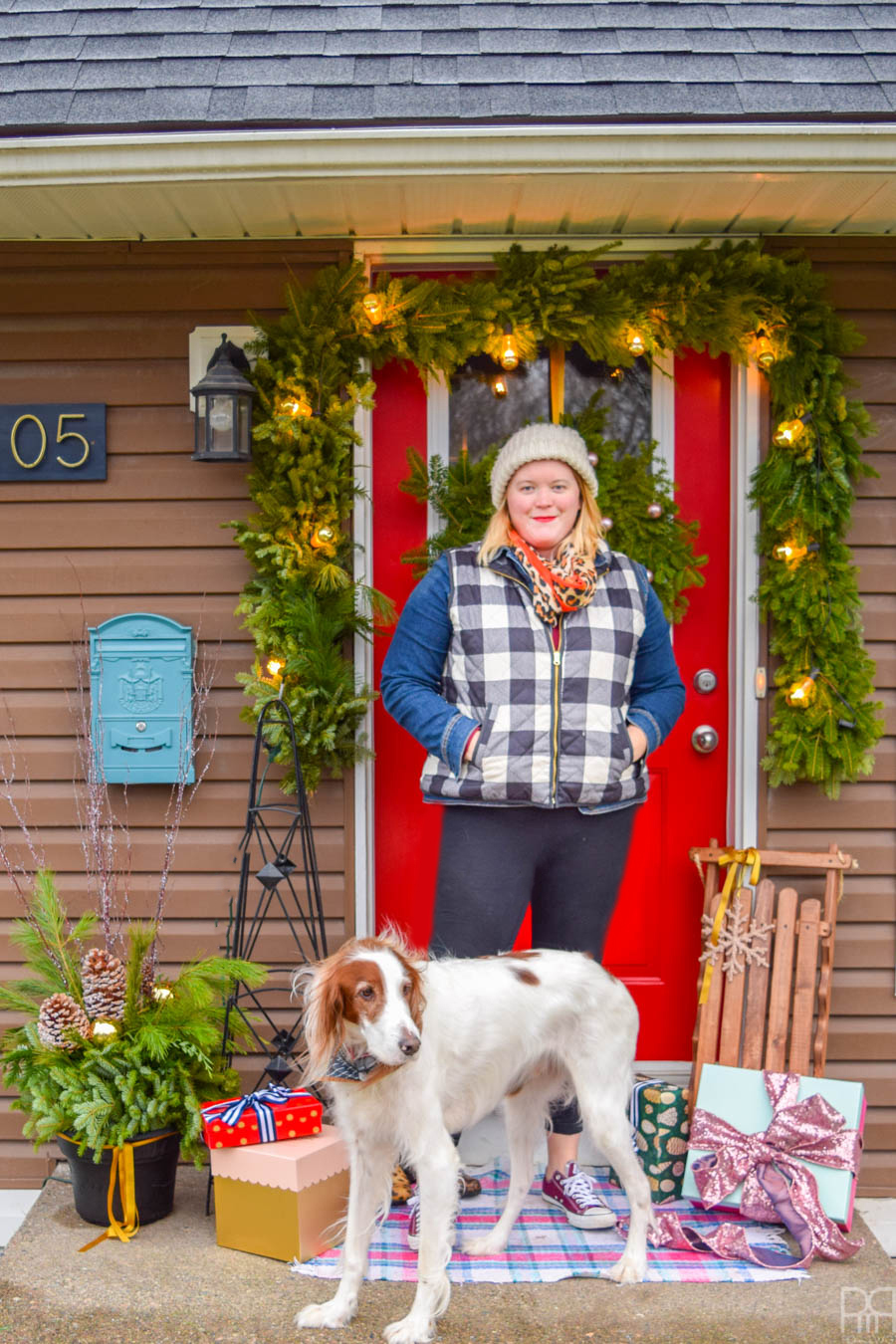 I don't show my own face around here too often, but I figured I could make an appearance with Bruce on the porch. He was so well behaved, and I got way too many photos of him, but I'm only going to share a few here. It's supposed to be about my colourful Christmas front porch after all.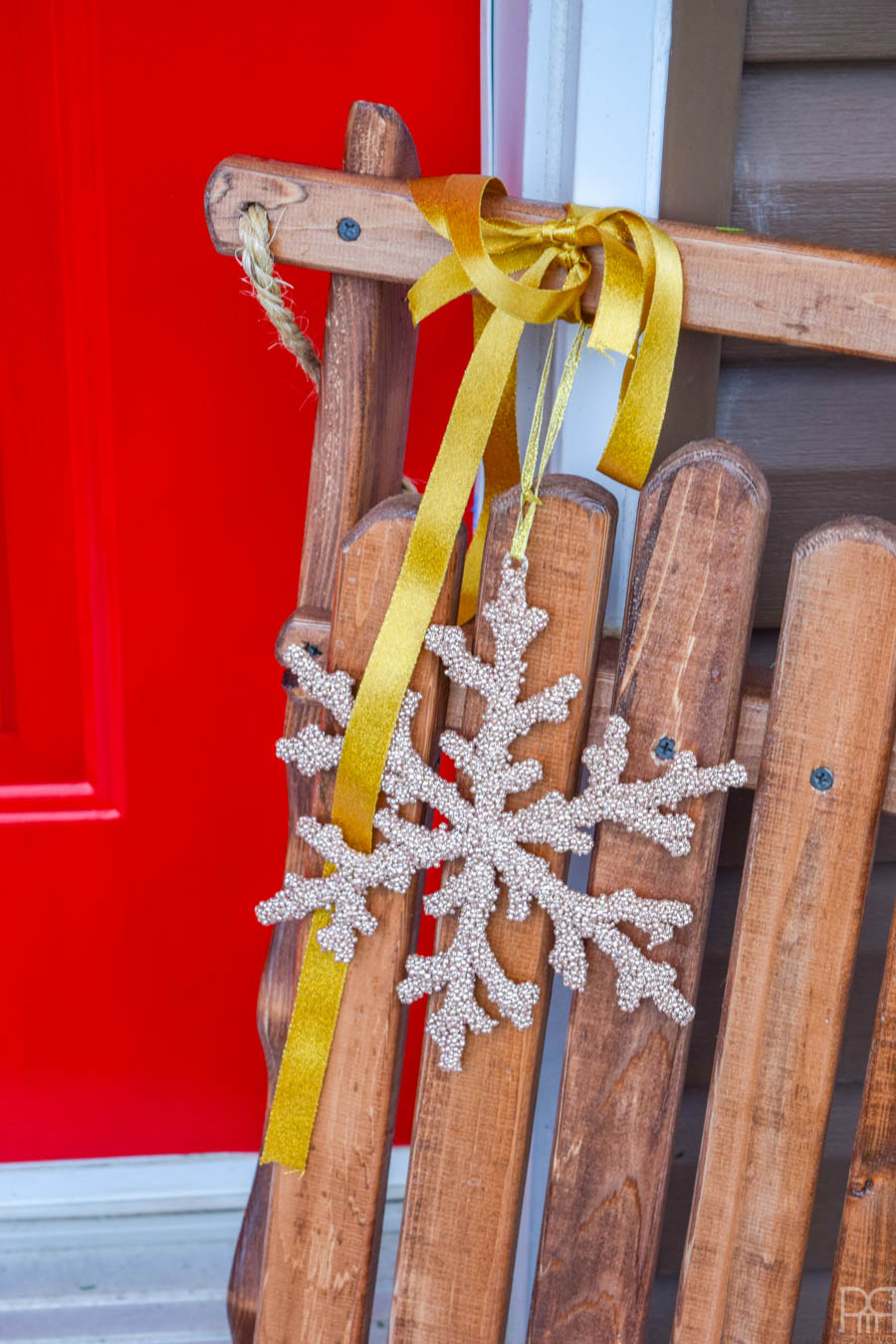 The sled was a local classifieds find. A local woman was making them for a super reasonable price, and I figured I'd try my hand at some more traditional decor. As I do with all my decor endeavours, I unify styles through colour! With red and blue accents, I chose pink, gold, and lighter blue seasonal touches, in addition to all the greenery and boughs of course. They're from a local independent nursery, and I like to support the small guy when I can.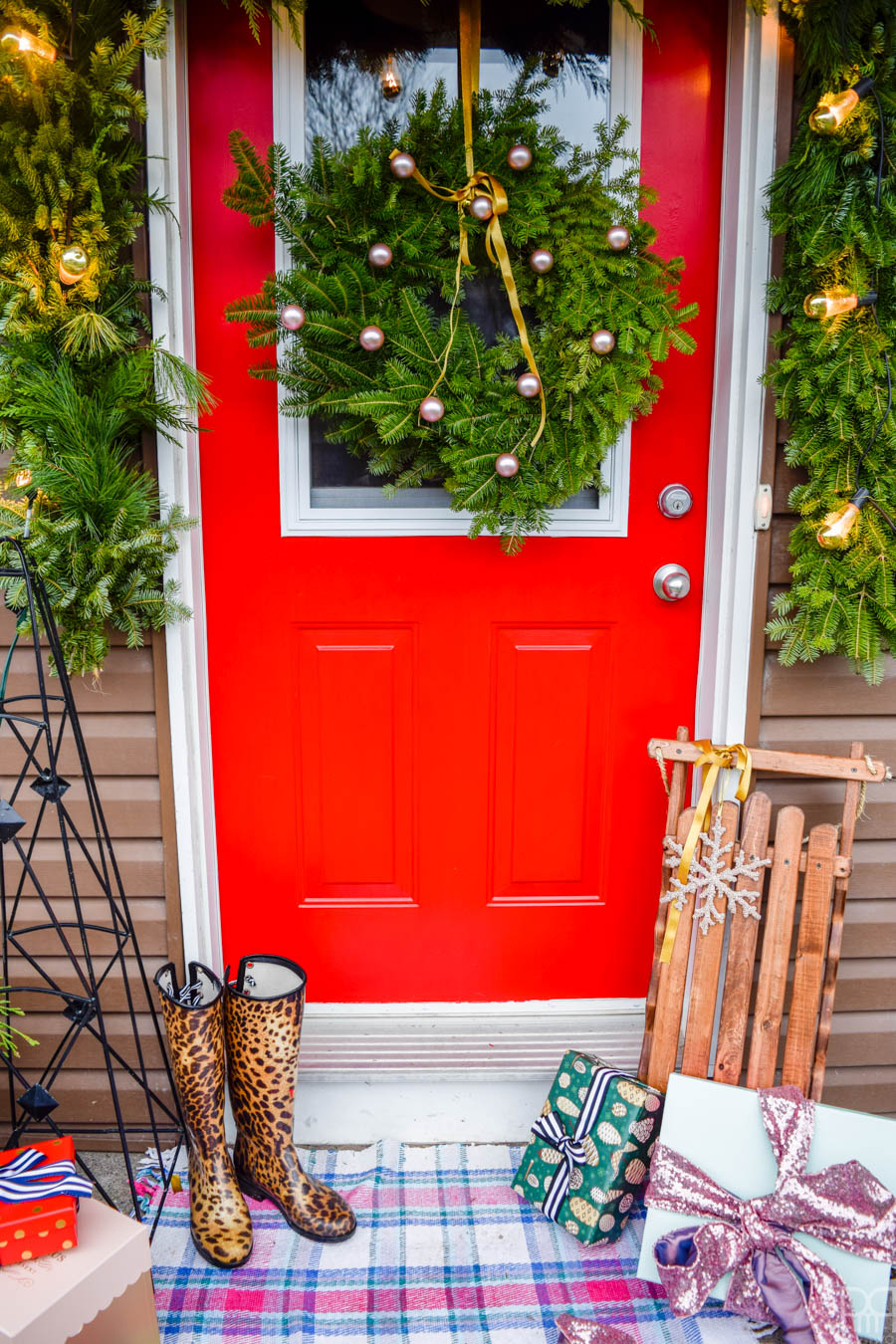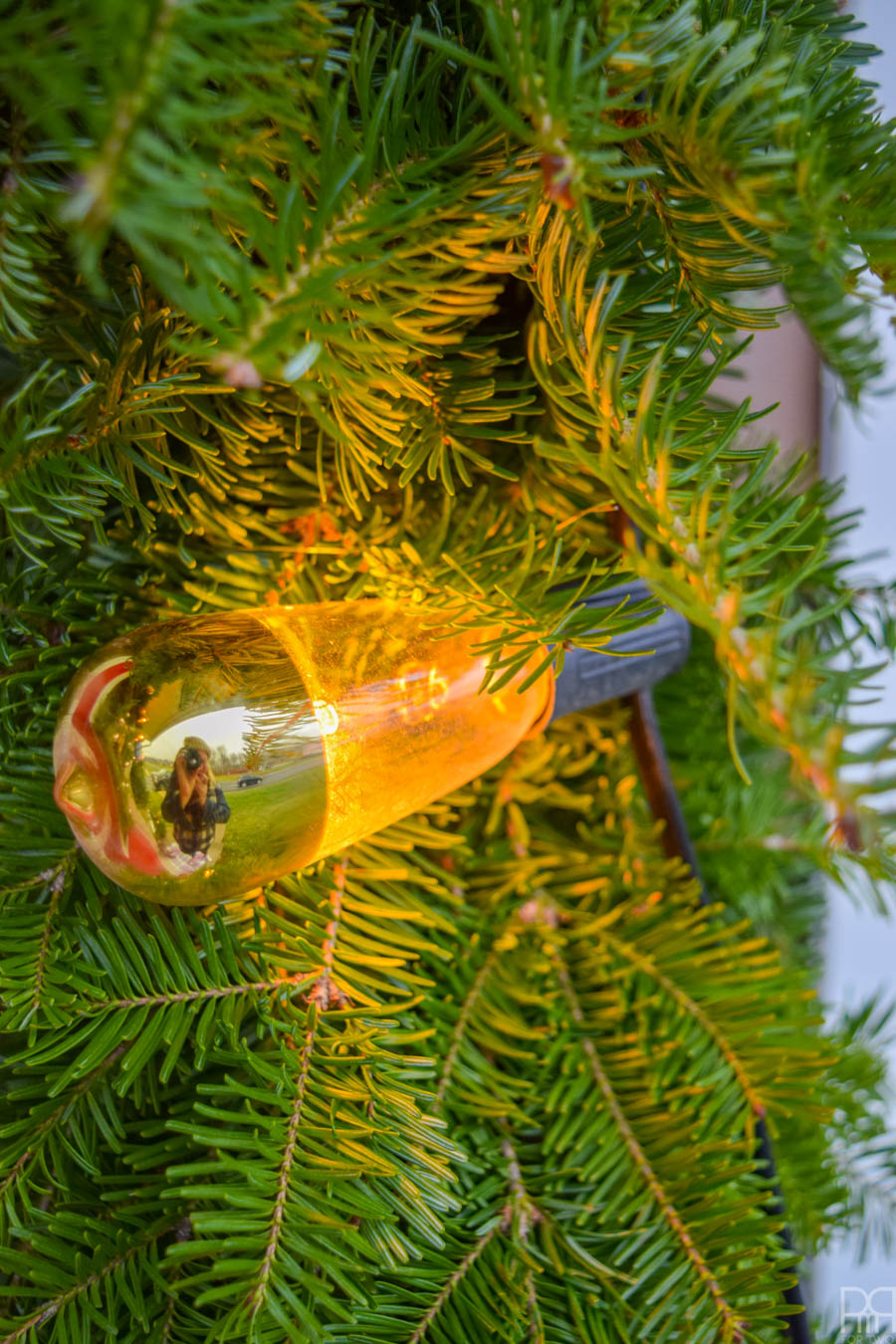 I'm reusing the lights from our summer pergola // here // on the front porch this winter. I really enjoyed the clear bulbs we had last winter, but with the gold and copper dipped bulbs you get a warmer hue off the lights, especially in the deep of night.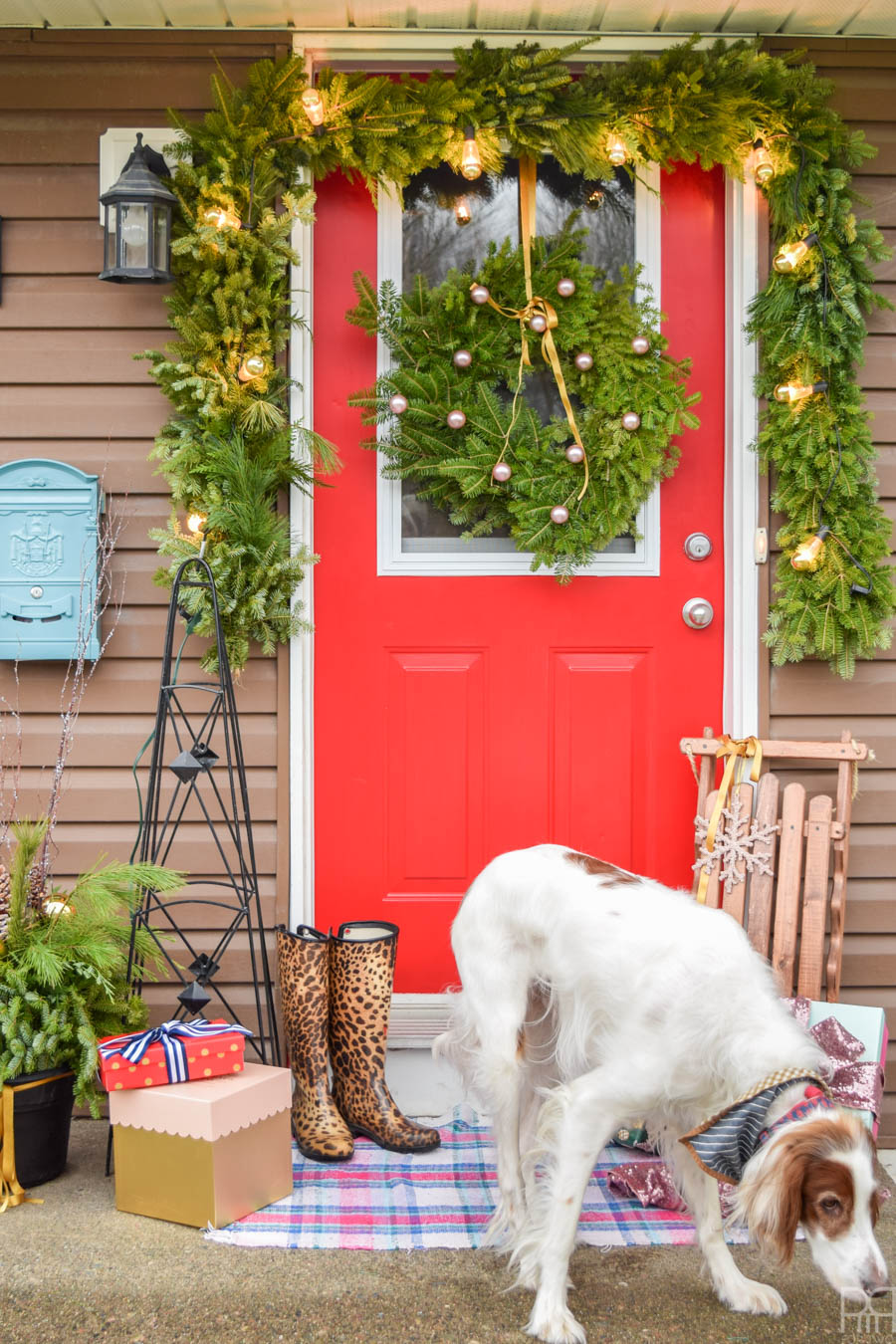 Time to go back in Bruce! We're done with the front porch shoot. Thanks for swinging by and checking-out my colourful Christmas front porch. Don't worry, all those gifts don't stay on the porch, they actually live under the tree, but for th sake of the shoot I thought it would be fun to show it all decked-out.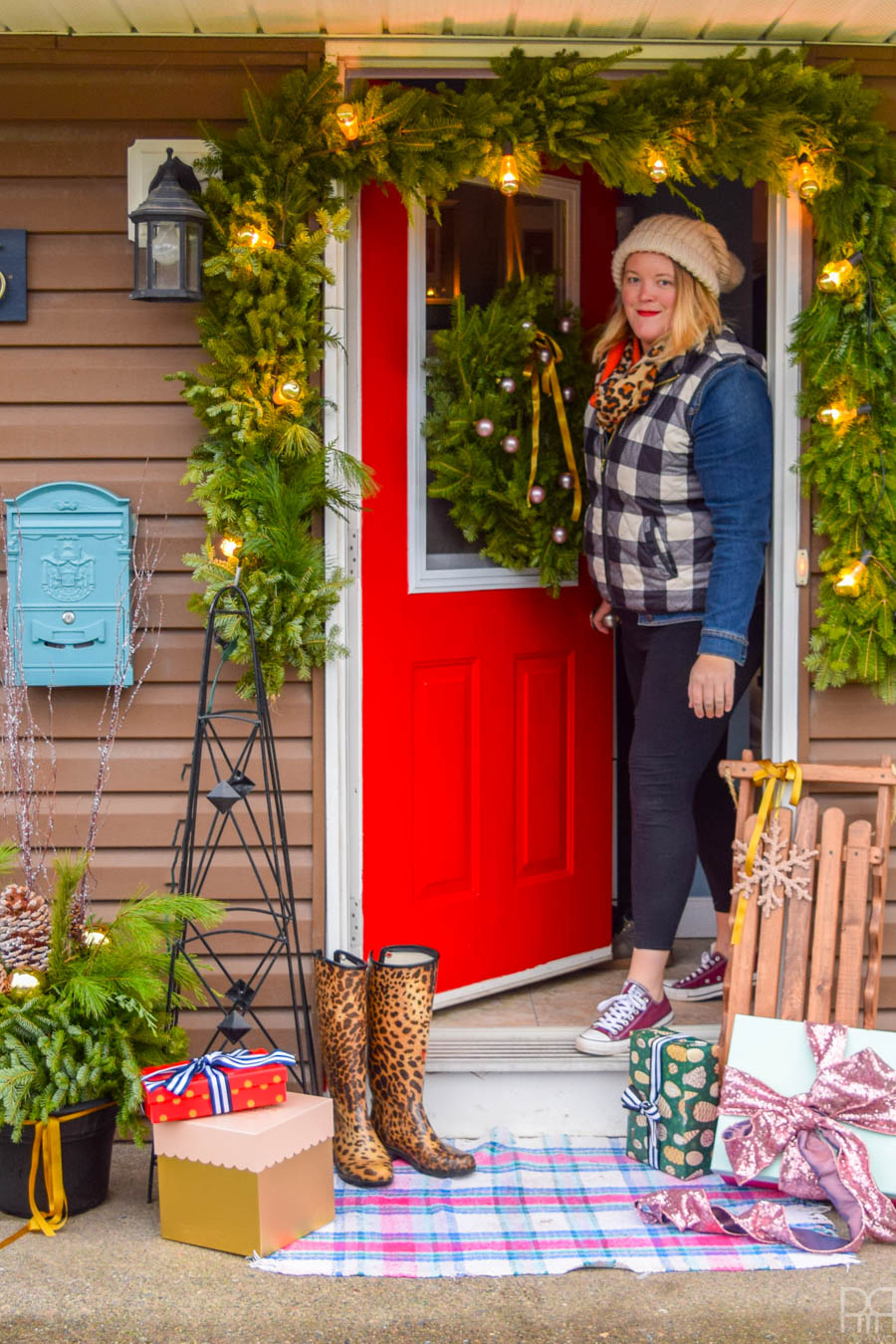 If you're looking for more inspo, I suggest you guys hop along to the other participants n the hop and see what they've got going on!
PMQ for Two | Two Twenty One | Taryn Whiteaker Designs | Finding Silver Pennies
A Pretty Life | Hello Allison Blog | Clean and Scentsible | The Happy Housie
Lolly Jane | Not Just A Housewife