It's Friday – we made it! This is definitely a TGIF moment for me. I was travelling last week after the wedding and I'm travelling next week to give a few presentations. Normally the week after travel is insane, and the week before travel is insane. So add to that all the prep I've got going for a solid March calendar and this week has been nuts.
To top it all off, the man cold has come to visit me! Basically, I cannot wait to uncork and pour myself a drink when today is all over. Who's with me?! To make life a little easier though, wouldn't a champagne buzzer just be the best?
This is obviously not a new idea, you'll have seen many variations of this DIY around Pinterest and in art, but this is my own version complete with plastic gemstones.
TGIF posts: Cocktail Napkins // Bar Cart Organization // DIY Neon Bar Sign //
I actually found a version of this exact craft at Value Village earlier this week which is what prompted me to repurpose the pieces for my own ends. I hope the person who made the "buttler" buzzer won't hate me too much for switching it up.
The following product links contain affiliate links. Thank you for supporting the brands that make PMQ for two possible. For my full policies click // here //
Materials
Step 1: Paint your wood plaque in the colour of your choice. I had all kinds of ideas of contrasting with red and shades of green, but in the end a simple pink pink on pink was what worked best. I've got the buzzer on there to see how it would look next to the various colours I was thinking of.
You'll likely need two coats to get a decent coverage, so make sure you leave plenty of dry time in between coats to avoid ruining the first coat.
Step 2: Once the two coats are down it's time to add your contrast line. I'm using cotton candy for mine, and all I needed was a fine tipped craft brush.
Step 3: While everything dries you can prep the vinyl lettering. I used my Cricut Explore Air 2 to upload the text I created in photoshop. Feel free to use this image below for yours! Just drag and drop. I wasn't sure if it was going to be "Press for Champagne" or "Buzz for Champagne," and then a million other variations, but I'm happy with this version.
Step 4: Apply the vinyl lettering like you would with any other Cricut project.
Step 5: Determine where you'd like your buzzer to sit in relation to the text and the plaque in general. You'll then drill pilot holes for your buzzer, and then fasten the buzzer to the board.
Step 6: Apply your gemstones! Once the buzzer was on there it all felt kind of empty and unoriginal. Because I have an un-ending supply of plastic gemstones on hand, I started laying them out to see if they looked good. Sure enough, they do, so I got the glue gun out.
Step 7: To make it easier to hang, I drilled a shallow hole into the back of the plaque so that it would sit over a nail head nicely.
Step 8: Press the buzzer! Get yourself some champagne! Cheers!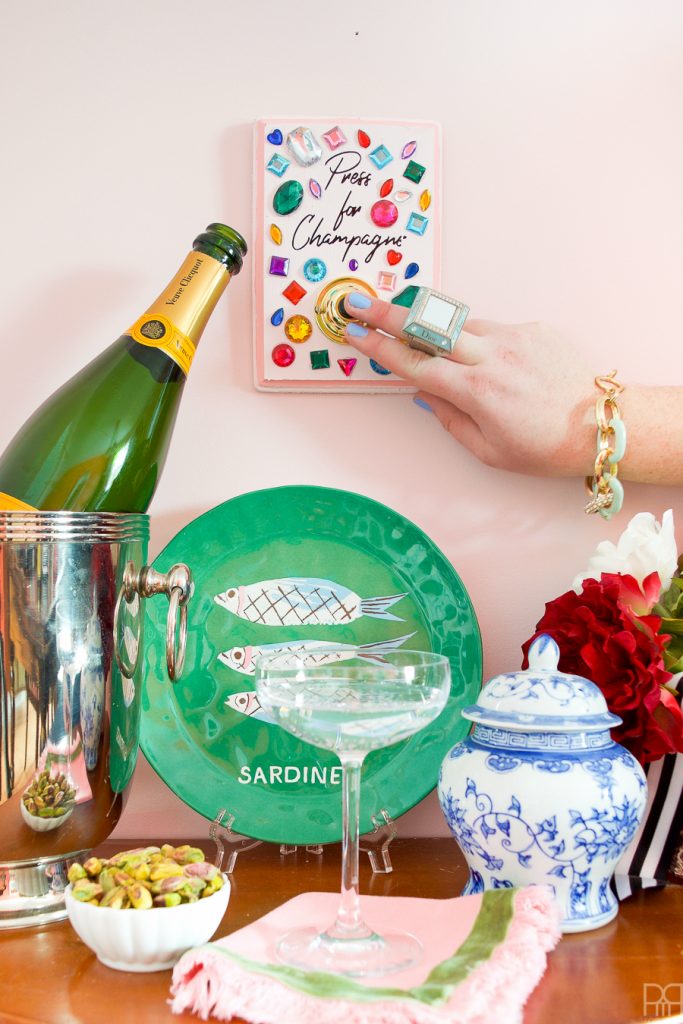 Yield: 1 Champagne Buzzer
DIY Champagne Buzzer - TGIF
Make life a little easier and fun, with a DIY champagne buzzer complete with pretty gemstones. Everyone needs a champagne buzzer!
Materials
Wood plaque
DecoArt Paint in Chiffon & Cotton Candy
Plastic Gemstones
Doorbell Buzzer
Cricut® Midnight Vinyl
Cricut Cutting Mat Variety pack
Transfer Tape
Tools
Cricut Explore Air 2 
Hot Glue Gun
Drill + Drill Bits
Cricut Tools Basic Set
Instructions
Paint your wood plaque in the colour of your choice.
You will need two coats.
Allow to dry in between coats.
Once the two coats are dry, add your contrast line with a fine tipped craft brush.
Use the Cricut Explore Air 2 to make the text.
Apply the vinyl lettering to the wood plaque.
Drill pilot holes for your buzzer, and attach the buzzer to the board.
Apply your gemstones with the hot glue gun.
Drill a shallow hole on the back of the plaque for hanging.