We're almost a month into our retro glam kitchen renovation is wrapping up. While it doesn't look like we've done much, we've actually got quite a bit on the go — including a few timelines that just couldn't line-up with this week's post. So to make up for it, I wanted to reveal a few of our retro glam kitchen renovation details this week. Things like the wallpaper we finally chose, light fixtures, and some accessories.
Catch up on our progress so far: How to Paint Plywood Kitchen Cabinets & Choosing A Retro Kitchen Floor Tile
P.s Welcome to week 4 of the ORC! Make sure you go check out the link-up with all the other linking participants, and check out what the official ones are up to.
*Hygge & West, Emtek and Hudson Valley Lighting sponsored this post, but all thoughts are my own. Thank you for supporting the brands that make PMQ for two possible.
Some of the kitchen details like lighting, wallpaper, accessories etc. are all things we thought we had on lockdown before the challenge begun. But like all major renos, things change in the course of events, and sometimes you've got to pivot.
So this week I thought I'd shed some light on how we adjusted, course corrected, and eventually got what we wanted.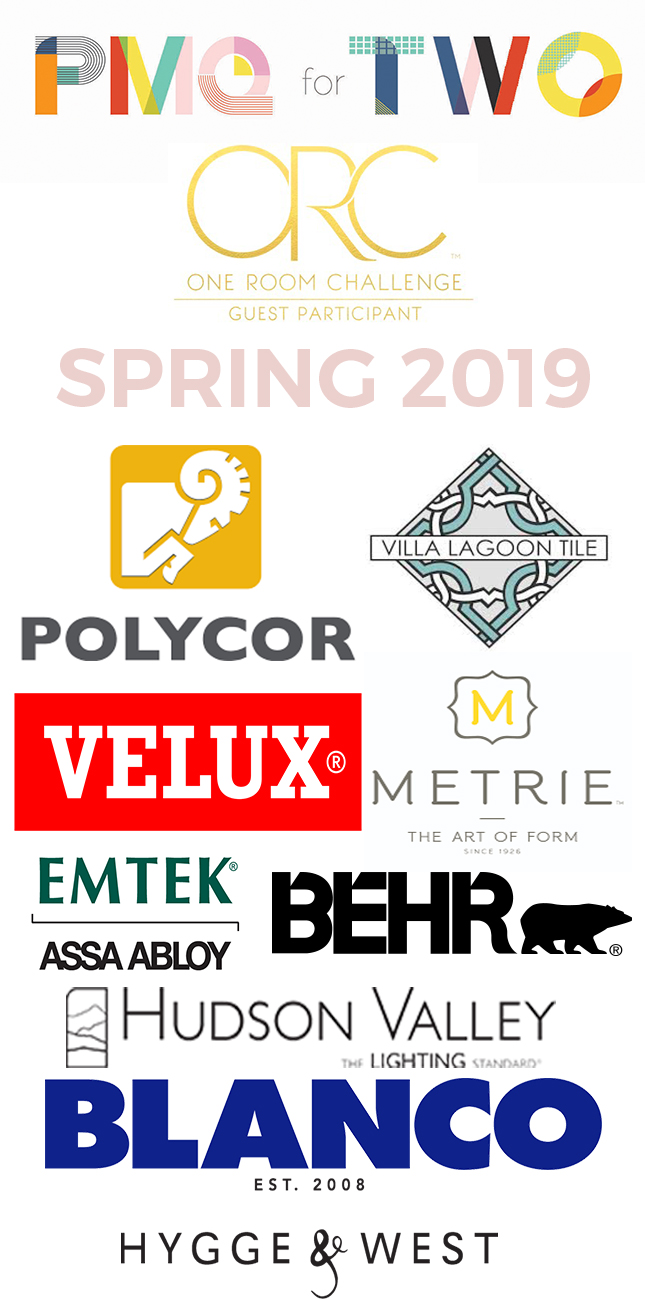 Retro Glam Kitchen Wallpaper
If you've been following along in Instagram, you'll know that we laboured a little too long over the decision of which wallpaper to instal. We went back and forth between two versions of the Peony Wallpaper that Hygge & West makes with Rifle Paper Co. (Copper & Pale Blue), as well as one of their Cities Toile in White (from the same collaboration).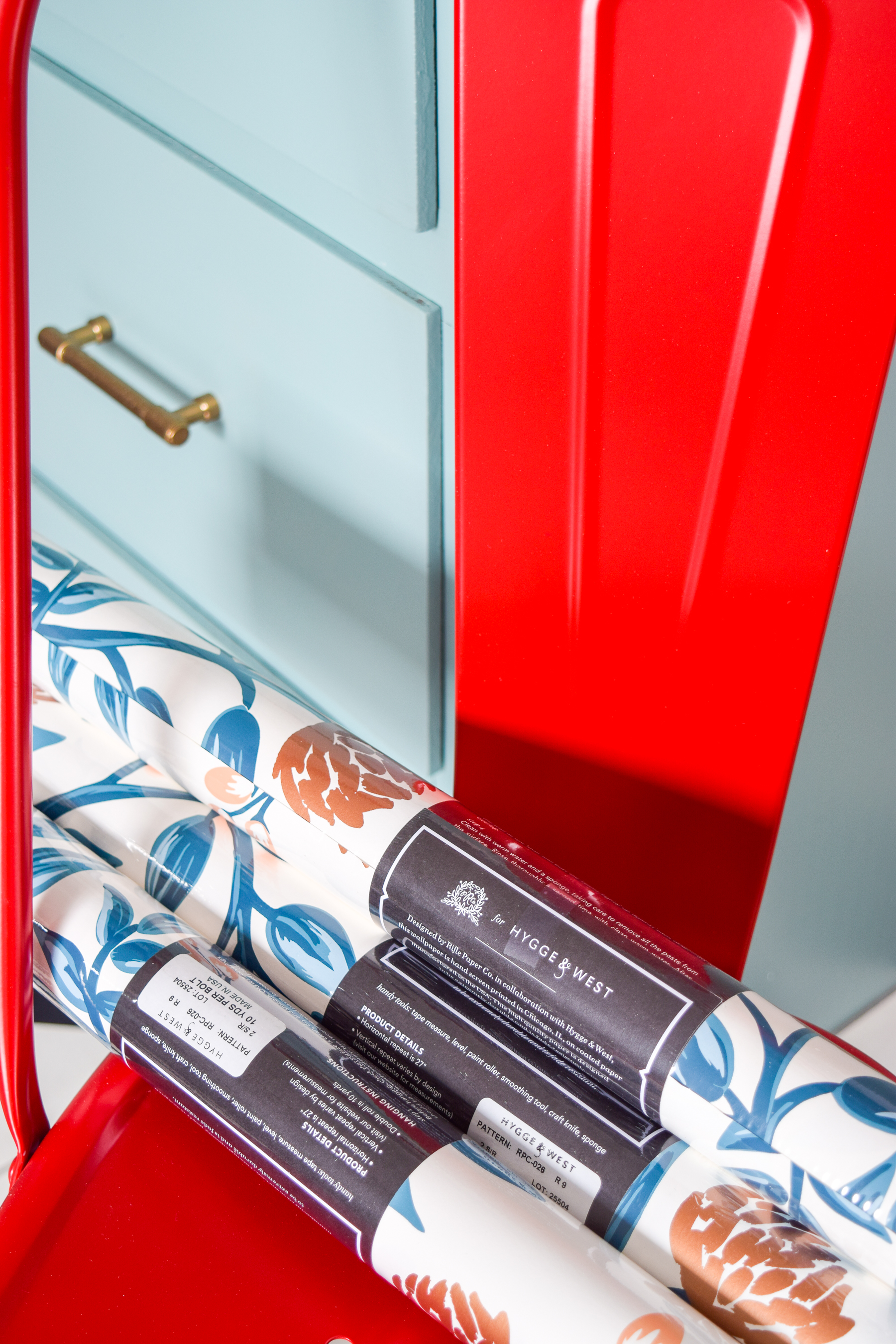 We thought we were set with the Copper, but the our initial lighting selection arrived, and it threw our choice back up in the air. See, the lighting wasn't quite the right colour, and we were worried it would look off agains the white backing of the Copper print, and the white of the tile.
Thankfully Hudson Valley Lighting was able to help us out with a different selection, and we were able to keep the Copper print as our base. I know many of you will be thrilled with our choice.
Retro (but glam) Kitchen Lighting
I've learned a few things when it comes to choosing lighting, especially when it comes to overall cohesion of various fixtures within the same space. In our Floral Glam Master Bedroom, I paired two lovely kinds of fixtures, but in the end I think they are just at the extent of actually working together.
So with this space, I wanted to make selections that would work with the retro kitchen style, but that also felt modern and glam.
A few other elements we had to consider when choosing our lighting: scale, various types of lighting requirements (task vs. decorative), cohesion with the rest of the house, and overall practicality. I'll be sure to talk these through when we have them in place.
I've been teasing the reveal of the overall scheme for a few weeks now, but since I only have one kind of fixture here at the moment, I'll only reveal them once they've been installed. HINT: They're from the Mark D. Sikes collection.
Art & Decor for the Kitchen
Last week I shared a thoroughly comprehensive post with links to finding the best retro kitchen decor & appliances under 100$, and I definitely bought a few of them myself. You'll spy our toaster and our new coffee machine. I've had the Heritage Edition Blue Kitchen Aid Mixer since the fall though, and it inspired the kitchen colour palette to a great extent.
I did grab a few retro collage prints from society 6 during one of their sales, and have just started to frame them. I'll have them all listed in the reveal, but you can enjoy the few that I've framed here: Roast with Mushrooms by Eugenia Loli, Look at You! by Julia Walck,and BAGELS BAGELS BAGELS by Anna Dorfman.
You may have also spotted my Retro Melamine Heart Mugs, and I've snuck them into the kitchen ahead of schedule, but mainly because I wanted to see how well it all worked.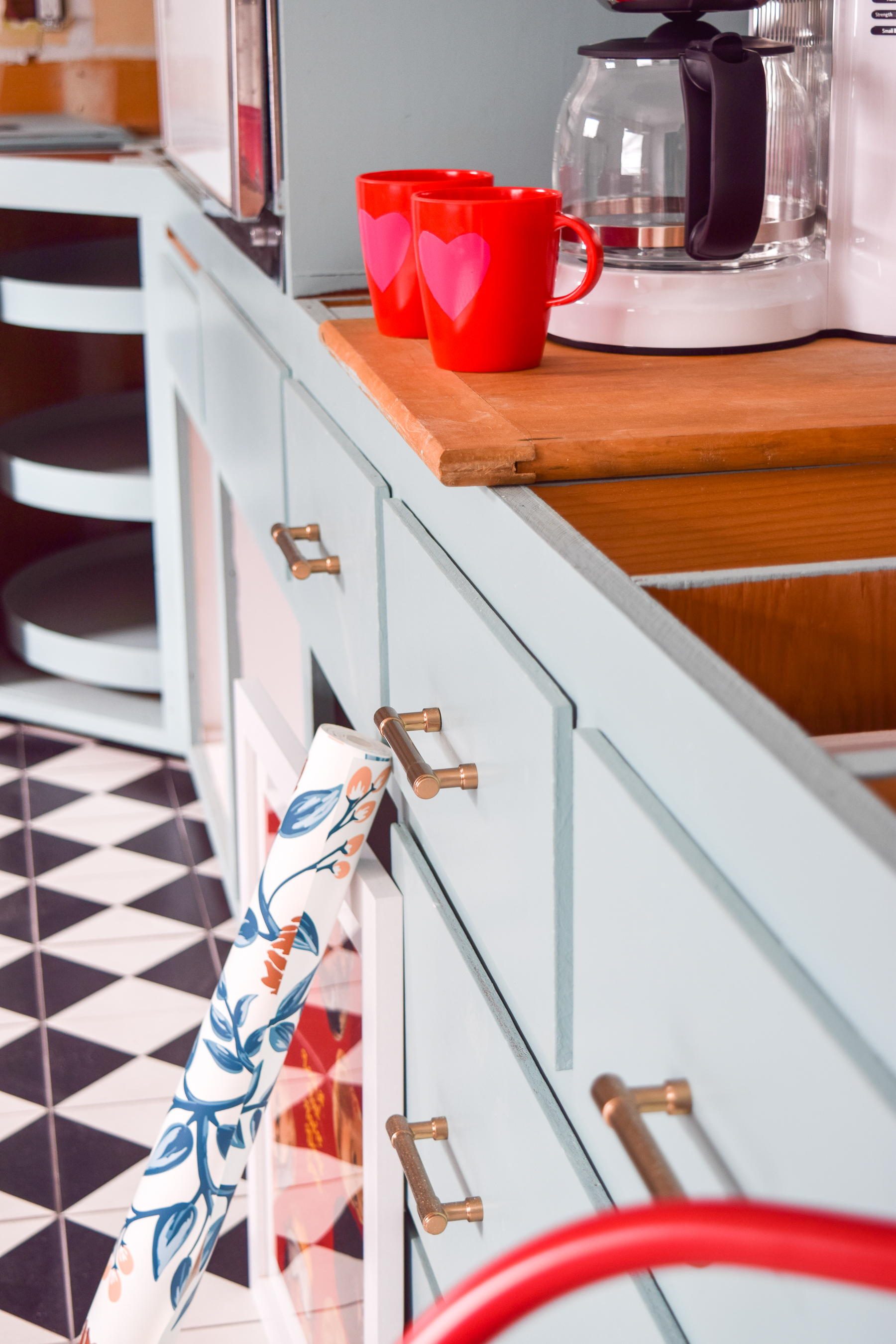 Glam Kitchen Hardware
We also finally started installing the hardware on our drawers & cupboards. We're using the Jasper Pull (in satin brass) from Emtek. I just LOVE how they look against the blue of our cupboards, and with the copper peonies in the wallpaper.
We've got some more hardware from Emtek waiting to be installed, but that'll be going in next week, and I'll show it off then!
Renovation Details
And then of course, there's all the stuff you don't see that happens behind the scenes. We've had the electricians here updating switches and outlets, reworking plug structures, adding new electrical boxes, removing junction boxes, and more. It's not sexy, but it's the type of investment that is always worth it.
The plumber was also here, since we wanted to make sure the pipe situation was good to go for when the new sink is installed. More importantly we want to make sure everything is up to code. There are all kinds of considerations when dealing with an older home.
We also had the countertop template done last week. We're using White Cherokee Marble from Polycor, and Granit Design is fabricating and installing the pieces for us. It took us a while to get to that point, as many details needed to be sorted-out before they sent a technician to come do the template. LUCKILY, we're getting the countertops and backsplash installed this Friday, and I absolutely cannot wait to see what they look like in place.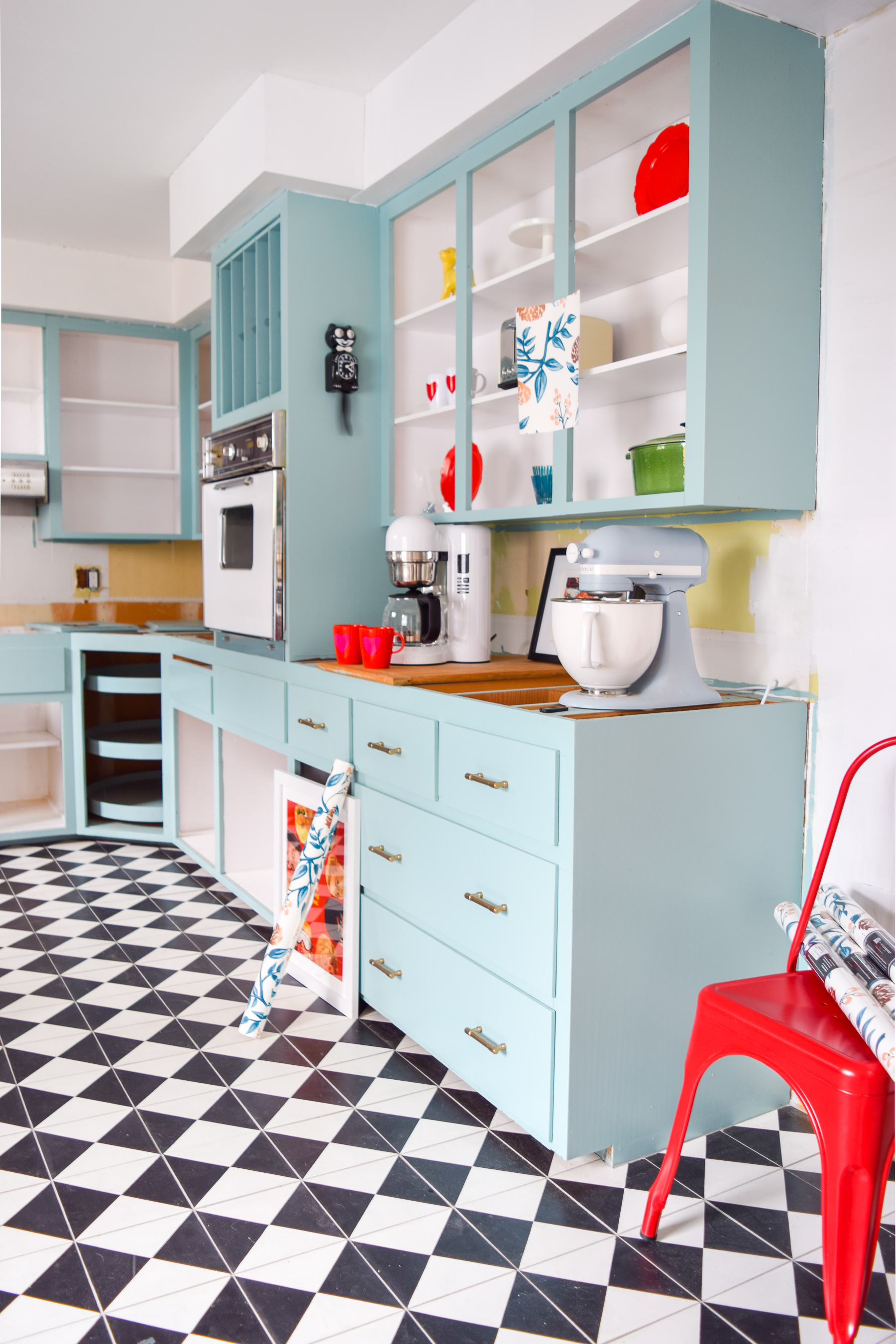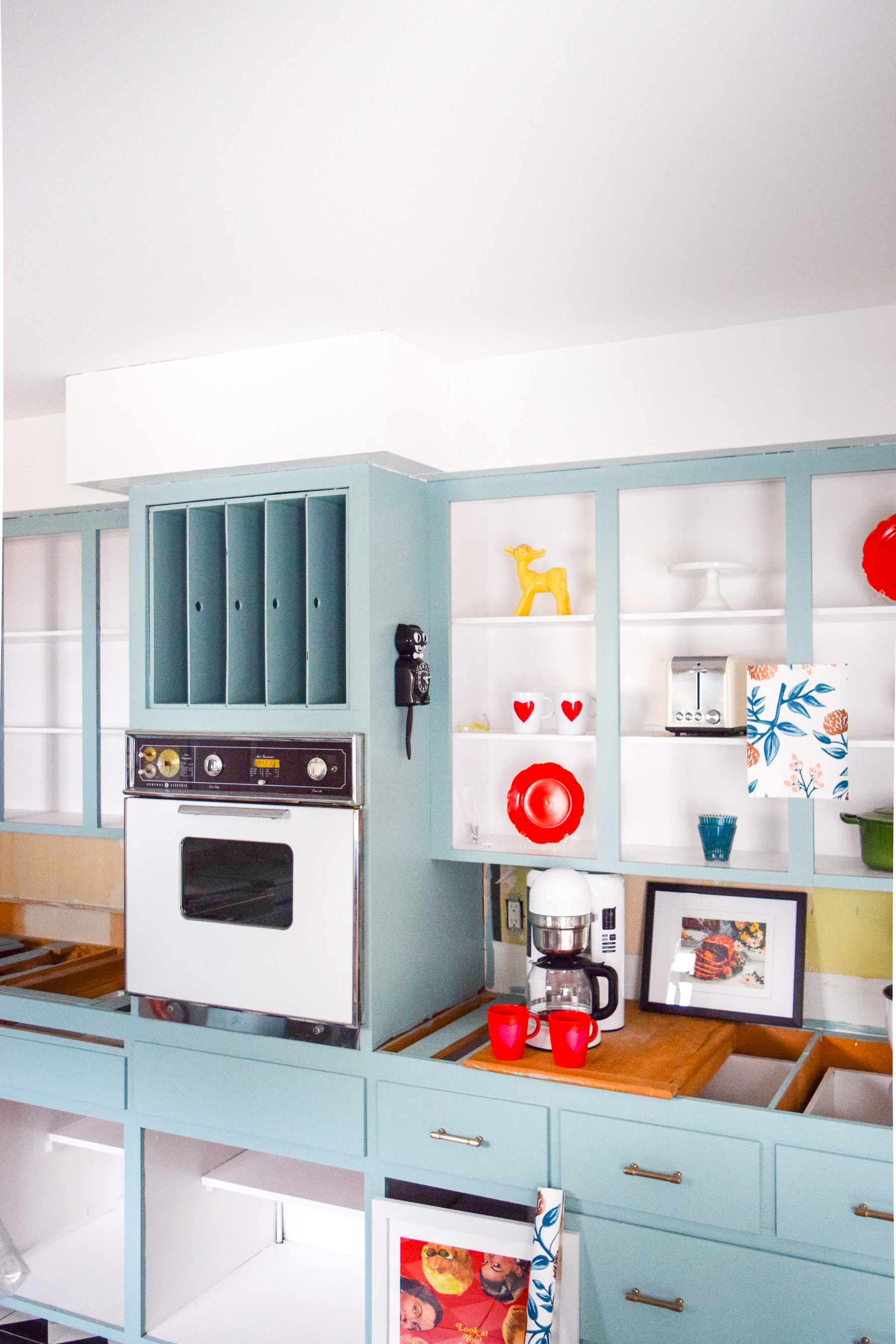 We also got our kitchen bench built and mostly painted, but we're waiting to have the wallpaper installed before fastening it to the wall.
Many details as you can see! Not all of them glam, but many of them necessary. See you next week!
Shop the Retro Kitchen Details