Time is flying, and I feel like our progress has somewhat slowed while we make sure all the final pieces fall into place. That being said, choosing a retro kitchen floor tile (and having it installed) was one of the first things we did for the One Room Challenge.
Check out the plans for our Retro Glam Kitchen, and how to paint your kitchen cupboards.
P.s Welcome to week 3 of the ORC! Make sure you go check out the link-up with all the other linking participants, and check out what the official ones are up to.
*Villa Lagoon Tile sponsored this post, but all thoughts are my own. Thank you for supporting the brands that make PMQ for two possible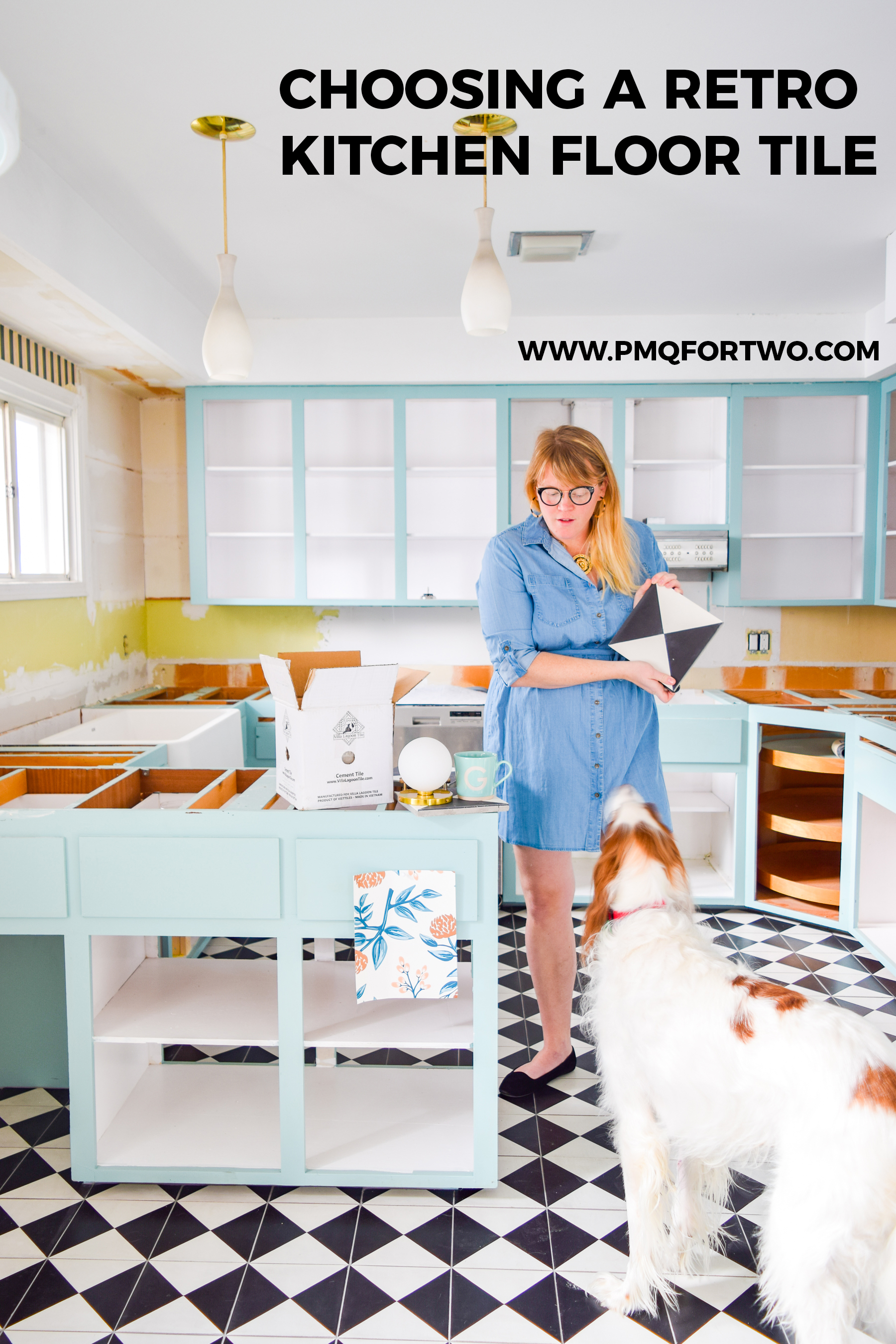 This was one of the first decisions we made, and we're so so happy with how it turned out. This was our first time choosing tile — and our first experience with cement tile — but so far the results are totally worth it. It's a shame they're staying covered-up while we finish work in the kitchen. In the meantime though, we've uncovered them for you take a look.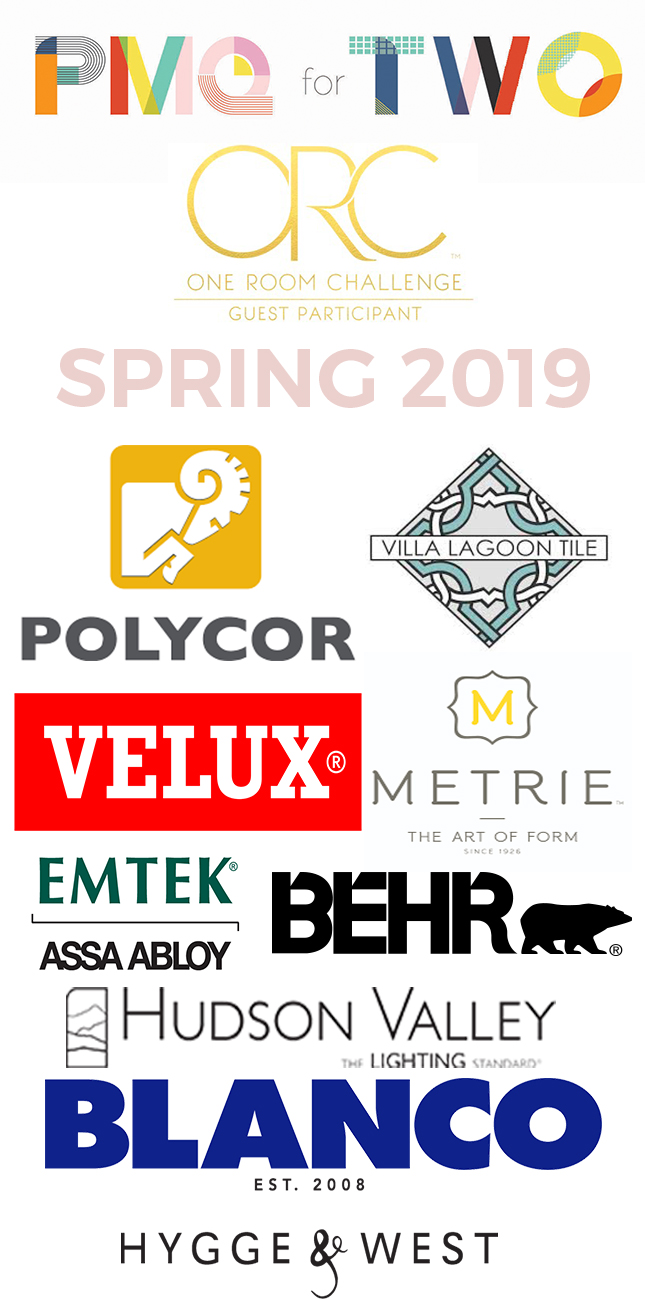 Choosing Cement Tile For Your Kitchen Floor
Have you ever fallen in love with a beautifully patterned tile? Chances are super good that it's a cement tile. Unlike porcelain tiles, a cement tile's design lies in the top 8th of an inch. You get a much great variety in style, colour and form when choosing a cement tile.
"Encaustic Cement tile is a hand-made decorative tile produced from cement, marble dust, and mineral pigments, then pressed by hydraulic machines and cured naturally.
Cement tile has a beautifully rich finish, and is infinitely customizable. This has led to an explosive growth in use by creative designers seeking to create unique spaces."
So with this in mind, I started looking through Villa Lagoon Tile's stunning catalogue of encaustic tiles. They've got the patterns divided into collections, and shapes, but since I knew I wanted something retro I went looking for black and white.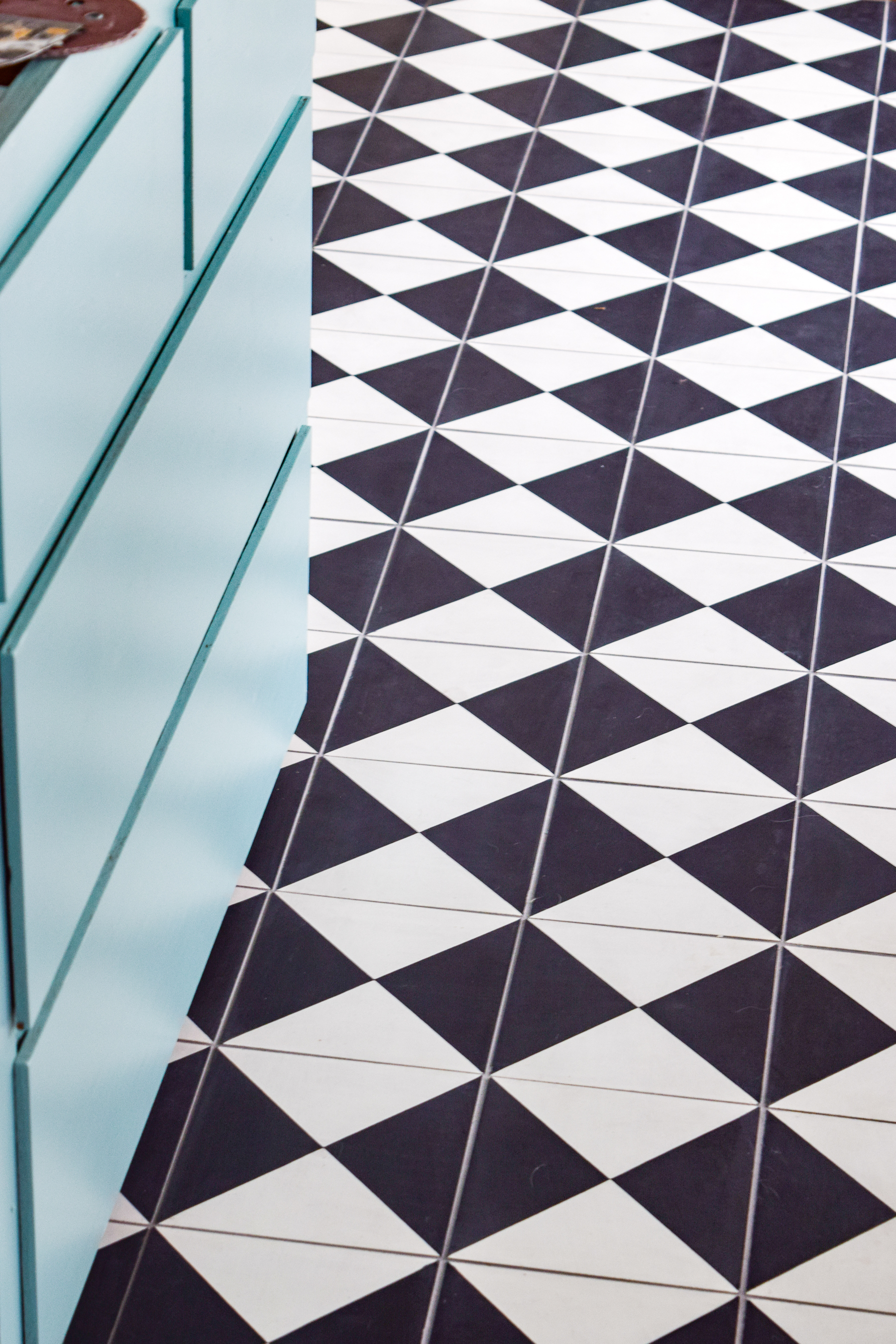 Choosing a Retro Pattern
I've been o-b-s-e-s-s-e-d with the idea of a checkerboard floor in my kitchen for ever, and this was my chance to get one! I would have loved to chose something a little more adventurous for the space, and done of their daring tromp-l'oeils, but it wasn't retro, and this house is!
That being said, the Tugboat in Black & White is exactly what I wanted. Up until the day we had it installed we could have gone with a different pattern (if we laid the tile differently), but in the end we decided on the classic checkerboard.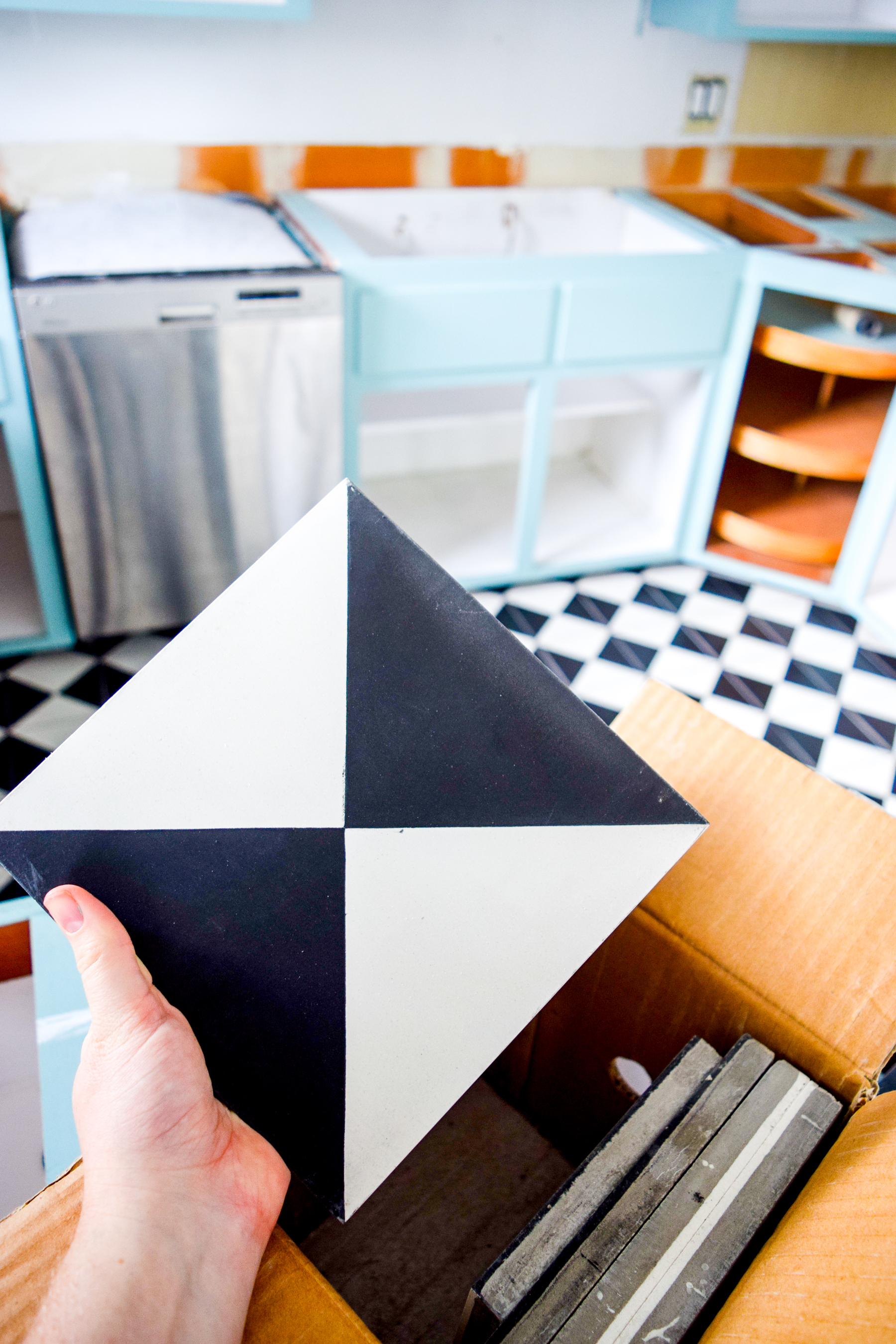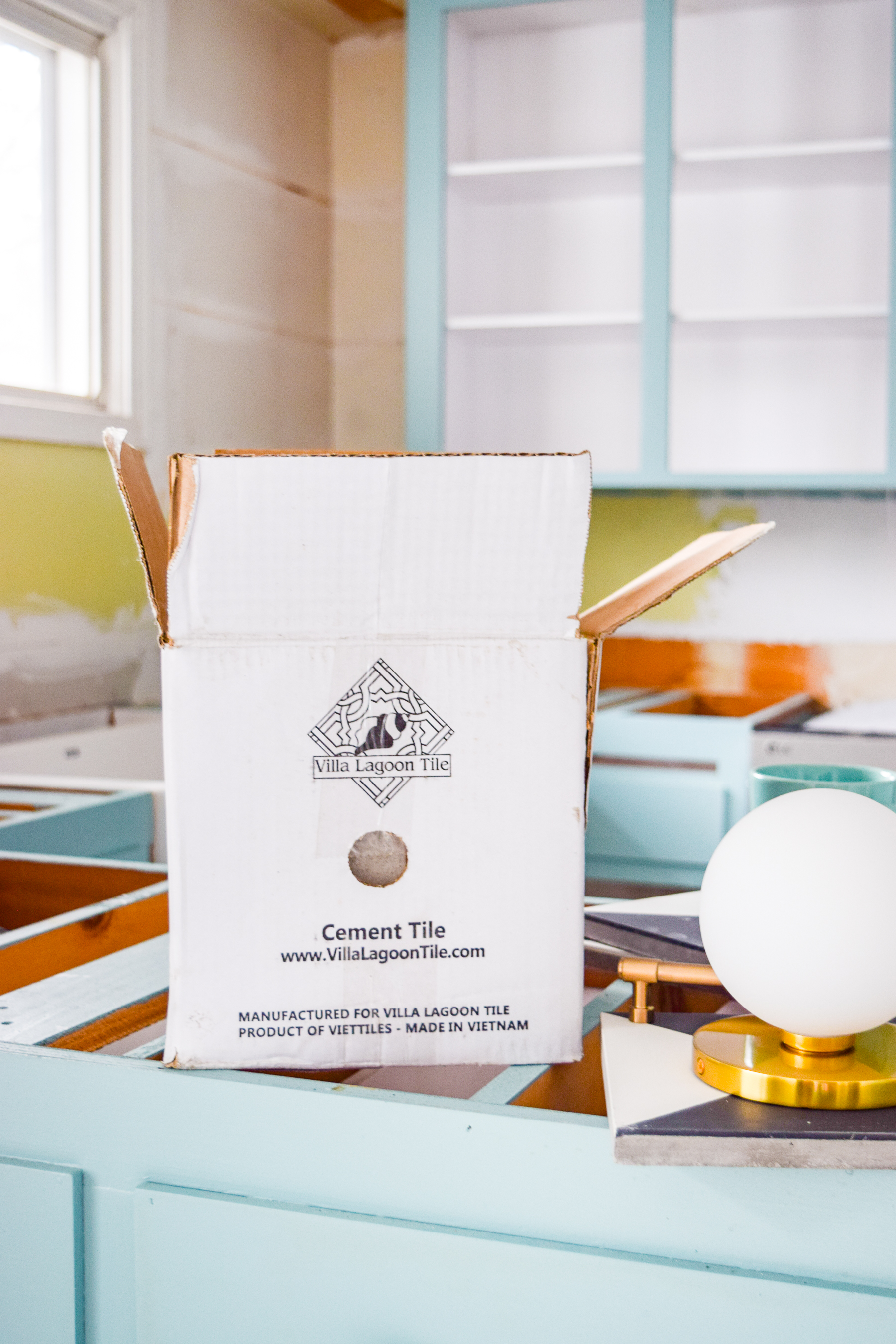 Installing your Retro Cement Kitchen Floor Tiles
While porcelain tiles are glazed and fired in a kiln, cement tiles arrive porous and required a sealant after installation. Choosing cement tiles in your kitchen can be a bit daunting if you're not up to the task of sealing it and being vigilant about stains, but if you pick a busy enough pattern no one will ever notice the occasional stain.
A few things to consider when installing cement tile in your home – especially if you have an older home.
Cement tiles are heavy. Make sure your floor joists can support the weight, and prepare accordingly. We have 2×8′ joists, and the current standard is 2×10′ which means our floors will have more bend in them than newer ones. To prevent the tiles and grout from cracking over time (as the floor moves), we laid a Ditra membrace to better support our tiles.
Check with your local city inspector about subfloor codes. In the process of removing the old the kitchen floors, we stripped away part of our the older subfloor. We had to lay new subfloor to meet current standards.
Leave time to seal your floors. Because the tile is porous it must be sealed. Village Lagoon recommends sealing twice, 24hrs apart. Leave time to do so! If you have tradespeople coming in to complete other tasks on a tight timeline, make sure you account for this.
Pick the right grout colour. Villa Lagoon provides an info packet with your tile shipment, and you should read it! It's full of tidbits about grout colour selection, suggesting you stay away from dark grouts because they can bleed into the tile. They recommend a grey, which is what we went with.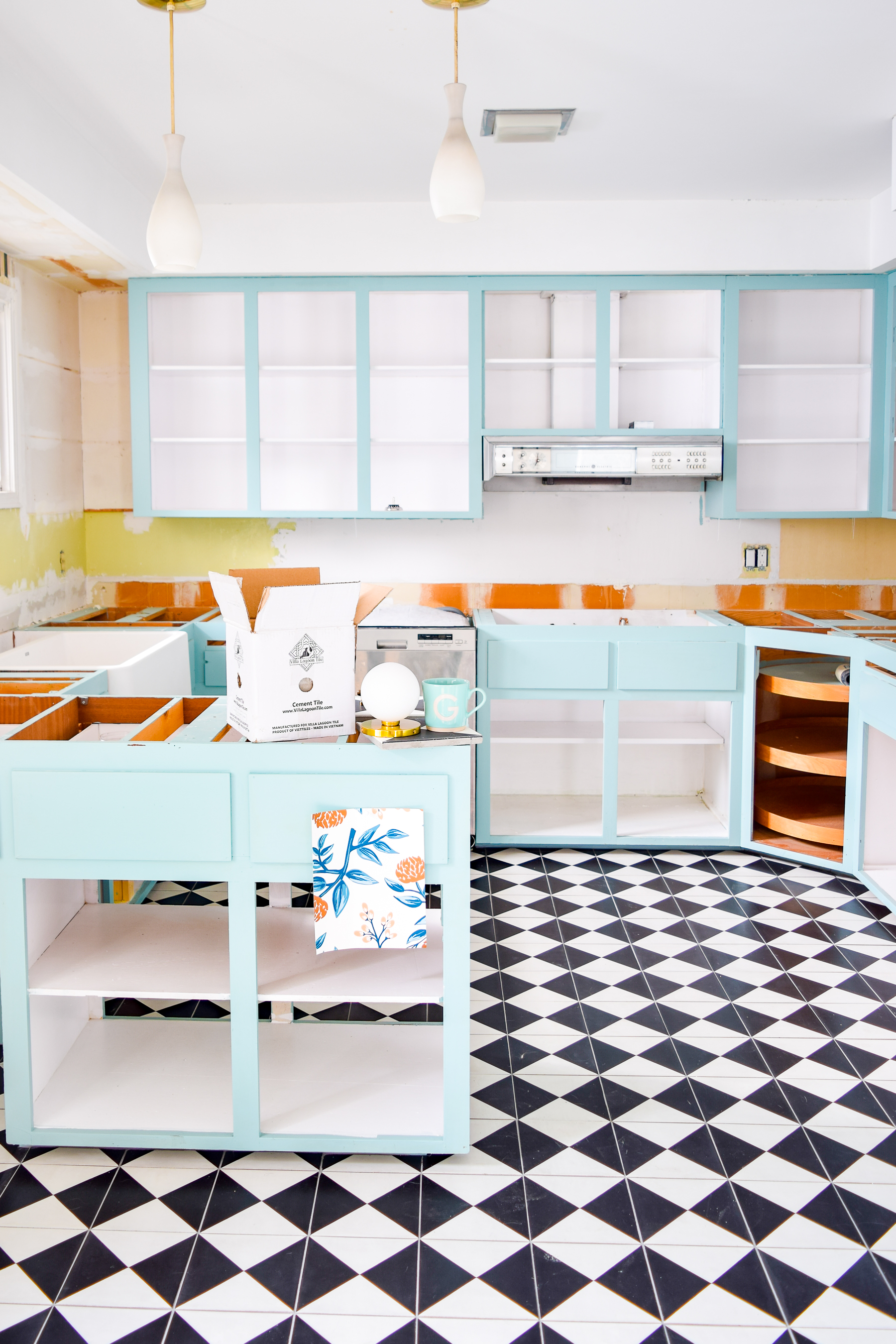 Sealing Your Cement Floor Tile
Sealing your retro kitchen floors is actually super easy, you just have to wait about 2 weeks to do it! The tile needs time to cure i.e all the moisture needs to evaporate, so once that's done you're good.
Villa Lagoon provided the grout release & nanosealant, so we just had to grab the pads. We used a pad we bought at our hardware store that fit onto the end of a broom stick.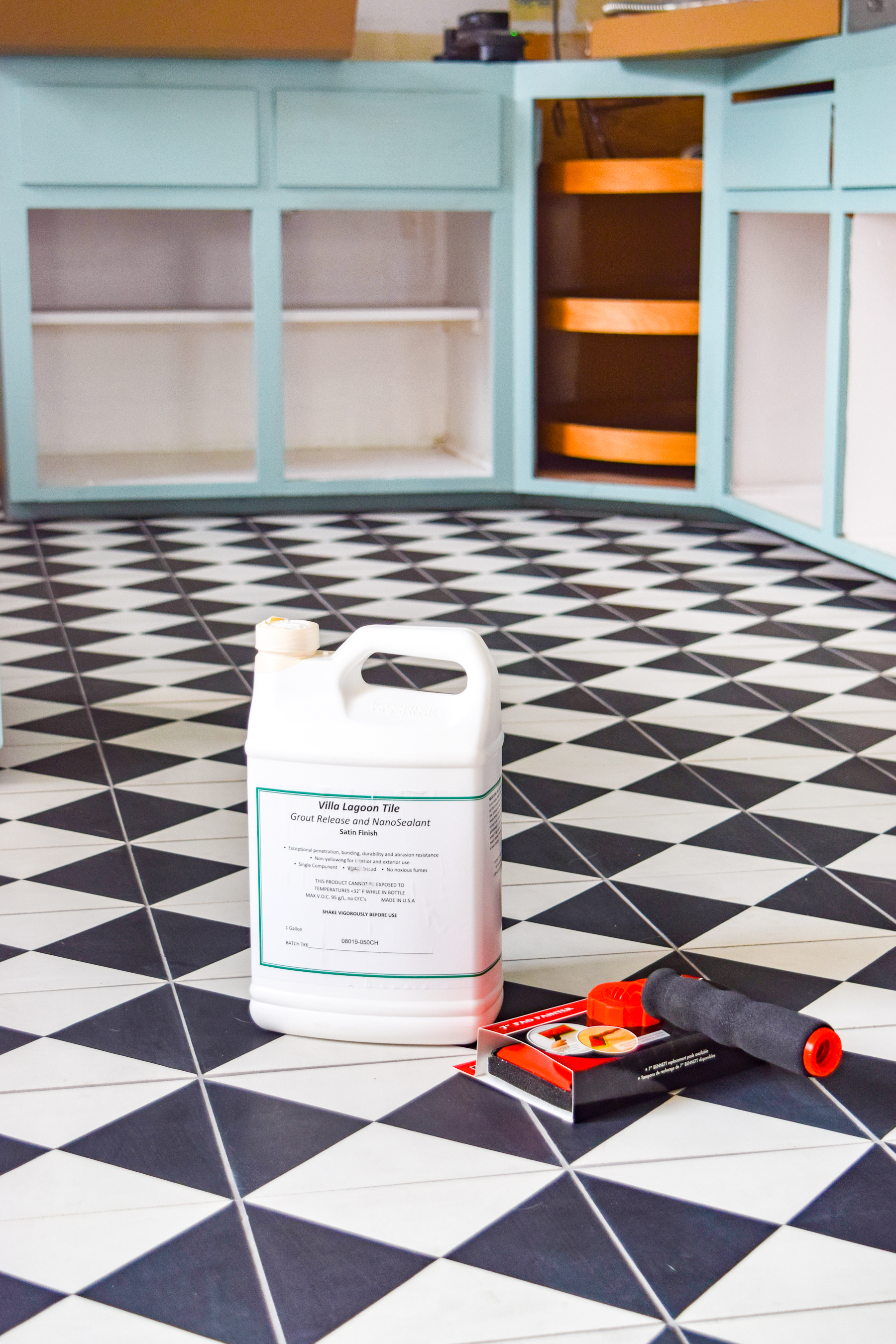 Make sure you read the labels before starting! The floor needs to be clean, and free of any residues (so only wash with water). Dan got to do this part since I didn't want to chance it with the fumes. They recommend solid ventilation, so we opened the windows and Dan got to work.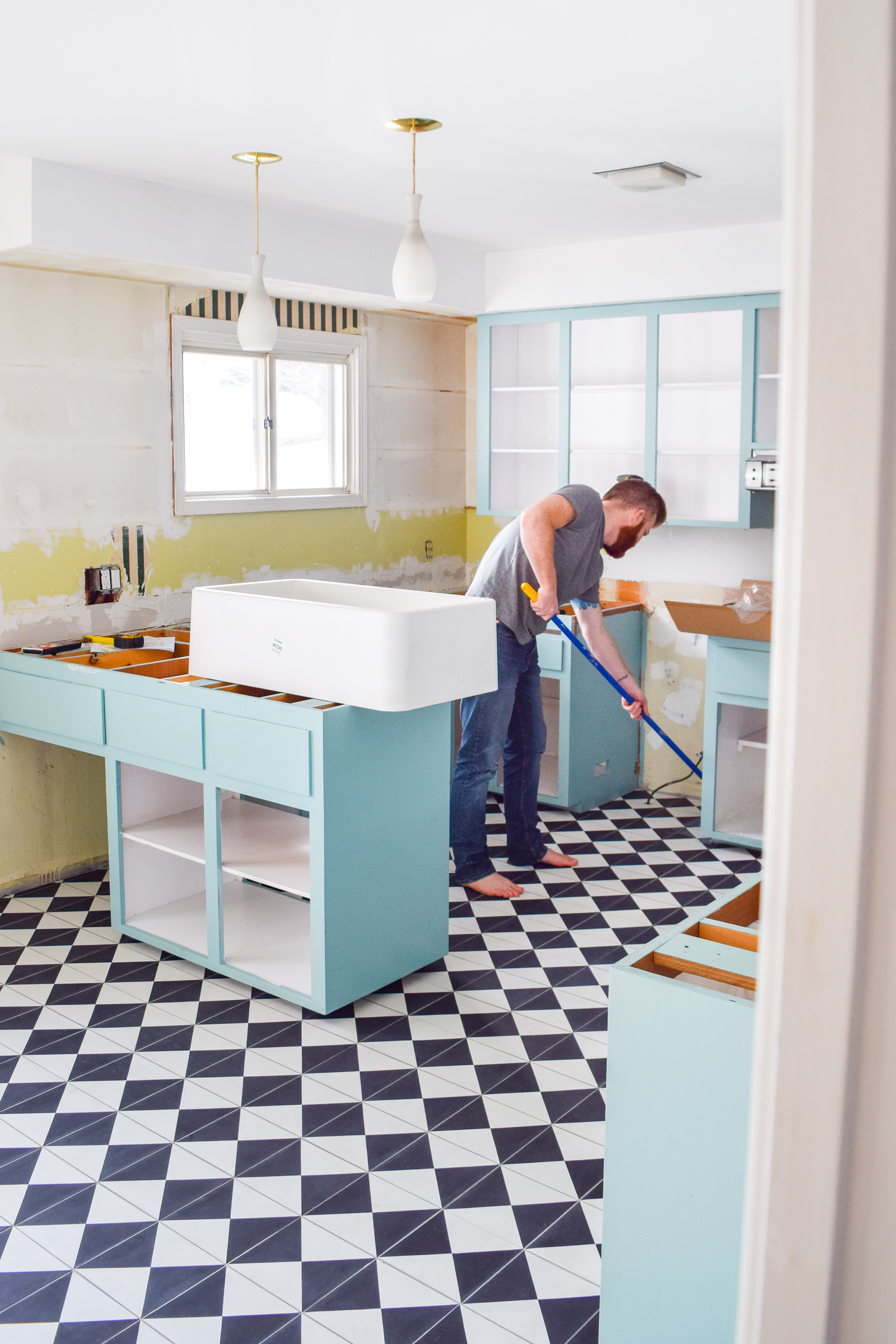 Once they're sealed, the colour will be richer, more vibrant, and there will be a nice sheen to the tiles (as if they were glazed).
Our New Retro Kitchen Floors
Now that it's all said and done, we'll likely add the kraft paper back until all the work is done in there. There's no need to risk damage if we don't have to (much like with any flooring).
Now that we've got more finishes in the space, everything is starting to come together! You can see with the brushed brasses we've chosen, that everything seems super rich and vibrant.
I'm def looking a little more pregnant here — let's chalk last week up to the magic spandex — but that hasn't stopped me from running around, painting and yelling into the phone. #renolife
Bruce also likes the new flooring, but he's less keen on the fact that he can't find Toby as easily against the black and white.