I teased you guys something fierce back in January when I shared an insta sneak peek at our guest room while I was photographing it. I had been waiting to share it while on vacation aka now, so here it is! Our Green and blue bedroom, made-over with Hygge & West wallpaper and bedding, and Behr Paint.
* Hygge & West and BEHR sponsored this post, but all thoughts are my own. Thank you for supporting the brands that make PMQ for two possible.
Bruce, is of course, my model for this space. Between him and the cats, this bed gets a lot of action, even when we don't have guests.
Bedroom Before
This space started out as a beige box with a thin strip of wallpaper that ran around the room like a border. Of all the rooms in the house, it was in the best shape, so it made transforming it rather simple.
Don't you love how I've kept this guest room space super clean and cool? *insert eye roll*
Green and blue bedroom
We have a lot of green, and a lot of blue happening in this house already. I wasn't going to rock the boat by throwing something new into the mix. Not in this house at least!
See what I mean? Check out Green mudroom, the blue retro glam kitchen, the blue mid century modern dining room, the blue living room.
BUT because this space is in the basement, and is adjacent to the bar and gaming room, I didn't want to go super feminine with a floral print. I owed it to Dan to create a space that sorta lined-up with his vibes.
Hygge & West Foret Wallpaper in Charcoal
I started this bedroom with the Foret print by Hygge & West. The browns, golds and charcoals are the perfect balance to the blue and green, so I wanted to use this more masculine print to anchor the space with a feature wall.
The playful forest pattern is in line with our taste, and the colour palette is totally new for us. Dan loves it, so that's a resounding endorsement ladies and gentlemen.
The pattern comes in a variety of different shades, but I think this one works perfectly for us right now.
Of course the wallpaper is lovely, but it stands in stark contrast for the Semi Precious MQ6-6 on the walls. I've got various shades of blue in the house, and I also considered this shade for the butterfly entryway (I may still swap it up there). It's a beautiful shade that has been a contender for other spaces several times over, just waiting for its moment!
As you can see, we haven't done the flooring (or the doors) down here yet, but we'll hopefully get to them this summer. In the meantime, these funky wood hollow-core doors are gonna have to do.
HOLD THE PHONE! Did yo know that Hygge and West makes bedding? I chose the Wildflower print in Emerald, and WOWZA look how good this looks.
It's a 100% cotton set, with a 300 thread count. Need I say more? It's machine washable, and has little corner ties inside if your duvet has those too.
As far as guest room bed linens go, it doesn't get much better.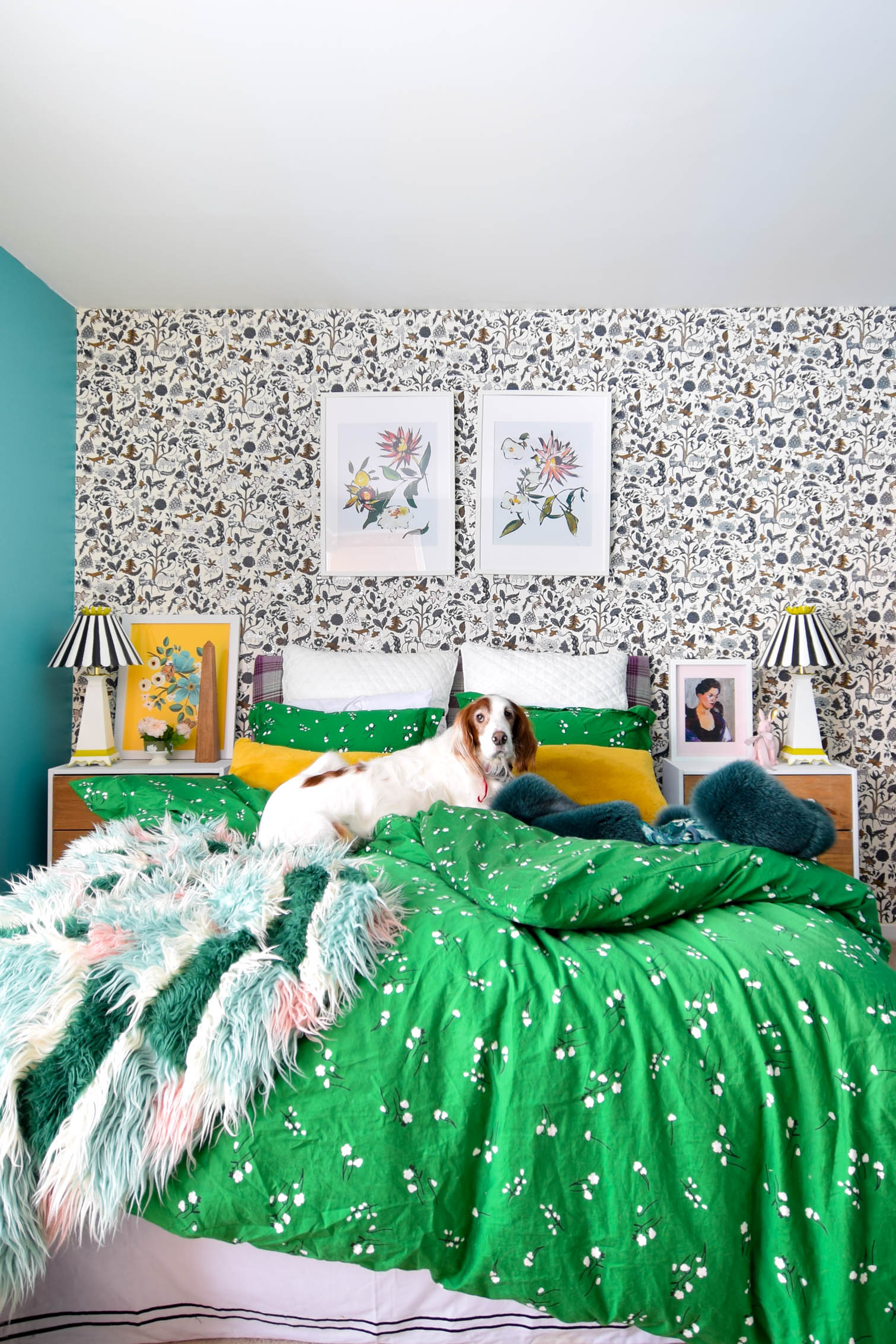 Bedroom Decor Styling
With all the blue and green and browns, I was looking for two accent colours to help put a little pep into the space. I could have styled the space with more green or blue or brown, but that's far too predictable. I think the mustard and purple that I chose, are the perfect compliment to these hues.
I made a headboard using this woven purple print, and then brought down two purple floral prints to hang above the bed.
The mustard pillows and Rifle Paper Co. Monarch print, tie-in perfectly with the side table lamps. Throw-in some flowers, and we're in business!
So there you have it! Our green and blue guest room, complete with wallpaper and dog, and silly fur throws. Exactly what you'd expect, right?