Tik tok! The final countdown is quickly ticking away. We are so close now that I finally packed my hospital bag (properly) and same with baby girl's. Dan will likely pack his as I'm heading for the car to leave for the hospital, but that's on him. Having examined a million lists I've distilled them into this post about what to pack in your hospital bag, in case you (or someone you know) is gearing up for this momentous occasion as well.
Check out our Colorful Baby Girl Nursery
*Jujube & West Coast Kids sponsored this post, but all thoughts are my own. Thank you for supporting the brands that make PMQ for two possible.
What to Pack in Your Hospital Bag
There are tons and tons of lists out there, but I've decided to keep it simple for myself. Keeping in mind that I will still look about 6 months pregnant when we leave the hospital (and may even end up with a C-section) I'm packing three outfits from my maternity wear.
I'm packing: soft pajamas, a soft robe, a pair of leggings with nursing top, a pair of sweatpants with t-shirt, and a black shift dress. I've got one nursing bra, and two sports bras as well (depending on how long labour is etc.) I've also packed a pair of comfy socks (not pictured) and will be wearing sandals in and out.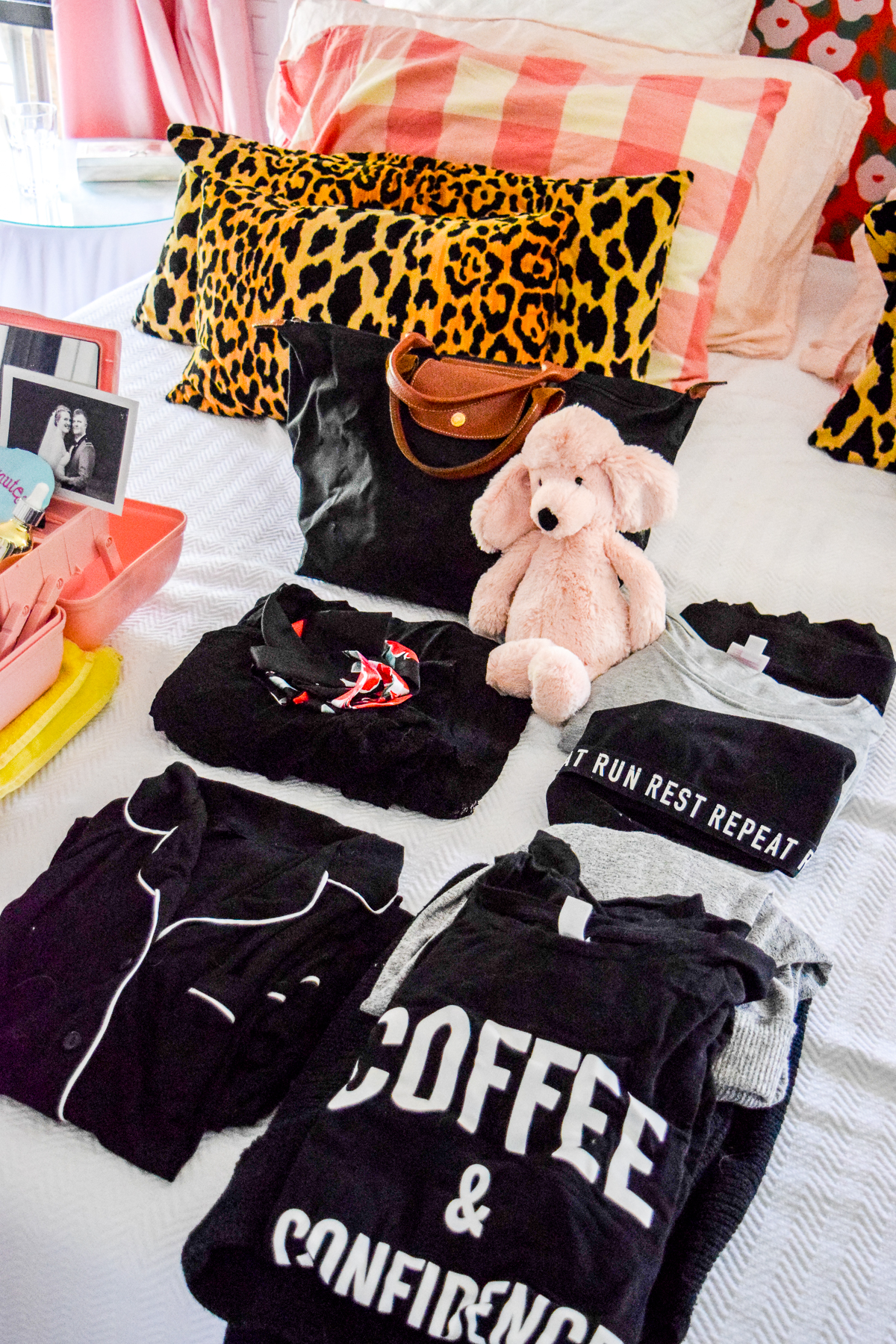 What to Wear to the Hospital
I'm hoping to head in wearing my comfiest shorts and a sports bra (and a hoodie or t-shirt) so that I can hop in the shower or the birthing tub worry free. Nothing fancy for the arrival, that's for sure.
I'll be wearing loose fitting items of clothing that will allow me the greatest range of comfort in transit and upon arrival. If they send us back home, I don't want to be in something uncomfortable.
What to Pack in Your Hospital Toiletries Bag
I've got my pink caboodle serving as toiletries bag. I have quite a few odds and ends to bring, and it made more sense to put them all in the caboodle, than to have a million small bags or one giant soft bag.
I've got a hair brush, shampoo, hair elastics, nipple cream, breast pads, a toothbrush + toothpaste, my overnight serum, a calming spray, a face mask (in case we can't control the lights), and a mini fan.
I'm also bringing a stool softener. I am not interested in staying constipated, or being in pain when nature calls. Do yourself a favour and bring it with you.
I've also got a big towel for the shower, since the ones  at the hospital can be a little thin.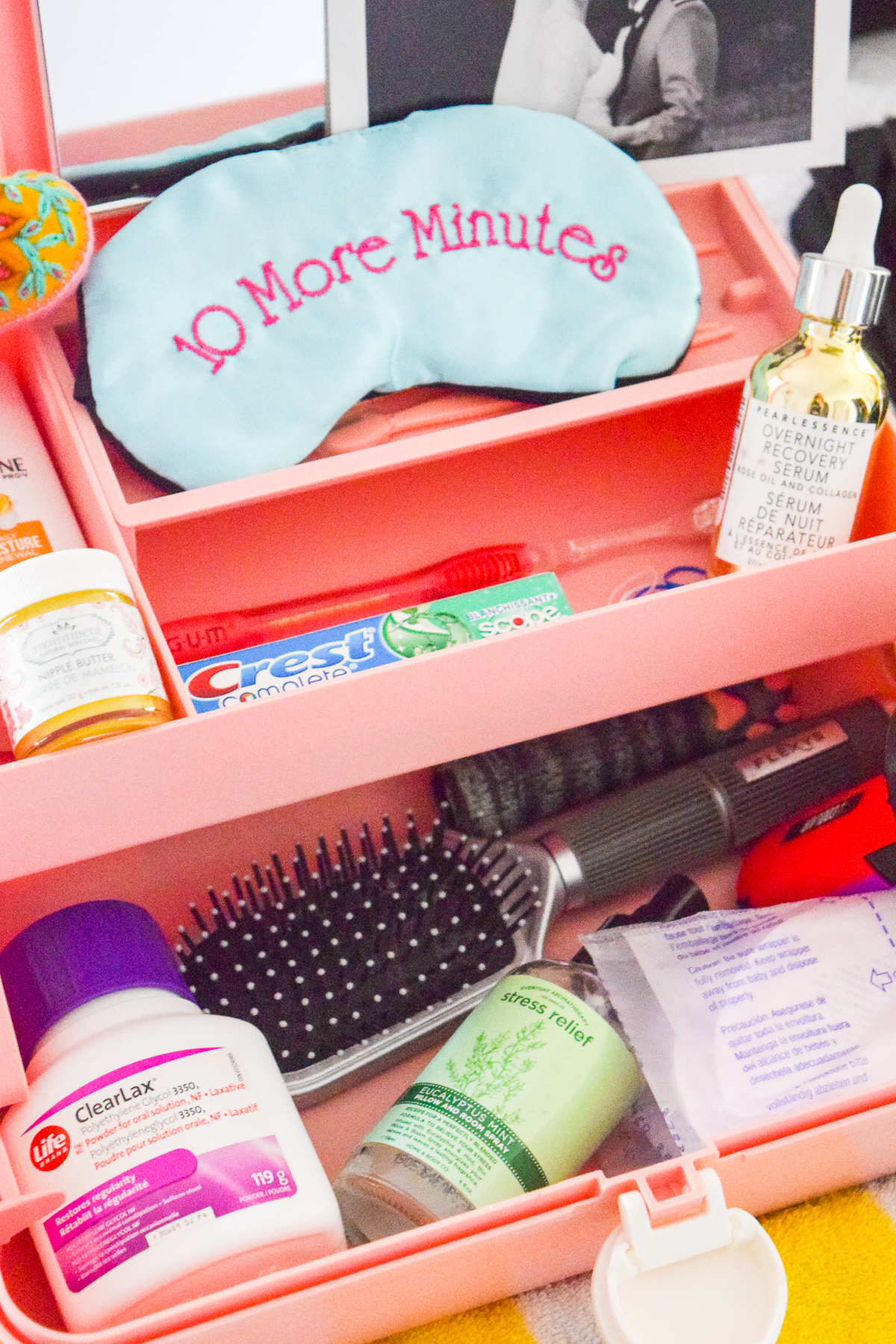 As final momentos, I've packed a photo of Dan and I from our wedding day as a nice reminder, as well as her pink poodle stuffed animal. I'll need something positive to visualize in the depths of pushing.
What to Pack in Your Hospital Bag for Baby
I'm using our new diaper bag – the Forever Backpack from Jujube (available at West Coast Kids) – as her hospital bag.
I've got some heart shaped tassels on our bags in lieu of luggage tags, but I may still add those. With our bags the way they are, we'll easily be able to identify them.
Y'all are also getting a sneak peek at her name! We're keeping the first name under wraps, but we're pretty sure her middle names will be "Emmanuelle Garneau" – a feminized version of my late brother's name.
Do you see my Bruce, Boots & Toby onesie? Grab the tutorial for your own custom baby onesies.
We're bringing 3 outfits, 2 PJs, two bibs (to use as burp cloths), a hat, a headband, a comfort blanket, a receiving blanket, and two pairs of shoes.
Why three outfits? Easy! Who knows how big she'll be!
By packing separates that all work together, we're covered no matter how long or short, or round of slim she is. I wanted options. Given the time of year she's due to arrive (the transition between summer and fall) you never really know what the weather will be like, so I figured better safe than sorry.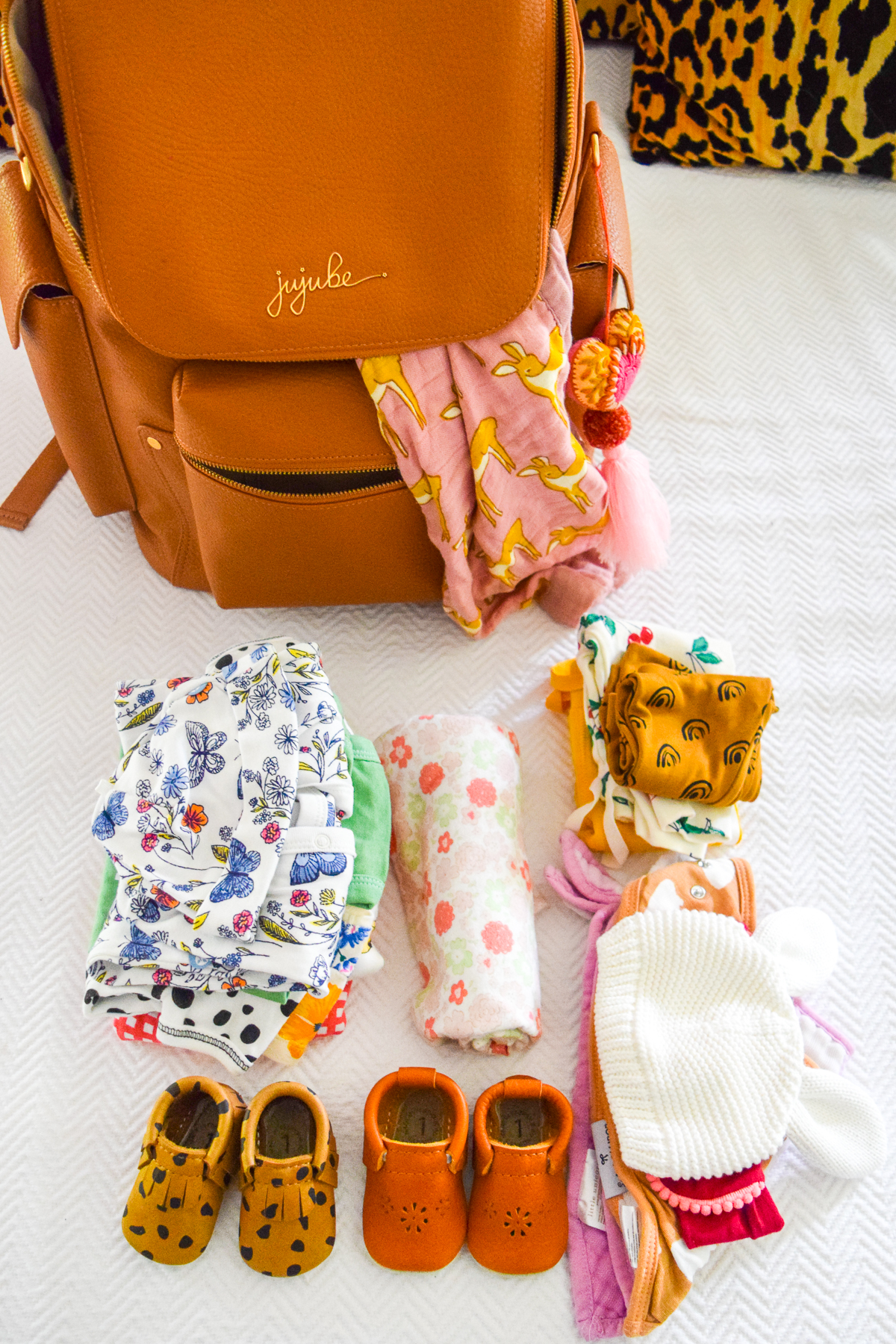 It all folds up nicely and fits into the diaper bag with room to spare! I even got the letter board in there so that we can take our pre-requisite "welcome to the world" photo.
I have a family member that sent me some regulation octopuses for the premies in the NICU, so I'll be brining those as a gift as well.
What NOT to Bring in Your Hospital Bag
*** THIS IS BASED ON WHAT MY HOSPITAL IS PROVIDING. MAKE SURE YOU CHECK WITH YOURS***
There are some things I'm not bringing to the hospital:
Pads – the hospital is proving mesh undies and big pads
Peri Bottle – the hospital will provide a sanitation bottle for the first few trips to the bathroom
Diapers and wipes – the hospital will have tons for us
A speaker – I plan on listening to my playlist through earphones. I may want to crank it, I may want to listen podcasts when others are sleeping, and speakers are just inconsiderate.
Too much entertainment. I'm hoping to keep it simple and confine my entertainment to my phone. Dan may bring his laptop, but that's a last minute call and will depend on the length of our stay.
Other Items to Pack In Your Hospital Bag
Beyond the essentials, here are a few items we'll be bringing with us to make our stay more enjoyable:
Game of Scrabble – we love to play, and depending on how long my labour is, and how long our stay is, it'll be nice to have.
Camera – I'll bring my camera with us so that we can capture a few personal moments on something other than our phones
Letter board – I've got her name spelled out, and want to add a few pieces of info for a photo
Pillows – it's suggested you bring some with pillow cases that will stand out and not be confused for hospital linens
Breastfeeding Pillow – It'll be nice to have as we try and establish a routine
Don't forget your car seat! Our hospital requires us to bring it in with us before we leave the hospital. We can't leave it in the car and bring the baby down, so make sure you look into the regulations and procedures at your birth location.
Shop Our Hospital Bags