Time to unveil the dining room! This looks the most drastically different from our last place. Gone are the large black IKEA bookshelves and DIY painted wainscotting.
Instead, we have Guava Jelly, new plates for the plate wall, and two stunning pieces from Minted.
These little citrus stirrers are from this summer's Oh Joy! Collection at Target.
With a much smaller space, I wanted to change the dynamic and reduce the pieces on display, thus giving them more breathing room.
This room has a table, our bar cart, a side table, a pedestal globe and our sideboard. That's it. I kinda like it.
When I first started showing around for the new dining room, I knew I'd be reusing a lot of our existing pieces, but I also wanted some fresh art for the space. Our military animals were moving into // the family room //and I didn't want to use a large mirror.
After having worked with Minted on our Christmas cards I knew they had some killer art by insanely talented artists, and most importantly – that the shipping to Canada was reasonable. What I like about Minted's art selection is that their artist marketplace is so vibrant and constantly evolving. I spent days pouring over the site looking for pieces I liked. At the end of it I had a list of 20 items and had to narrow it down to 2… a girl can't be greedy now.
The piece above, The Modern Ikat by Agnes Pierscieniak is textured, vibrating and pulsing with life and colour. I felt the hum of life running through it, and knew it would be perfect for our crazy and quirky household.
The print below, The Pillowed Rainbow by Deborah Velasquez spoke to me in a different way. I liked the soft curves – the pillows – and the colours. Not so much a pulsing life, rather a vision, a place, something that you could reach out and touch.
Together, the two pieces anchor each other; in colour, in style, and in presence. They are the only thing on the accent wall, and for good reason. They need room to breathe.
The colour was chosen based on these prints so as to best display them. You can read more about that in my post about // picking paint colours //
Minted has their own art services and you can browse their selected pieces or dive into the search bar and swim around in the art there for a while. I did.
Back to serious business though. Can we talk about the light fixture in here? If you remember my post back in April about // how the space looked beforehand // you'll remember that there was an ugly off-kilter pendant of sorts. It wasn't my style, it probably wasn't your style, and it's now safely stored in our garage.
It's hard to photograph it while lit. Because the bulbs are 40w, they blow-out any shot I take of them. We got some fancy Eddison bulbs because they look very cool with the filament visible in the glass bubble.
On the opposite wall from our two Minted pieces, is our lovely chicken plate wall from Anthropology. The collection is called "La Ferme" and this summer when I saw they were putting out another edition of plates I grabbed the pig, the two cats, and the dog + cat. They rang true to our home and family, so they had an automatic place on the wall with the chickens. The menagerie grows!
P.S. the chicken plate wall remains one of DH's least favourite projects to this day.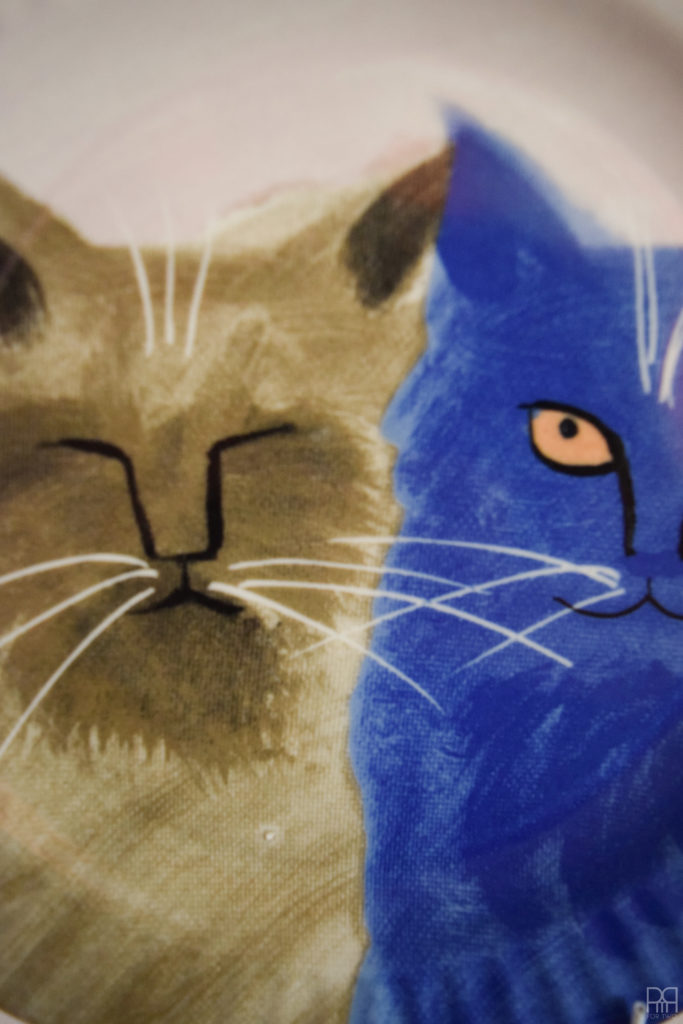 You can get a much better feel for the plate wall and light fixture with these gorgeous table shots. We purchased it along with two other pendants (for the kitchen) on sale at the local hardware store in Quebec for a steal of a price! $60 for this light fixture! $40 for each pendant. I'll be bringing these with us to our next place for sure, maybe for a powder room?
As you can see, I've already started using my amazing // DIY Marbleized Plates // they're a match made in heaven with the colours in this space.
This little collection of ginger jars was a gift of sorts from a friend at our last posting. She had seen my growing fascination with chinoiseries on Pinterest (she's a Pinterest stalker) and offered them up at a token price. I jumped on that offer pretty quickly and they moved with us.
P.S. Notice the kinks in my tapers and pillars? I had them as my centrepiece in our summer patio tour, and they melted! in the sun! what?!
I found these lovely plaid napkins on sale at Walmart of all places. They'll be the cornerstone of my fall palette and decor this year, so watch for these colours.
This demi-lune table was in our last dining room, but it was off the corner and didn't do much other than hold this lamp. I'm proud to announce it now holds a poster of Lisbon, and a crap ton of disco balls.
You know me, I love my disco balls. They're inexpensive, bright, and multiply the glam factor by ten no matter what! I'll have all of them in the Christmas decor again this year.
The bar cart. My good old IKEA bar cart (which is no longer on their site?!).
Having survived two moves I figured it was time for a little makeup to make the old girl feel pretty again. I took everything off, wiped her down, and spray painted her freshly in gold. I used the forest green on the shelves, some leftover blue on the drawer, and wanted the black wheels to pop, and pop they do!
I am in love with this bar cart all over again. What about you?
I also moved things around to bring more utility to it. Bottles up top for easy access – as they should be.
The gold lions from my office have been moved to the bar to help protect the fine liquors such as my rose gin. It's the perfect summer beverage, trust me.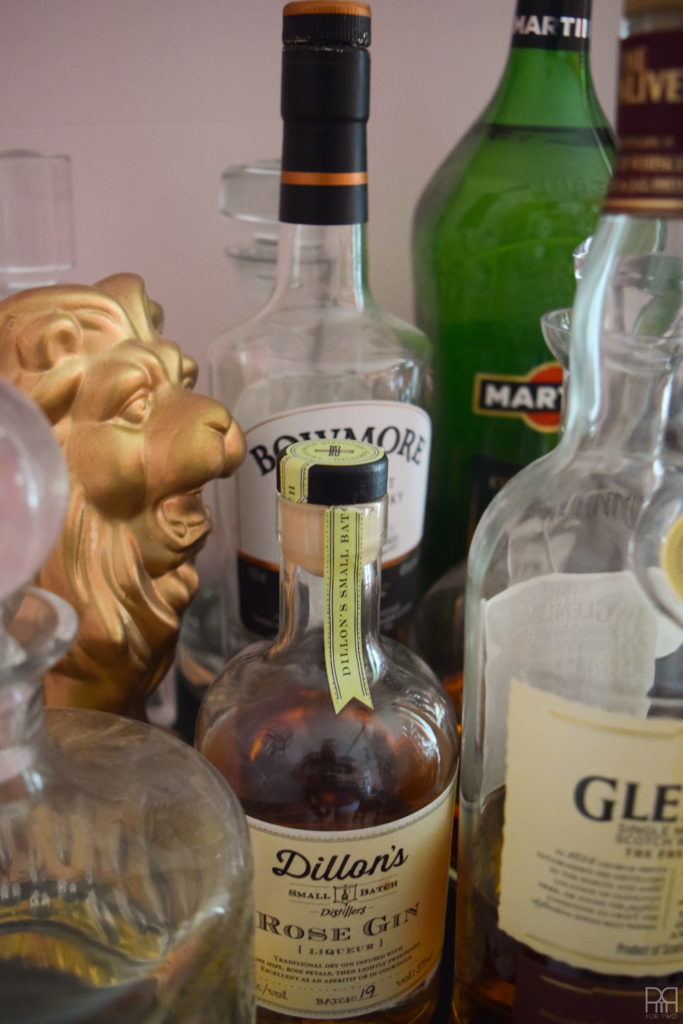 And there you have it. The dining room in all its glory.
What do you think?  IG me! Facebook me! Leave a comment! I love getting feedback from you, so when you take the time to leave a comment it means a lot.
Next up – the bathroom!
*Minted provided the product for review, but all thoughts are my own.  Thank you for supporting the brands that make PMQ for two possible.