It's that time of year again! The retro tinsel Christmas tree is up, and this year it's in the living room instead of June's nursery. The #myhomestyle Christmas tree hop is one of my fave, and I always do whatever I have to, to get a tree up and photographed.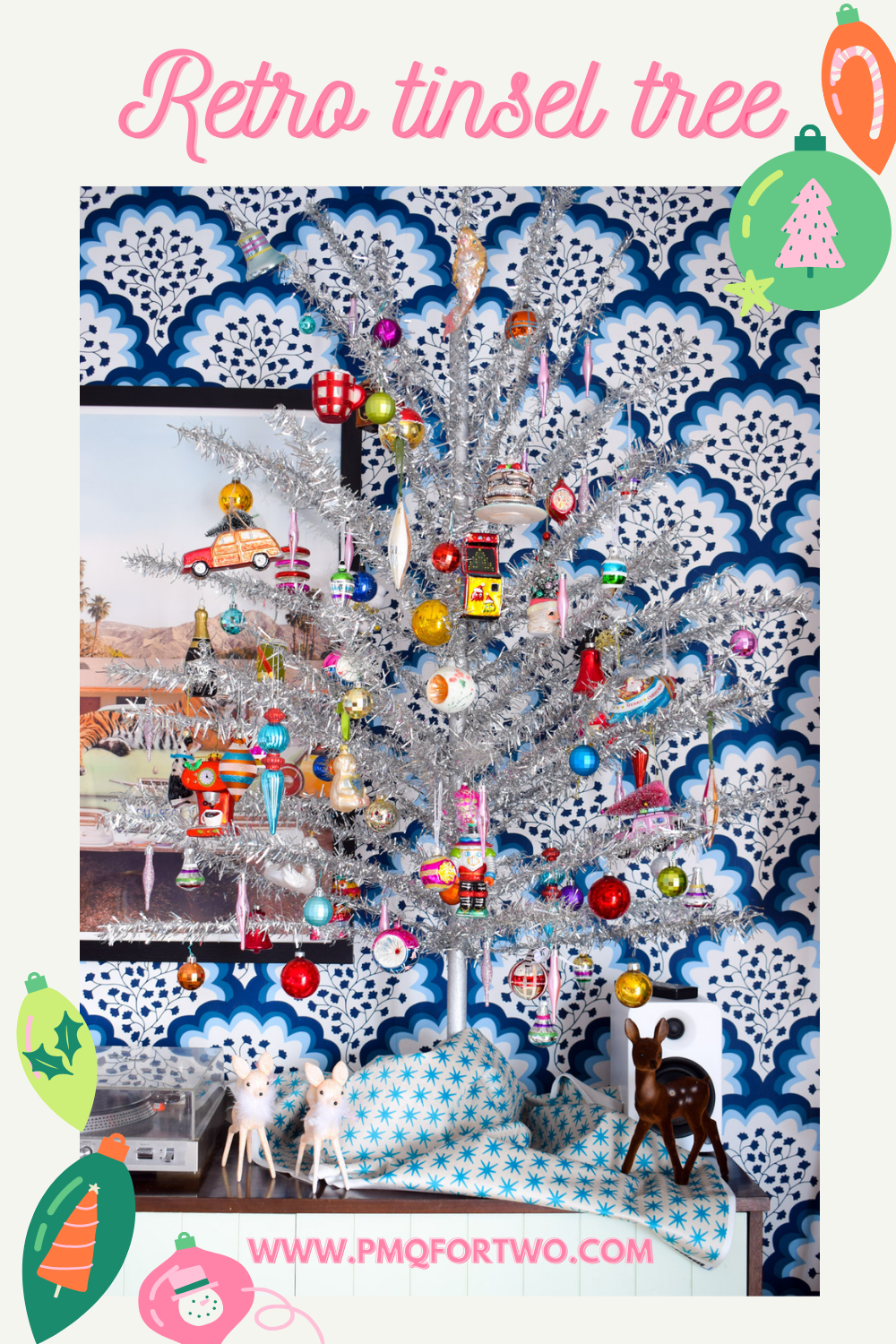 Check out my collected and personal tree, our first year with a retro white Christmas tree, the pink Christmas tree, the retro ceramic Christmas tree sideboard, and last year's simple tinsel tree.
If you're joining me from The DIY Mommy, Jeweled Interiors, Kate Decorates, Banyan Bridges or Making Home Base – Welcome!
That's right our little tinsel Christmas tree is wearing all the family jewels this year! From head to toe, she is dripping in retro glass ornaments, and new/collected glass ornaments.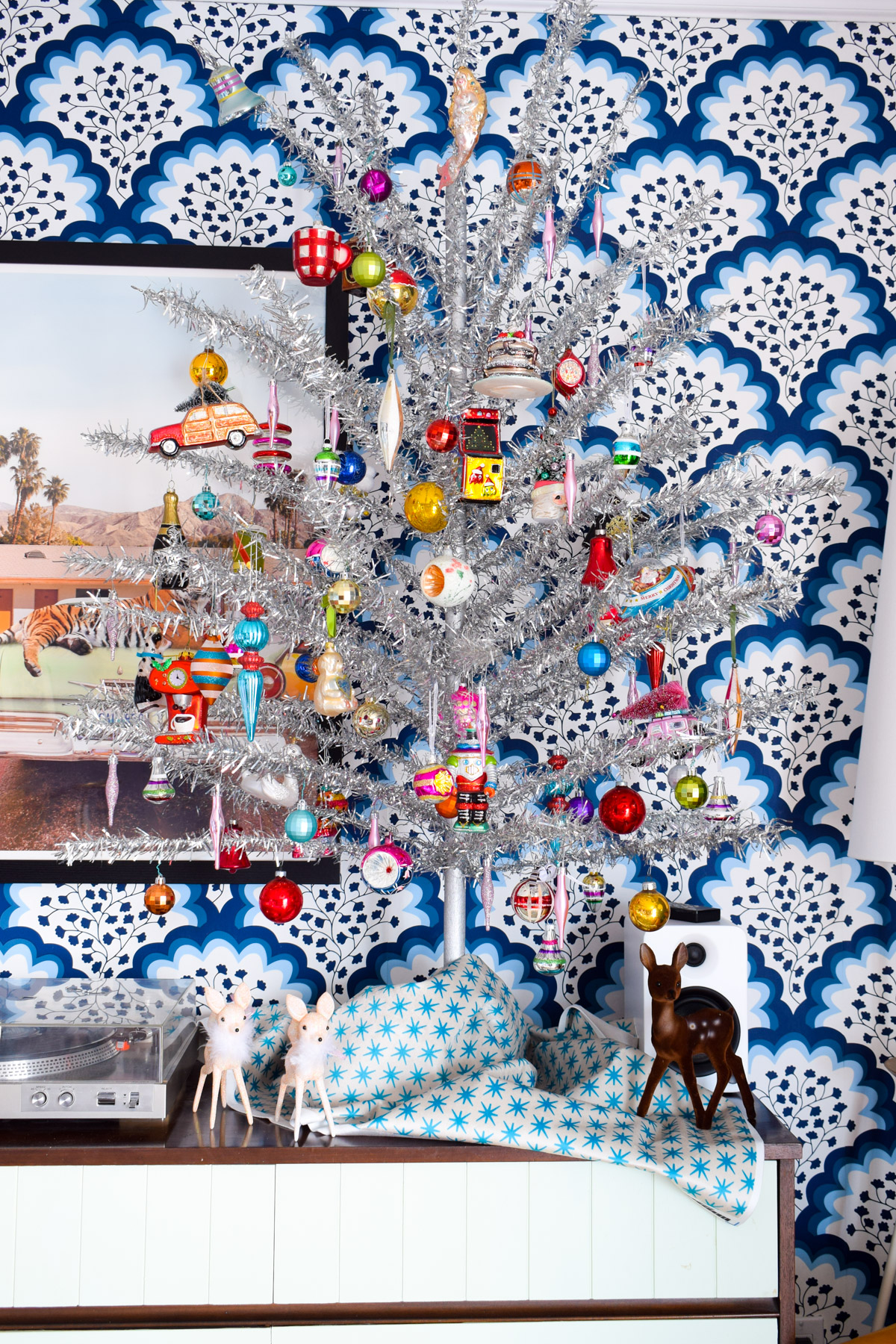 Retro Tinsel Christmas Tree
I bought this beauty from my friend last year. It's seen better days, and I'm pretty sure I could DIY a new one (but who has time?!), but this one has seen many Christmases and I'm committed to using it for many more.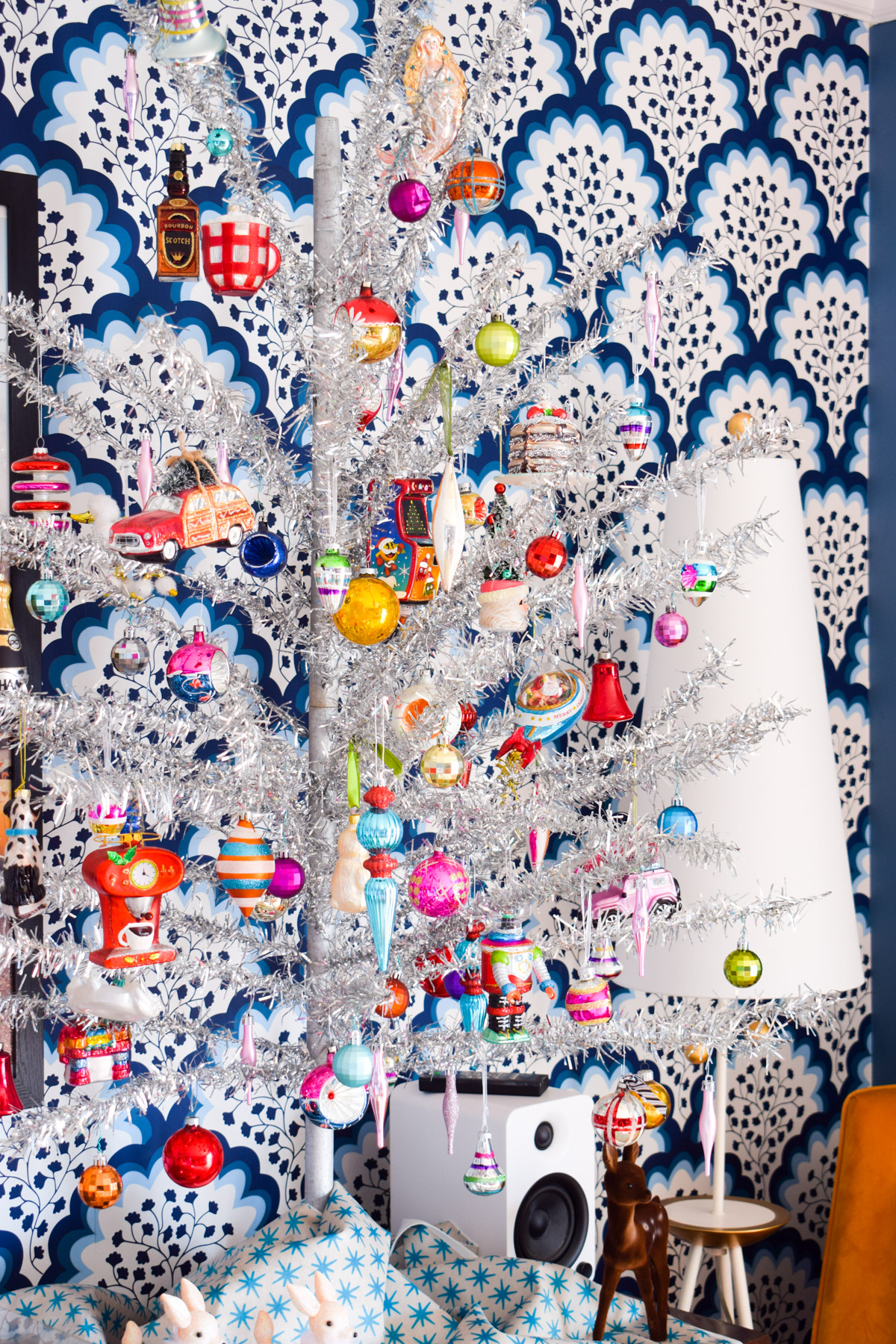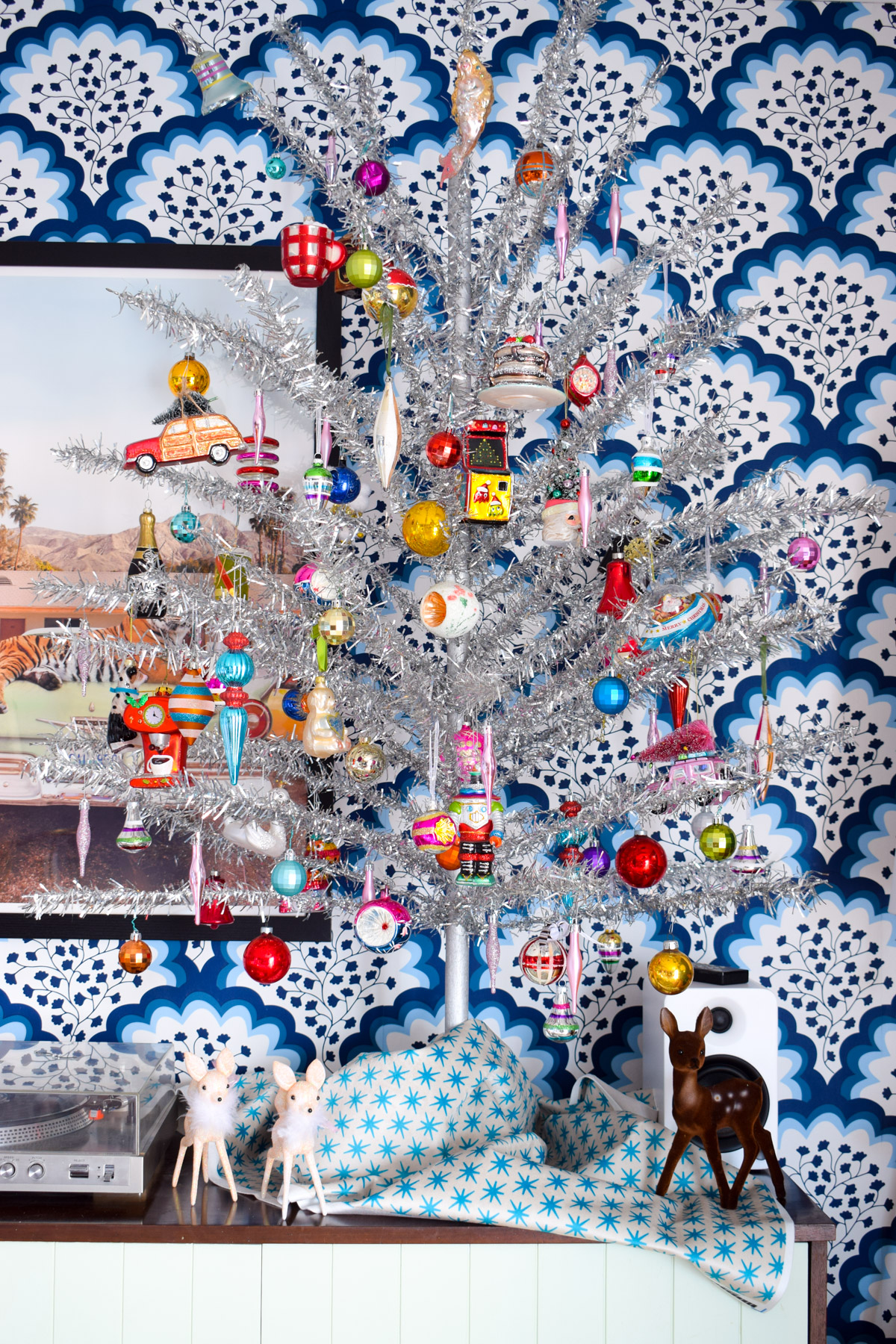 Vintage Glass Ornaments
It's hard for me to link to any of the ornaments because so many are thrifted or vintage, or no longer sold in stores. I don't throw everything out each season, so a lot of my pieces cary over from one year to the next.
I used almost all of the ornaments from our His & Hers wreaths , and you can find a lot of vintage looking ones in stores and online.
I find the best ones in thrift stores, and then the really funky ones are currently in stores. Ask your family if they have any!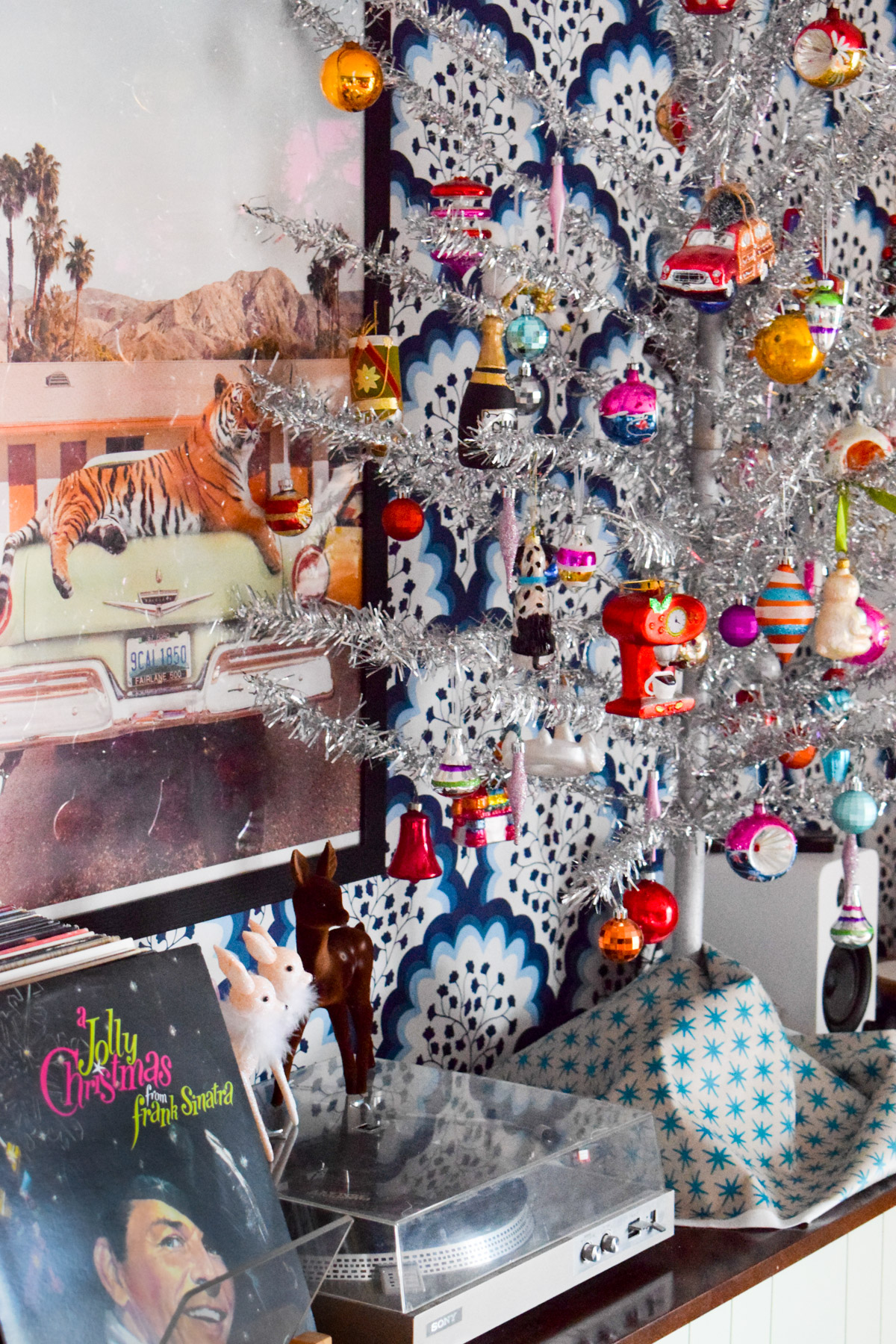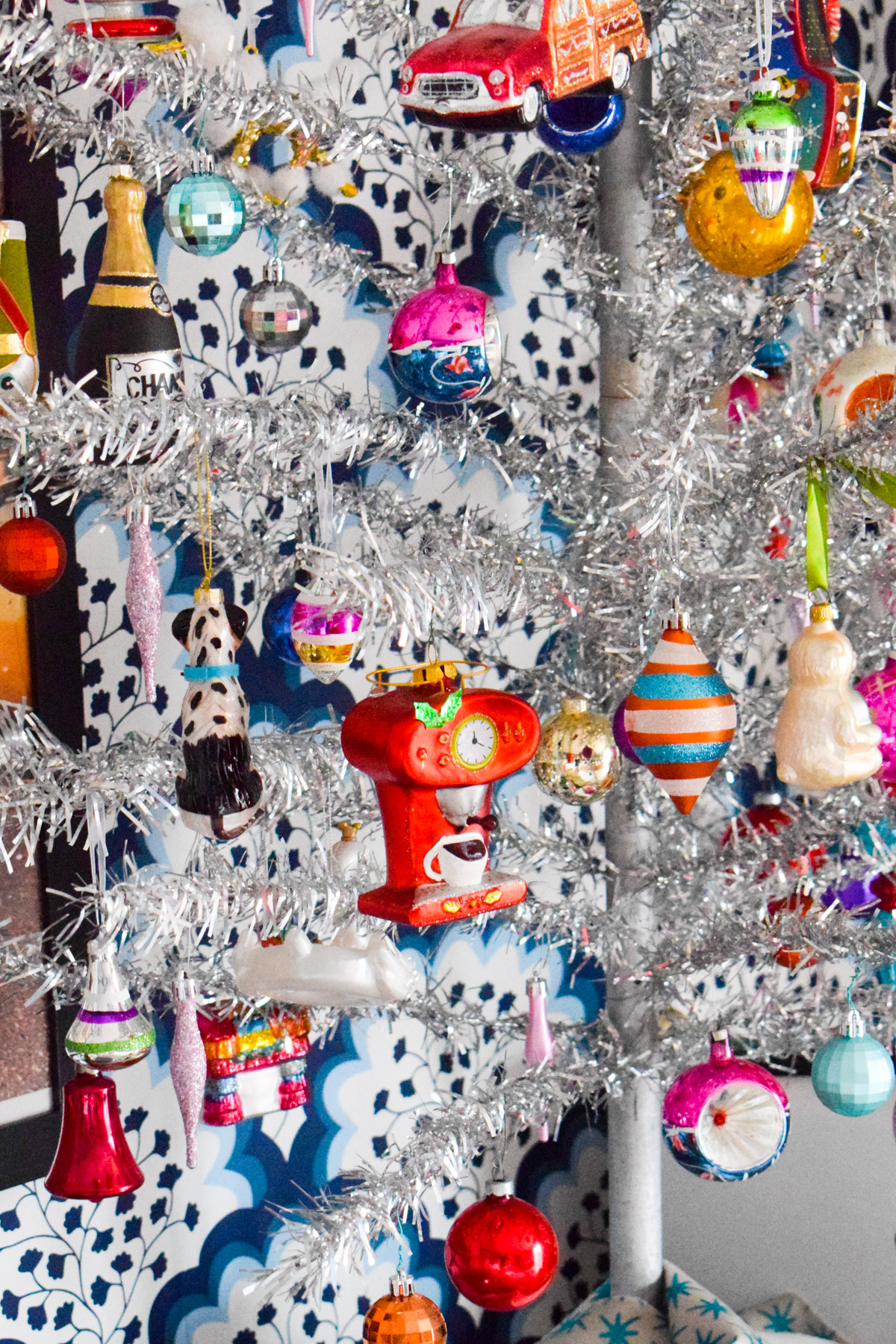 Retro Decor with a toddler
So we have a very active toddler. Look away for a second and she's climbing, running or falling. Part of my motivation for putting the tree a few feet off the floor, was hoping to stave off disaster.
I will put up the white tree in December, but something tells me this year it will just be naked (no ornaments).
By putting the tree on the sideboard, it gets to be at eye-level (it's a short tree to begin with), it's out of reach from June and the pets, and it gets to shine against the wallpaper. Those are all good reasons in my books!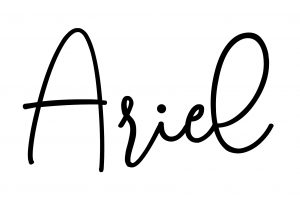 Monday:
Casa Watkins Living // Up To Date Interiors // Taryn Whiteaker Designs // Cherished Bliss // Thou Swell // Cassie Bustamante
Tuesday:
The DIY Mommy // PMQ for Two // Jeweled Interiors // Kate Decorates // Banyan Bridges // Making Home Base
Wednesday:
Monica Wants It // House of Hipsters // Cuckoo 4 Design // Delineate Your Dwelling // Lolly Lane // Mango Manor
Thursday:
Two Twenty One // Lemon Thistle // Iris Nacole // Au Petite Salon // Setting for Four // Whispering Pines Homestead
Friday:
The Handmade Home // Our Fifth House // Tag & Tibby // Daly Digs // House Homemade // Love Your Abode