Welcome back guys! This is my first post since moving into our new PMQ two Mondays ago! Can you believe it? All it took was 7 days for me to get the patio up-to-scratch!
If you're joining me from any of my co-host's blogs, Welcome! I'm a Canadian Military Spouse who blogs about all things home decor and DIY for Canadian Military Families and those living in base housing. Make sure you check-out my Military Life posts for a snapshot of what life is like in our community. I've also got some killer projects in our project gallery, so make sure you click around!
Every year I struggle with the idea of investing more time and money into our backyard when it only gets used 2-3 months a year, and that's not counting the rainy days. It's hard to justify the costs associated with fresh flowers, new/more cushions, tableware etc. and now add-in that we just got here and we're already half-way through the summer (or so it feels).
So this year I decided to pull from items we already had and revamp them, give them a fresh new style, incorporate projects I've been working on specifically for our patio, and add a few new touches.
Don't worry, I didn't throw style out the window 😉 I drew inspiration from the beautiful yards of Palm Springs when I chose soft pastels and bold pops of colour.
I hope you enjoy!
I am in love with my new eugenia two ball plants. They are giving me LIFE! I spray-painted the planters in a bold flamingo pink because why the heck not?! When your PMQ's siding is poop brown, you've gotta live a little.
I've been stocking-up on fun and multicolour beach towels since April! This is just a few of them, and these are the more colourful ones at that. I snagged 'em at places like Walmart, Loblaws, HomeSense etc.
You may recognize our X Harvest table from last summer. I styled it a bit differently last year, but I think this year's refreshed summer palette is more on-point.
Everything on our drink tray (the tray included) I already owned or DIYed! Those cups and that coral ice bucket are from Oh Joy's Target line three summers ago; the blue tray used to live on our night-stand; I DIYed the Jonathan Adler inspired straw holder; the finial was a Target find at Value Village that I dipped in two paint tones for a cool effect; the proseco was a gift, and the water bottle was purchased at Dollarama for $3 earlier in the season!
This year's centre piece is a favourite of mine!! I purchased several "end of the box" candles while in Toronto, in various colours and styles (pillar vs. taper) and put them in some Dollarama vases I had lying around. I think the pops of colour are spectacular and very summery.
The banana leaf pillows are from Walmart three summers ago, as are the paper lanterns (Target – Oh Joy)
The disco balls are also from the Dollar store. Can't beat a deal!
Remember my painted florals on glassware? If not, here's the post!
Okay, so everyone is crazy for peonies. I've seen them for 15$ a stem in more florists, but at Costco you can get 5 for 11$… I'm sticking by my old faithful – costco flowers.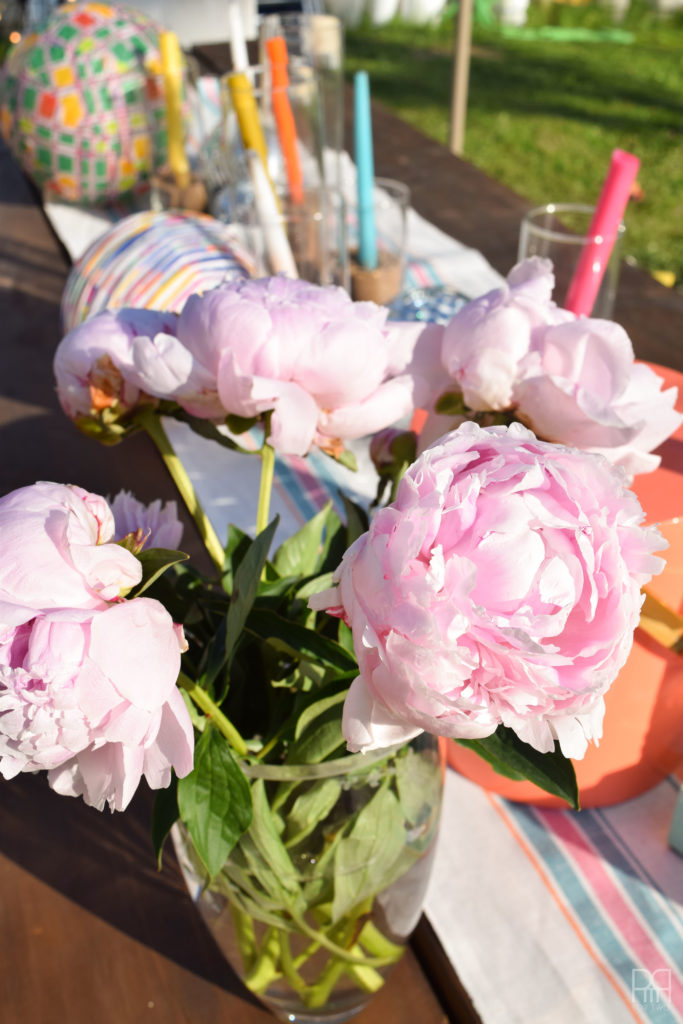 The runner is a linen fabric I found at our local fabricville. I had intended to buy it for dishtowels, but opted to keep it one long 6 foot piece as a runner. The colours in the candles and lanterns match it beautifully!
This umbrella is my greatest DIY of the summer yet – I painted it! I'll be posting about it later this week. It took me a day from start to finish, and except for the trim, I had everything I needed already kicking about.
I mean look at it! that Greek key! That pink! That swoop!
The lawn pyramid was purchased at Home Depot. It is perfection as far as I'm concerned. I wrapped our balloon lights around it and added a shrub in the middle. The foliage will eventually fill it out quite nicely!
And now for my co-hosts:
Come for a drink on Ariel's patio – PMQ for two
Check out Laurie's simple patio upgrades – Vin'yet Etc.
Get a peek into Tara's backyard – Suburble
Andrea shows us how to love our suburban backyards – Personally Andrea
Tour Dannyelle's patio updates – Life is a Party
View Becki's summer deck – The Uncommon Law
View Meredith's balcony patio – Coral & Mint
Relax on Joann's funky chairs – Woman in Real Life