Y'all caught my NYE Kate Spade Inspired Tablescape, correct? Well, if your eye caught the clock faces all over the tablescape, then today is your day! Here's the tutorial for those NYE Clock Place Cards + confetti! I used Decoart's line of paints, and their Extreme Sheen in Champagne Gold to turn simple disks into clock faces.
Check out my DIY Champagne Bottle Tops, my NYE Backdrop + Bar Cart, and my Kate Spade NYE Tablescape.
*Decoart sponsored this post, but all thoughts are my own.  Thank you for supporting the brands that make PMQ for two possible.
Clock faces are synonymous with NYE. We're all counting down the minutes till midnight and that first kiss of the new year (even if it's just with your cat).
I made a hanging backdrop for a bar cart last year, but this year I figured I'd keep the clock faces on the table instead of suspending them.
DIYing Clock Faces
It's actually much easier than you think. Head to your local craft store, and make a B line for the wood working aisle. They have wood disks and die cuts in all shapes and sizes. I used a bunch for my DIY Party Awards, but I got some in simple circles to make clocks. I wasn't sure if I wanted to use big or small discs, so I bought a variety of sizes and figured I'd see what works.
*The following product links contain affiliate links. Thank you for supporting the brands that make PMQ for two possible. For my full policies click // here //
I used Scarlet, Evergreen, Poodleskirt Pink, Razzle Berry, True Ochre & Aquamarine (from the Extreme Sheen collection)
I picked a colour palette that would work with my anticipated plans for a Kate Spade inspired NYE Party. I used the same palette as in my Painted Christmas Village, plus or minus a few shades. I ended up ditching the Lilac Meadow in favour of poodle skirt pink, but not until I saw all the shades together and realized I didn't like it with the others.
I wanted to use the gold for the dials and dashes on the clock face. I figured they would stand out more than just white or black, and would keep things playful.
A fine tip brush does the trick here. You can easily quarter the disc by eyeballing it, and then keep splitting the quarters until you have 12 dashes. Easy peasy!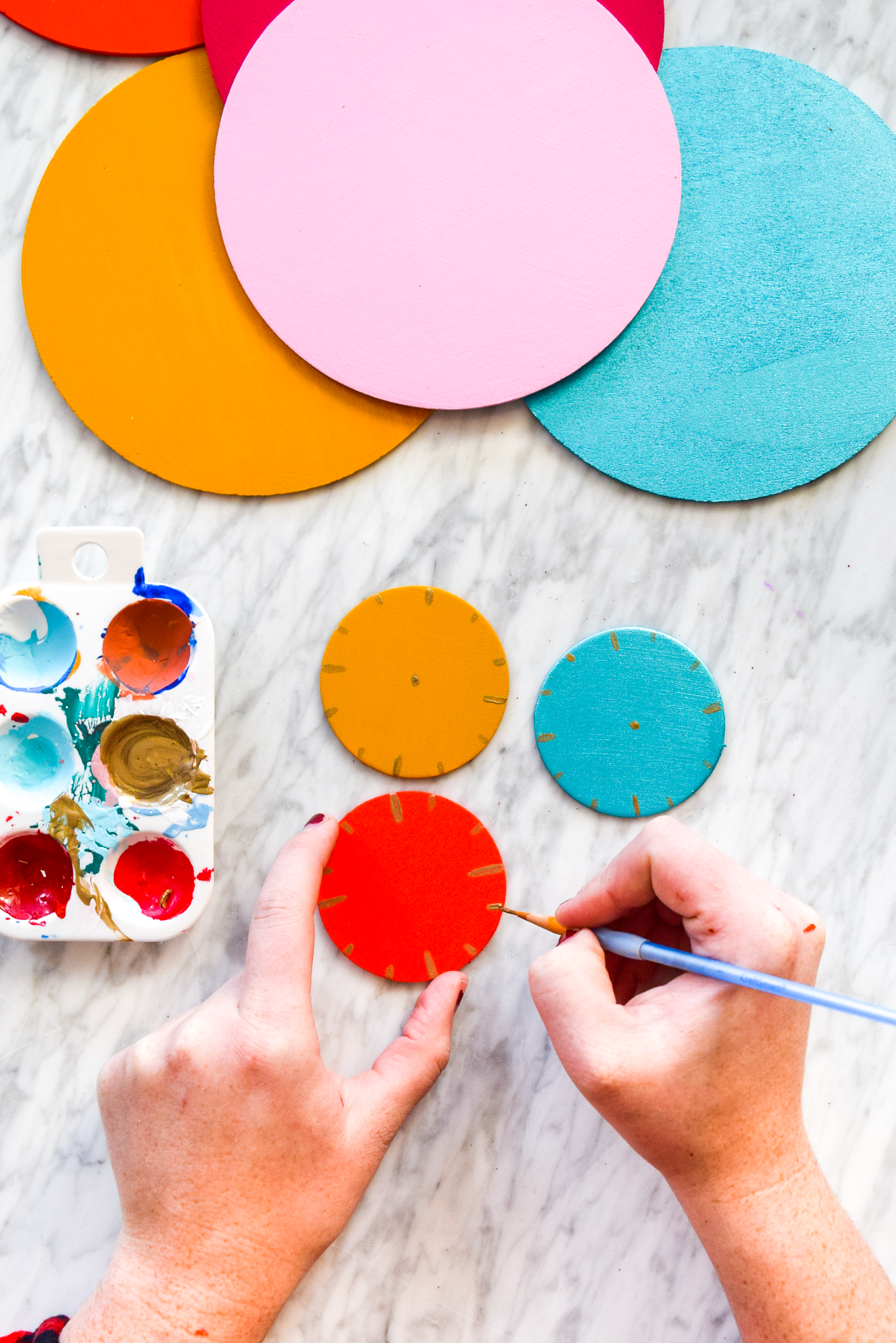 After that, it's just a question of adding clock arms. Once each clock was done, I thought it might be fun to add some stars or circles to the faces (in white) to help break up the solid colour a little, and help contrast with the Champagne Gold of the Extreme Sheen.
After that, I added little scroll banner stickers, so that I could write the name on them without it seeming odd. Time to set the table!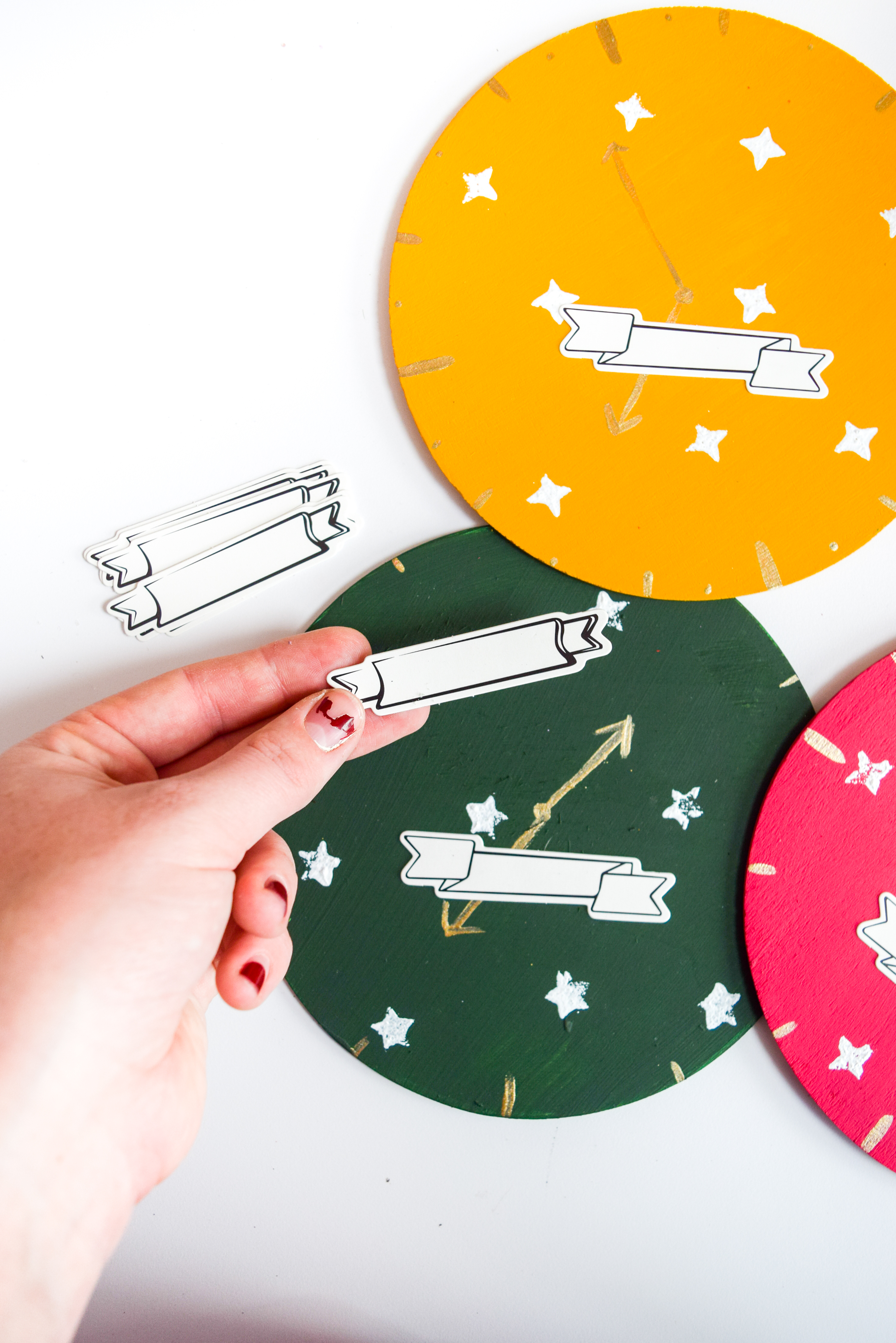 I left the smaller ones blank, and added them to the table. I used a hot glue gun to add some to skewers for custom clock flower picks in my arrangement.
Setting the table with Clock Place Cards
While I did set the table for my NYE party, I tried out the place cards & clock confetti with various place settings first (because it's a process, and I never get it right on the first go).
Remember my DIY Champagne Bottle Tops? I made them last fall and have been saving them for something exactly like this! I sprinkled the table and bar with them, to add to the festive and bubbly vibes.
also, how cute is this little angel?! Sadly I found her a little too late in the season, otherwise I would have found a way to incorporate her into my Christmas decor.
As you can see, there were many options when it came to setting the table, especially once the clock face place cards were in play – they add colours that allowed me to work other pieces into the tablescape.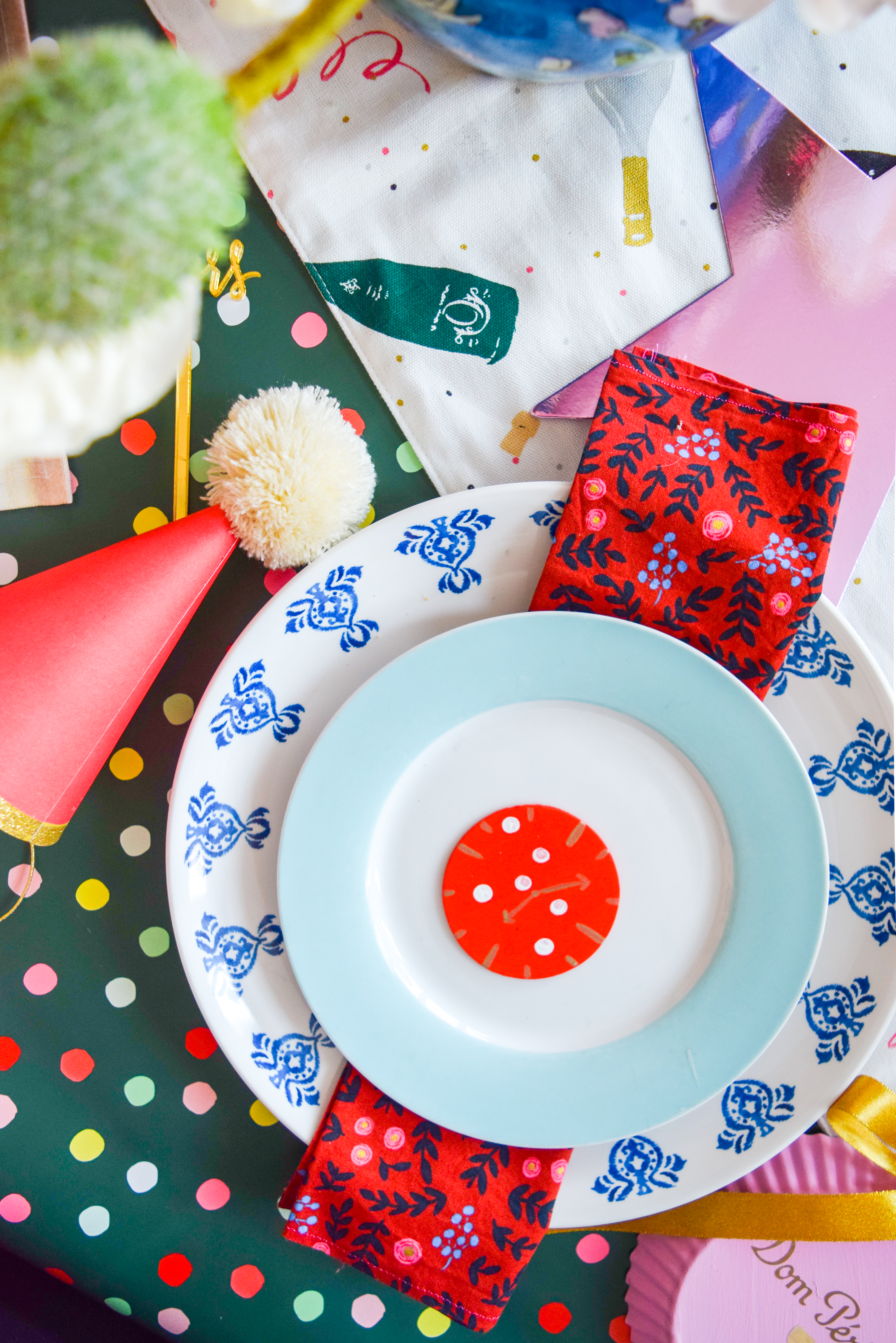 And here is a shot of the clock face flower picks! I used the clock place cards & confetti that didn't fit on the table.