Christmas is like, in 5 days, but NYE is 11 days! Once the magic of Christmas has passed, it's onto the dawn of the new year, and we all know that you've got something planned for a rockin' new year's eve. Hopefully it's a Kate Spade inspired Bubbly New Year's Eve party, and hopefully it involves a Toasted Marshmallow Salted Caramel Coffee for you and your guests, made using Jackson Morgan's Salted Caramel Whiskey Cream. Remember to sip responsibly!
Check out my Whiskey Peppermint Mocha Frozen Hot Chocolate 
Don't forget about my NYE Bar Cart & bubbly bar tablescape
*Jackson Morgan sponsored this post, but all thoughts are my own. Thank you for supporting the brands that make PMQ for two possible.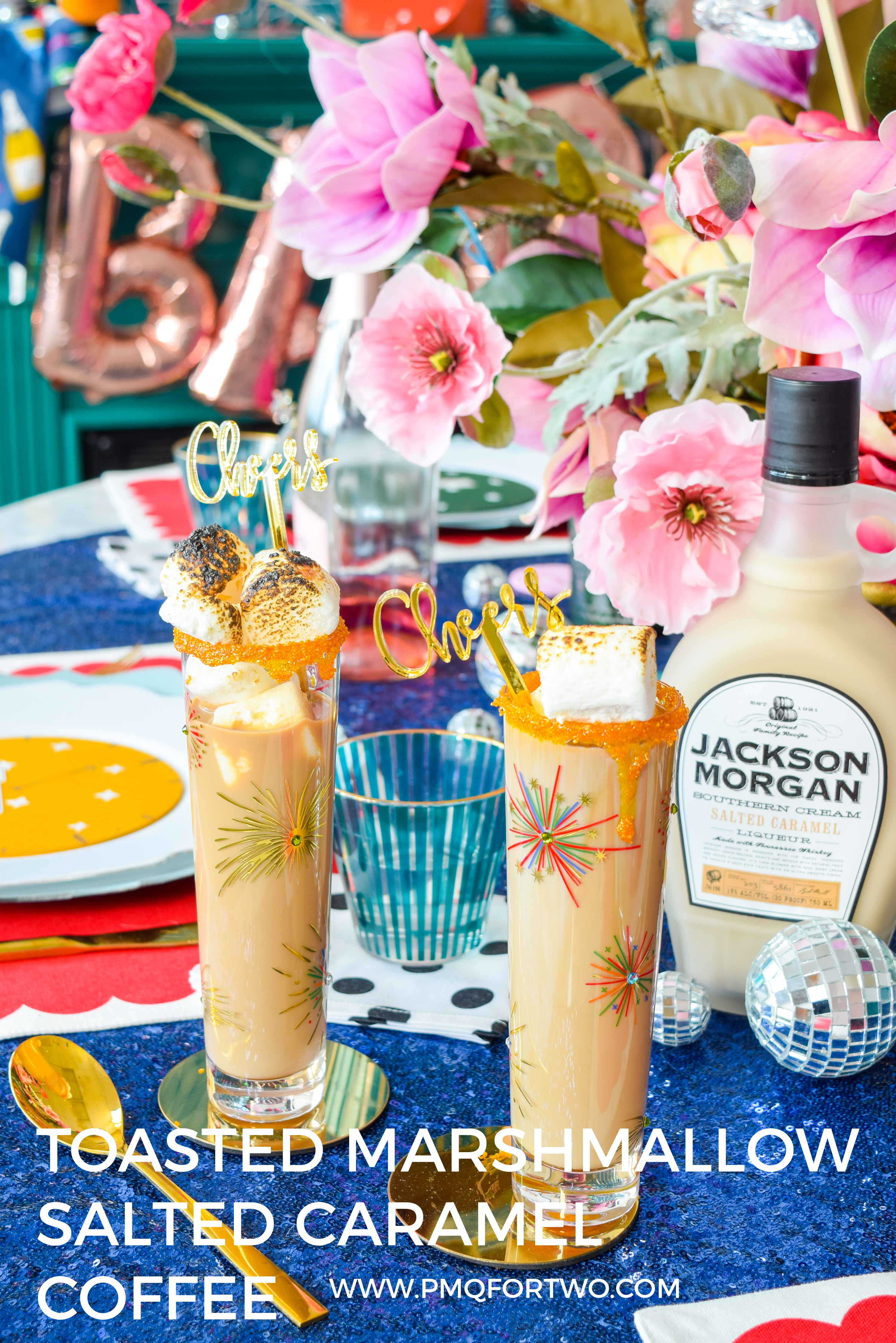 You may think I'm crazy for serving coffee as the base of an evening cocktail, but on NYE when the name of the game is making it till 12:01, coffee is your friend!
This cocktail works just as well with an espresso or cappucino, but drip coffee is plentiful and will allow you to make a big batch.
Jackson Morgan's Salted Caramel Whiskey Cream
I shared how I used the Peppermint Mocha flavor in my frozen hot chocolate, but the Salted Caramel is coming in a close second on my list of top whiskeys. It's flavourful, smells delightful, and serves as the perfect base for many dessert style cocktails.
Did you know that you can reduce any of the Jackson Morgan Whiskey creams by bringing them to a simmer on the stove? I used 2oz of the Salted Caramel, reduced, to create a sugared rim on the cup, and it adds to the overall experience without sabotaging the flavour profile. * look at the drippy goodness in this pic below*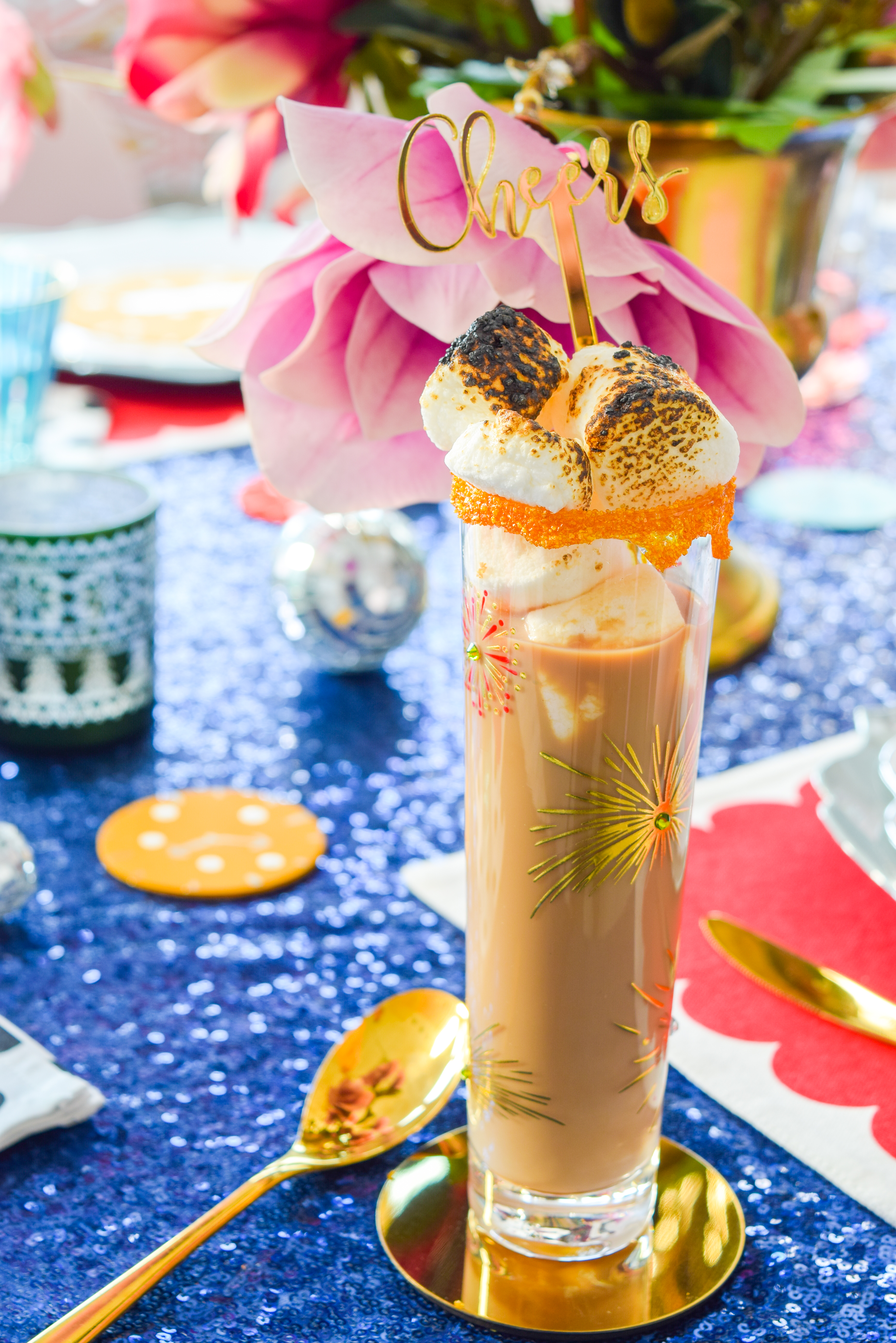 Toasted Marshmallow Salted Caramel Coffee Recipe
To make one of these bad boys, you need coffee, Jackson Morgan's Salted Caramel Whiskey Cream (in liquid and reduced syrupy form), Gold Sugar (for the rim), Marshmallows, and a kitchen torch.
Start by putting the rim of the glass in the syrupy goodness, and then rimming it in gold decorative sugar (available at Michael's or s specialty food store).
Next, fill your glass with coffee (or an espresso shot), and then add 2oz of Jackson Morgan's Salted Caramel Whiskey Cream.
You can chose to add ice cubes, and serve it chilled – a nice contrast with a melting toasted marshmallow, or just move onto the next step! The toasted marshmallow part!
I added a few to top up the glass, but I made the crucial mistake of not toasting them as I went! So if you're going to add more than one or two, make sure you use the torch on them before adding more.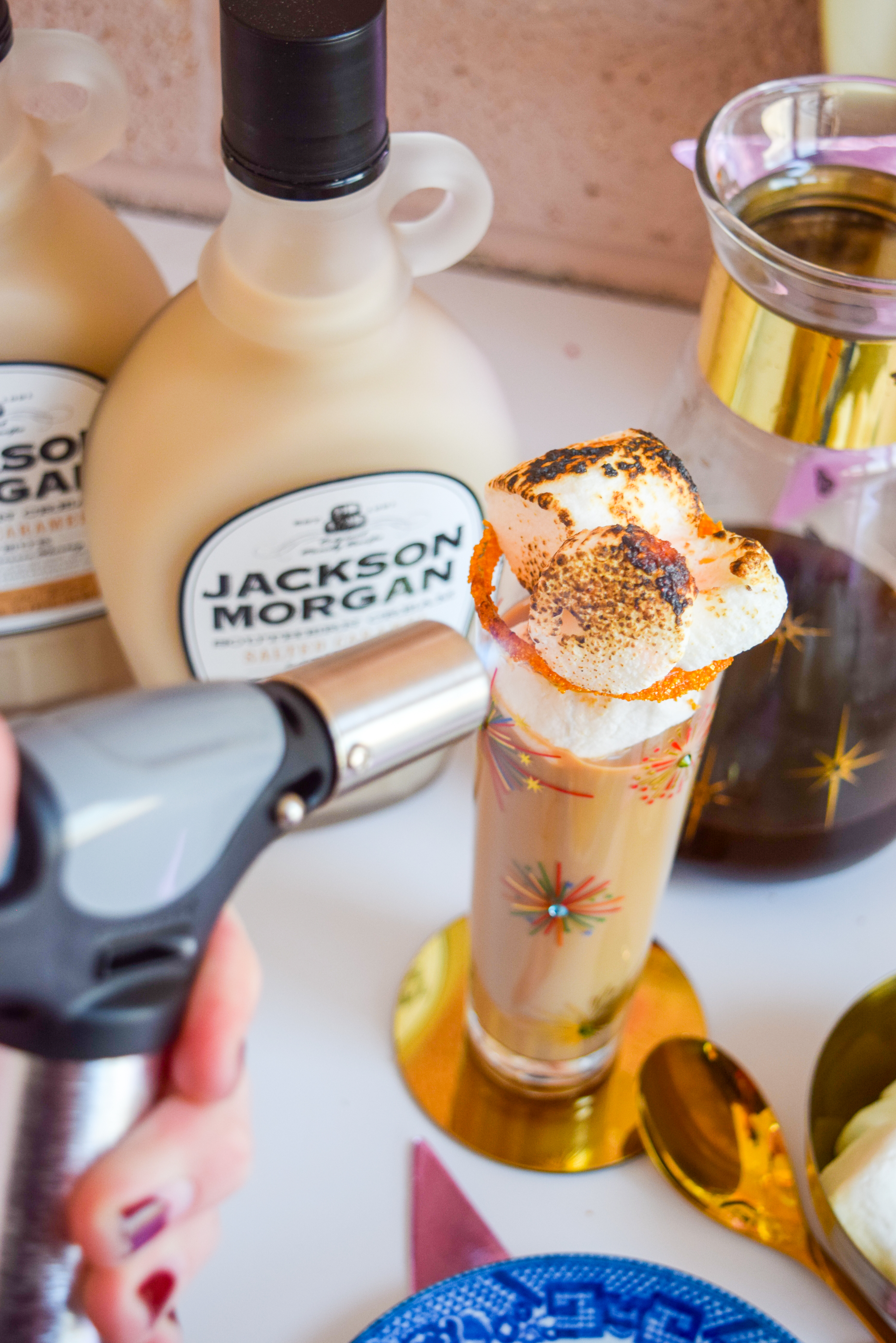 Other option – add more coffee and Salted Caremel Whiskey, with fewer marshmallows – the choice is yours!
Be careful with the torch, because it will set the sugared rim on fire and crystalize, if you get too close with the flame. Time to serve!