A glossy blue sideboard makeover is just what every dining room needs. With the help of the right paint and a shellac, you can up-cycle anything!
Check out how to paint an upholstered chair
The best projects are either well thought-out and took a while to plan, or they were thrown together in the background and I'm 100% genuinely surprised they turned-out this well. This project is not former and is definitely the later.
Inspired by Miles Redd
If you're like me, you had / have no sweet clue who Miles Redd is // here //. Well, if you truly are like me then you'll probably have pinned, re-pinned and then pinned a different angle of many of his rooms. His design is what I think mine would be if I had a grandeur scale and more of a penchant for classic and traditional elements (I tend to veer more towards MCM as opposed to traditional).
Some of my favourite spaces are by him, and they have inspired many colour palettes and designs. of my own.
Upcycling old furniture
We actually purchased the "sideboard" off of Kijiji a few years at our last posting. The previous owner had thrifted it herself and then used it as a change table for their child. Needless to say, it had been better days.
Check out my bone inlay coffee table
The MCM lines are clean and uncomplicated, but the left-over speaker cover material on the front was a pleasure to scratch for Boots (one of the cats). The laminate also wasn't very receptive to the water or liquids, so it was a real task trying to keep it looking fresh and clean.
Check out my tutorial on painting thrifted fabric chairs
After thinking long and hard about to do with the sideboard I decided to paint it! A glossy blue no less! Because if I've gleamed anything from Miles Redd's designs it's that you can never go wrong with a gloss, especially a glossy blue sideboard makeover.
DIY Glossy Blue Sideboard Makeover
Now, you may know that I'm not usually a fan of anything chalky – especially since it takes me further away from the high gloss look I love – but I've got to hand it to FAT Paint, the coverage is exceptional.
Check out my green kitchen cabinets with FAT Paint
I've used it a few times for various projects but nothing as big as a dresser. From those smaller projects though, I knew that I wouldn't need to sand beyond "roughing up the surface" and that it would stick to pretty much anything.
*This is not sponsored content, I genuinely like the FAT Paint coverage on laminate furniture.
Making over a thrifted sideboard
I purchased a quart of the Amanda Forest collections' Navy State of Mind and planned to add a few layers of satin poly to the sideboard to seal it. So off I went! I didn't bother with progress shots because let's be honest, you all know how to paint something and there are a million and one tutorials out there.
Basically: lightly sand the piece, apply 2 coats of FAT paint while respecting dry times. Wait 24hrs before covering in poly eurathane, lightly sand between coats of poly with a 220 grit, and then wait a full 24hrs before doing anything else.
Using wallpaper samples for decoupage
I added the Rifle Paper Co. wallpaper samples in lieu of a fabric, or painting the back-board behind the fabric. The coral + pink + blue is a classic colour combo and I think it works beautifully here.
And because no sideboard is complete without styling, I dressed it as you might find it during a cocktail hour here: poppies, lemons, gin, fancy bubbly beverages and lots of colour & texture.
The glossy blue looks perfect against my green and gold flecked coasters, my Williams & Sonoma low-balls, and assortment of spirits. Dillons Rose Gin will always be my favourite summer gin. If you are able to find it I suggest you try it! The bouquet is not as strong as with a traditional gin blossom, and it has a light flowery taste to it.
I used a gloss Mod Podge to apply the wallpaper, because honestly who has time for 4 layers of poly and wallpaper glue when mod lodge works just fine!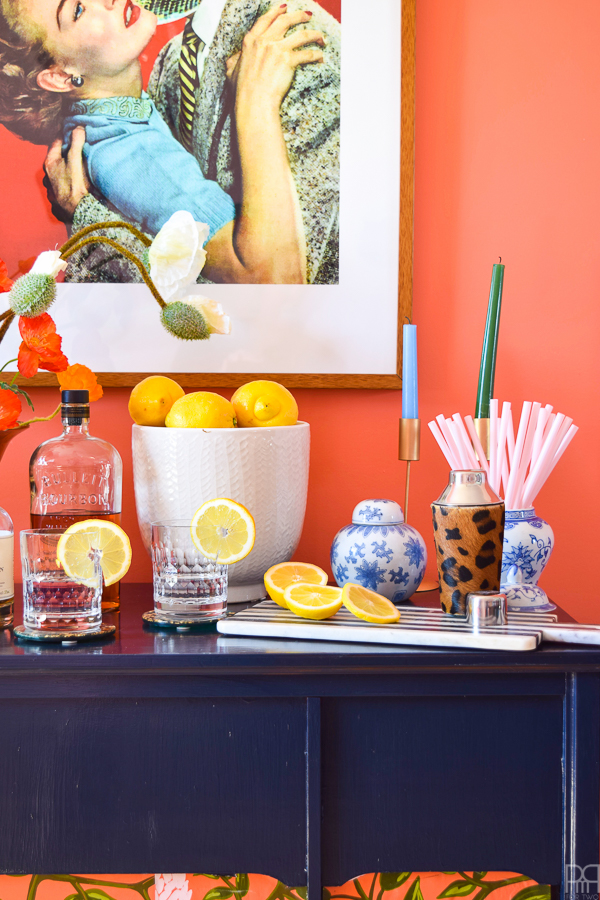 Much of the bar ware on the sideboard is from HomeSense or thrifted! My little ginger jar collection floats from project to project but usually lives on the top shelf of our living room built-ins. The florals, of course, are from AFloral and have been recycled between projects.
If you LOVE the print above the buffet you can grab your own from Society 6.