My week 5 update is happening one day sooner than usual because I've got a super fun project going live tomorrow and didn't want to double post! But for all of you who have been asking about the painting upholstered chairs, this is the post for you! You can grab more info about the One Room Challenge // here // and see all the official spaces // here // and then the linking participants // here //. I'm making over the dining room, and it's almost complete! Back to businnes though – how to paint an upholstered chair using BEHR paint!
With the ORC extension due to all the natural disasters, I'm including this tutorial as my update this week instead of making it a stand-alone post as I had originally planned.
Catch-up on // week 1 // week 2 // week 3 // week 4 // week 6 // The Reveal
*Behr Paint, Rugs USA, Wayfair & Parima Studios  sponsored this post, but all thoughts are my own. Thank you for supporting the brands that make PMQ for two possible.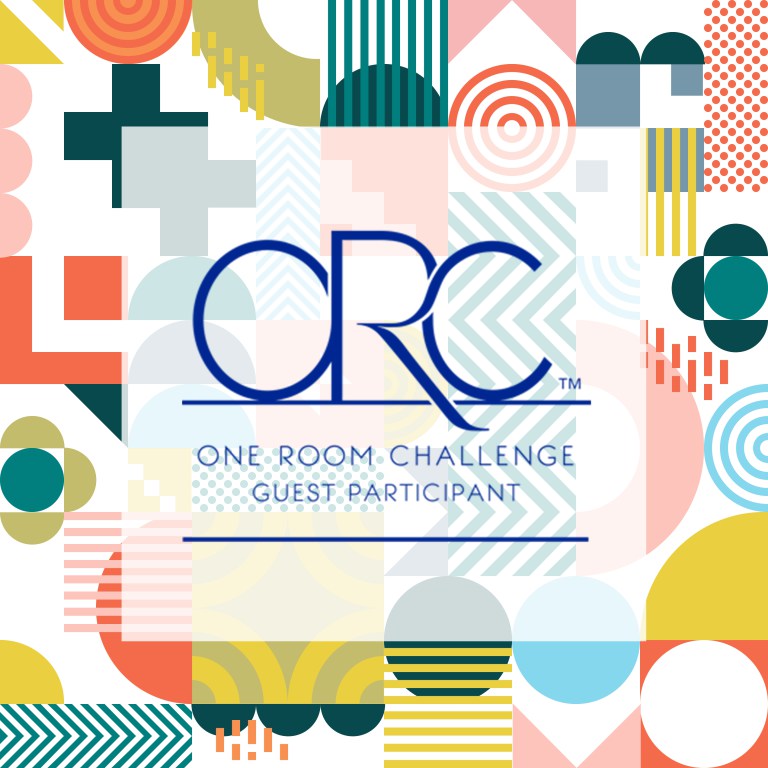 Painting upholstery can be a dicey ordeal, but if you use the right products and technique you'll get some quality results. It's an affordable stop-gap for when you can't re-upholster, and it takes a fraction of the time as well. I had considered reupholstering the set of 6 chairs, but I'm uncomfortable with the technique that was used on these chairs, so I felt that painting them was a better option. I looked to all my craft paint brands for this project, but at the end of the day BEHR paint had the exact colour I was looking for, which isn't crazy because they've always got the colour I want.
Materials
*You can grab paint samples at Home Depot for about 2.50$ each
** In week 3 I started painting the chair and experimented with a mix of paint options: paint and fabric medium, watered-down paint, and just straight paint. You can see the difference on week 3 // here // I chose the "just paint" route since it provided the best coverage, and the chairs aren't too plush, so a stiffer fabric doesn't matter
Step 1: Start by cleaning the upholstery. I used a lint roller on all the surfaces to collect pet hair and dust, but if there was anything more substantial I would have used a wash cloth.
Step 2: Tape any wood surfaces or parts to the chair that you don't want to get painted. Since these chairs are quite nice, I took the time to tape every nook and cranny.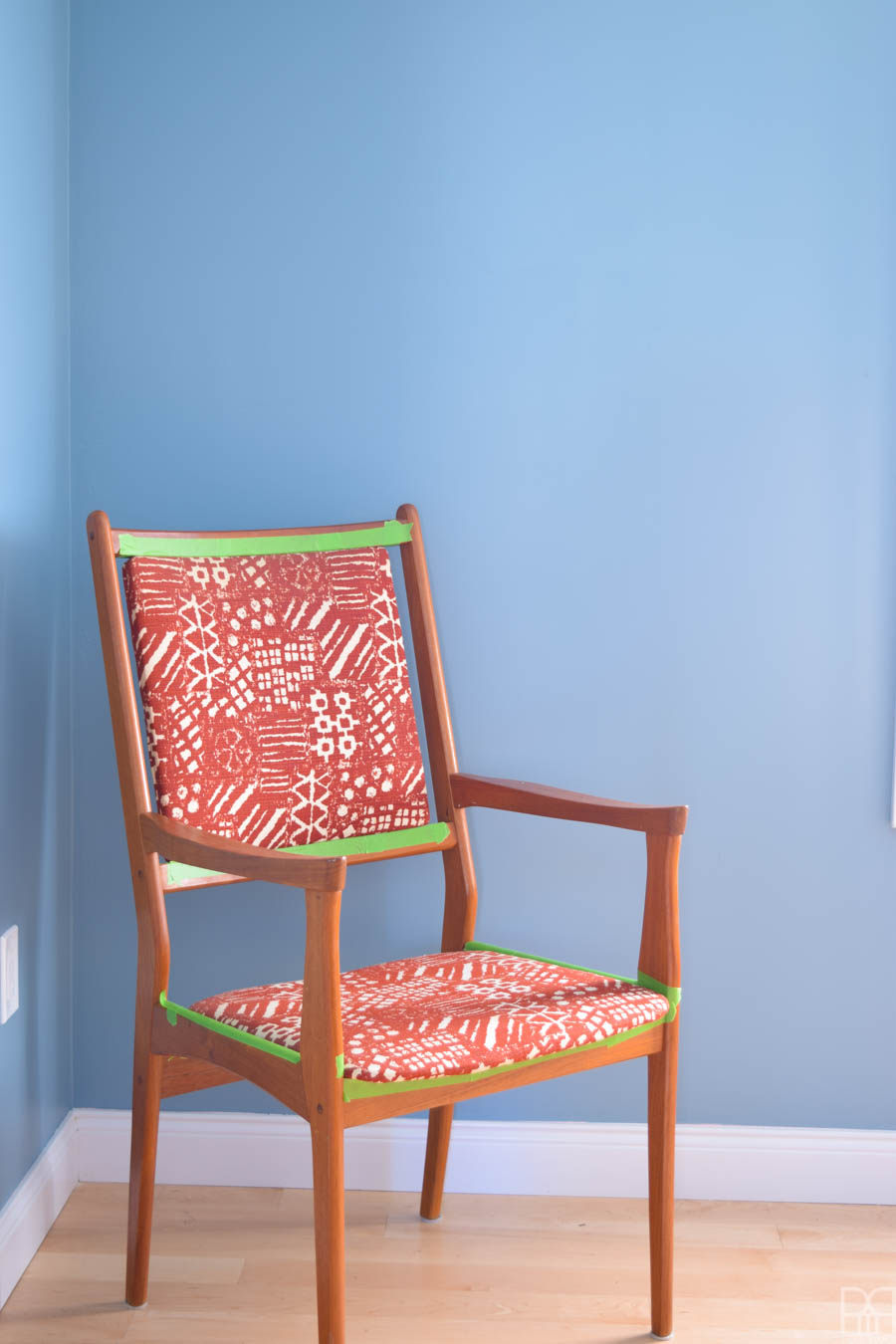 Step 3: Start painting! Using an angled short bristle brush, generously apply your paint to the fabric. if the fabric has a particular grain to it you'll want to brush in all directions to ensure the fibre is covered. Don't be afraid to use lotsa paint!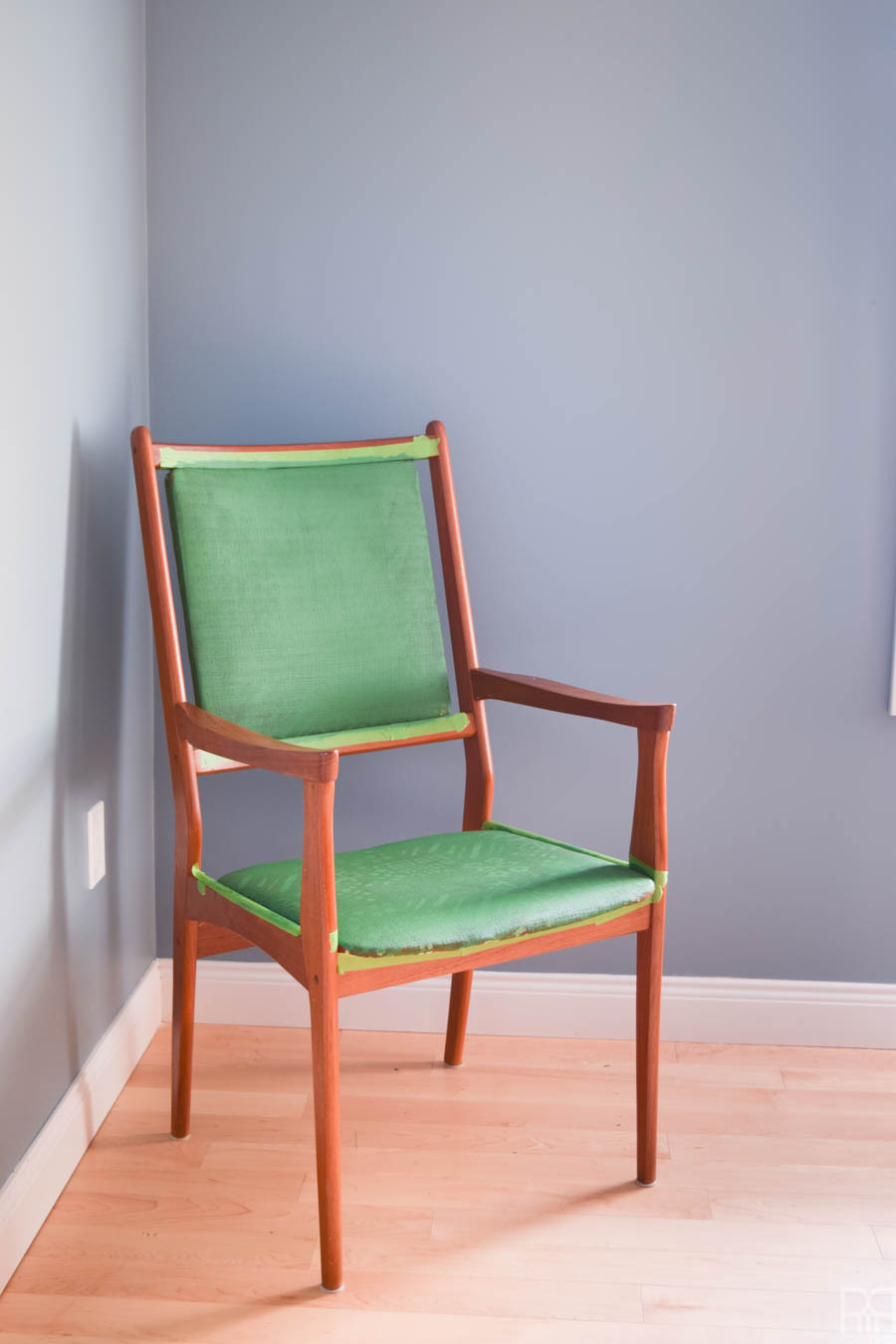 Step 4: Once the first coat is dry, using your light grit sandpaper, go over all the painted fabric. It will make the fabric more supple and get rid of any painted imperfections.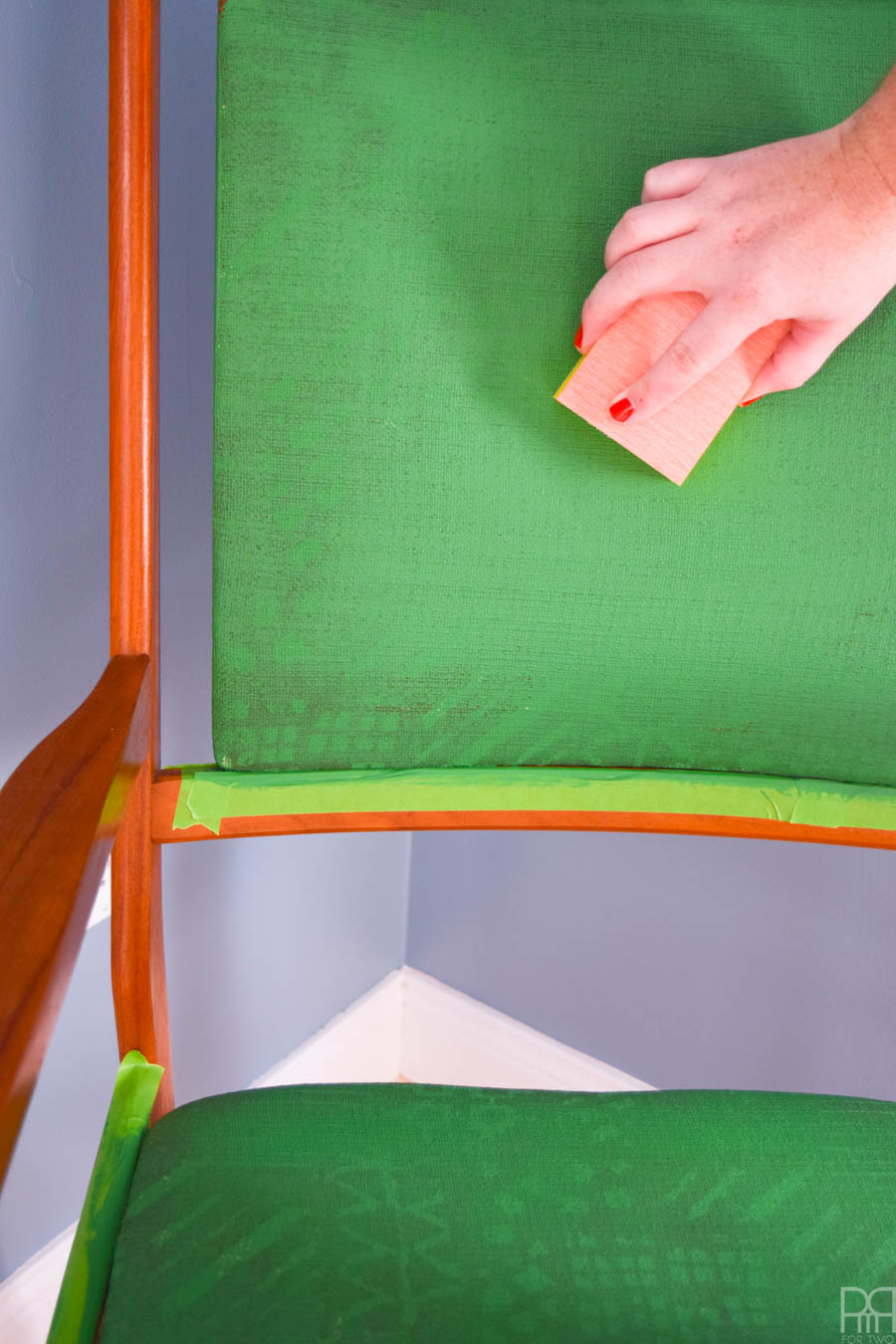 Step 5: Apply a second coat. If you need a 3rd or 4th for complete coverage, don't forget to sand in between coats.
Step 6: Once you've applied your last coat, let the chairs dry completely over night. You want them to be dry before you remove the tape.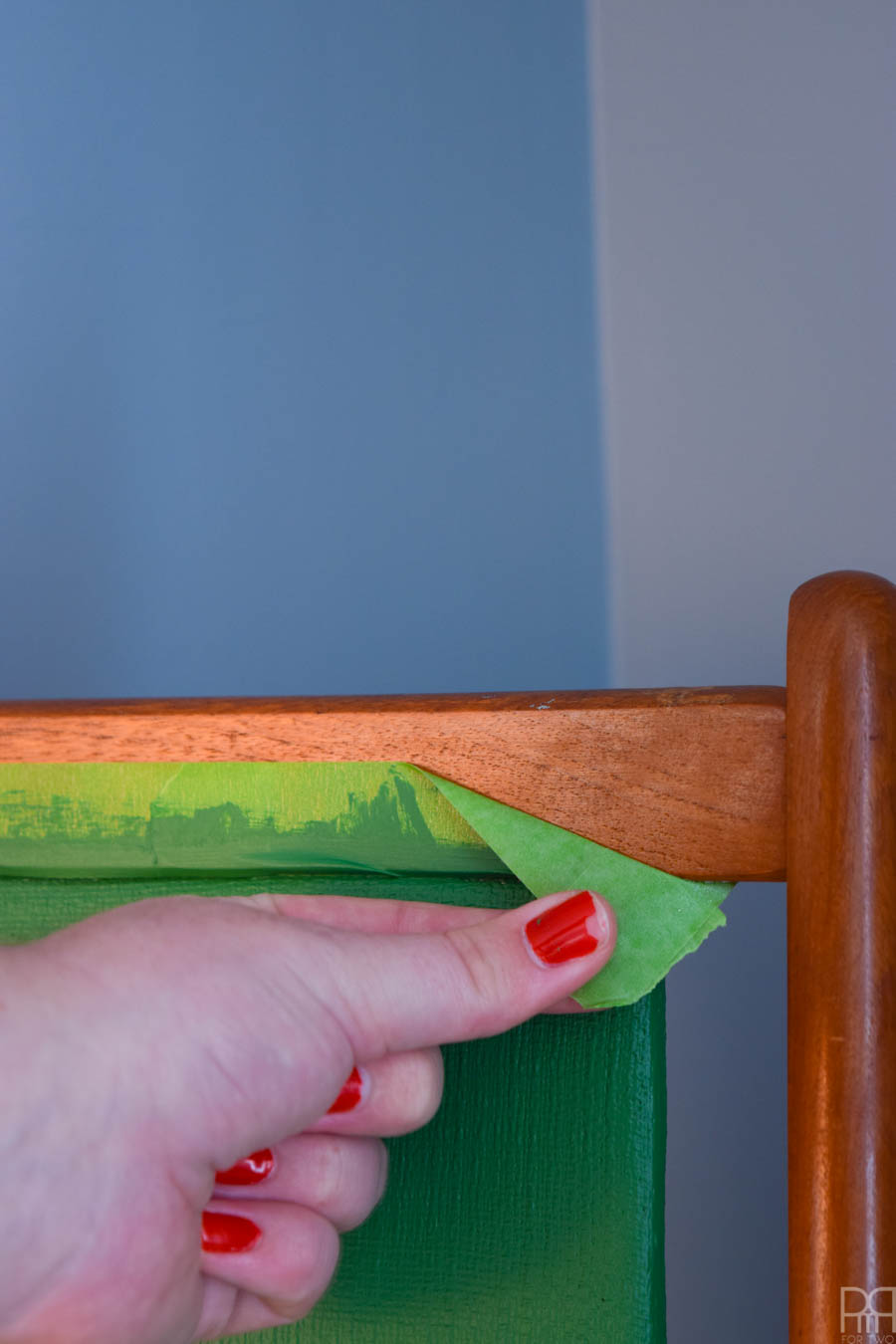 Step 7: I suggest doing a test patch first, but if everything is good to go, start applying the FAT Wax to the upholstery. It will keep the painted fabric from cracking, keep it looking slick, and eep it from transferring to any clothes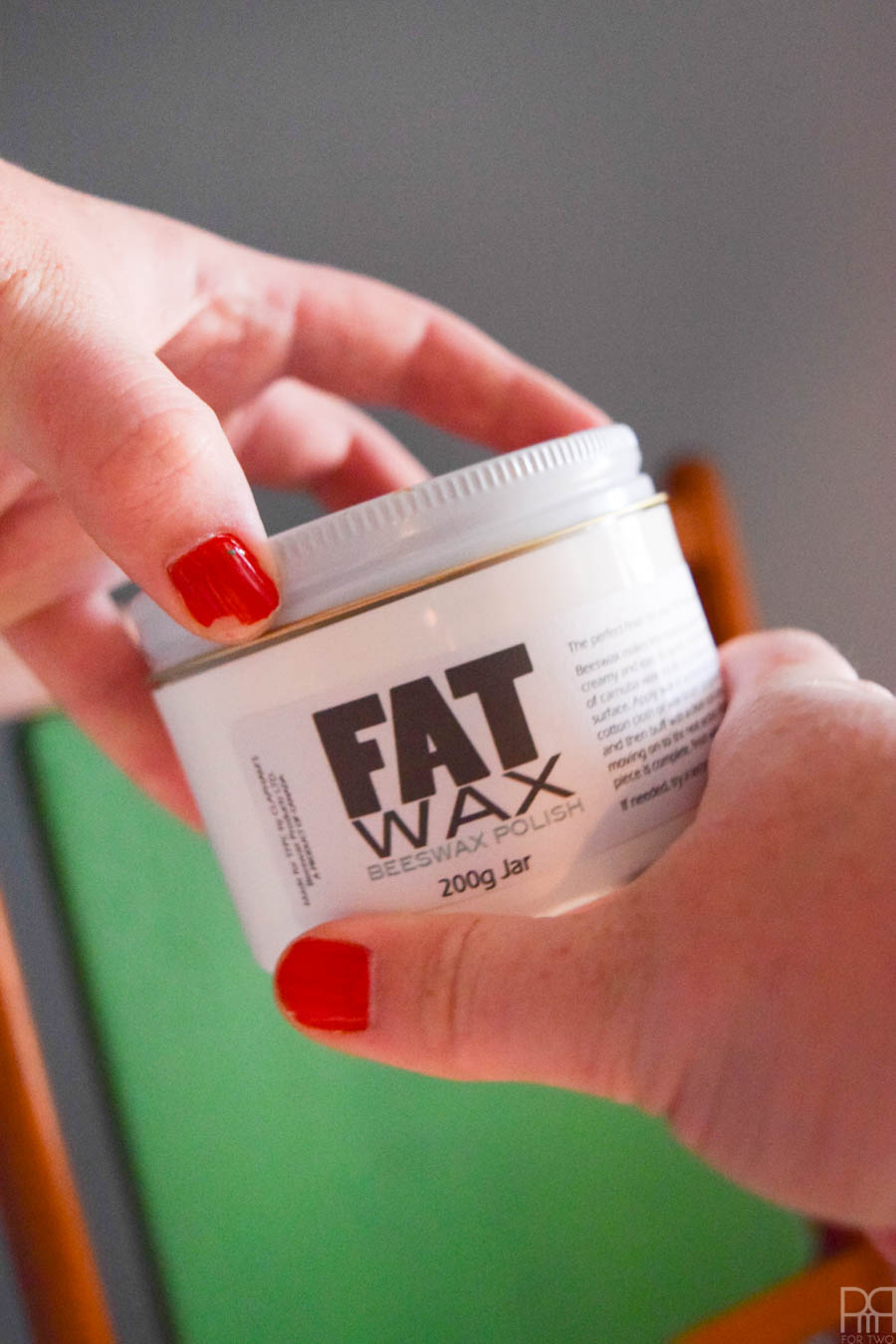 You apply it using a cotton rag, in kind of a "wax on, wax off" kinda vibe. You leave the wax on for 3-5 mins before wiping off with another cotton rag. I then let them sit overnight before sitting on them.
Step 8: Voila! You have successfully painted upholstered chairs! It takes about two days from start to finish (including dry times) so it's the perfect weekend project. You'll also save a fortune on upholstery, and if you're having a hard time finding the right colour, going for an interior paint like Behr's Marquee line perfect because of the range available. Painting upholstered chairs is easier than you think, and totally worth the effort.


I painted a total of 6 upholstered chairs this past weekend, and now the entire set is complete.
In the interest of keeping the suspense before the reveal in 2 weeks, I'm done showing you guys everything "in context," so now you'll be getting stand-along updates as they happen.
ALSO, can we finally talk about the beautiful print? It's by Mary-Catherine of Copper Corners, and the piece is entitled Dinner at 8 . You can snag it on The Painted Fox Home // here //. The second I saw it in her IG feed earlier in September // here // I knew it was the piece for me.
I love the colours, the details, the focal point, and the fact that it's an independent artist. You can also shop Mary Catherine's prints in her Etsy shop // here //.
p.s that leopard print pillow is from Tonic Living // here //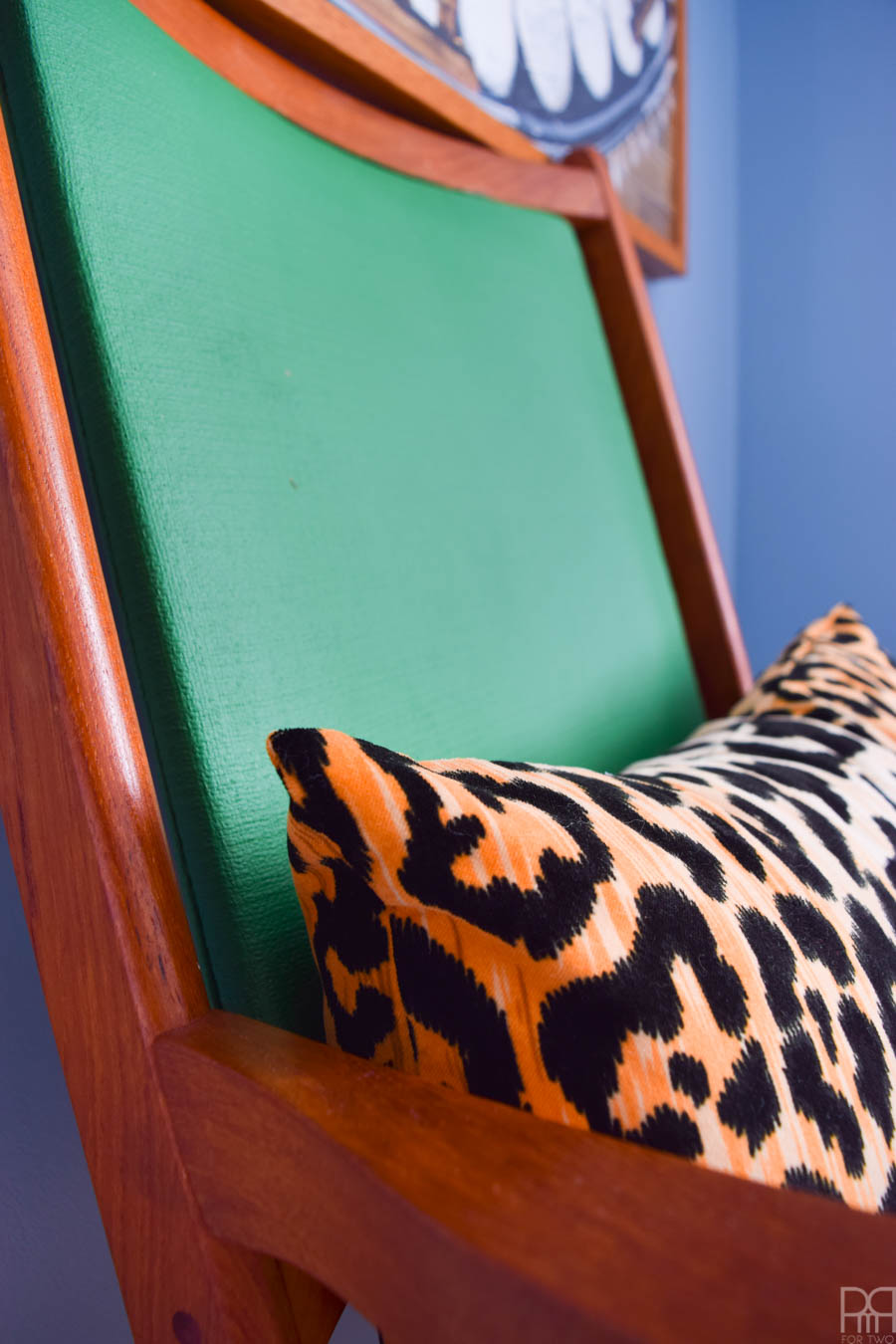 To Do List
Paint the walls – CHECK
Instal new light fixture – CHECK
Paint (or maybe reupholster) the dining room chairs – CHECK
Acquire and instal art – IN PROGRESS
Lay new rug
Make roman blind for the window – CHECK
Swap light switch-plates – CHECK
Accessorize