Week 4 of the fall ORC is coming at ya fast and furious! If I was doing any major renovations this is probably where I'd start freaking-out. Thankfully this dining room revamp is nothing dramatic like re-flooring or moving a wall, but still, it's enough to make me sweat what I haven't completed in this edition of the One Room Challenge yet. In case you're new the ORC, it's a bi-annual design challenge hosted by Linda of Calling It Home, where 20 bloggers are invited to re-do space from start to finish in under 6 weeks. The official participants' updates can be seen // here // and you'll have to make sure to check-in on all the linking participants // here //.
** The Fall ORC has been extended by a week, so the reveal will now be on week 7.
Catch-up on // week 1 // week 2 // week 3 // week 5 // week 6 // The Reveal
*Behr Paint, Rugs USA, Wayfair & Parima Studios  sponsored this post, but all thoughts are my own. Thank you for supporting the brands that make PMQ for two possible.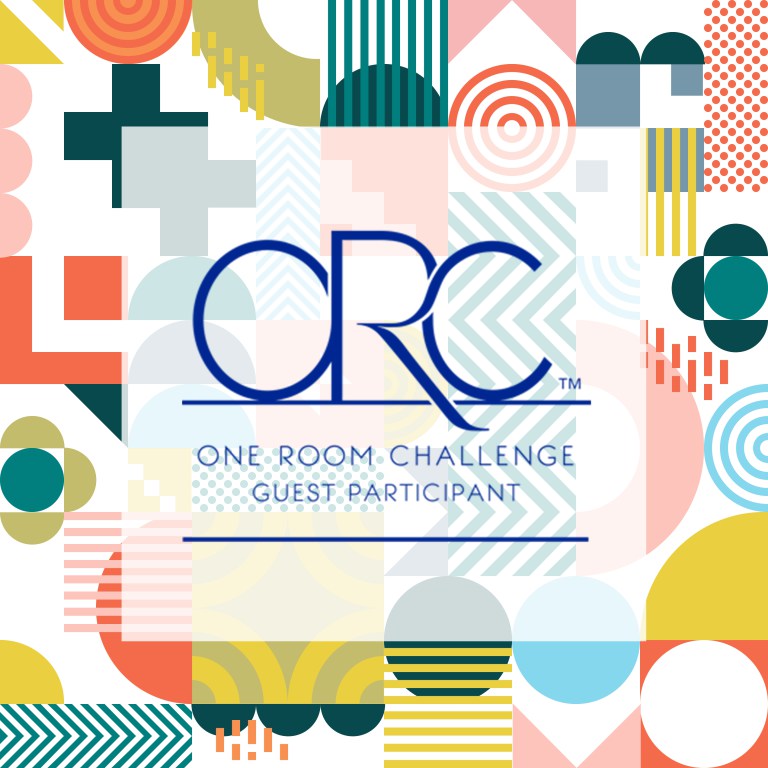 *Wayfair Canada , Tonic Living & Parima Studio sponsored this post, but all thoughts are my own. Thank you for supporting the brands that make PMQ for two possible.
p.s grab this Butterfly print from Jenny's Print Shop // here //
I'd like to take a minute to thank all my sponsors, without whom this edition of the One Room Challenge would not be possible:
This week I focused on getting the lighting game under control, and getting my roman blind into the window. These are two things that I was more than happy to cross of my list (see the bottom of the post) and will make a huge difference in completing the space.
I'm still painting the chairs, and I'm taking my sweet time with those. I don't want to mess it up!
Back to the light though – I had mentioned in my second update // here // that I had initially purchased the ceiling light for our master bedroom makeover, but that it was too big for the space, so I saved it for the dining room.
It's the Stilnovo Flen Flush Mount and I snagged it on Wayfair – the best part is that shipping was free!
There are so many other versions of this design out there, and I would take them all in a heart beat, but this one stole my heart (and it's the biggest I could reasonably fit in this PMQ). You can shop similar styles in the widget below.
*The following product links contain affiliate links. Thank you for supporting the brands that make PMQ for two possible. For my full policies click // here //

The roman blind has become an unexpected delight. I didn't know what I was going to be doing in the window until I found that fabric in a bargain bin at our local store. The fabric is linen (so it's crazy wrinkly) but the colours are perfection, as is the pattern. It's a similar shade to the walls (Rainy Season by BEHR), and the pinks and greens pick up on all the shades that run through the art. I love it!
I won't have a DIY for this post but you can catch a great illustrated one // here //
You can see that photographing the blind is kind of hard with such strong light, but in a few weeks when it's darker, earlier, I'll have a better time capturing it.
What you do clearly see is the beautiful leopard print Bianca from Tonic living // here //.
I also finally nailed-down a picture frame for my second piece of art from Parima studio Mohavi // here //. I should have had it framed by them before shipping – I love wen that kind of service is available – because I chose a size that was impossible to find a full frame for! Ya live and ya learn, right?
The sideboard lamps are Kate Spade and I found them at Homesense for a steal of a deal. They're a great complement to the ceiling light, and their soft white helps balance-out the darker colours.
On a personal note, I was finally able to frame a photo of my late brother who passed this summer. It's a great shot of him, but I've got a back-up hidden behind it in the frame. Not a day goes by that I don't miss him.  You can read more about that // here //.
I'm quite pleased with my progress so far and want to share my to-do list so you can track my progress:
To Do List
Paint the walls – CHECK
Instal new light fixture – CHECK
Paint (or maybe reupholster) the dining room chairs – IN PROGRESS
Acquire and instal art – IN PROGRESS
Lay new rug
Make roman blind for the window – CHECK
Swap light switch-plates – CHECK
Accessorize