How about some DIY fabric cocktail napkins that don't require a sewing machine, and can upcycle an existing cloth napkin?
Don't get me wrong, I love and frequently use paper napkins for occasions that aren't sit-down. They also make a great addition to my styled posts because they add a whack of colour without breaking the bank. BUT, for cocktail season I like to have something a little nicer to offer.
DIY Fabric Cocktail Napkins
I've done cocktail napkins in the past, and you can see those gingham and gold napkins, or my summer cocktail napkins. For these, I'm going to make them from thrifted cloth napkins, and then add ribbon trim, edging, bows, etc. These will be so pretty, you won't want to put them down!
What do you need to DIY Fabric Cocktail Napkins?
*The following product links contain affiliate links. Thank you for supporting the brands that make PMQ for two possible.
Thrifted cocktail napkins – you can also buy larger napkins and cut them down to size, or make your own using fabric
As many colours and sizes of ribbons as you'd like! I a lot of mine by the yard from this store on etsy // here //
Scissors
Aleene's No-Sew fabric Glue 4oz
How to make no-sew cocktail napkins
Figure out which ribbon will be paired with which napkin. I've opted to use contrasting colours, but colours that are found on the napkins themselves, thus creating the illusion of cohesion and maybe the look that they all came this way on purpose.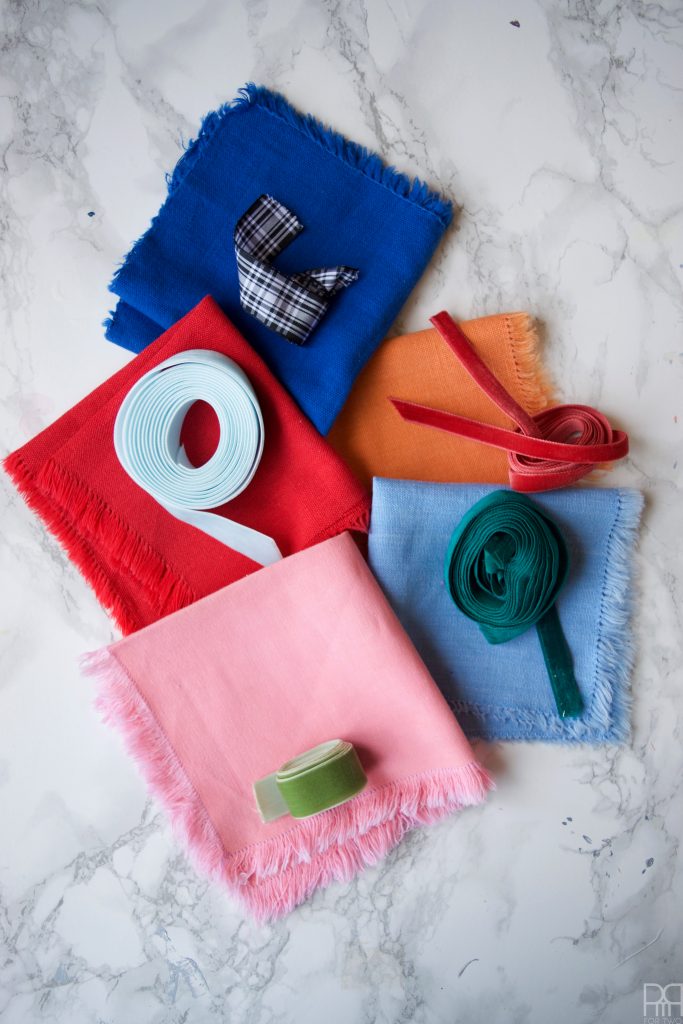 I contoured the whole napkin, so I cut four strips of ribbon, one to run each side, with overlap at each end.
Glue the first two ribbons down using your No-Sew glue. These should be on opposing sides from each other.
Using your scissors, cut the corners of each end of the remaining pieces of ribbon, on an angle so that it looks like they're cutting-in on a V. This is also known as a mitered corner, and if you're supper handy with a sewing machine you could sew this!
Glue down the remaining two pieces of ribbon and let dry about an hour. Repeat for all he napkins you're making.
Enjoy! Throw a party! Break-out the mix! and the nuts! I think these will be a staple in my hostessing kit this holiday season.