Winter, my dear sweet nemesis. I have faced a Canadian winter every year of my life, and let me tell you, it never gets easier. What does change though, is my ability to cope with it, and even learn to love it a bit. It's only taken forever, but there is some beauty and fun to be had in the snow once the magic of Christmas has faded, so you really should look into that. And today, on the eve of another winter snow storm after some seriously messed-up weather, I want to take a minute and share how I go about enjoying winter, thanks to the CANEX.
*CANEX sponsored this post, but all thoughts are my own. Thank you for supporting the brands that make PMQ for two possible.
This past fall you may remember that Dan and I took a trip to our local CANEX to pick-up a snowblower. We then got zero snowfall until about December 13th, at which point I was already in Toronto and didn't get to use it until we got back and face our first snowpocalypse in time for the #weatherbomb in early January.
See, we finally bit the bullet and got a snowblower. We're sick and tired of spending hours trying to dig our way out after a snow dump. Between Mother Nature and what the plow dumps in front of our driveway, it's hard as hell to get out. Ain't nobody got time for that.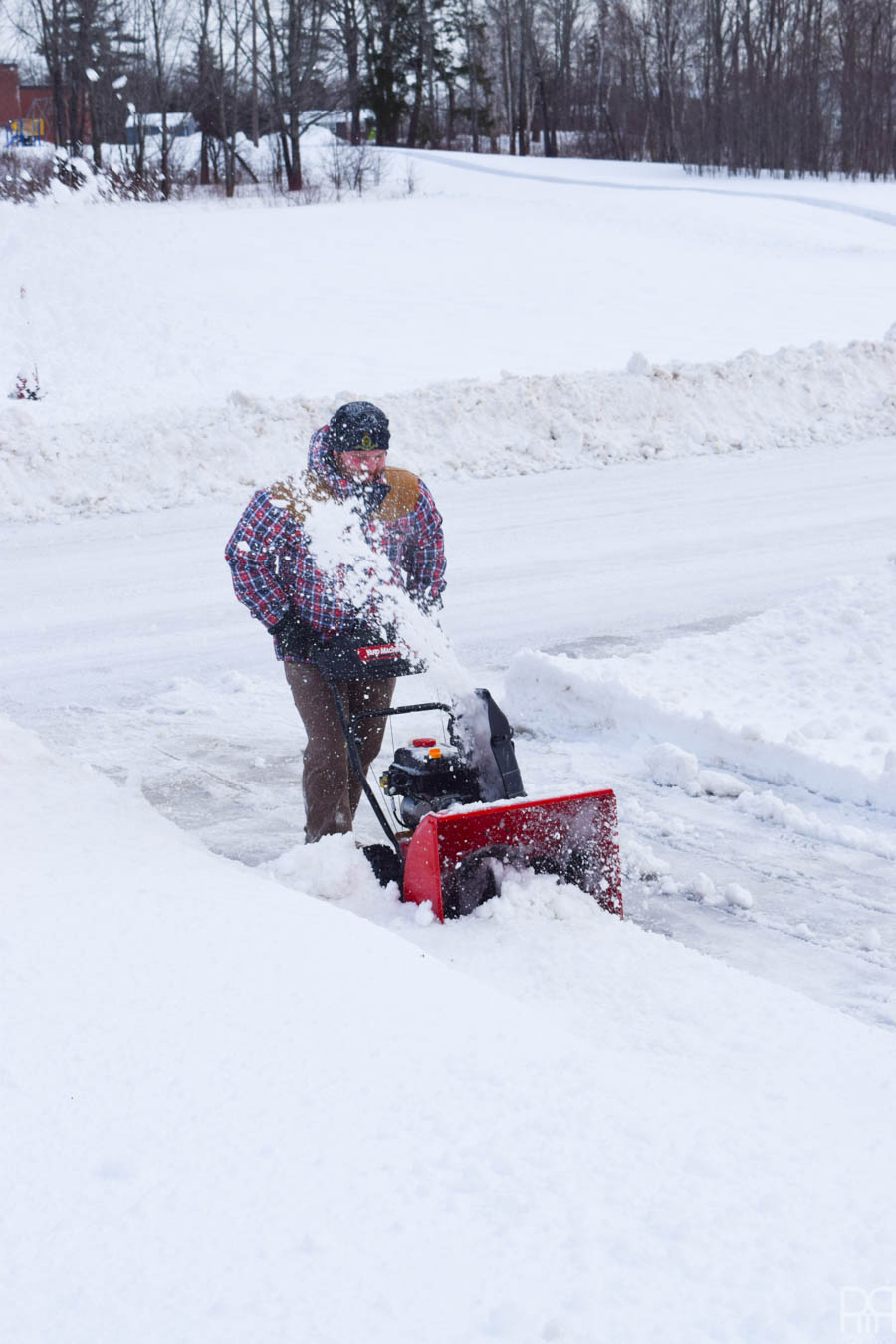 Enter the CANEX, their lovely selection of snow blowers, and the wonderful thing known as the interest free payment plan. Did you know that you can finance things in-house through the CANEX? As long as the payment term is at least 1 yr, it's interest free!
We furnished our first apartment this way, because lord knows Dan and I did not have the funds to buy a washer, dryer, couch and kitchen appliances all in one go. That plan saved our buts with winter tires on more than one occasion too. We also got his mess kit that way, a computer and so much more. Given all that, it really is a no-brainer for us when it comes to big ticket essentials.
Site note: Civilians are more than welcome in the CANEX and can make purchases. So if you happen to live near a base and want to get your hands on one, don't be shy about it!
We got the Yard Machines 24″ snow blower and love it. It's the perfect size for a path at the back of the house, easy to manoeuvre, and not too heavy to push. Not all machines are self propelled, and you have to move this one forward yourself, so having it be a little smaller is ideal for those icy days, or when the snow is hella heavy.
But that's enough about that. You guys said you wanted to read more lifestyle content over here, so I wanted to tell you what we got up to with all the time we've saved with the snow blower so far.
Snowshoeing! Do you remember last year all the Instagram stories I shared about the trails nearby? Well we were back at it again this year, only I left my phone in the car so it wouldn't freeze. With all the snow we've had it's been easy to clear the driveway, load the snowshoes in the truck and head off. We're not exhausted before we even leave the driveway.
Isn't Dan's leave beard majestic? It's majestic. I love me a leave beard.
And of course, the best part of all those outdoor winter activities is the hot chocolate that follows. And yes, I probably could find more plaid in my house to use in this shoot. We've been very fortunate to grow such a large collection of beautiful wool blankets from HBC and other Canadian institutions, so you can be sure that they get the most use in winter.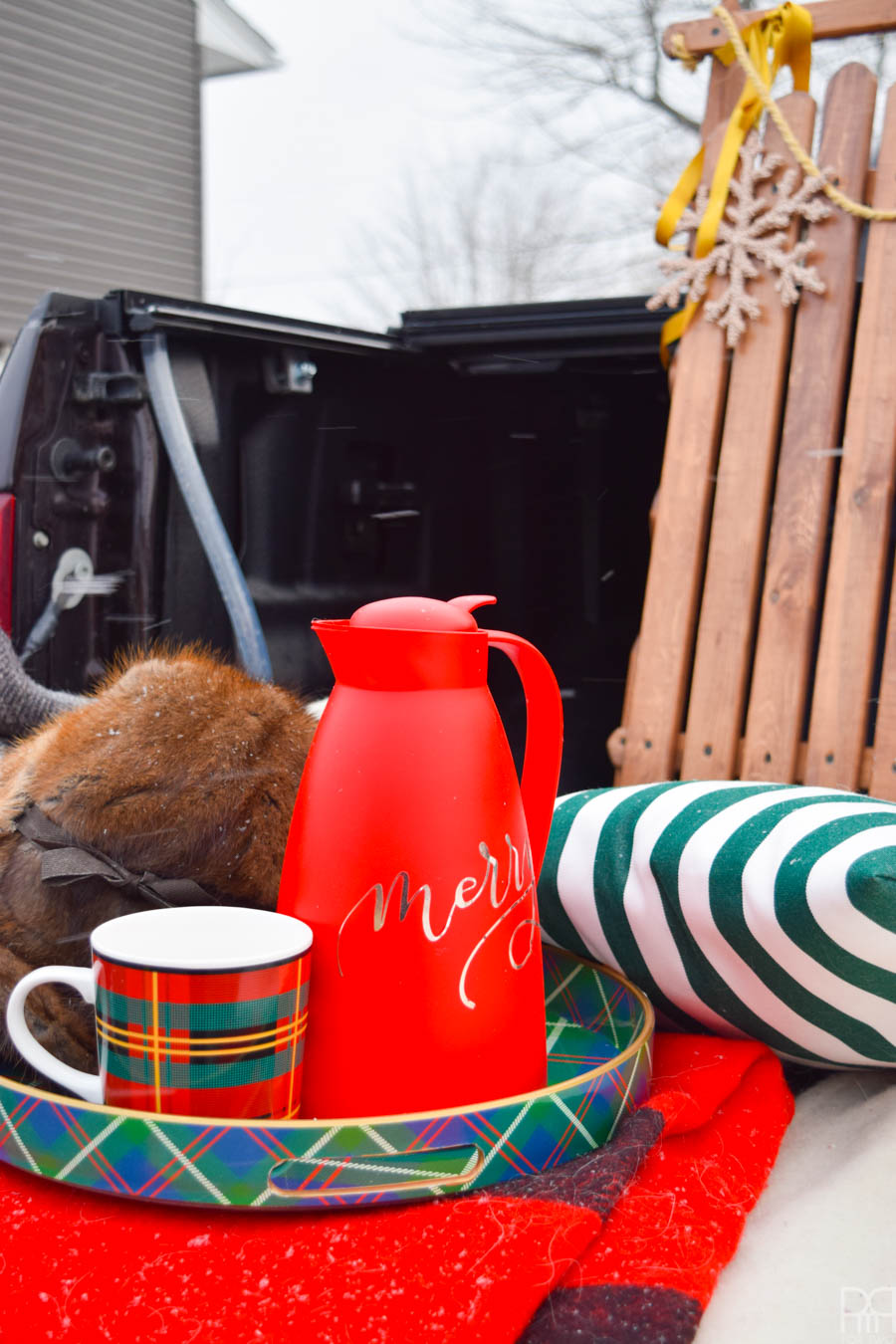 As you can see, the snowblower isn't huge, and I feel more than comfortable using it myself – which is key. It's also got a block heater, so we just leave it plugged in when it's in the garage, and that means it starts without a problem each time.
If you're as fed up as we were with shovelling snow, this really is the easiest decision you'll make all year. And if you somehow live in a place where you get very little snow this year, you can always use it next year. PLUS, you can easily go help-out your friends and neighbours with all the extra time you'll have.
So on that note, go check out your local CANEX. Even if you don't buy a snowblower, you may find something else you like.