You guys, when was the last time you saw something so legitimately cool that you had to sit back and be like "woah, that's f*cking epic"? For me, it was in earlier this year when I stubmled across the custom neon signs created by Brite Lite Tribe. There are tons of pre-made versions available in stores, and even with Brite Lite Tribe, but I've wanted a custom version for a while.
*Brite Lite Tribe sponsored this post, but all thoughts are my own. Thank you for supporting the brands that make PMQ for two possible.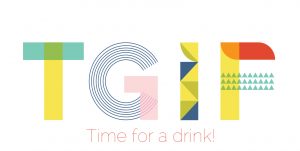 Maple Whisky Milkshake // Blackberry Mint Julep // Chocolate & Coffee Icecubes // Spicy Pomegranate Margarita // Cocktail Freezies // Honey Peach Moscow Mule // London Lemonade // Bacon & Green Bean Ceasar // The Pink Pearl
The problem is that a custom sign with glass tubing costs into the thousands. Heck no. When I got in touch with Lisa to see about doing a custom creation for me, not only was the quote reasonable, but the delivery timeline was promising, and the flexibility I had in creating it was an absolute dream for someone like me who likes to get hands on.
I considered many options like just a saying "gin?" or "TGIF" but worried that I would get tired of the wording. What if I no longer prefer gin? What if I want TGIT? Instead, I asked if they could do a martini glass with bubbles for me. I was sure they would say no, but to my great joy they said yes! I received a few digital mock-ups to test out different glass shapes, bubble styles and colours, but in the end we opted for a two tone light with pink bubbles.
The whole thing is mounted on a piece of plexiglass with a conveniently drilled hole, so I can easily hang it on the wall. Love that! For the moment I've got it bouncing around the studio, but I brought it home because after moving everything around in the living room there's a fresh new space for it.
The light comes with a little remote that you use to turn the light on and off, because otherwise you have to keep plugging and un-plugging the light.
If the custom versions are a little pricey for you, or you're not sure what you want, take a look at their pre-made versions // here //. The quality truly is outstanding, so I would look at it like an investment in style and quality.
Needless to say, I cannot get enough of my custom neon sign, and am going to work with Brite Lite Tribe on another custom creation before the year is out.