It's time for the Canadian Bloggers Spring Home Tour, and oh em gee, I am so excited to be featuring Eclectic Spring & Easter Decor in the studio's living space. Make sure you tune in tomorrow to see how I'm updating our PMQ for spring, but in the meantime please enjoy all this goodness. I got a super late start to my day yesterday, which meant that I was running around like a chicken with my head cut off trying to get the space ready to shoot. I grabbed all my eclectic spring & easter decor between Michaels and Homesense (not sponsored – I just really love those places), so finding inspiration in stores wasn't too hard.
Before we get down to brass tax, I want to thank Shannon from Home Made Lovely, and Christina fromThe DIY Mommy for putting together this tour, and as always, for letting me participate. If you're joining me from Mint Candy Designs, Rambling Renovators, or The Creek Line House – Welcome! Make sure you check out my project gallery //here // where you'll get a better idea of what I'm all about colour wise.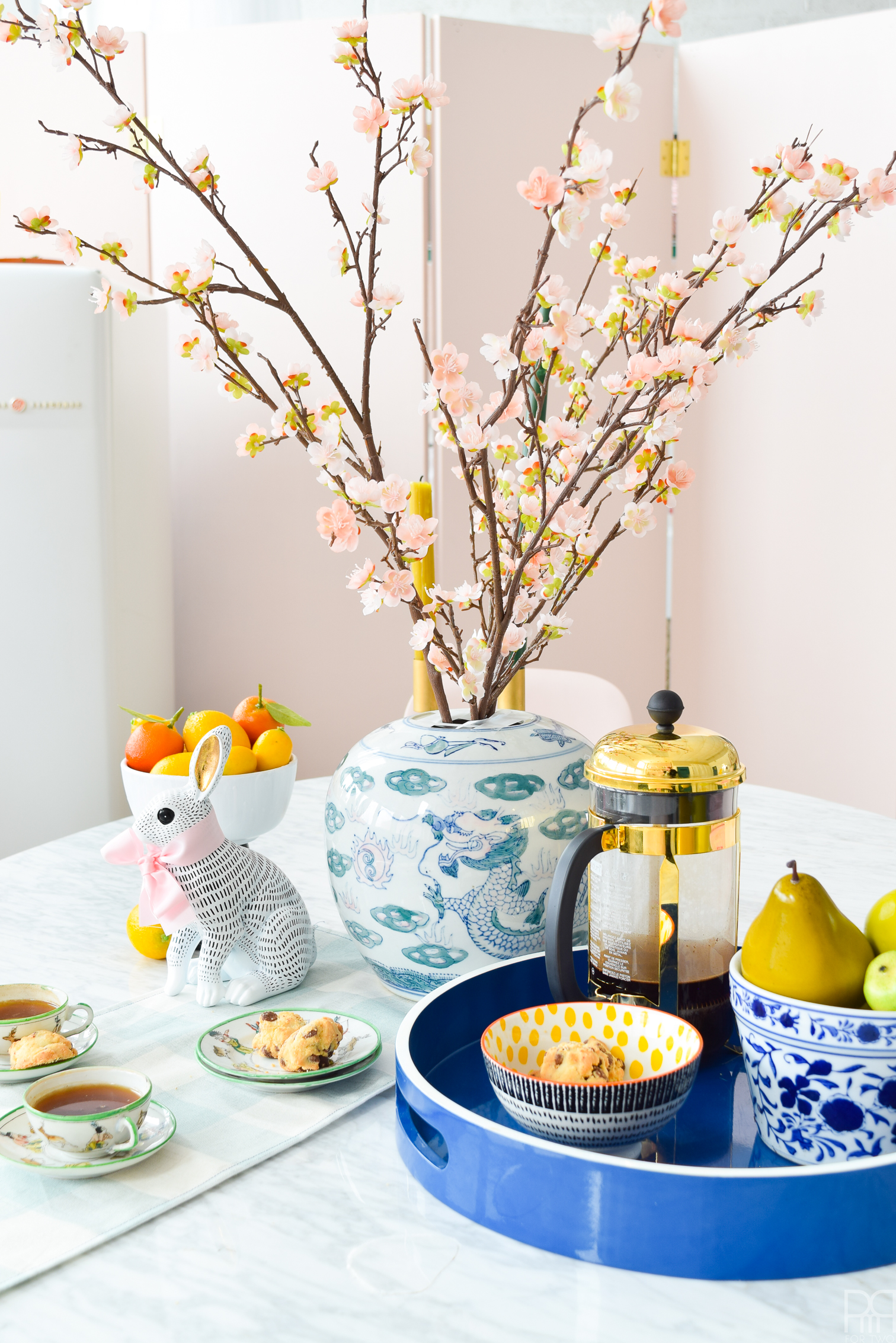 For me, spring is a more minimal time of year. *I know right?!* so that means a bit less on the table, and more of a focus on clean and bright. Since I don't really do Easter, I'm happy to have 3 bunnies and call it a day. While I find the chicks, eggs, and all that stuff to be super cute, knowing my maximalist tendencies, I don't think I have space to store everything! PLUS, they don't really make easter decor in my style. The eclectic spring & easter decor that I've got here is a mixture of patterned bunnies and florals in thrifted vases.
If you are curious to see what I've done for easter in the past, check out my
DIY Floral Easter Basket // DIY Easter Tablecloth + Tablescape // Glam Easter Eggs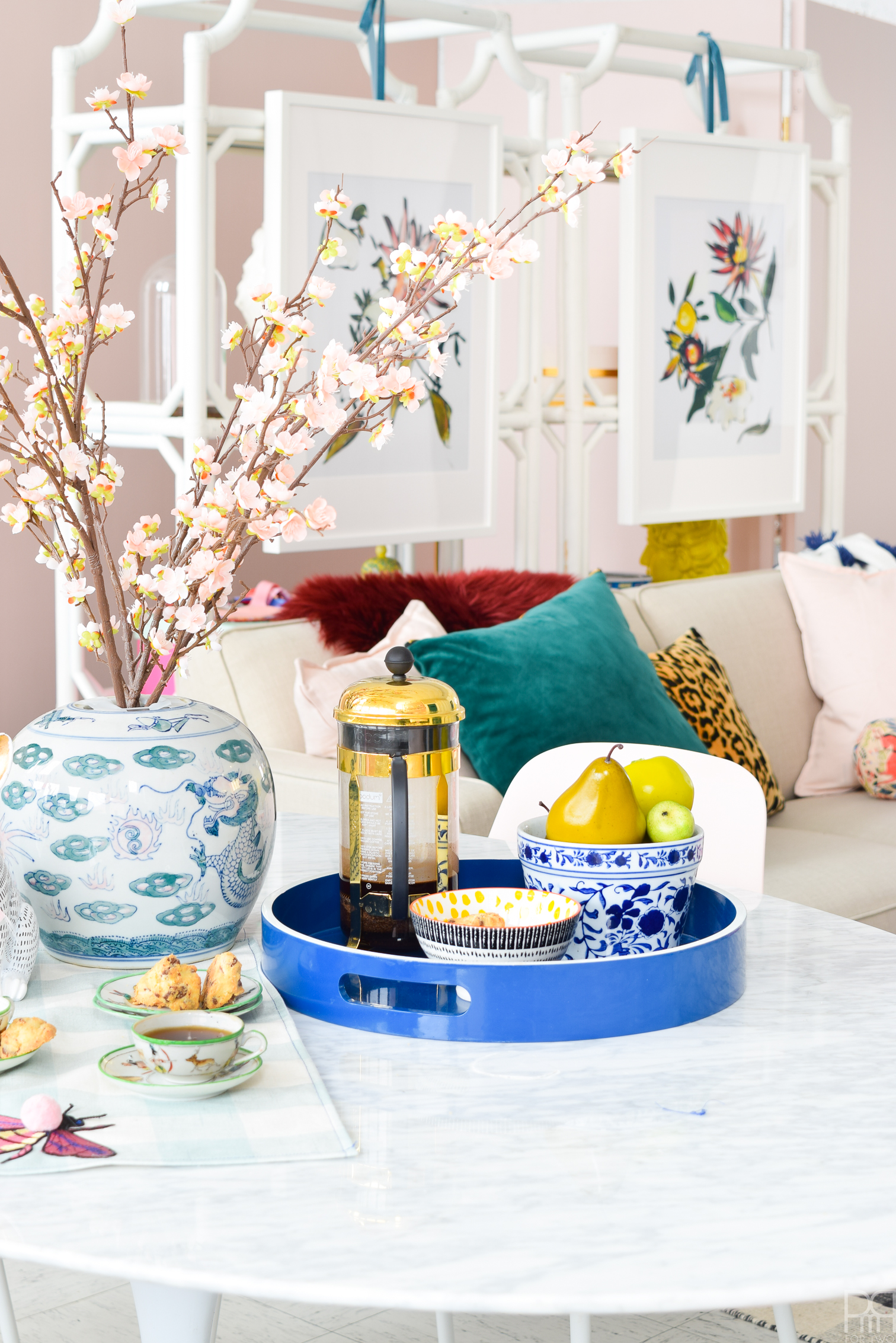 The rabbit, tray, bowls, coffee, and cookies are from Homesense, while the blossoms are from Michaels. The coffee set and vases are thrifted, and the funky tea towel is a DIY // here //.
Do you think I need a rug under the table in our dining area? I think we may! The floor is hella uneven, so moving the table around is always a bit of a dicey propositon. PLUS, those floor tiles aren't exactly what I would call sexy. Can flooring be sexy?
I can't get over how good the kitchen area turned out. The Cascadia green cabinets are my fave, but it's a close tie with the pink wall and open shelving. I have such beautiful things, and I hate to hide them behind cupboard doors. You can catch the full kitchen makeover // here //
Here's another great shot of one of my Gucci inspired tea towels that I DIYed // here //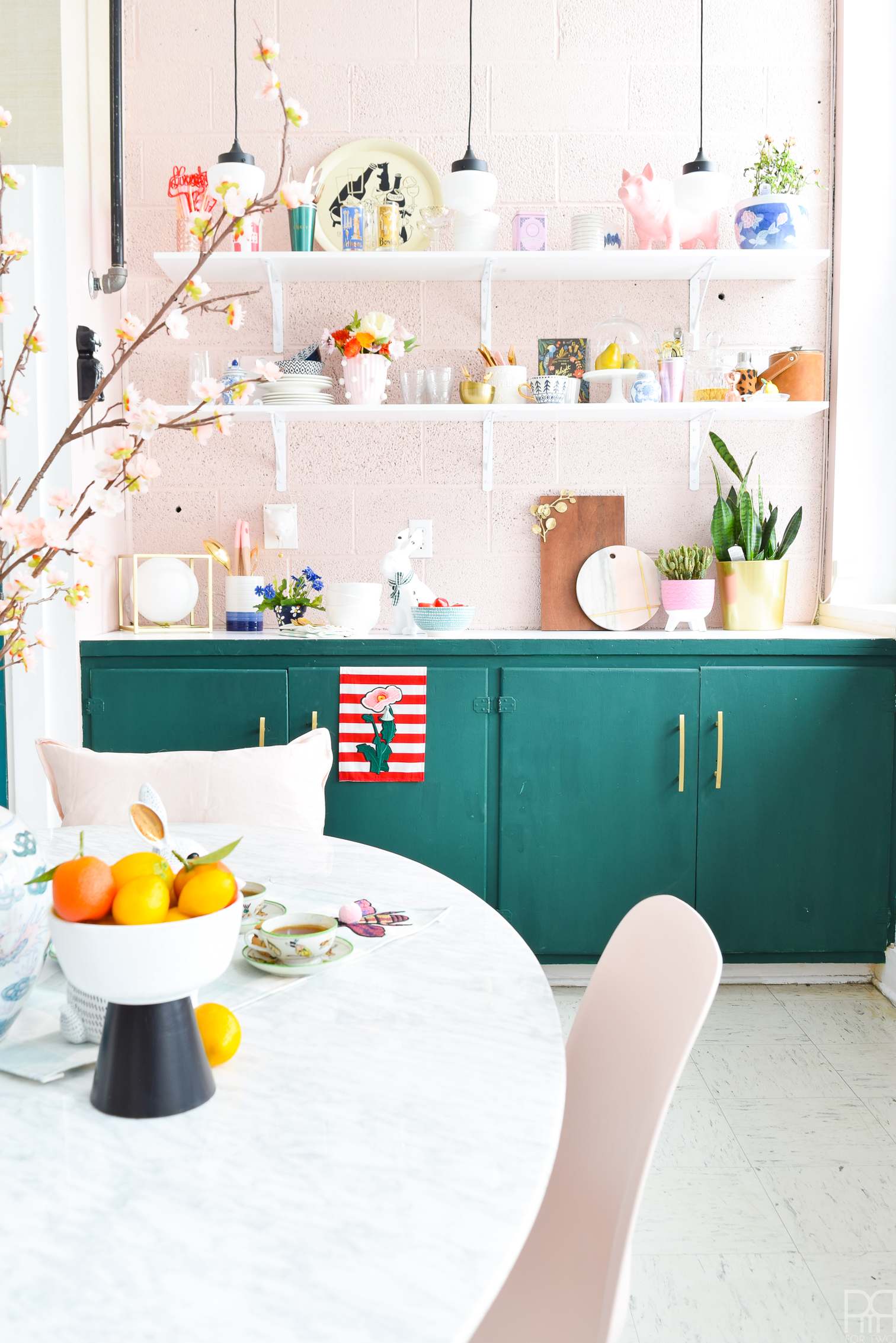 Because the studio space's living area is all open concept, I couldn't help but extend the eclectic spring & easter decor to the living room area.
It's already spring ready as in with the lovely DIY bone inlay coffee table // here // and the lovely prints, but I figured I could bring the coffee and cookies over.
Don't forget to take a minute and check out the other participants in the Canadian Bloggers Spring Home Tour! There are some real gems, and tons of great inspiration.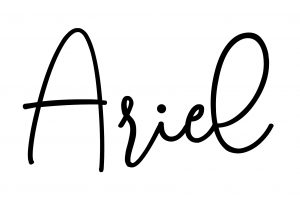 Monday
Tuesday
Wednesday
Thursday
Friday