Can you believe that I'm tackling the powder room for the 3rd time? The first time was to add a renter friendly tiled wall // here //, and the second time was to add some art and try to style the space a bit better, but neither of those really made the space feel complete. I think that's because the bedroom and guest room/office were also in flux, and now that I've settled on something for those spaces // Kate Spade Inspired Bedroom // & // guest room // I can finally put the missing piece into the puzzle. Before I go any further, I want to thank Jewel of Jeweled Interiors for not only hosting the Primp & Pamper Bathroom Challenge, but for nailing down some seriously awesome sponsors, which I'll get to below. So, here we go, my Glam Kate Spade Inspired Powder Room!
First, a little bit about the challenge. Myself and 12 other bloggers have a month to touch-up, primp, and re-do our home bathroom(s). Because I re-did the master bathroom with Behr Paint last spring // here //, I'm going to leave that space be – I mean, it's perfect as is – but the upstairs bathroom has continued to evade me for months now, so I'm using this challenge as an excuse to finally put that space to bed… or to the bathroom? lol I'm glad I make myself laugh.
If you're joining me from This is Our Bliss , welcome! Don't forget to check out my // project gallery // for more colourful inspo.
*Tempaper, Lamps Plus & Liberty Hardware sponsored this post, but all thoughts are my own. Thank you for supporting the brands that make PMQ for two possible.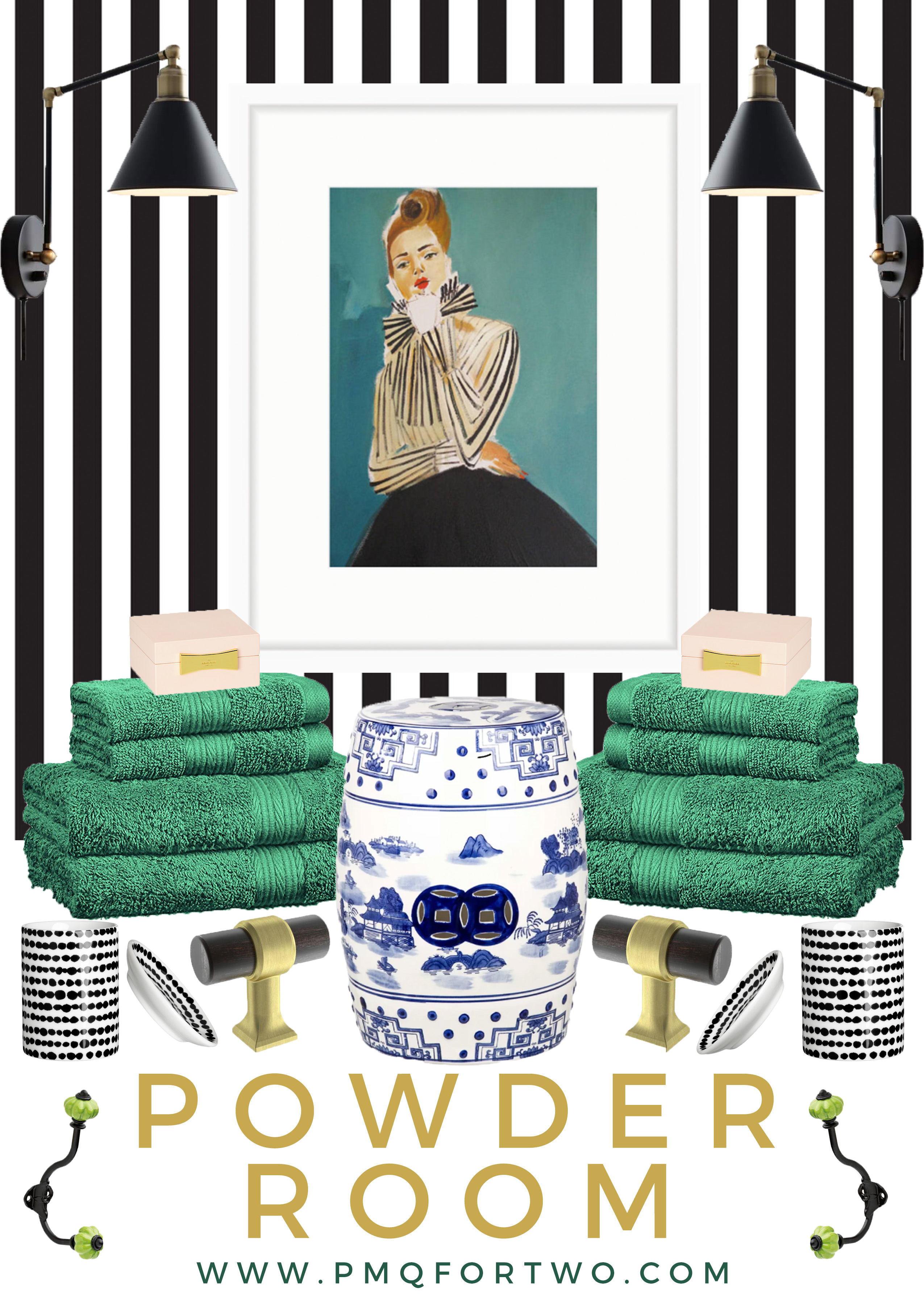 Stripe Wallpaper // Green Towels // Art Print // Knobs & Hooks // Toothbrush Cup & Soap Dish // Garden Stool // Wall Sconces
Here's my inspiration board for the space. It's bold, simple, and pulls colours from the rooms on either side. Between the green of the towels and the blue in the art, I've got my bases covered. The fact that I'm pulling styles, patterns, and elements from the rest of the house into the space, to me, feels like I've levelled-up in terms of interiors. It's nuts what happens when you're in a space long enough to get a good idea for the pulse of the space and how they flow together eh?
I've been hugely inspired by these spaces in creating a palette and feel for ours, so I hope you can see a lot of the influences as they translate to the current plan.
So now that you've seen my inspo, it's time to go check out what the others are doing! Up next in the hop is Monica Wants It and I CANNOT wait to see what she has got planned. She's got tons of chinoiserie chic style, which is right up my alley.
Jeweled Interiors Bathroom 1 | Jeweled Interiors Bathroom 2 | This is Our Bliss | PMQ for Two <– my Glam Kate Spade Inspired Powder Room | Monica Wants It | Tessie Fay | Southern State of Mind | Maggie Overby Studios | A Designer at Home |My Eclectic Nest | Street Flea Style | A Pinterest Addict