You read that correctly – I've got a DIY bitchin' witchin' cape for you guys! I always like to have a bit of a costume to hand-out candy, and this year it will be as a witch! (and probably for years to come). There's something classic about a witch costume; the sleek black cape, pointy hat, and all the mystery that rolls off it. Ugh, I love it. Now I would add a decal or two and call it a day, but because it's me and I'm #extra, you can be sure that this cape has like a million decals and tons of cool cut-outs, and is one heck of a bitchin' witchin' cape.
*Cricut sponsored this post, but all thoughts are my own. Thank you for supporting the brands that make PMQ for two possible.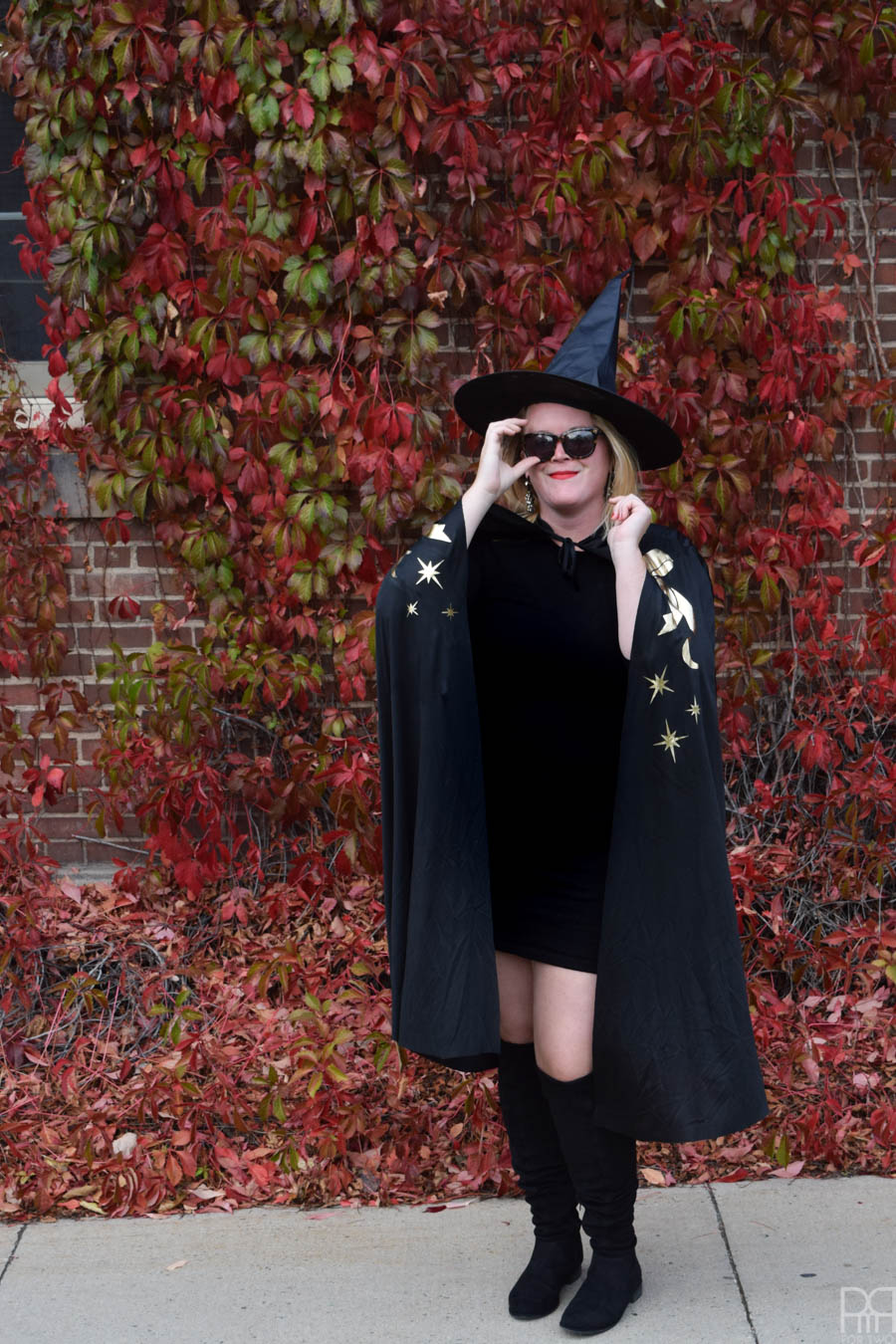 Although this project looks complicated and time consuming, it's actually not that bad. It took me an afternoon with the help of my Cricut Explore Air 2, and 3 rolls of gold heat transfer vinyl. I turned this basic black cape into a DIY bitchin' witchin' cape, and you can too!
*The following product links contain affiliate links. Thank you for supporting the brands that make PMQ for two possible. For my full policies click // here //
Materials
It's been a while since I've done a Cricut project, so if you need to brush-up on your skills you can read my guide // here // and check-out my Cricut project gallery // here //.
Step 1: In your Design Space account, create the design you'd like to use on the back of your cape, as well as the one on the front.
I used cats, skeletons, stars, moons, bats, and bows. A few of the files were free, and others I had already purchased.
Step 2:  You have a few options on how to cut the design.
You can weld the design and hit "go" as is, and the software will parse all the cuts into different sheets. This is fine if you have lots of rolls to use or want to use different colours as you go. You'll still have to re-assemble the design after the fact;
Keeping mind of the design you want to create, you can group cuts on various sheets so as to maximize the vinyl usage and then re-assemble the design later.
I chose the later because I only wanted to use 3 rolls. It means I ended-up playing around with sizing and trying to squeeze as many extra stars on there as I could.
Step 3: Hit cut and then weed the sheets as you go. It will take a few minutes, but when you're done weeding it should look something like this.
Step 4: Cut the different designs and re-arrange into your desired pattern. I found it easier to assemble the pattern on the cape, having done it on my table first. This way you can change the design and embellish on it without making any mistakes.
Step 5: Using your iron and ironing board, start applying the iron-on vinyl. The instructions that come with the vinyl will tell you to crank you iron to the hotest setting, apply the iron to the surface for 30 seconds before applying the vinyl, then heat the vinyl for 30 seconds, before flipping over the cape and applying heat directly to the back of the vinyl for another 30 seconds.
I cheated and only applied the full 30 seconds to the top of the design, not the underside.  I also didn't warm it for the full 30 seconds, but when you see how uch vinyl I applied you'll understand why.
** Not all cape materials will be right for HTV, so you'll want to look into that first. My witch hat did not take the iron very well, so I only managed to get one set of decals on before having to peel my hat off the ironing board.
Step 6: Now you have a DIY Bitchin' Witchin' Cape! Be proud of how much work has gone into it, and give 'em the old razzle dazzle while wearing the cape.


For this photoshoot Dan and I went down to the university campus and tried-out a few locations. This is by far the prettiest, although a few people did yell "WITCH!" as they drove past. Kids today!
I'm super pleased with my DIY Bitchin' Witchin Cape though, so traipsing about campus in a witch costume made it worth it.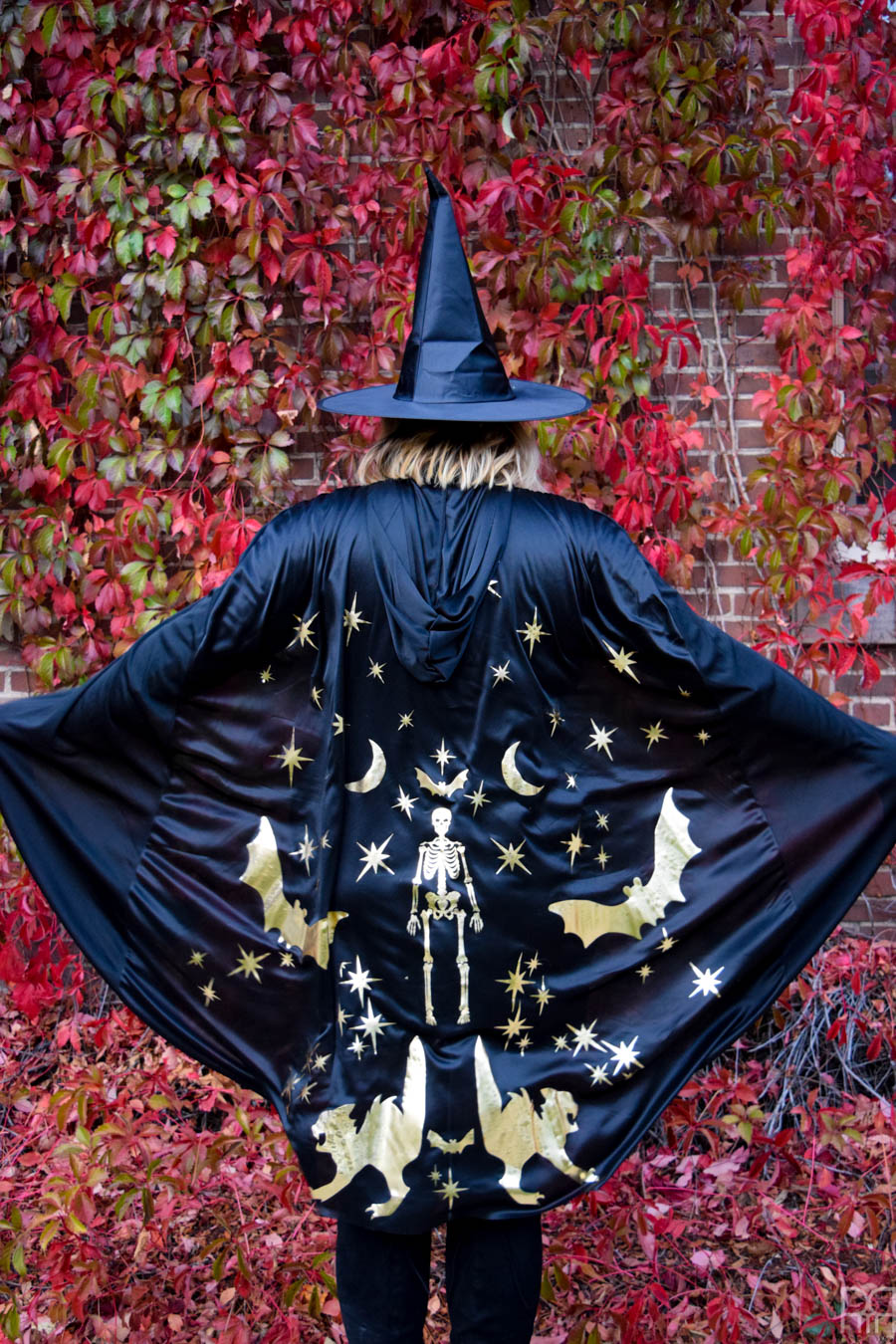 How badass does this look from the back eh?! If only I had an extra roll of vinyl, I would have done the other two panels of the cape.