I've hosted many thanksgiving and friendsgivings since Dan and I started our lives together (almost 8 years ago!) and this year will be no different! During the Canadian thanksgiving weekend we try to host both types of events, and I wanted to share my colorful friendsgiving decor ideas with you all. This year, I wanted to try it on a budget, so off to Homesense I went.
Check out my magical fall tablescape, my Kate Spade inspired tablescape , and my eclectic plaid fall tablescape
*Homesense sponsored this post, but all thoughts are my own. Thank you for supporting the brands that make PMQ for two possible.
What is Friendsgiving?
Friendsgiving is an excuse to celebrate thanksgiving with friends. Can't afford to travel home? Don't have time? Not close with your family? Gather your chosen family and celebrate the joys of the season and the spirit of giving.
Most people do a weekend of events  – like we have – and host family and friends, but when we're far from family we just do a big friendsgiving. It's a blast, and a great way to deepen your sense of community. Most people really appreciate the gesture and start their own traditions after (friendsgiving brunch, nature walk, desert, late night bar meet-up etc.)
This year we've got family coming AND A BABY, but we'll also do a friendsgiving event for those who are sticking around base. In the past I've called that event the "adopt a shack rat" dinner, and it always goes over swimmingly.
What to bring to Friendsgiving
I usually ask people to bring a dish from a pre-selected list of sides and deserts. We always provide the main – a turkey or two – and of course the hospitality. When we've had bigger groups, we also ask someone to be in charge of clean-up, and someone to be on dishes. The guys who don't care to make anything usually spearhead those tasks.
Here's a list of items/sides/tasks you can ask people to bring if you're hosting you're own friendsgiving:
potato side + rolls
vegetable side x 2
pie (2-3 kinds)
bubbly water + mixes
BYOB
Dishes duty
Clean-up duty
Flowers for the table
I find most people want to help, so giving them an opportunity to participate and feel like they've contributed is enough – especially when you're inviting singles (not couples). Going forward as there are more and more kids in the mix, we'll include things like kids food and snacks.
Colorful Friendsgiving Tablescape
Part of the reason we always try to host, is that I love putting together the tablescape and the buffet! I've been accumulating a collection of serving dishes, linens etc. for years now, and I love nothing more than trotting them all out (and adding to them with a trip to Homesense!).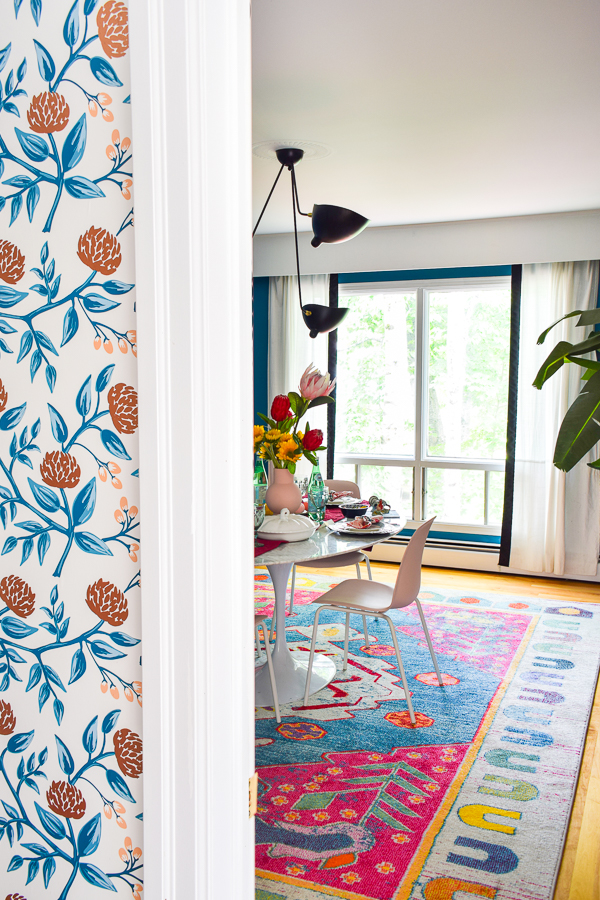 I've got a small-ish table set this year, but that's because most of our friends are taking off to visit family. That being said, take full inspiration from my jewel tone palette to create your own mega table for friendsgiving!
The table is set for 4, but we could easily squeeze in another 3-4 if we had to. We also have an extra table we can trot out worst case.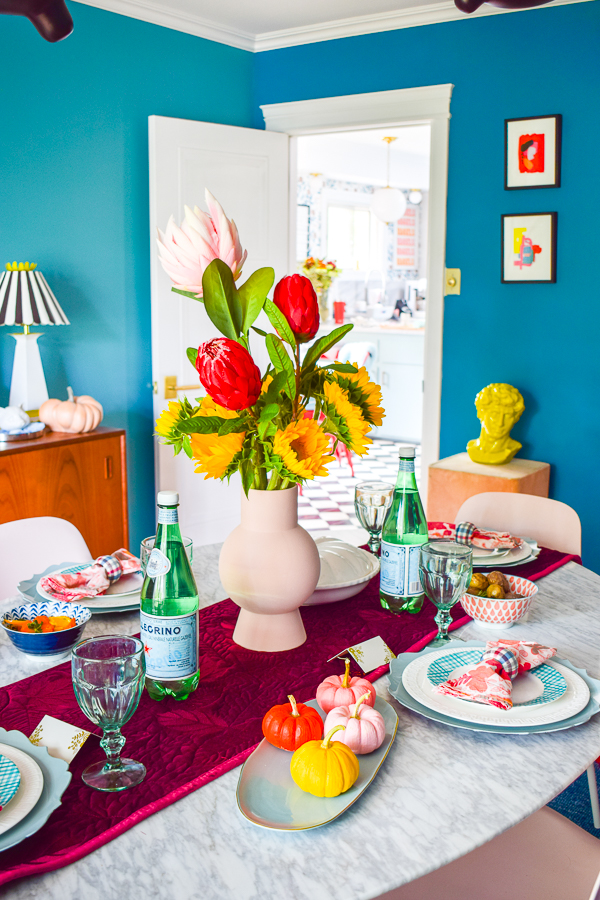 The table runner is a new addition this year. It's a Tommy Bahama one from Homesense. I fell in love with the color and the subtle leaf imprints. When the light hits it just right, you can see all kinds of foliage details.
The pink vase is something I've been eyeing for a while at Homesense, and finally snagged it along with some faux flowers (but which ones are fake?! you'll never know), for a simple centerpiece. For the place settings, I've got chargers, dinner plates, salad plates and napkin rings from Homesense. I love mixing and matching the china patterns, and when I buy, I buy in sets of 4-6 so that I can create custom looks without having to use an entire set.
I've been collecting silly salt and pepper shakers for a while, and I always seem to find turkeys or pheasants! I've got them as weights on these lovely paper napkins from Homesense. I always put both kinds of napkins out, because there's always a spill or two and it's nice to have something other than cloth napkins to mop things up.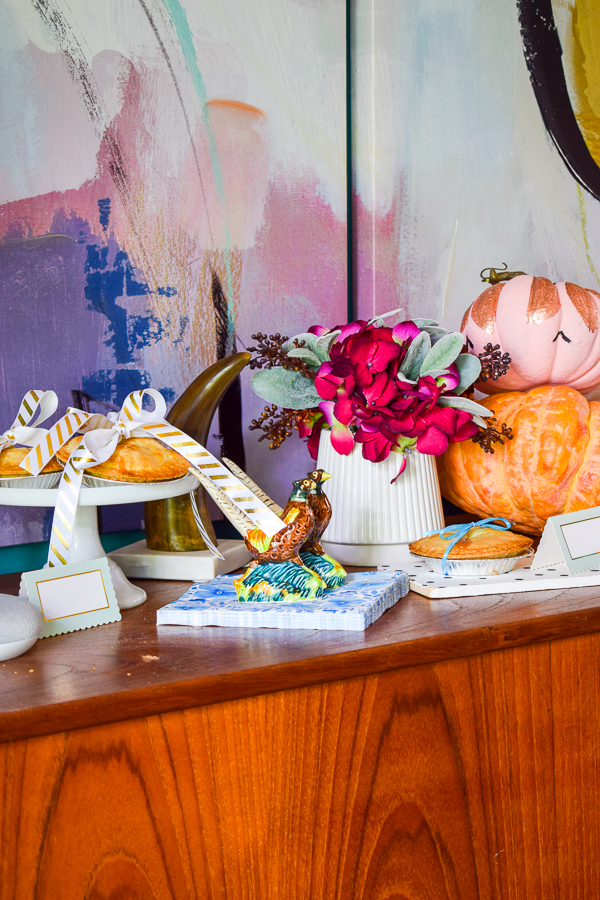 While my side dishes would normally be all over the table, I've got some painted pumpkins as placeholders for now. No need to waste food 😉 Those pies did not go to waste though, I can guarantee that.
Colorful Buffet Decor Ideas
What I LOVE about a good dinner party is the chance to decorate the sideboards as well. That's right, sideboards plural. I've got 3! I've had the big teak one for ages, but I acquired the other two in the alcoves from Society 6 earlier this summer when we re-did the dining room.
They need to remain functional, so I don't weight them down with too much decor, but I do try to put a functional to each one, and then decorate around it.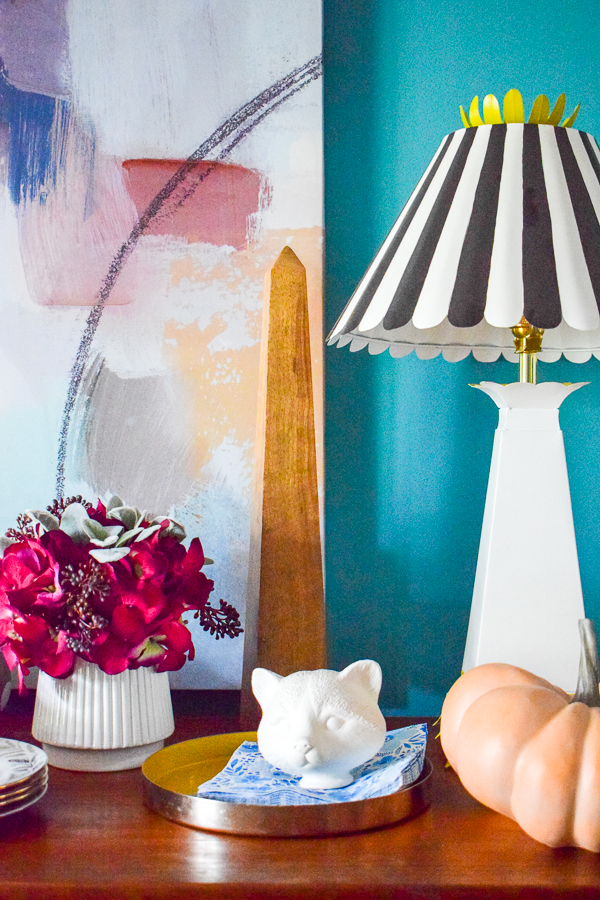 I've acquired quite a few ceramic and velvet pumpkins from Homesense, as well as some jewel tones arrangements. They go perfectly with the large scale art I've got on the wall, and they serve as the perfect seasonal background to my desert bar!
In the past I've had DIY pie bars, but this year I kept it simple and bought some small pies in different falvours, as well as a pumpkin pie. Simple and delicious! I picked-up a few pie stands and some "give thanks" plates from Homesense for this purpose  – you can never have enough pie stands.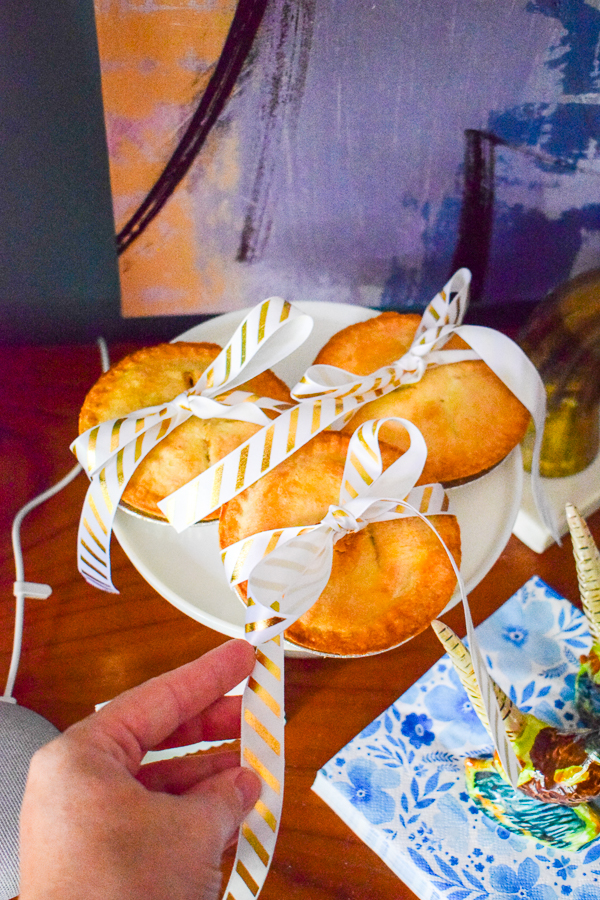 I made a coffee station on one sideboard using the adorable teacup and plate sets you can buy at Homesense. To add more color, I placed some painted pumpkins under glass cloches I also found at Homesense.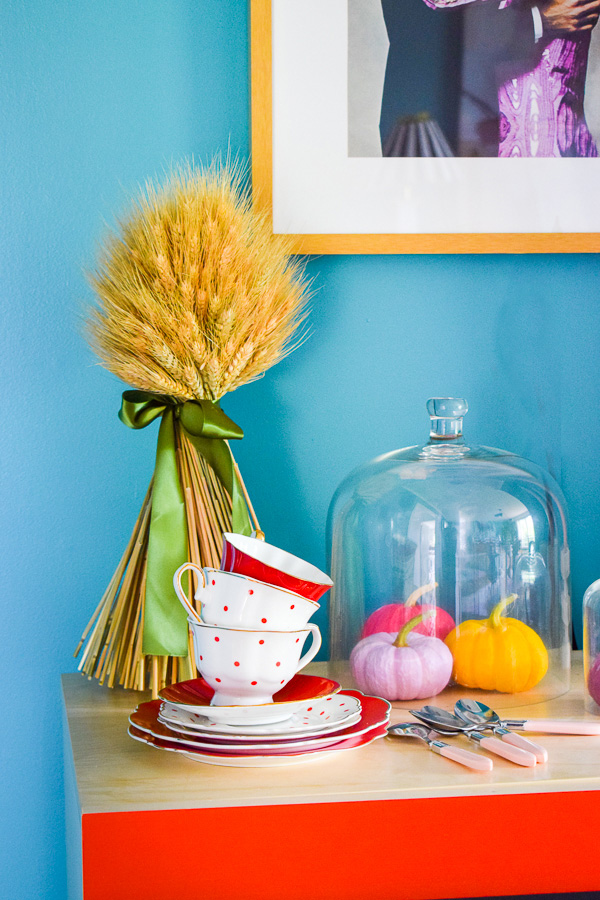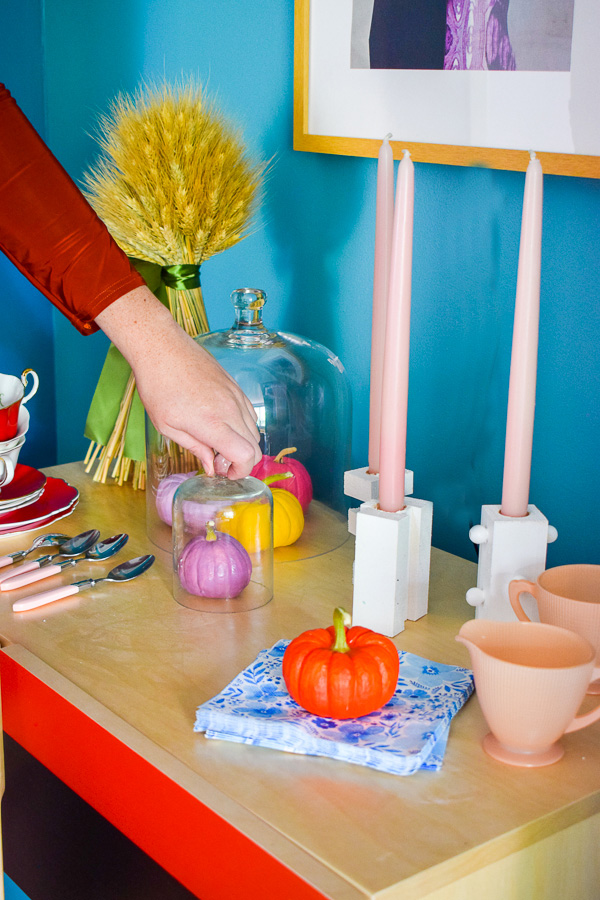 In the other alcove I've got a drink set-up, but there'll be more on that later! You can see it in the background here.
And there you have it! A colorful friendsfgiving set-up, full of hostess ideas and decor finds from Homesense. What will your friendsgiving look like?