It's that time of the year here in Canada – time for Canadian Thanksgiving and thanksgiving tablescapes! Last year's all-out assault on the senses // here // was lovely, but a bit busy. So this year I toned it down a *leeeettle bit* and have come up with this plaid and eclectic tablescape. I based it around some lovely prints I grabbed on Fabric.com  and mixed-in my own pieces, some thrifted finds, and picks from HomeSense.
*Fabric.com sponsored this post, but all thoughts are my own. Thank you for supporting the brands that make PMQ for two possible.
I debated quite a bit how to do this. See, on Wednesday I'll be starting another edition of the One Room Challenge (fall 2016 // here // & spring 2017 // here //) and I'll be making over the dining room.
I'm over the wall colour, the pattern on the chairs, the lighting and the art. To change all of that for a blog post would not only negate the whole ORC process, but it seemed like a bit too much to do for one tablescape post. As such, I did my best to transform the space so that it did the tablescape justice, complimented the furniture and didn't class too much with the wall colours.
Everything is in the warm tonal range, so I was looking for a way to cool things down which is why I've got purples, blues, greens and whites. You'll see a lot of those in the fabric and dishes in my plaid and eclectic tablescape.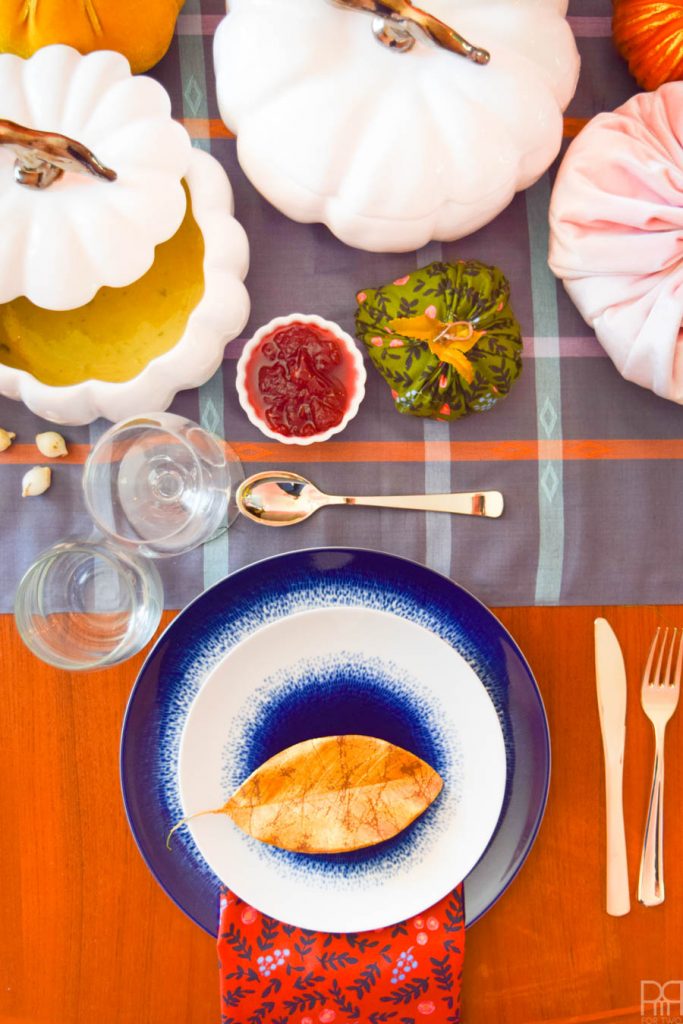 These white pumpkin tureens are a revelation! I don't normally buy servingware that isn't multi-purpose, but the price was right and the sizes were good so I said "why not!" I even have a place to store them now too, so I guess no one will mind if they sit in a cupboard until next fall.
The table runner is actually a piece of un-finised fabric in a beautiful lightweight that I grabbed on Fabric.com // here //.
The napkins are the XX print from Rifle Paper co. also sold on Fabric.com // here //.
I used the green version for my DIY Fabric pumpkins // here //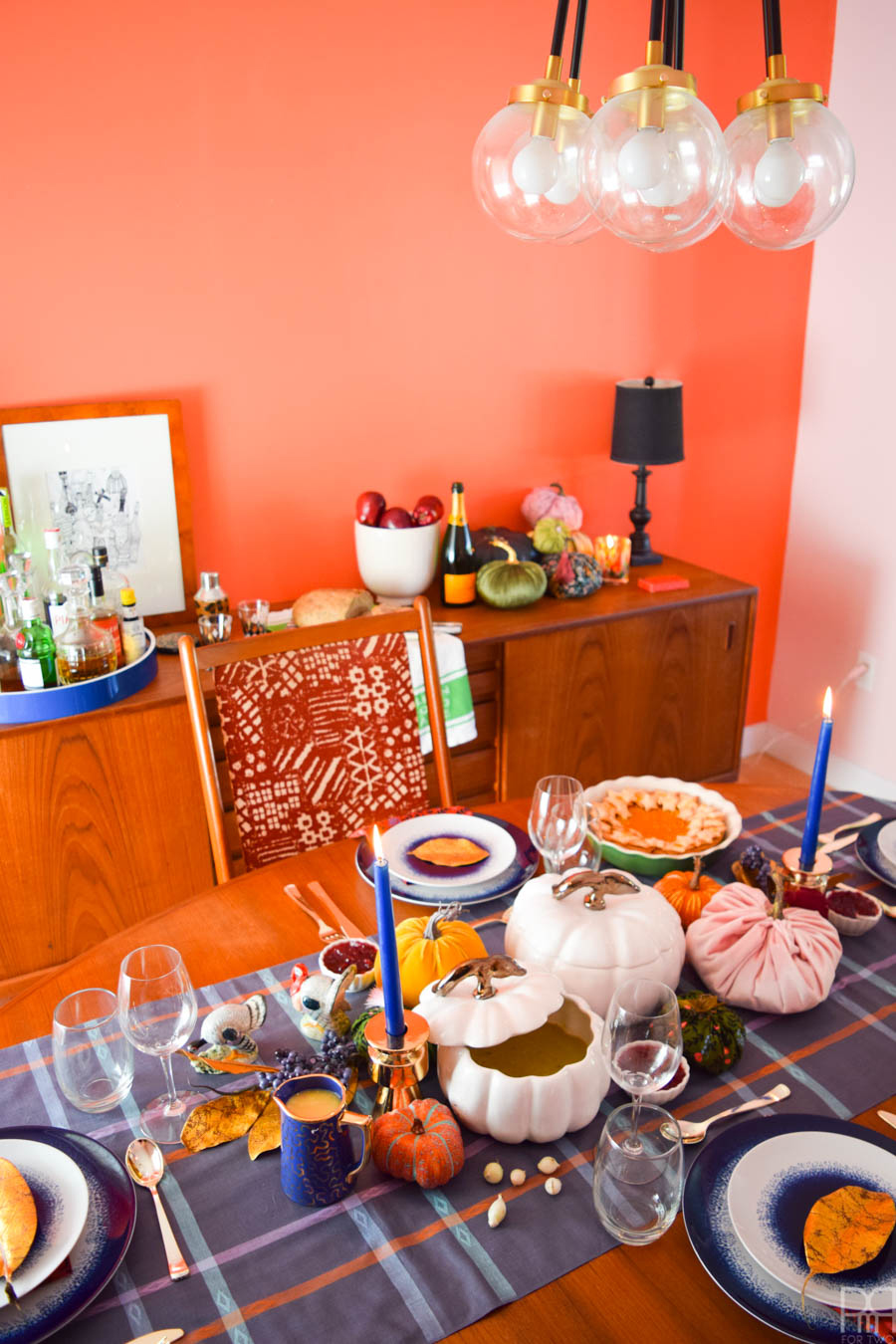 As you can see, it's cheek to jowl in there. There isn't much room interesting perspectives or fancy angles, but at least everything is close at hand when you need it.
We won't actually be doing a thanksgiving dinner on thanksgiving, instead we'll do it a week later when once of your friends (who works shift work) will be available. Your army family is a precious bond, and when you know someone is going to miss-out because of work, you do your best to accomodate them. One of the first posts I wrote on PMQ for two was about army family thanksgivings // here //.
All the cute tassels on the table are from Woman Shops World and I snagged them through her Etsy shop // here // but if you shop through her site WomanShopsWorld and use the code PMQFORTWO you get a 10% discount.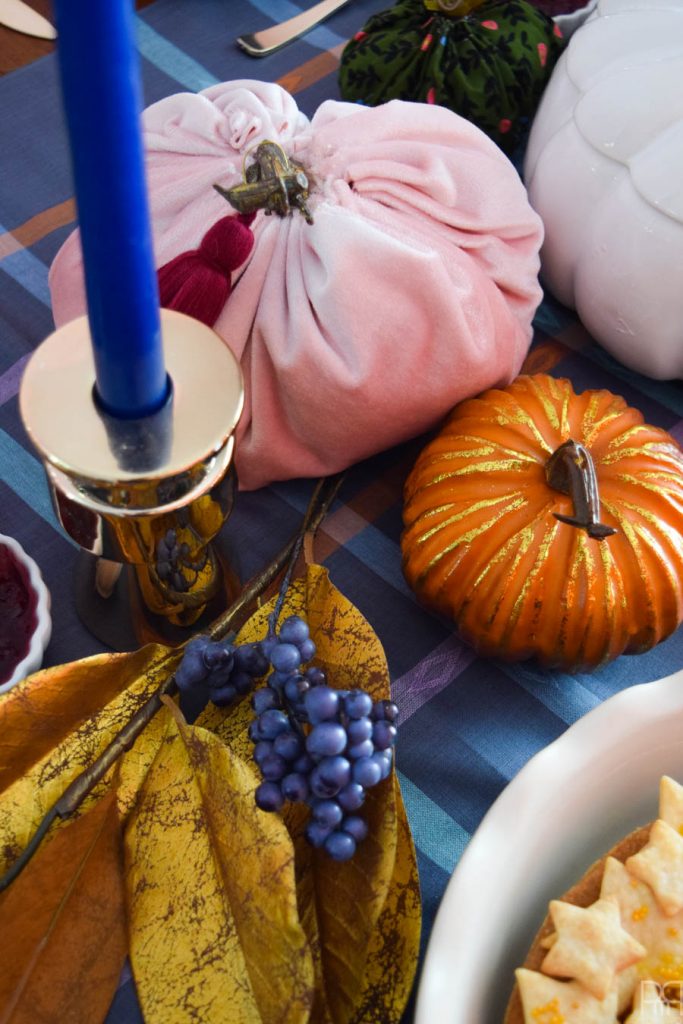 Just look how crisp this all looks! *insert heart eye emojis*. I'm going to try and use that fabric in a few more projects because it's amazing.
Same with the napkins! I plan to use those through the Holidays as well because they're beautiful.
And here you have it folks! My version of a plaid and eclectic tablescape in honour of Canadian Thanksgiving. Simple yet impactful, colourful but restrained, and appropriate for fall in all its bounty. I encourage you to go check-out any other Canadian blogger's tablescape (since we'll have them up in time for Canadian thanksgiving) for some inspiration. You can use the Canadian Bloggers Fall Home Tour as a good place to start // here //.