Y'all, with the unveiling of my snazzy new potting bench // here // I have got an excuse to plant all kinds of new flowers for both indoors and outdoors. I'm not looking to spend a fortune, but I know how well Decoart's outdoor paints work, I thought I'd whip-up some dollar store color blocked planters for the studio and the backyard. They are, like many things, inspired by Kate Spade's bold and vivacious colours, and are the ideal contrast for soft blooms.
*DecoArt sponsored this post, but all thoughts are my own.  Thank you for supporting the brands that make PMQ for two possible.
*The following product links contain affiliate links. Thank you for supporting the brands that make PMQ for two possible. For my full policies click // here //
Materials for Colour Blocked Planters
I didn't do anything too complicated, so there isn't much to the tutorial. Each pic will showcase one of the simple patterns, so you can probably figure it out for yourself.
Polka Dot colour blocked planters
Start by painting your planters in a base colour – I went with the Outdoor Living paint in white. Let them dry – about 5 mins – before applying a second coat. Once they're dry, use the end of a straw, dipped in the paint colour of your choice to create the polka dots. You probably won't get more than one dot from each dip, but not to worry!
These polka dot colour blocked planters will look super cute with a big bloom (to counteract the business of the print).
Striped Colour Blocked Planters
Like with most of the planters, paint them a base colour. For the simple stripe, I went with classic white and accented with black and blue. You could tape, but that's complicated. In this case, a loosey goosey stripe does the job. Simple!
For the more retro stripe, I painted vertical strokes, and once dry, accented with a contrasting shade from the same colour.
The Nautical Striped Colour Blocked Planters will work with any colour of bloom, and they could support smaller flowers too. The retro striped colour blocked planters are perfect for a more funky bloom.
Floral Colour Blocked Planters
The daisies are from a post I did last year // here //, but the roses are abstract and much more in line with some of my other floral projects. The painted floral ornaments // here // illustrate the strokes needed for the rose blooms and leaves.
The floral colour blocked planters look great with simple buds, so nothing too crazy!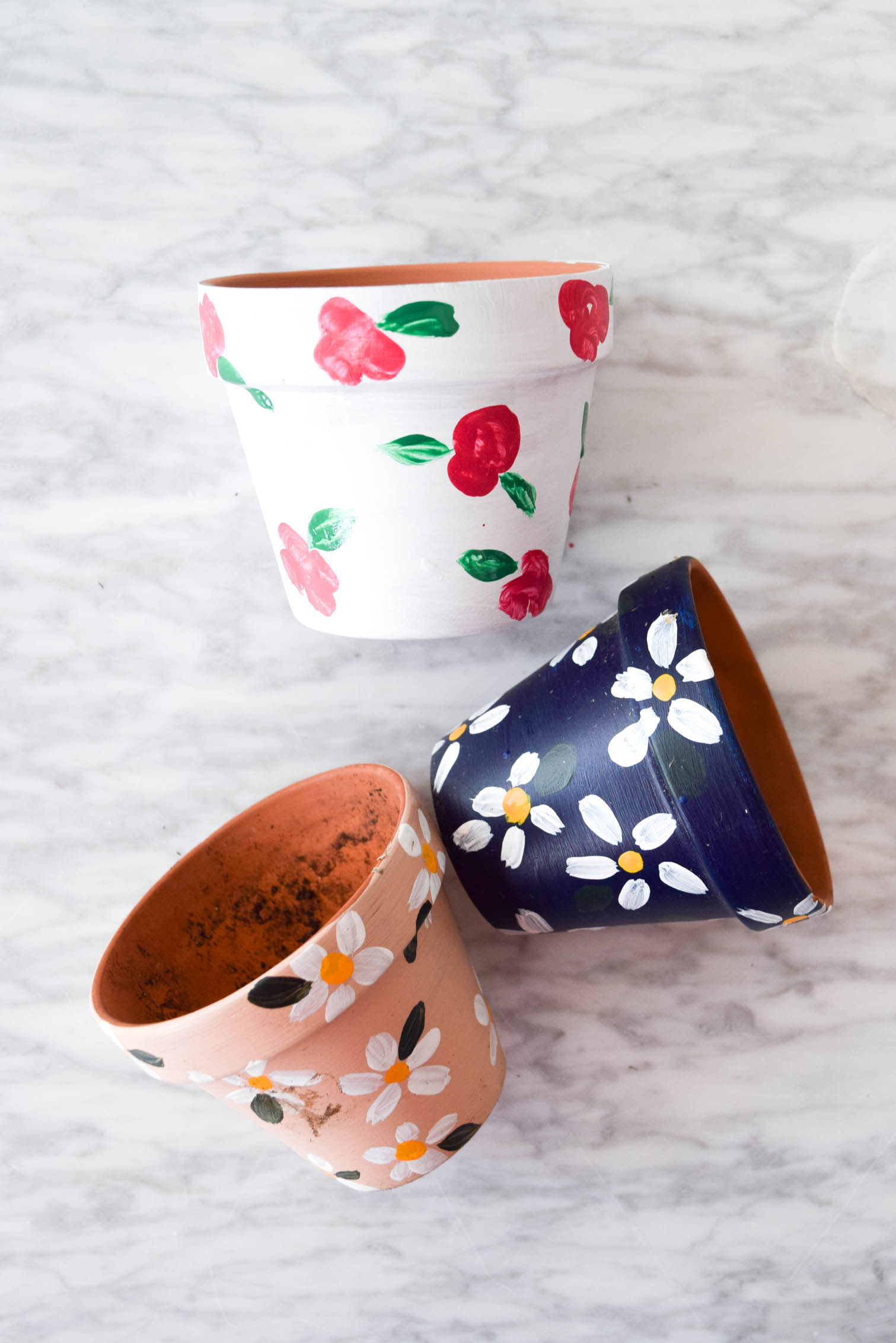 Once they were all dry, I grabbed some potting soil and fresh flowers from our local nursery to plant them. I've got a little sneak peek at another project I've got coming your way, so let me know in the comments what you think it is!