I've seen these easter bunny cocktails floating around Pinterest, and was inspired when I saw one from Cedar & Rush, so I put my own spin on them! Here is a recipe for a s'mores chocolate bunny easter cocktail and a flower crown bunny chocolate bunny easter cocktail.
I used Jackson Morgan in the cocktail, because the flavours are perfect for spring, but you could easily use any cocktail that works for you. We're all in it to eat the chocolate bunnies, right?
I used Lindt chocolate bunnies, and bulk candy from the store. If you've got a preferred chocolate bunny, you can absolutely use those instead. Same goes for the candy, but I did find that these funsorts (?) from our Bulk Barn were the perfect floral option.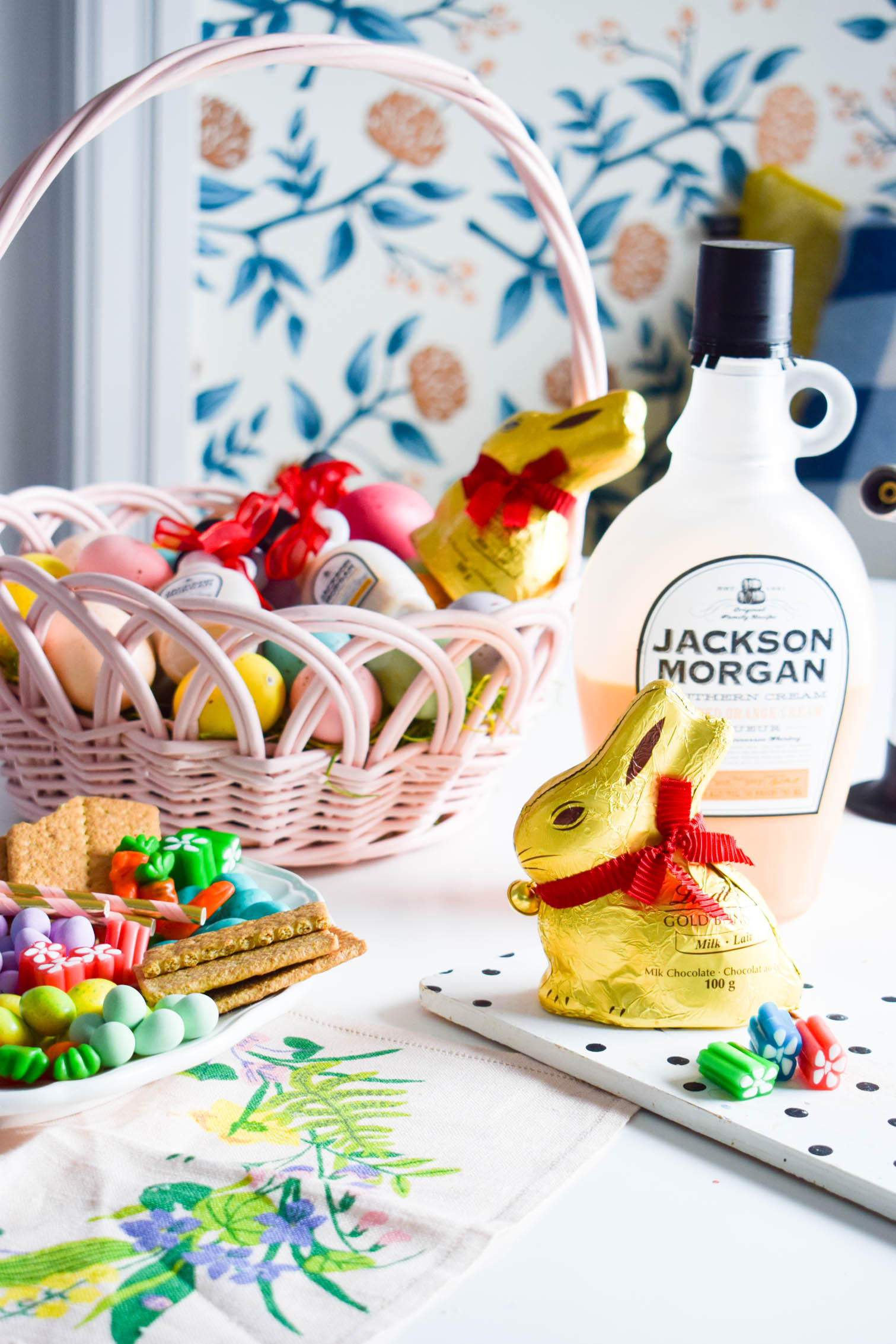 I've got the s'mores chocolate bunny easter cocktail here, and the floral crown chocolate bunny easter cocktail is in the video!
S'mores chocolate bunny easter cocktail Recipe
You'll need marshmallows, graham crackers, Jackson Morgan Salted Caramel, and of course – a hollow chocolate bunny. I like the Lindt ones because they're not too big, and the chocolate is a delightful treat.
I opted for some fun bunny shaped marshmallows, but regular old white stay puffs will work.
Start by unwrapping the bunny (keep the bow with the bell!) and then cut the ears off. Keep the ears!
As you can see, the bunny makes a great easter cocktail cup! Fill it up with your desired cocktail. I went with a Jackson Morgan salted caramel, but the bread pudding also tastes delicious here.
Next, add a graham cracker and a marshmallow to the opening. Make sure they're also in the liquer, it tastes better later.
If you've got a kitchen torch, fire her up! I used ours to toast the marshmallow and get it nice and gooey. Because chocolate melts if you look at it, make sure you don't toast too close to the rim of the bunny, or you'll have melted chocolate everywhere. Not the worst thing, but still.
When you're happy with the level of toastyness, pop a straw in there and enjoy!
Floral Crown chocolate bunny easter cocktail
Following the same preparation as for the S'mores chocolate bunny easter cocktail, you're making a few small tweaks here, notably, adding a flower crown! Catch the full tutorial below.
Here's how it looks once it's complete. These would be perfect for a spring bridal or baby shower! or even easter brunch.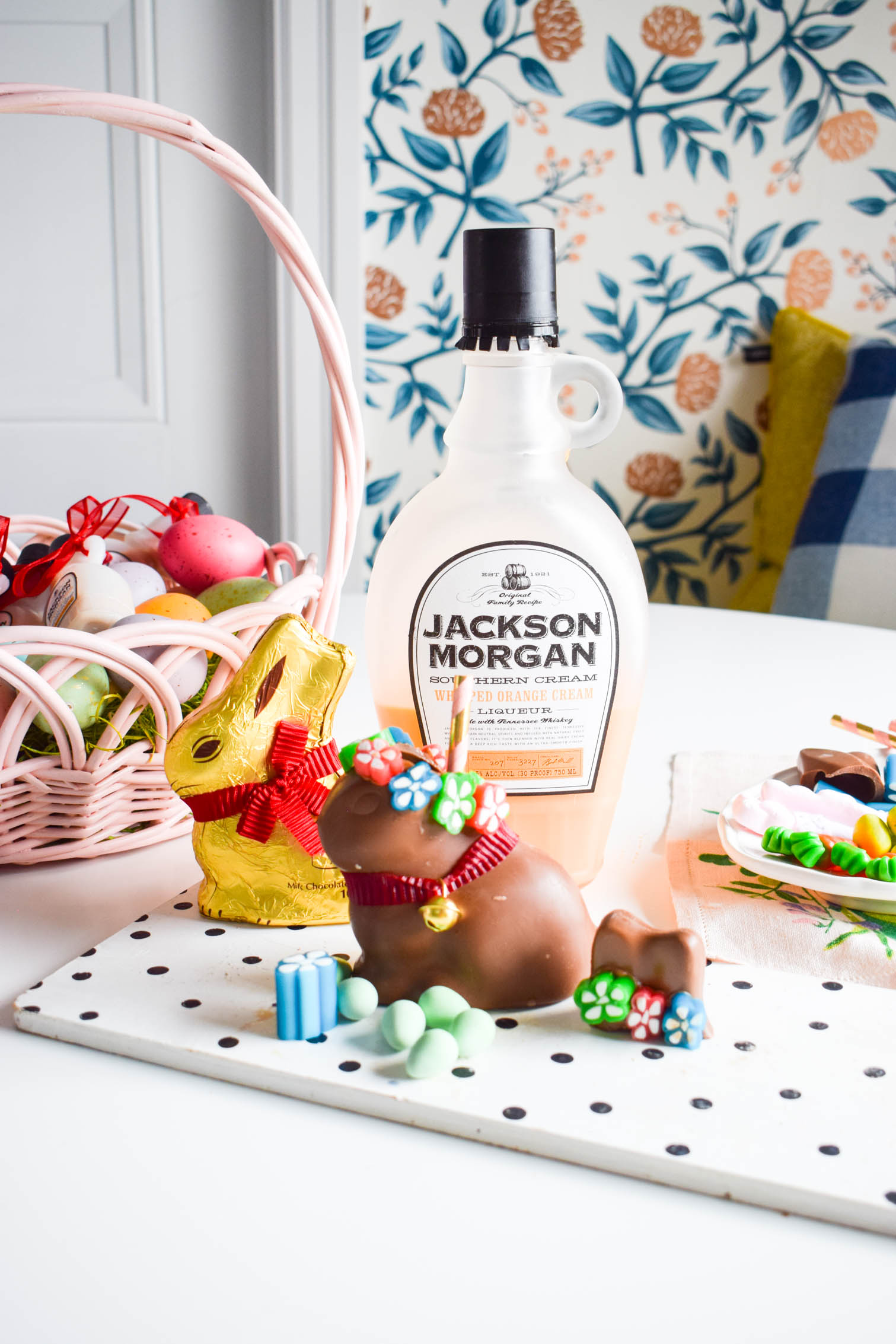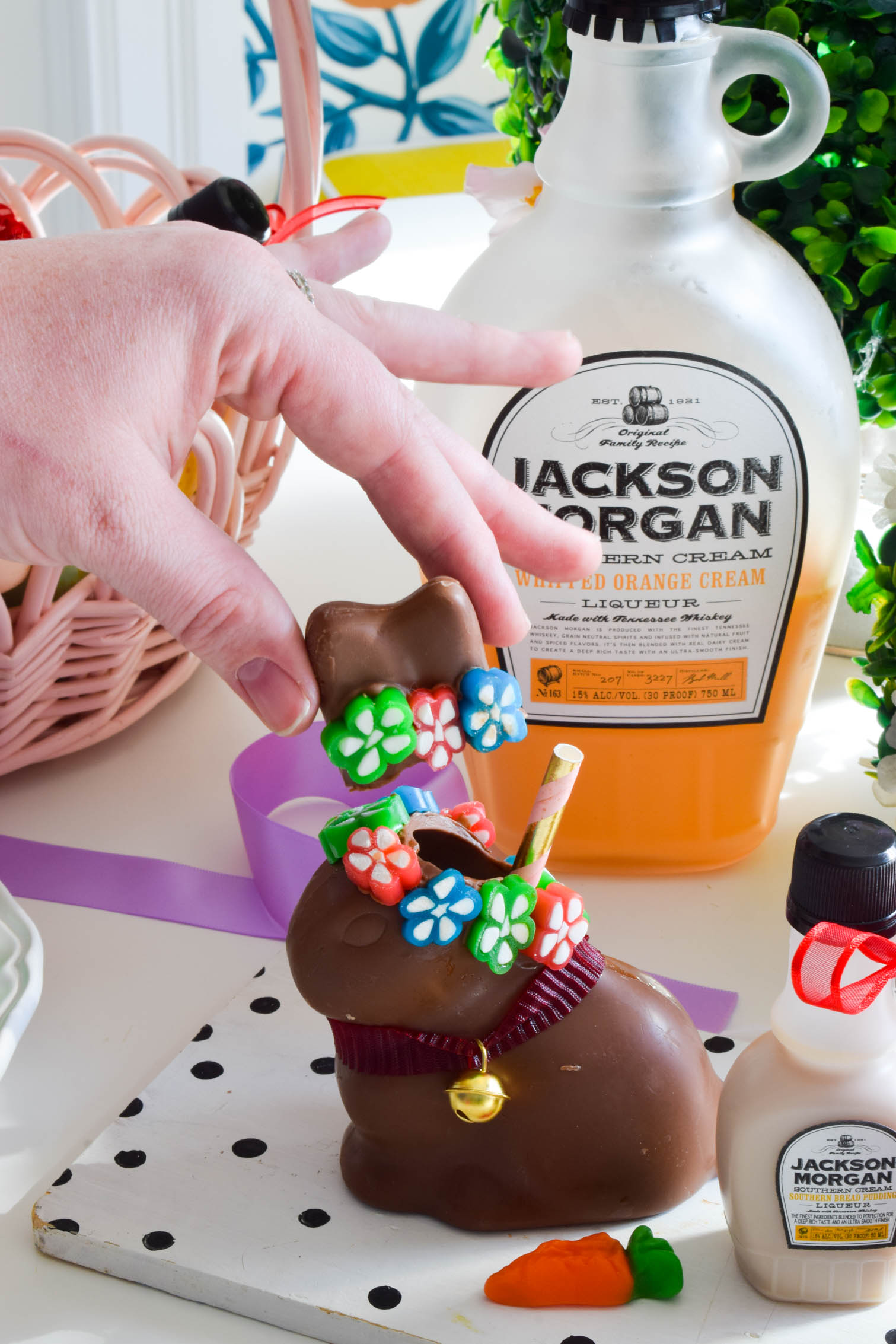 Chocolate Easter Bunny Cocktails
I served-up my chocolate easter bunny cocktails on a board, but you could just as easily put them at each place setting. If you're making way in advance, I recommend keeping them refrigerated. You'd hate for them to melt!
So even though we're all staying-in for easter, if you've got time to add a chocolate bunny (or three) to your online grocery order – you should!