And now, the Christmas tours begin! I've got plenty more crafts and fun cocktails, but it's time to start showing you how I'm decorating for the season. To do so, I've joined Steph Watkins from Casa Watkins Living for her annual My Home Style: Christmas Tree tour. I wanted to do something a little different for this, so instead of unveiling my tree, I'm sharing my Ceramic Christmas Tree Sideboard Display.
Tour my Retro White Christmas Tree, my Colourful Eclectic Christmas Tree, and my Gold & Copper Christmas Tree.
Make sure you go check out the other participants in the hop (links at the bottom), and go see what the other ladies going live today are up to:  Made In A Day // Club Crafted // Daly Digs // Jennifer Perkins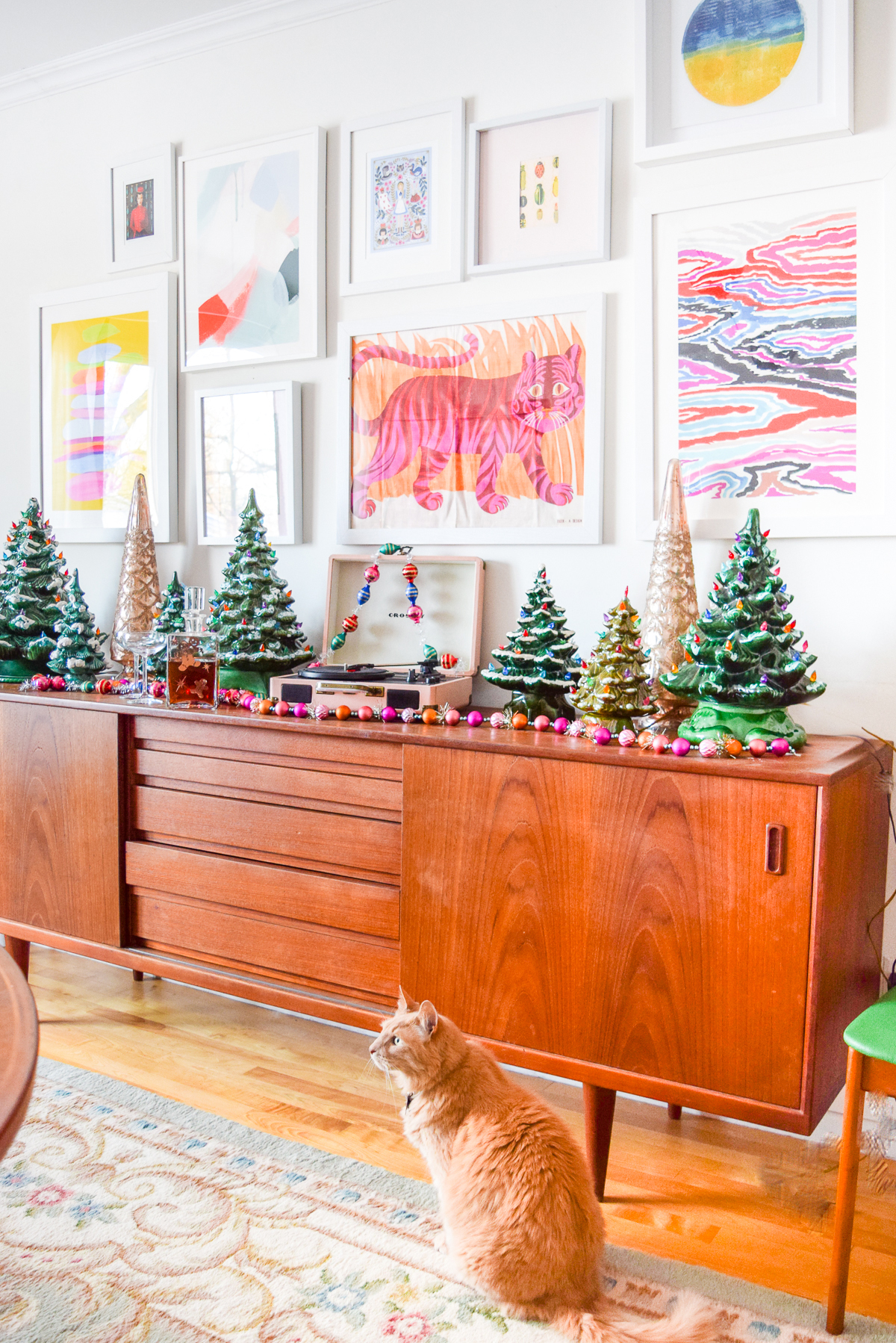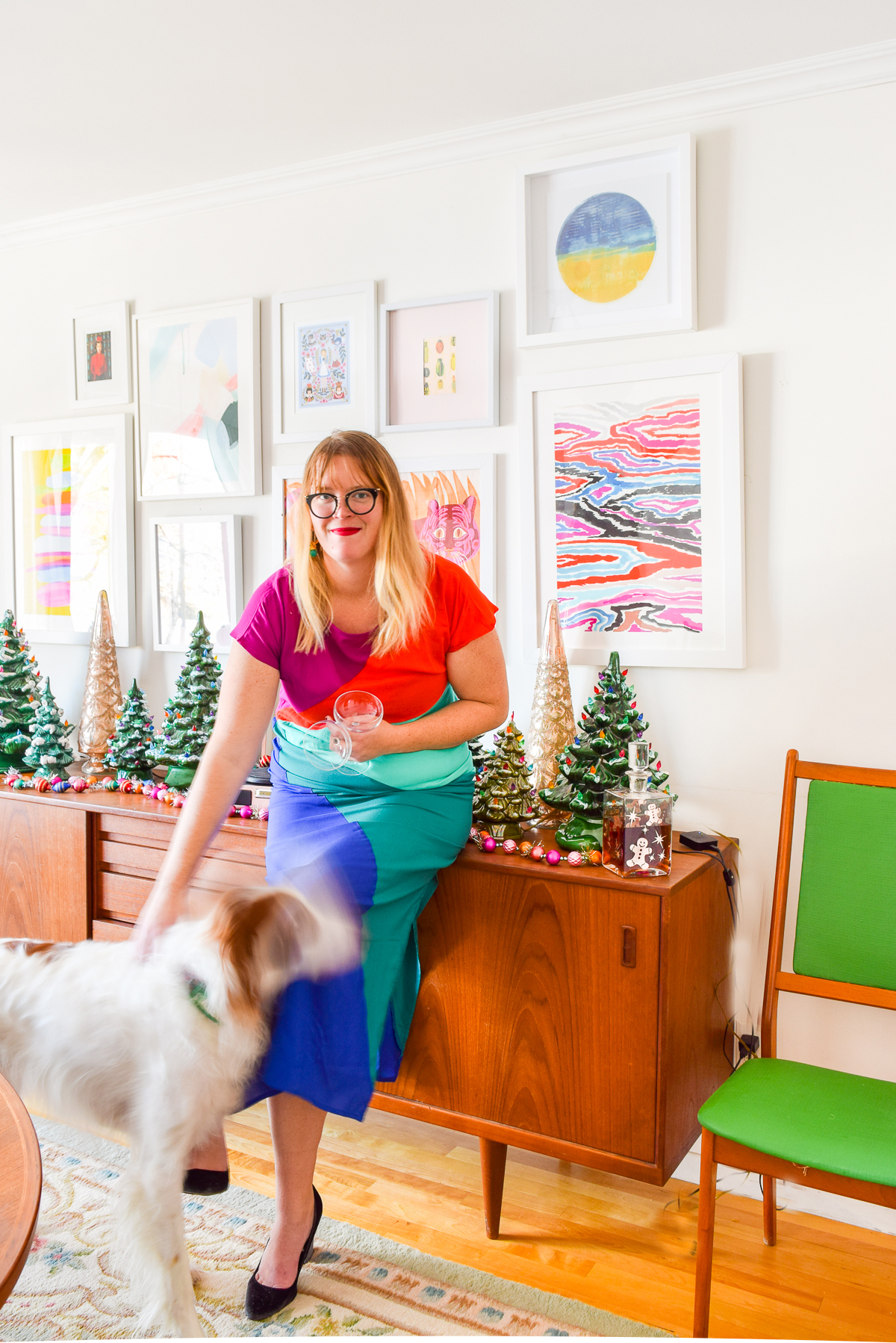 I bought my first retro ceramic Christmas tree off my assistant Kelly, earlier this fall. She had a forest of about 14 of them, and decided to sell half of them. I would have bought more of them, but I knew she'd let me borrow them for a shoot, so I snapped up the biggest one!
As you know, I love all things kitschy cute for the holidays especially adorable little ceramic trees that our movers are likely to break during the next move (kidding!), so starting a collection of them is high on my list. And after you see how good the sideboard looks, you'll agree!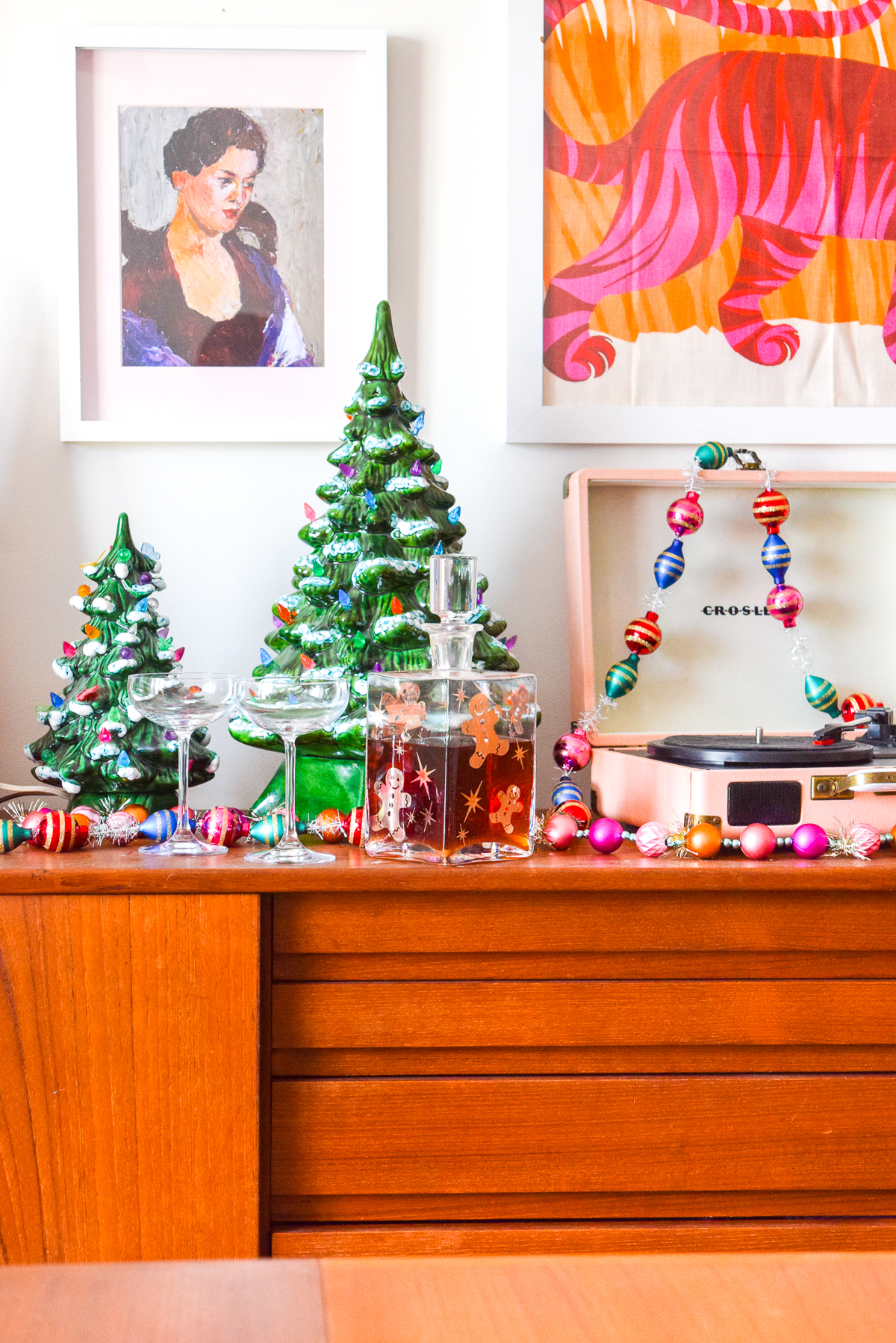 As you know, I recently completed a makeover in our living room, and not many other spaces have gotten any love. So with the holidays and all the entertaining on our calendar, I figured it was time to dress-up the dining room some!
I hung the art (finally), painted over the bad paint job on the weekend (if you follow me on IG, you saw all of this unfolding), and am on the hunt for a new rug for the space. This floral blue and green combo isn't doing it for me.
Because this sideboard has been BEGGING for a collection, I felt the trees would look best here. Can you just imagine them al lit up at night, with Bing Crosby playing in the background, and gently falling snow outside? I sure can.
Now that I've sampled what the good life looks like when it comes to retro ceramic Christmas trees, I'm hooked! I've got all my alerts set, and will be trolling my fave vintage store ASAP for one.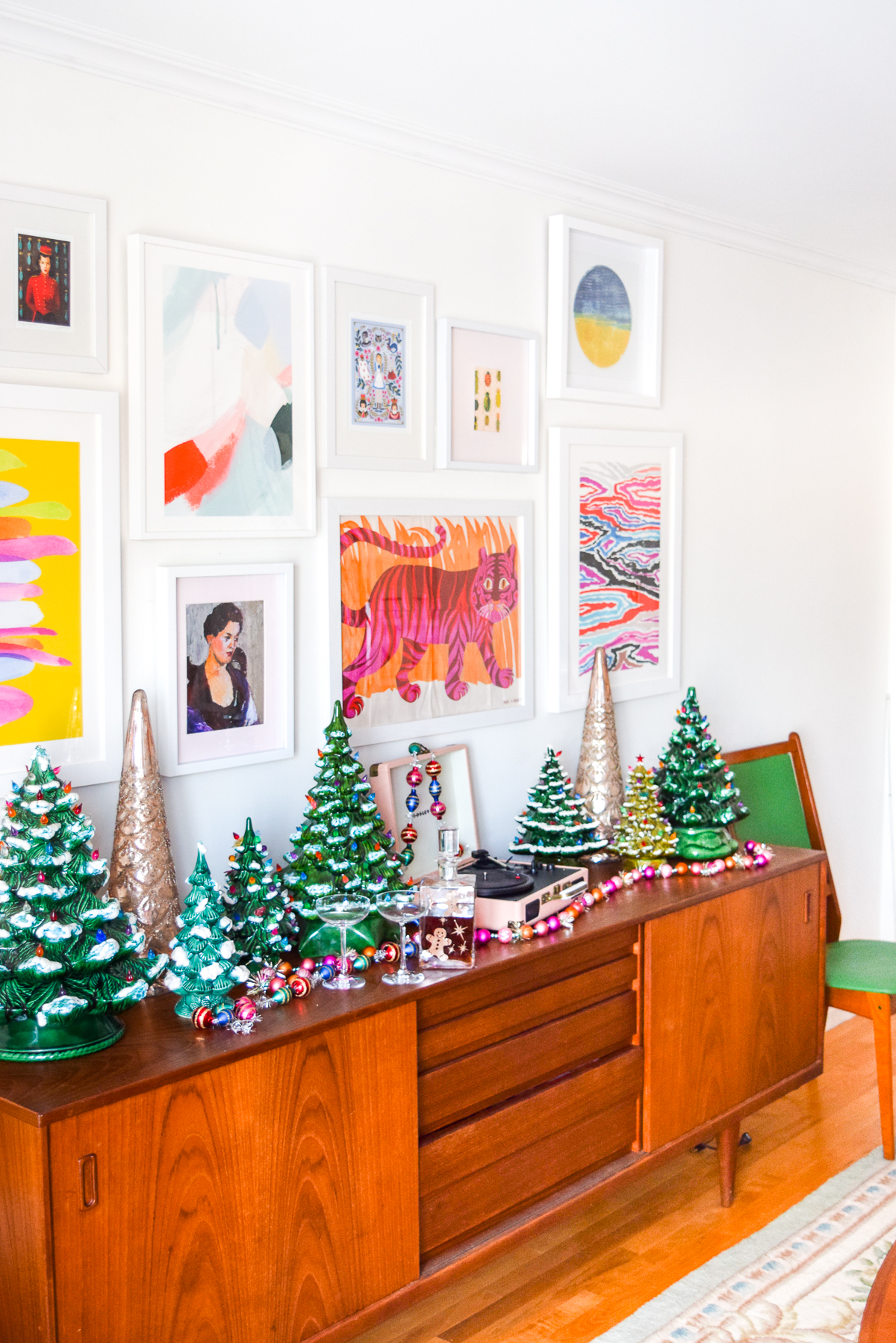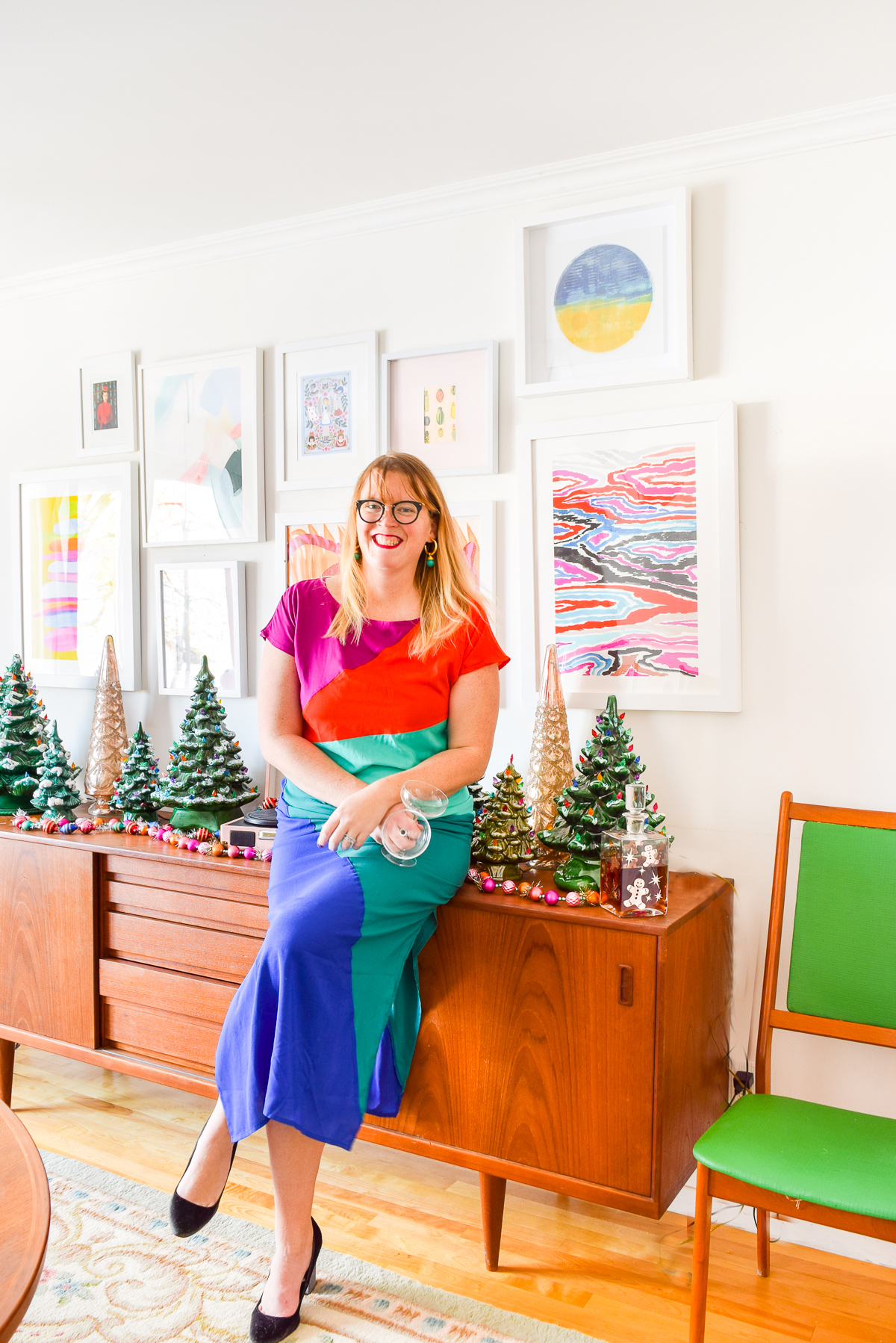 Monday:
Casa Watkins Living // Up To Date Interiors // Monica Wants It // Iris Nacole // French and French Interiors
Tuesday:
Domicile 37 // Thou Swell // Designs by Tamara Lee // The Homes I Create // Not Just A Housewife
Wednesday:
Designer Trapped In A Lawyer's Body // Lovely Etc // Delineate Your Dwelling // Persia Lou // Taryn Whiteaker Designs
Thursday:
House Homemade // Two Twenty One // Tag and Tibby // Jeweled Interiors // My Sweet Savannah
Friday:
PMQ For Two // Made In A Day // Club Crafted // Daly Digs // Jennifer Perkins\