With Black Friday upon us, and the greater Thanksgiving + Holiday season, I wanted to share my gift guide! I've got 3 different guides, all done entirely in my taste, and all full of great ideas for gifts this year. From cocktail essentials, to cultural touchstones, and my inner foodie – I've been busy putting together a list of must haves and deals from stores and brands, I know and love.
Check out my Thanksgiving Place Setting Ideas, my Upcycled Holiday Bar Cabinet, and how to throw a gift wrapping party.
*Atomic Kraftworks, Yas Queen Shop 1, Dawn Graham Designs, Roostery & Homesense Canada sponsored this post, but all thoughts are my own. Thank you for supporting the brands that make PMQ for two possible.
*The following product links contain affiliate links. Thank you for supporting the brands that make PMQ for two possible. For my full policies click // here //
Gifts guide for the cocktail lover
You guys know I like a good cocktail right? Excellent, I mean, I've only got a cocktail series  and love a colourful and fun bar cart, so it's completely normal for me to put together my fave boozy hostess gifts. Everything from starburst drink stirrers, to Naughty & Nice decanter tags, and more!
Every good mixologist or bar cart connoisseur knows that you're only as good as your accessories. So when I spotted the North Star Stir Sticks & Naughty & Nice ornaments (or decanter tags) from Atomic Kraftworks, I knew it was meant to be!  They come in all kinds of colours and shapes, and if the atomic stars aren't for you, they've got a host of other fun acrylic designs.
MyDIY Champagn buzzer would make another great gift, but only because people who have fancy stir sticks are extra AF, and this is the kind of thing they would like.
Pink Champagne Coupes (disposable) from Sugar & Cloth's line are something every host should have on hand, so make sure you grab a set for your bar tending bestie.
While you're at it, grab some Jackson Morgan Southern Cream. They've got some great flavors like Peppermint Mocha & Salted Caramel, which make seasonal cocktails super easy to whip-up.
One more thing to grab for your cocktail loving boo – polka dot cocktail napkins (the Frizzle) on Roostery. The paper ones are cute, but these cotton ones can be washed and used again and again. Reduce, reuse, recycle yo!
The Cool Girl Gift Guide
This one is as much for me, as it is for your boo who enjoys memes, RPDR, sassy keychains and all the naughty parts of having girls for friends. There's a little something for everyone here: my Dream House keychain is a great gift, as is my Mele Kalikimaka Christmas card + magnetic pin.
Of course I always recommend a good piece of art, so Nip & Tuck by Willa Heart  are a great addition to any gallery wall or art scene – especially a cool girl's. If we're going as far as decor, this pink Crosley suitcase record player has been a great addition. I've used it quite a few times, and am now using it to play Christmas music, so your cool BFF needs it.
While we're on the subject of cool stuff that's also pink, consider those tassel earrings! They're made using pink tinsel tassels from Woman Shops World . Super easy to make, and when you order a set of 4 you could easily make a pair for your bff.
You may also spy the adorable Mustard Stripe earrings that I got from Dawn Graham Designs. The price right, and for drop earrings, they go surprisingly well with everything.
The RPDR Pencils are from the etsy store of Yas Queen Shop 1,and it's packed full of other gems inspired by mama Ru herself.
But if the manicure pouch caught your attention, I wouldn't blame ya! It's a 2 patterned zippered pouch from Sprout, made using the Audrey print & Flags (in pink).
The Hostess With The Mostess Gift Guide
The hostess with the mostess has silly table crackers, the coolest napkins, the best cup of coffee, and more. I am she — on a good day. On a bad day I go buy coffee and don't even put my cookies on a plate. So really, it depends how much time I have that day.
This girl shops at Homesense, and is always on the look-out for the cutest kitchen accessory (like these measuring spoons 12.99$) or adorable sardine shaped chocolates (4.99$), and has had the vintage reindeer hot cocoa mugs since they went on sale back in October.
She's also got the low-down on the coolest accessories you didn't know you needed like the Fortune tea towel from Centinelle, and disposable cutlery that looks better than the stuff you have at home.
And because this girl is a pro, she has not one, not two, but three different sets of holiday mugs for various hot bevies. This striped one matches her decor seamlessly, and is another hot Homesense find (4.99$).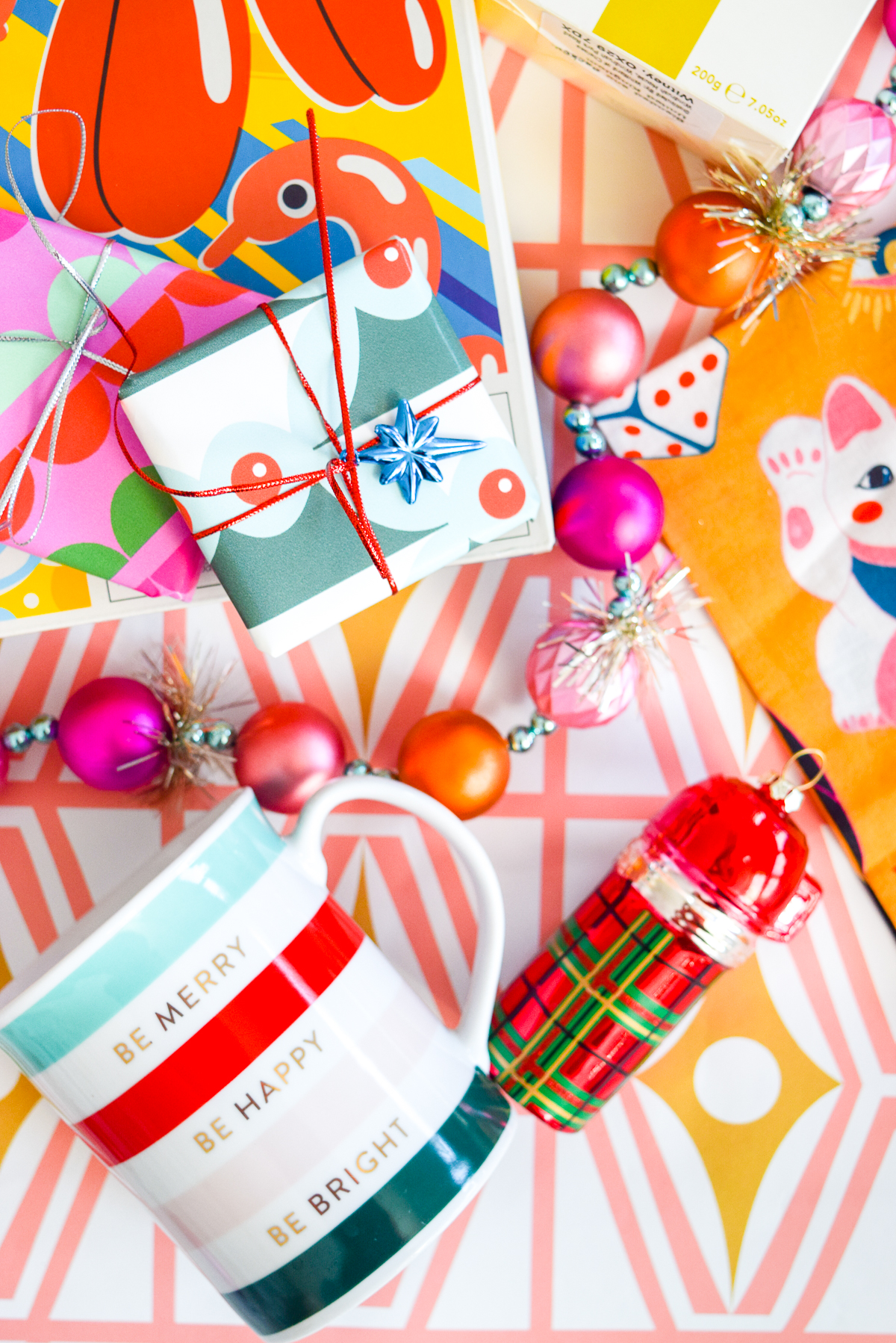 What else do you hold butterscotch coffee in? (another Homesense find – you should go). The inflatable balloon toy christmas crackers are just the icing on the cake when it comes to #myhomesense finds. So basically, if you've got a hostess with the mostess on your hands, go get all your shopping done at Homesese.