I am so excited to be participating in another one of Celebrate & Decorate's tablescape blog hops. This week we're celebrating patriotic tables in all their forms. While most of my fellow blog hoppers are based in the United States, I'm throwing my hat in the ring with a Canada Day Blue & Floral Tablescape. The best part? I'm doing so with the help of Roostery & Homesense!
If you're joining me from Debee's Buzz, Camelot Art Creations, or Celebrate & Decorate — welcome! You can read a little bit about me // here // and visit my project gallery // here //.  Don't forget to check out the other participants at the bottom! 
*Roostery & Homesense sponsored this post, but all thoughts are my own. Thank you for supporting the brands that make PMQ for two possible.
When I started sounding out some potential options for my scheme on Instagram, the first few responses I got where along the lines of "we're not in the US, why all the red, white AND blue?" or "why not just red white?" — well, to be honest, the red and white angle is super boring and very expected, AND Canada is more than just red and white.
Red, white and blue is a classic summer palette and also happens to be very patriotic for our American friends to the south. On my table, I felt like I needed to favor one colour over the others though, and in this case I chose blue. This goes from the fabrics, the ceramics, and even the blueberries!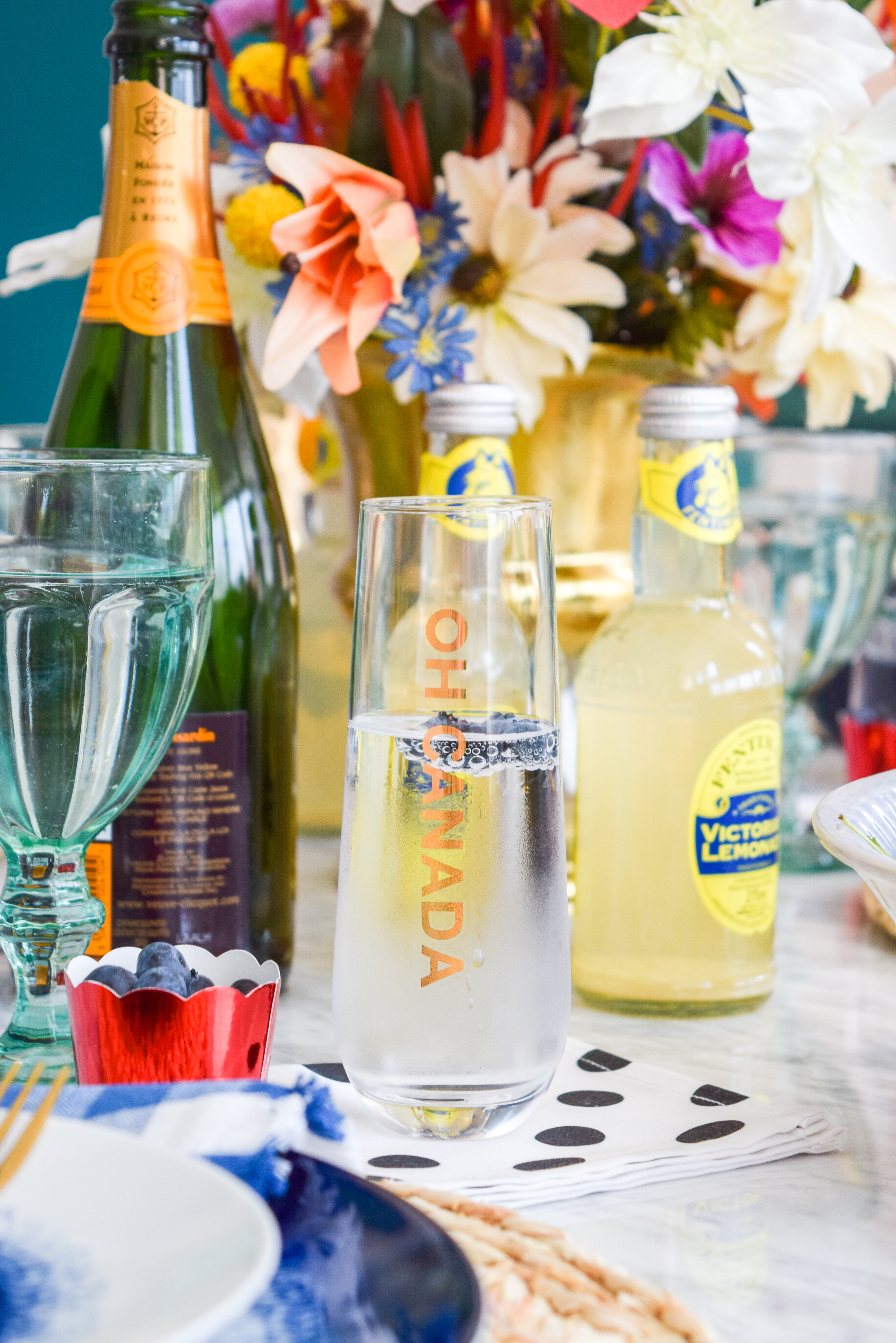 I drew great inspiration for my colour palette from these ORPINGTON linen Roostery tea towels actually. The blues are captivating, the movement in the pattern is like the waves on our shores, and the little pops of white are like bubbles frothing at the surface of any of our lakes, rivers or oceans. Canada is more than it's trees, it is also its bodies of water.
Did you know that our motto is "a Mari usque ad Mare" which translates to "From sea to shining sea." I think I've captivated a little bit of that with this tablescape. It's in the blues of the plates, the towels, the glassware, and the florals.
Beyond the rivers and oceans though, I can't set a tablescape without some bubbly. It's a must at this point. Wine, beer, cocktails – all essential, but champagne is something we can all agree upon.
I've got one on the go and one chilling at all times. This is where that tea towel comes in, because when you pull it from the ice bucket it's usually got a little water on it, so you need a towel to dry before serving.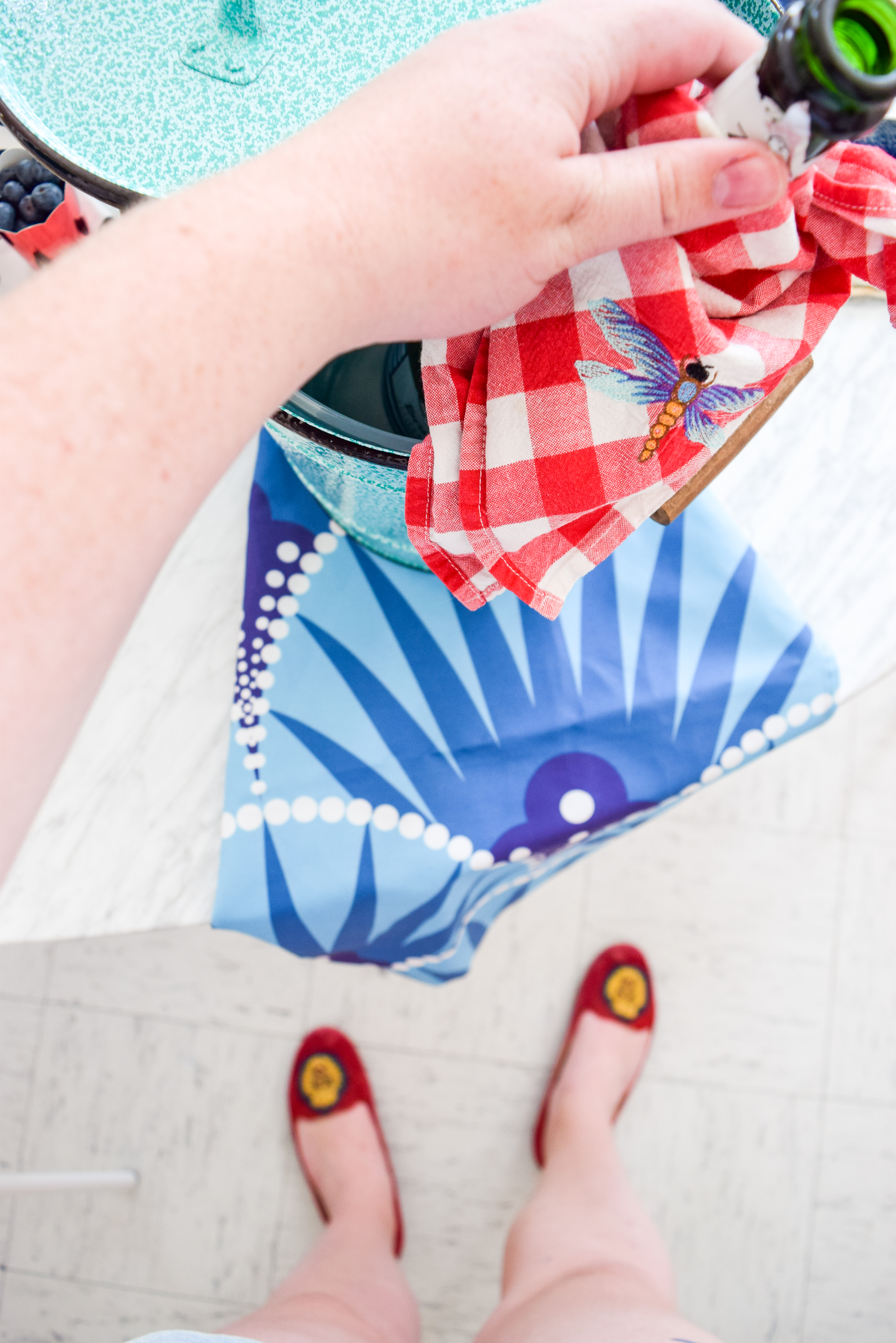 I even added blueberries to make it pop – because what's more maritime than blueberries in summer?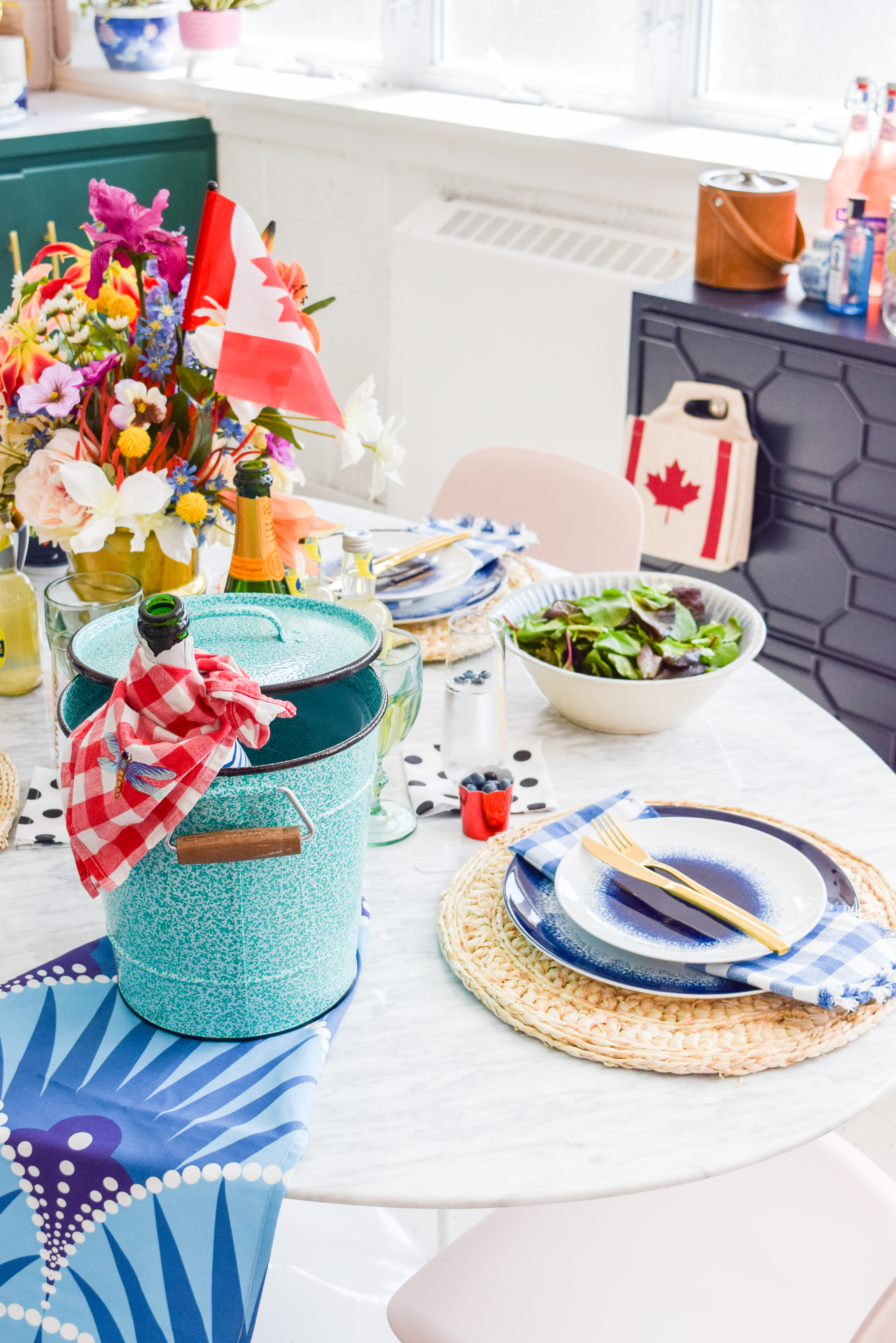 Let's talk about the florals for a second. I chose to make an arrangement using a flower from every single province, in a creative exercise but mainly to see what it would look like! I'll have that tutorial tomorrow.
If you don't mind me tutting my own horn, I think I've done a lovely job. I also threw in some flowers that were not the official provincial flower, but they're all flowers you'd find growing here in Canada. Those succulents however, those are definitely not indigenous to Canada but hey, they look great.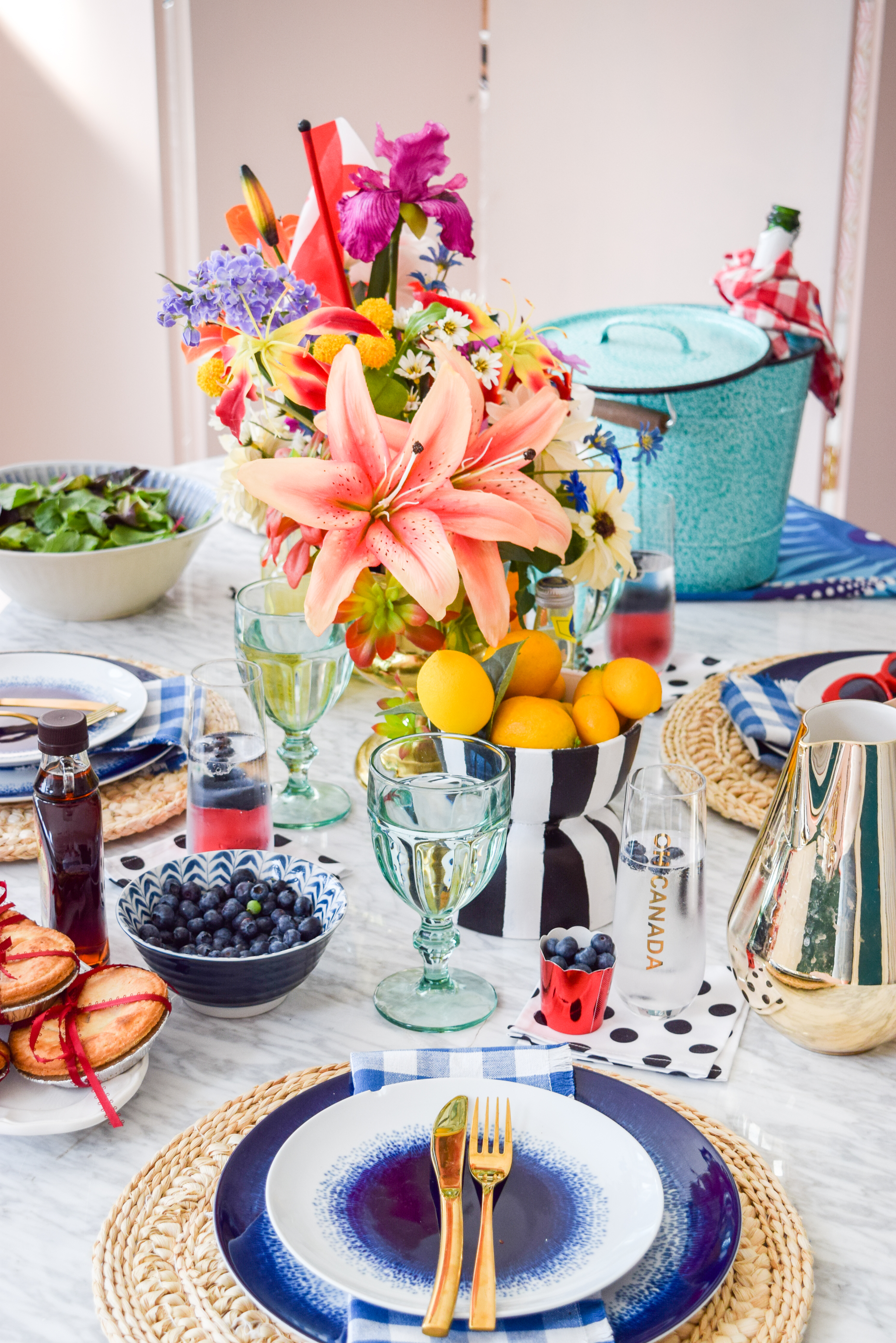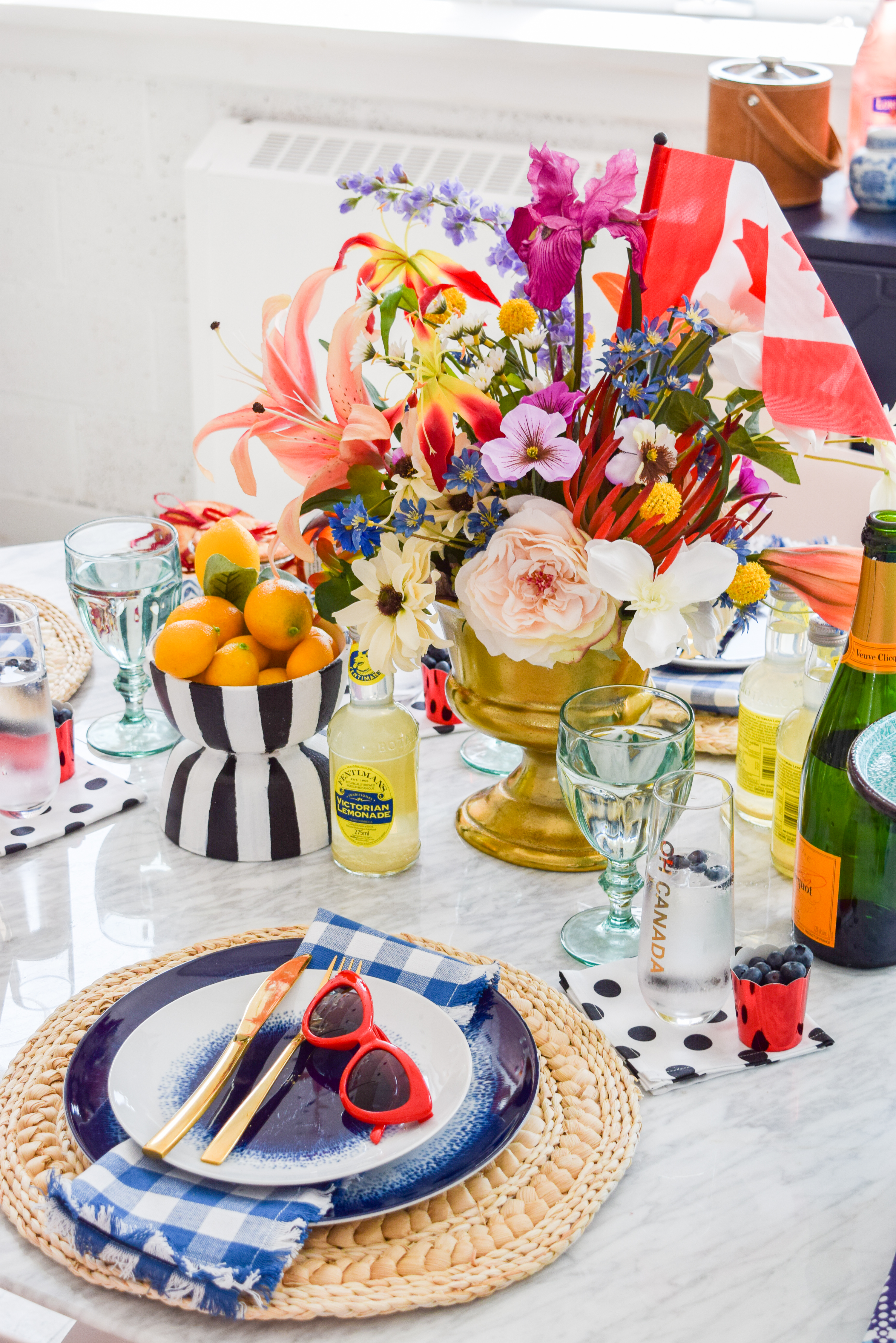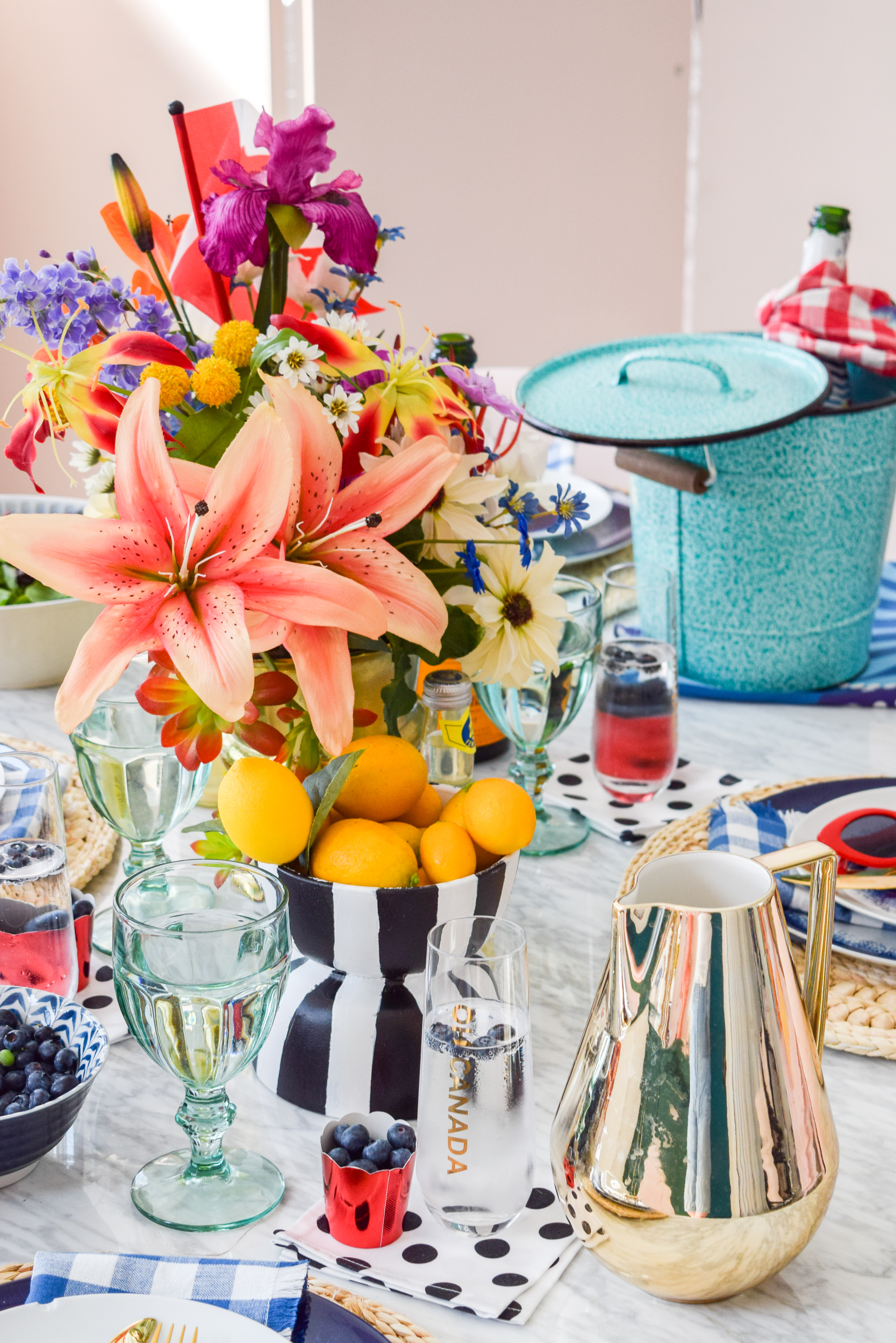 My place setting is rather simple, but I like this it that way. It consists of beautiful woven placemats, blue plates, gold cutlery, gingham napkins, and a little drink situation with some adorable"OH CANADA" flutes, and I snagged everything at Homesense.
Oh wait, I actually got those adorable little polka dot cocktail napkins (the Frizzle) on Roostery. I had no clue they were making cocktail napkins, and since those are hard to find in stores, I was thrilled to be able to rest them out.
Don't forget the food! I'm honestly only serving blueberry pie, because here in New Brunswick – that's what you eat since they grow wild. It wouldn't be a Canada Day Blue & Floral Tablescape without it.
Maple syrup is on the table because why not. Sometimes you need something a little sweet on there.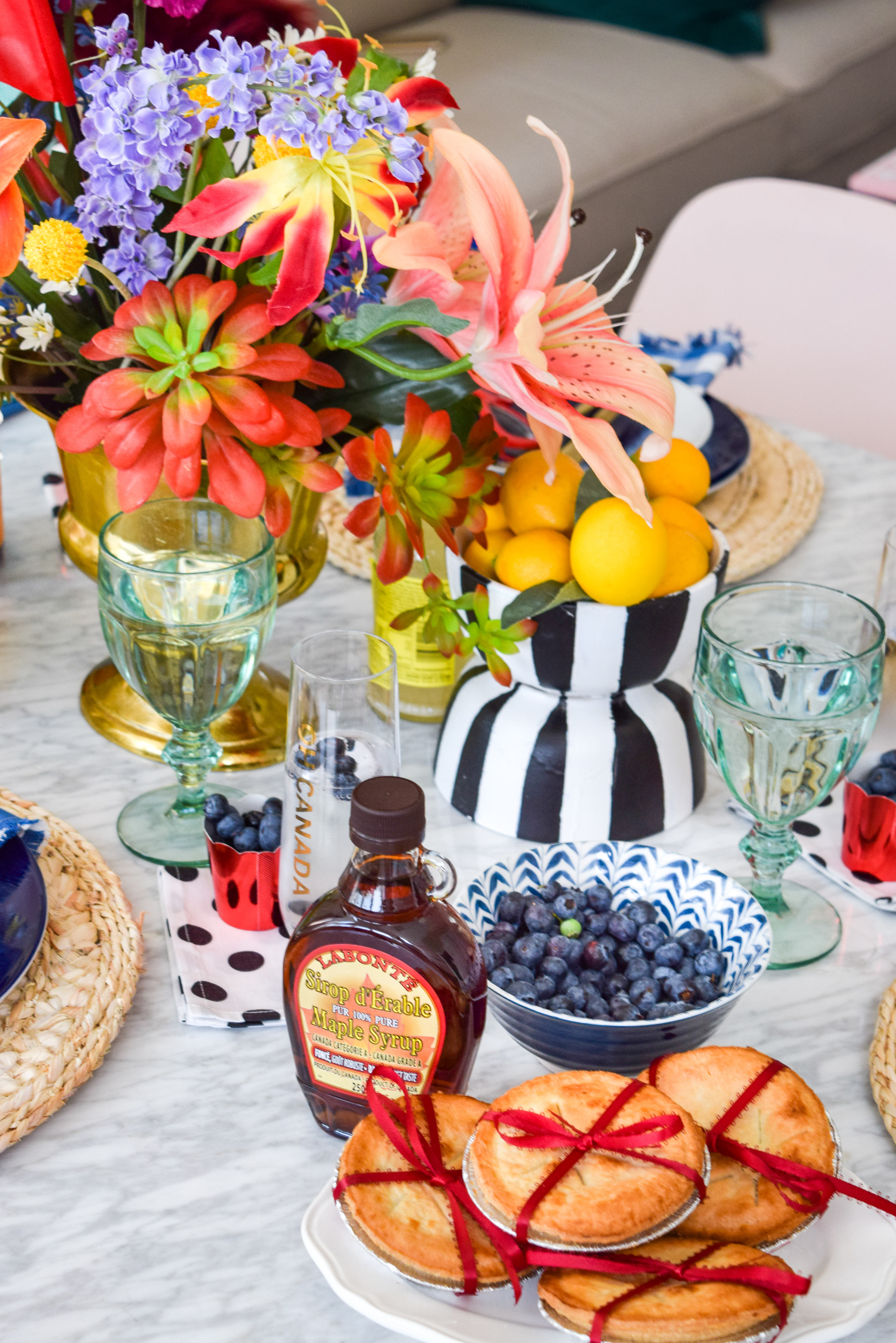 Now that we're done with the details, time to take in some sweeping shots of the Canada Day Blue & Floral Tablescape as a whole. I think it all came together beautifully, full of details, Canadian touches, Homesense finds, and well chosen pieces from Roostery.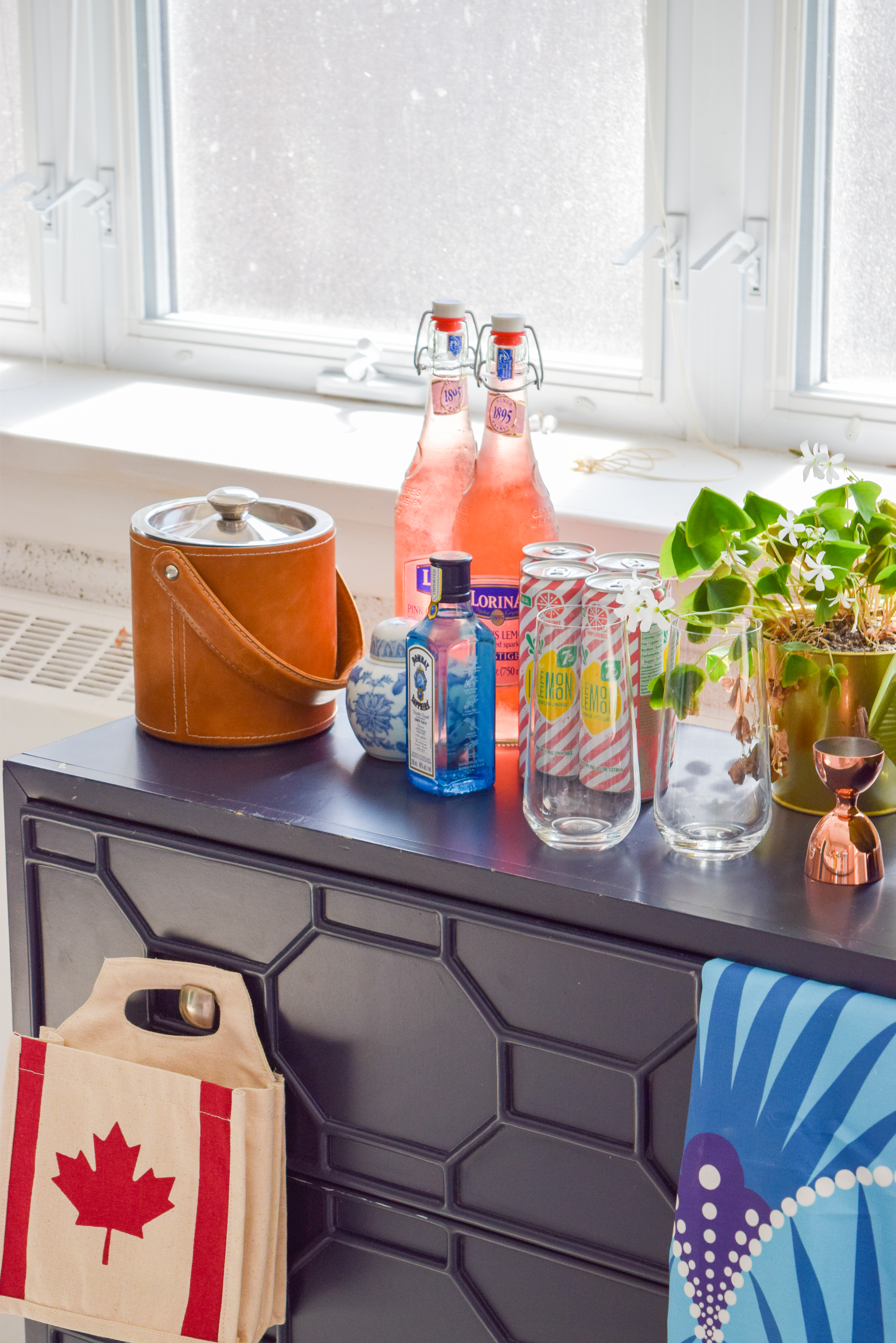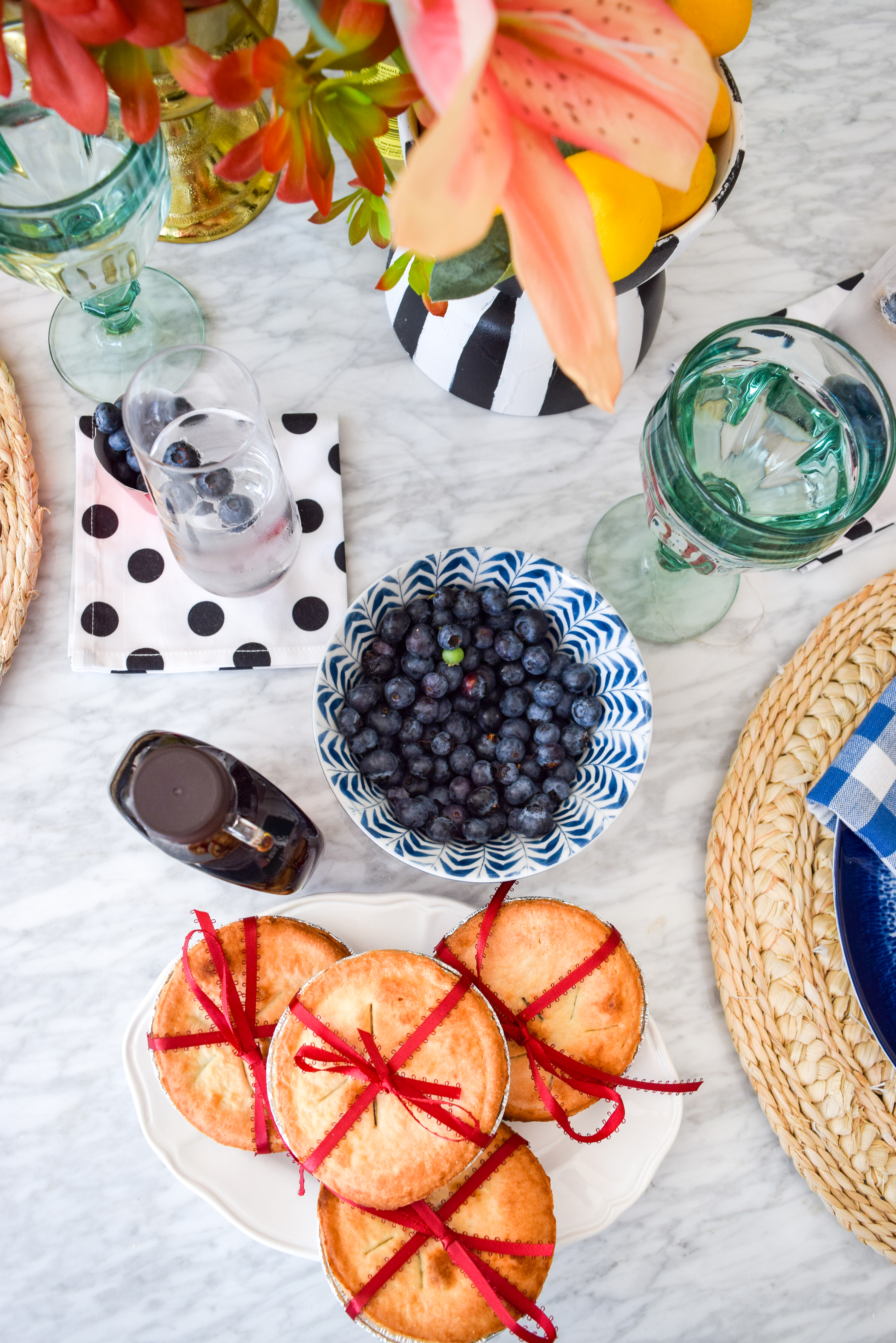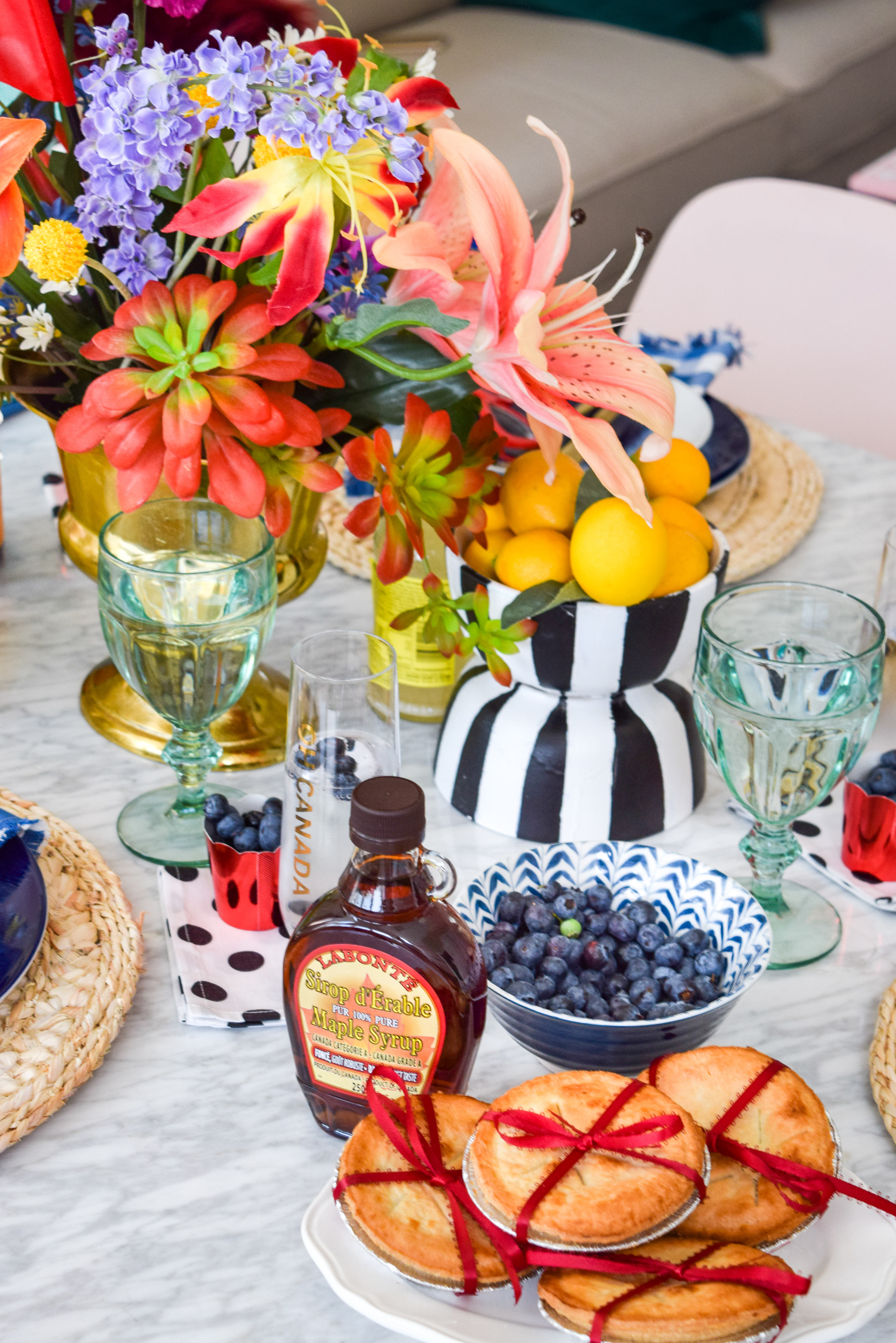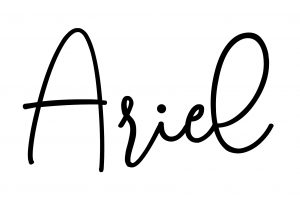 Monday
Home is Where the Boat Is
Red Cottage Chronicles
Belle Bleu Interiors
Tuesday
Corner of Plaid & Paisley
Everyday Living
Life and Linda
Knock it Off Kim