It is hot out there. It's no secret that the East coast has been under a heat wave for the past week, and let me tell you — I'm loving every minute of it. What am I loving even more? The ability to go down to the public pool with friends, and relax by the water (or in it). Anyone can host a snazzy pool party at their own home, but how realistic is that for the general population? If you're also a millennial, pool ownership any day soon is straight up – not in the cards. Instead I thought I'd show you guys how my crew and I throw a public pool party with Homesense.
Catch my other summer Homesense pieces, like my Trip To Martha's Vineyard last summer, or my Maple Whiskey Milkshake, or my Citrus & Graphic Summer Tablescape.
*Homesense sponsored this post, but all thoughts are my own. Thank you for supporting the brands that make PMQ for two possible.
Did you know that in Fredericton, NB there are no public pools? Instead, all the hotels with outdoor pools are open to the public. Some have a "recommended towel fee," while others are outright free. This means that if you play your cards right, you can spend the afternoon at a pretty swanky joint.
**CORRECTION: THERE ARE PUBLIC POOLS! WAHOO! Find out the info here**
For this occasion, we gathered at the Delta Fredericton's pool. They've got a great little bar called The Dip, they're right next to the water and walking paths, and the pool is very well maintained. The perfect place for an after work cocktail by the pool, right?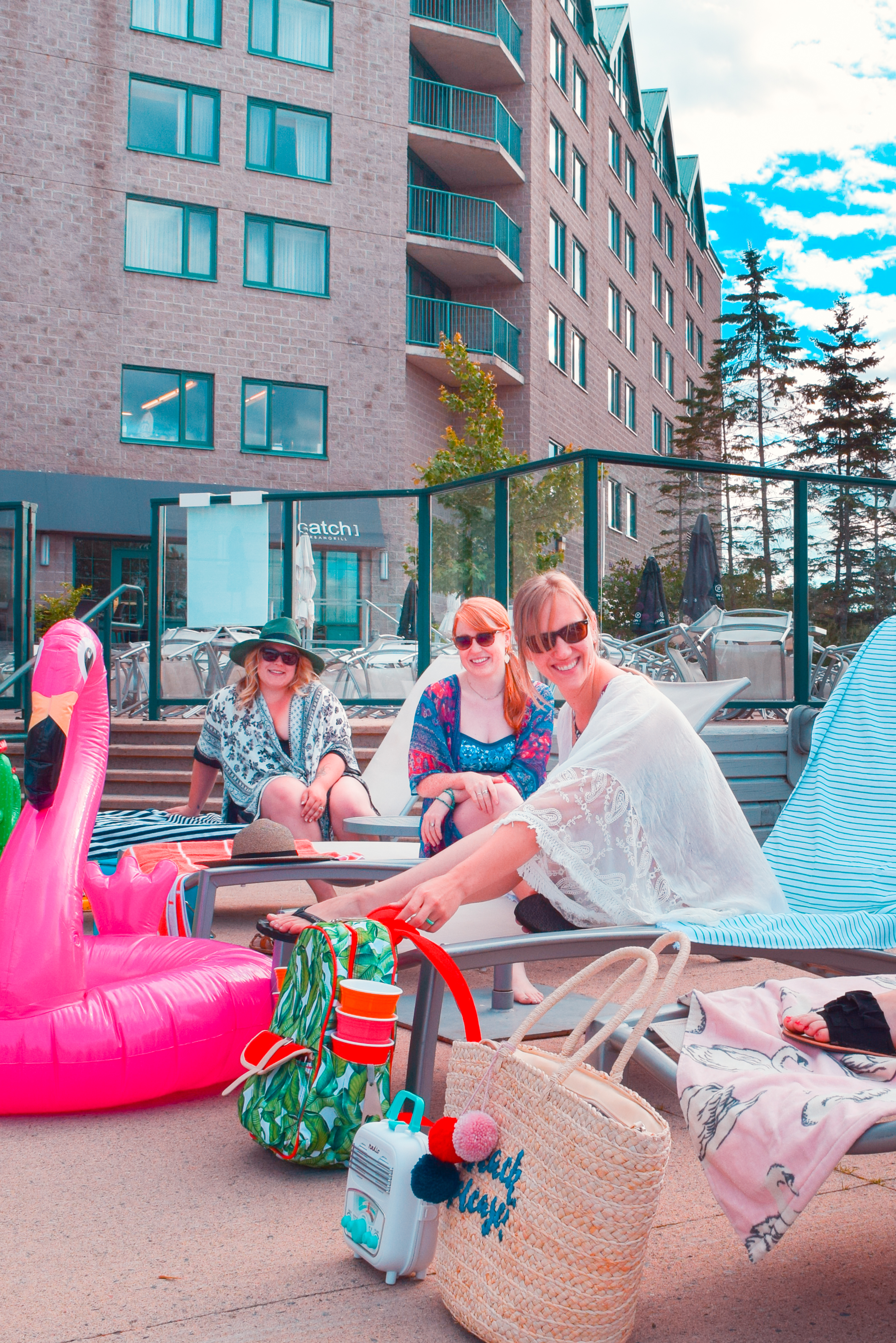 Before hitting the public pool though, you need to pack the essentials. I started by heading to Homesense for some of those giant pool floats (because WHY NOT?!), some cooler bags, and towels. I left with a pool friendly radio (& speaker), some pool friendly plastic drinkware, and some party mixes. Kaching!
You know this by now, but everything I just listed is hot fire in terms of party gear, instagram essentials, and just general must-haves for a trip to the pool. You can't lose with a trip to your local store though, because you'll either find everything you need for a pool party, or you'll come out with some cute cushions and a lamp. It's a win win.
p.s remember my DIY Retro Cooler Decals? Well the cooler came to the pool with us. It served us well, and drew some really nice compliments.
The surprise hit of the day is this palm print red cooler backpack that I snagged for 19.99$. How cute is it? You can fit two bottles of Rose (or two bottles of Perrier), some cups in the side pockets, and there's a bottle opener attached.
p.s that radio was 24.99$ – STEAL OF A DEAL if you ask me.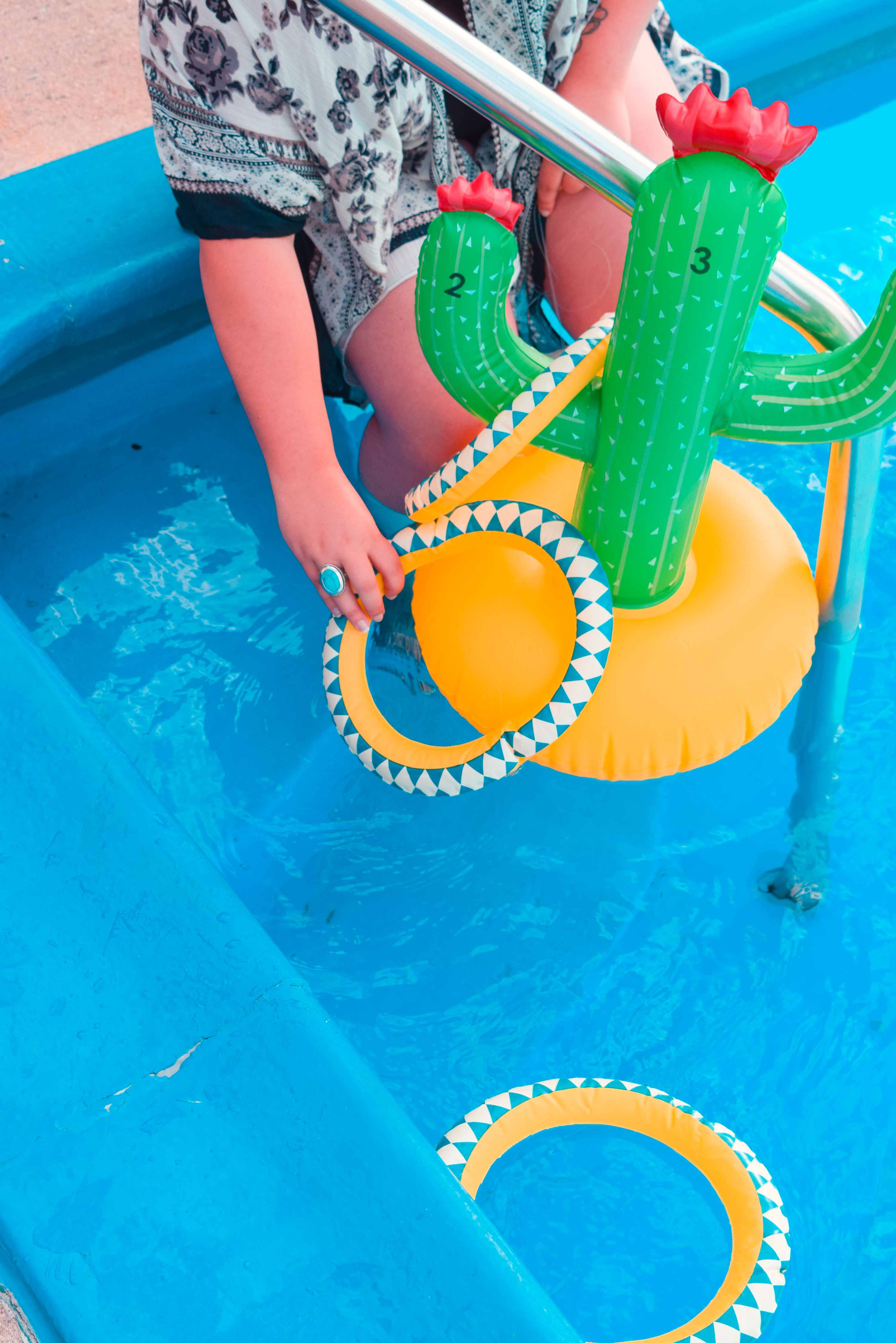 Let's talk pool floats. Is it reasonable to own a large collection of pool floats when you're going to the public pool? Yes, 100% it is. Public pools are for enjoying, and if that includes pool floats, then go for it. Maybe don't keep them fully inflated in your living room, but youcan definitely inflate them for the weekend.
Homesense has got a variety of options right now. I saw giant beach balls full of feathers for 10.99$, the iconic Sunnylife swans/flamingos for 29.99$, some Wanderlust items for 19.99$. The list goes on, and trust me, it's a good one. The prices are right, the selection is amazing, and I get to live my instagram goddess dreams surrounded by a zoo of inflatable animals.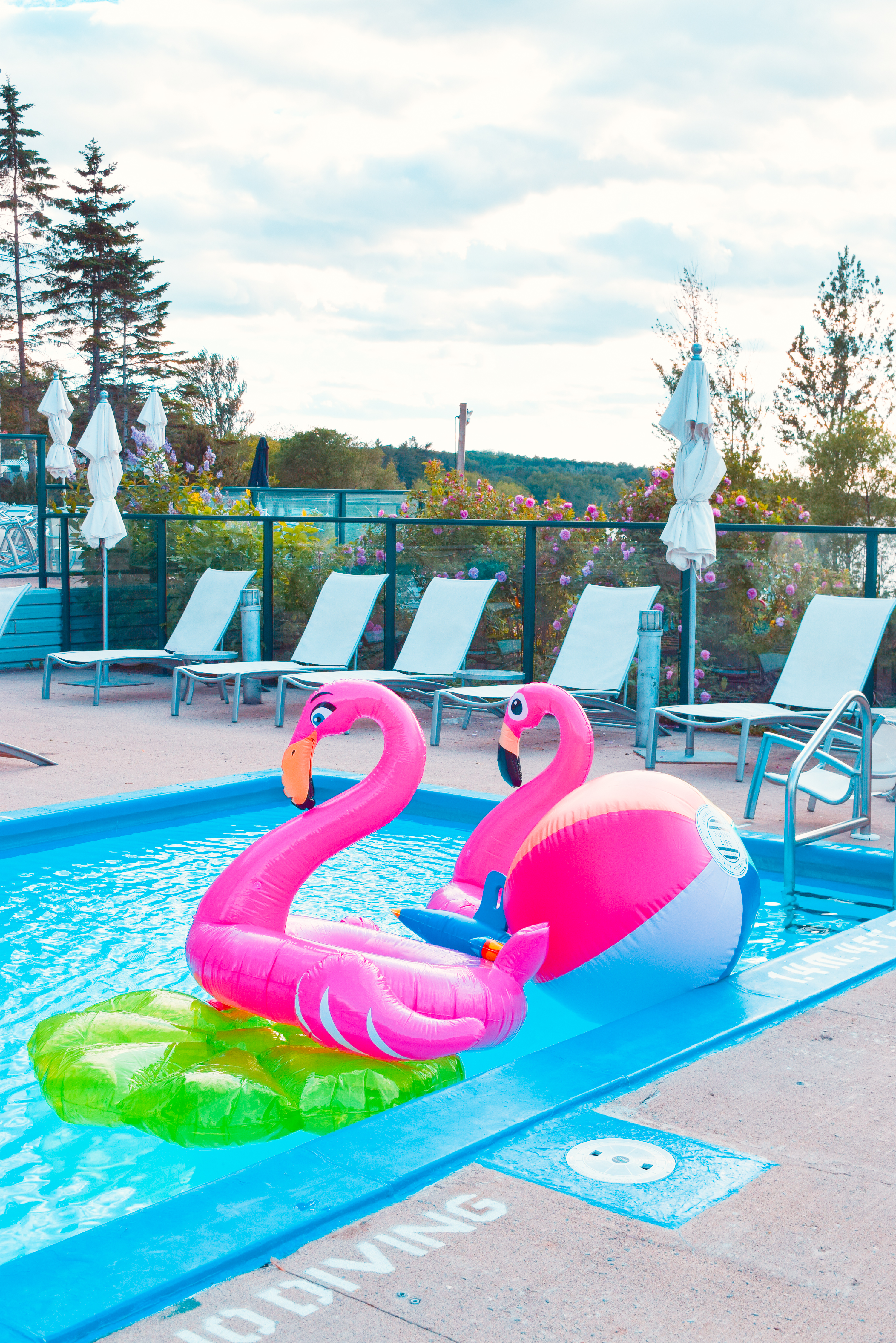 When you're not in the pool though, you should definitely be enjoying a refreshing beverage. I mean, you hauled them all down the pool, why not? Did I mention that the straw beach bag with pom poms is actually a cooler bag? So you can stick some drinks in there, maybe your sunscreen (if you like it cold), a towel, and be off to the pool for the day! That's what I call an outstanding public pool party essential.
Also, this brunette babe is my studio partner Kassidy! Yes! The Kassidy from Blush & Brass.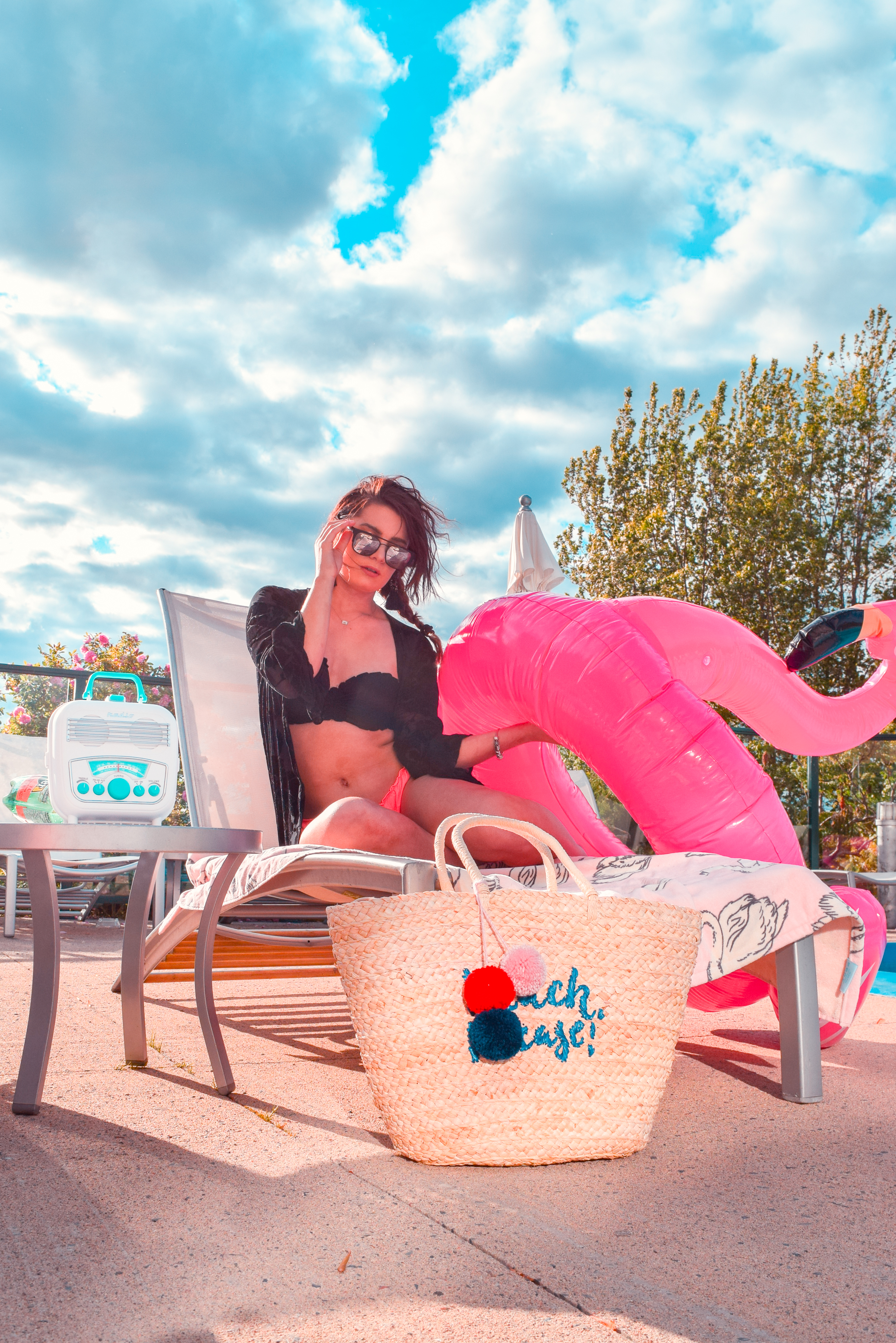 How gorgeous are the rest of my friends? I mean honestly. I could not have been blessed with a better gang of ladies to head to the pool with.  It's also not every day that your plans will let you photograph them in swimsuits before tans are in play. My hat is off to all of these lovely ladies, at all times.
P.s those multicoloured "solo cups" came in a pack of 6 for 9.99$. Perfect for sipping some bevies during a public pool party.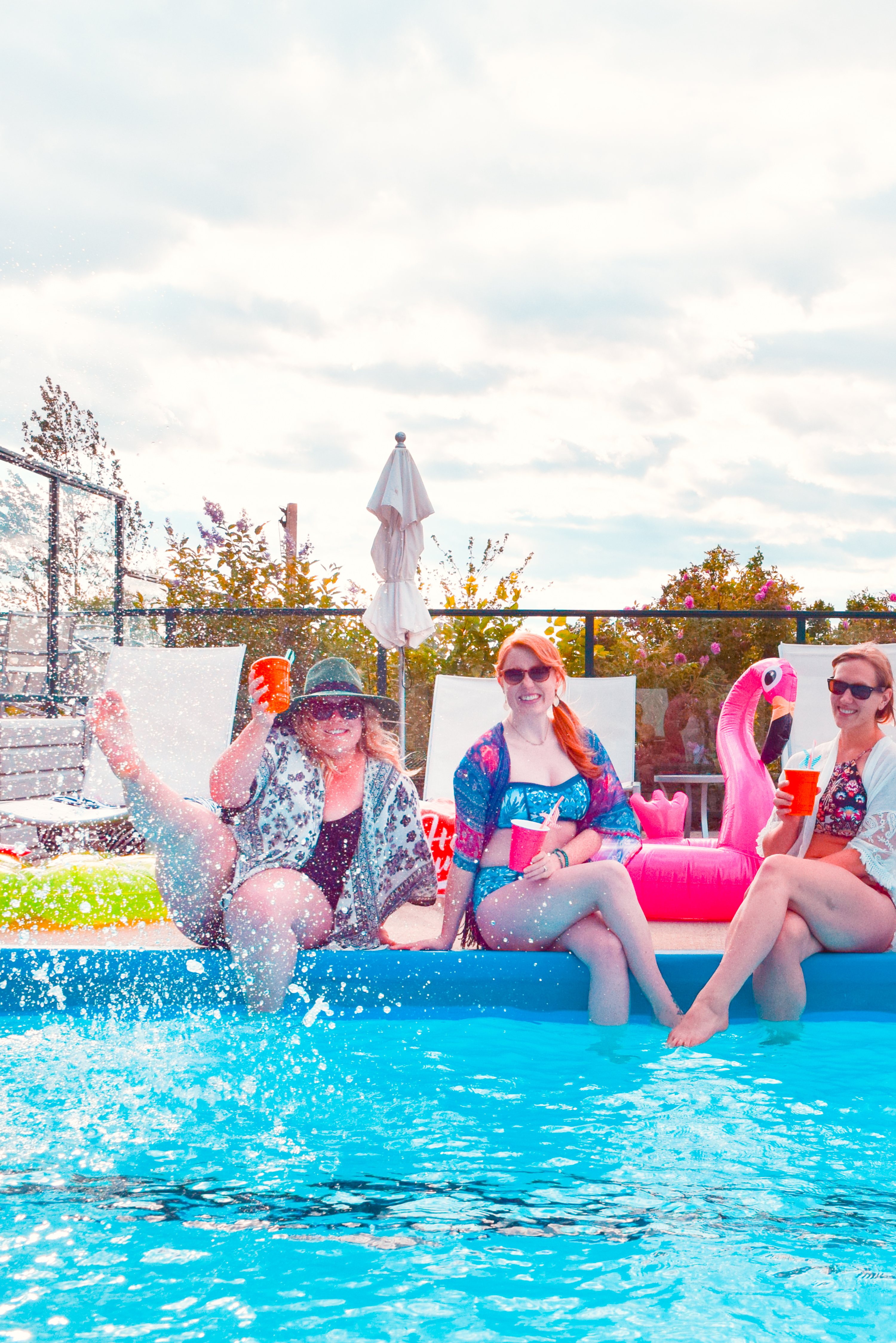 Can we talk about how cute I am? Please, let us pay endless compliments to me while I float around in a 9.99$ flamingo pool float. And yes, you read that price right 😉
And while I'm at it, I managed to find someone to take a picture of ALL of us once it was all said and done.
Once again, a bit thank you to the Delta Fredericton for allowing us to shoot our little public pool party on deck, and to my ladies for letting me take photos of them in a swimsuit. I owe y'all.