Where has the time gone?! I blinked and we're a week into the Primp and Pamper bathroom challenge // here //, hosted by Jewel of Jeweled Interiors. We've got 4 weeks to revamp a bathroom using some fabulous products. It's like a mini ORC! This week I put up a black and white stripe removable wallpaper using Tempaper's fabulous mini stripes in black. MAN was I sweating that, but once it came down to it, it was actually much easier than I thought. So read on! I wanna tell you about it.
*Tempaper sponsored this post, but all thoughts are my own. Thank you for supporting the brands that make PMQ for two possible.
I planned my whole bathroom update around a bold black and white stripe. In case you haven't noticed, I've been trying to bring that pattern into each room in the house, and this is where I'm going for broke! Tempaper is a lovely temporary wallpaper company that I ALMOST worked with last summer, but I totally fudged my opportunity and ended up passing it along to another. I reached-out for this space and they were more than happy to send me a few rolls.
As you know, we live in a rental, so everything I do has to be undone when we leave. This means I am the prime candidate for quality temporary wallpaper. It's exactly what I got with Tempaper. If this installation was overly complicated there would be like a million steps, but it's really simple once you get down to it.
Before we get to the installation though, I wanted to quickly show you guys what my space currently looks like.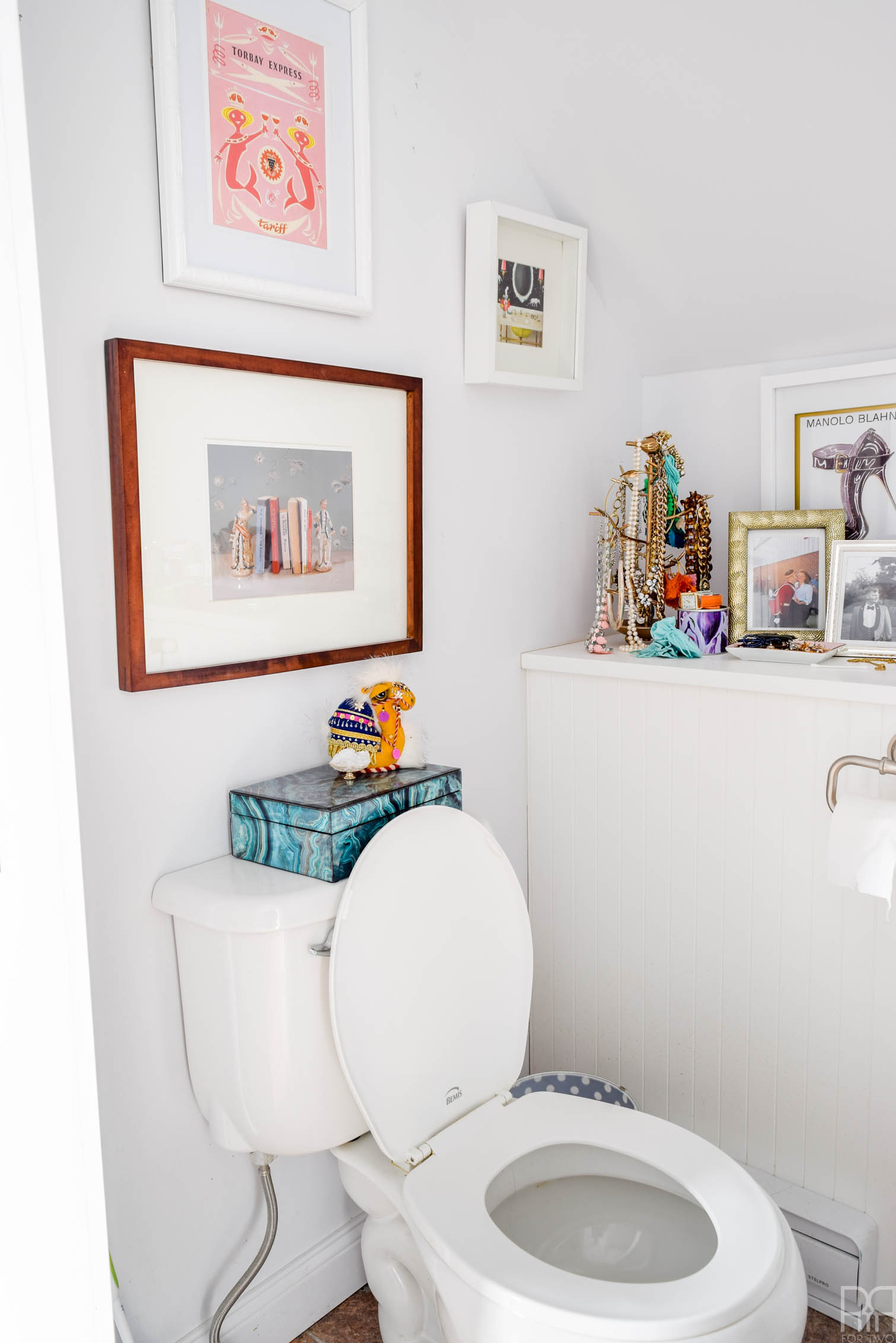 Aren't tiny powder rooms the best?! *EYE ROLL OF THE CENTURY* But hey, at least we have a second bathroom – that's a rarity in PMQs. So I'll take what I can get. P.s that's a cat water fountain beneath the sink, not some weird foot bath.
Because I was working with stripes and not large rolls of paper, I had to be a bit more precise than usual, but even that fell apart because none of the walls are straight. Womp womp.
Materials required to instal a black and white stripe removable wallpaper
Step 1: Much like with tiling, you need to start from a plum line, and the rest is easy. I took a few minutes to painstakingly install a small stripe, making sure it was straight.
Step 2: Using your pencil, mark even intervals where you'll be applying the rolls of paper.
*note: this is a lot easier when the ceiling isn't slanted, and when the walls are straight.
Step 3: Like with vinyl crafts, apply a small bit of the roll, and then slowly peel back the backing while applying the black roll with the squeegee.
Step 4: Take time to re-adjust and double check the distance as you go. In many instances I then took the entire strip off and re-applied it while eye-balling it. But once again, that's more due to the fact that nothing is straight in this bathroom.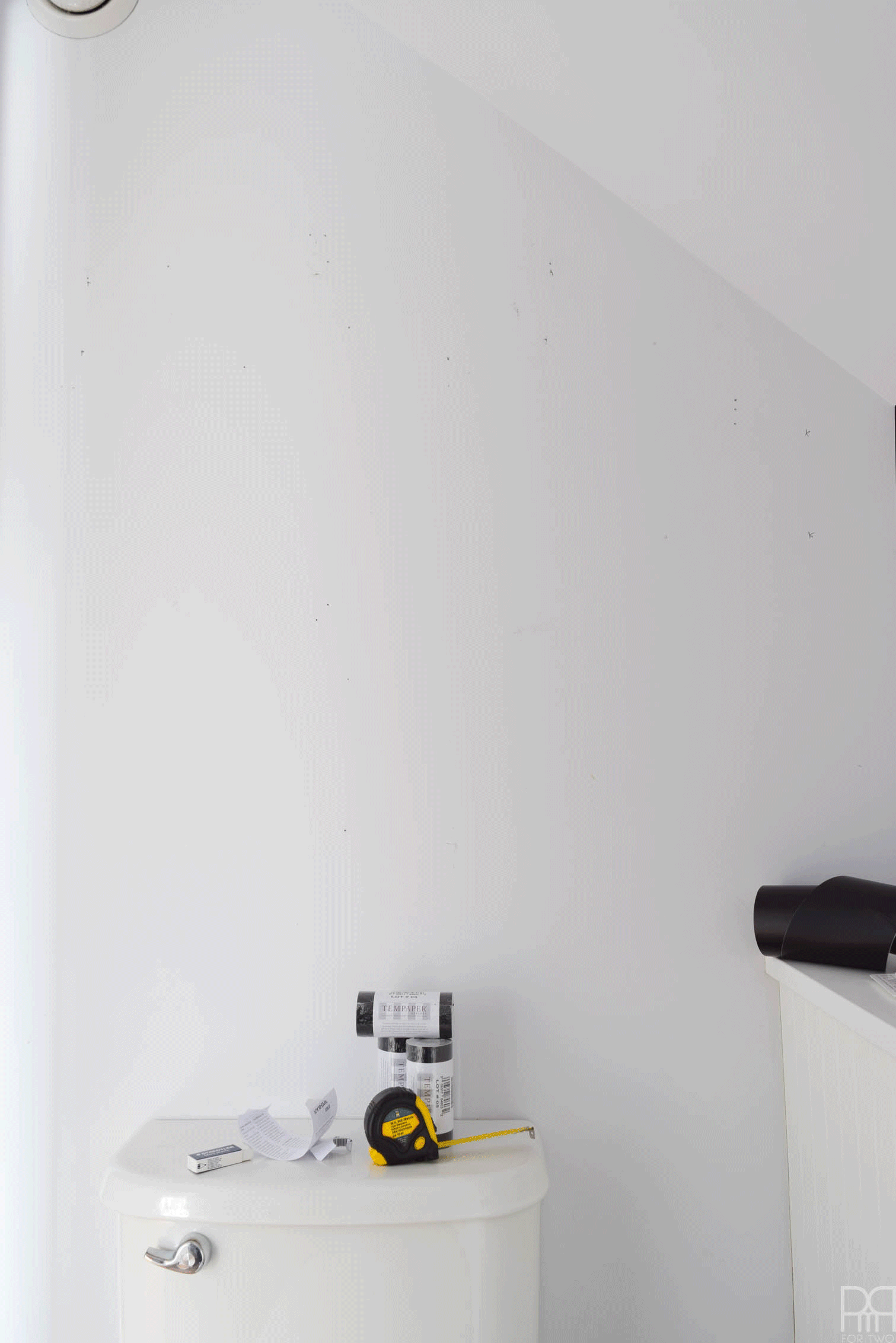 You'll notice that where the stripe falls on this wall, I stopped it at the counter. I need to finish cutting the custom width to run down the side of the cupboard, I just didn't have time to do it today.
Note: When you're working with slanted ceilings like this, it can be a bit much to line-up the top of the strip with the slant and keep things straight – trust – so I gave myself permission to make it easy, and finish up the top with more precision, without the weight of the roll dragging the stripe in a different direction.
I then repeated the process on 2 of the other walls in the space. You'll remember that I have a renter friendly tiled wall behind the sink // here // so that one is staying in place, I'm just adding stripes.
Thankfully all of my outlets lined-up with the edge of rolls, so it was as simple as taking the covers off, and putting them back on.
Because when you're eye-balling the length of some strips, you've bound to end up with a little bit of extra, I then used a crafting blade to cut away the excess.
I can't really show you what it all looks like without giving away a large part of the reveal, so instead I've got a quick peek at the scene I illustrated in my mood board for week 1 // here //. And if nothing looks straight, it's because everything is off in this bathroom. I'll have it all tightened up for the reveal at the end of the month though. All in all, applying a black and white stripe removable wallpaper was so easy! I highly recommend.
Make sure you catch-up with all the other participants by clicking through! I'm excited to see what they've gotten up to.
Jeweled Interiors // Jeweled Interiors 2 // Street Flea Style // Monica Wants It // Domicile 37 // Maggie Overby Studios // Tessie Fay // A Designer At Home // A Pinterest Addict // Mary Meyers Interiors // My Eclectic Nest // This Is Our Bliss // Southern State of Mind // PMQ for two