I always feel a little bit of a hostess hangover once the energy and magic of the holiday season winds down. It can be weird going from a million social calls a day, down to none (especially once the snow sets in). To combat my winter blues, I'm dedicated to hosting more this winter, and it starts with a winter brunch tablescape!
Check out my Glam Apres-Ski Bar, my Popsicle Ski Garland, and my Spicy Hot Chocolate.
Using breakfast staples like pancakes, cinnamon buns, coffee — and a little bit of leftover Christmas decor — I've put together a winter wonderland worthy of a snow covered sleigh ride. Won't you join me?
*Jackson Morgan sponsored this post, but all thoughts are my own. Thank you for supporting the brands that make PMQ for two possible.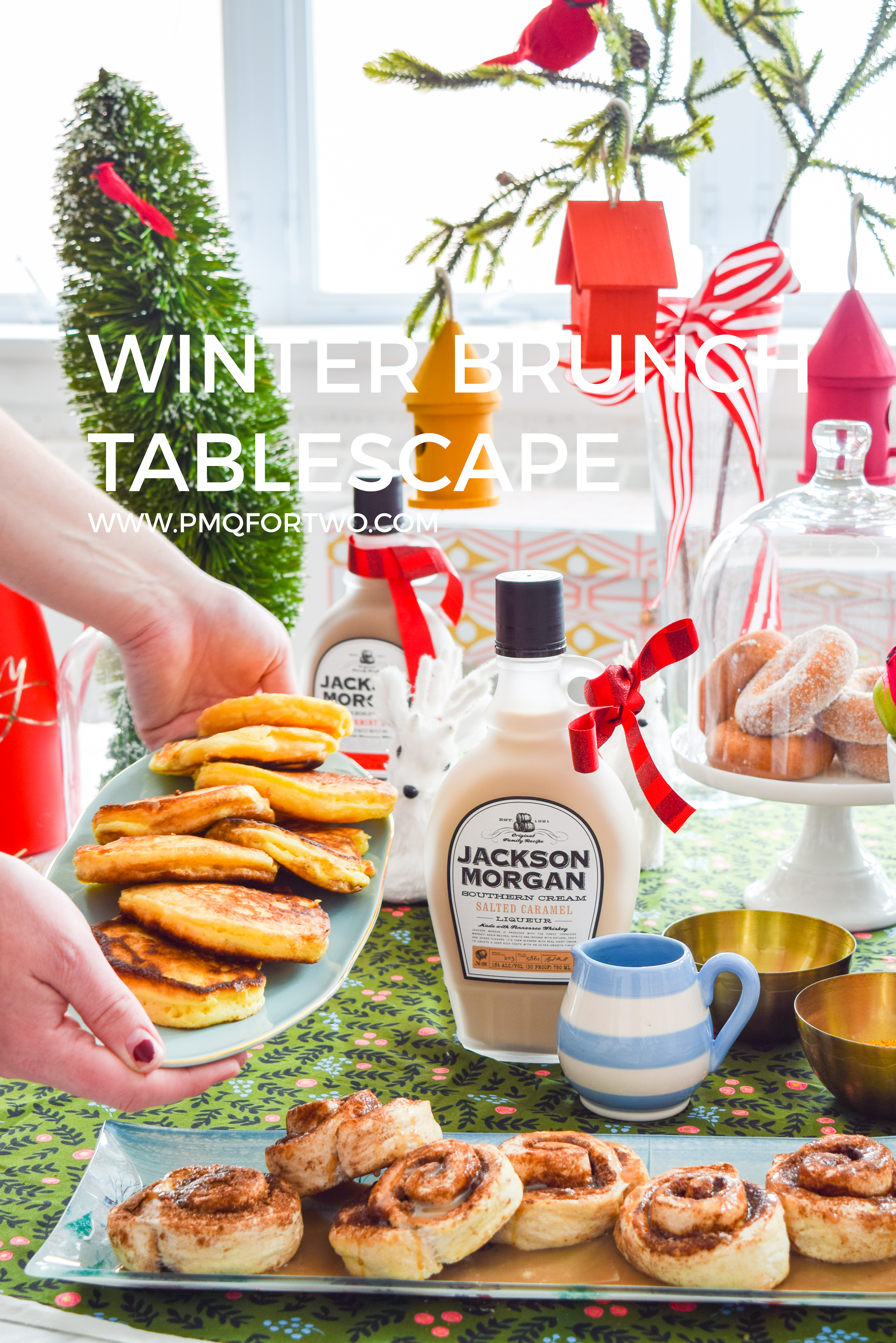 Grab the tutorial for those knit cozy cups in my DIY Hot Cocoa Bar.
Ok so, a central point of this winter brunch tablescape, is the fact that I've themed it with birds! Winter birds are the prettiest, especially since their plumage contrasts beautifully with the snow and bare trees.
As such, I added a few branches and some of bottle brush trees to the table, with little red cardinals. All we need now is gently falling snow.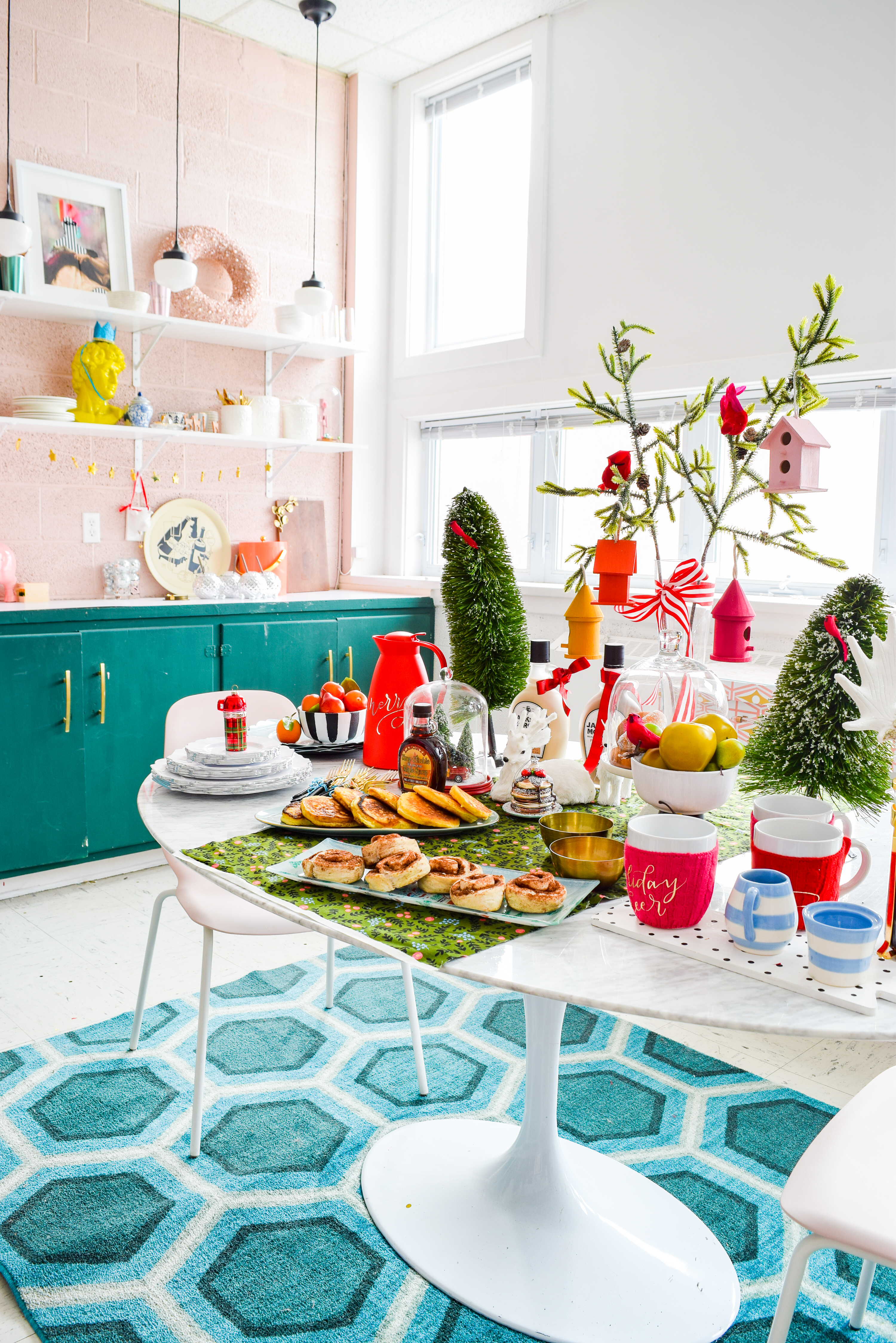 While I was it, I added some glittery winter creatures like a moose and some deer. You'd reasonably come across those on a winter walk, so I figured they should make it onto my table as well.
Thankfully, because it's a brunch, I didn't have to set place settings. I stacked everything at either end of the table, wrapped the cutlery nicely. Now, as the procession line works down the table, no one needs to pause too long and everyone can get their Jackson Morgan Salted Caramel covered cinnamon rolls.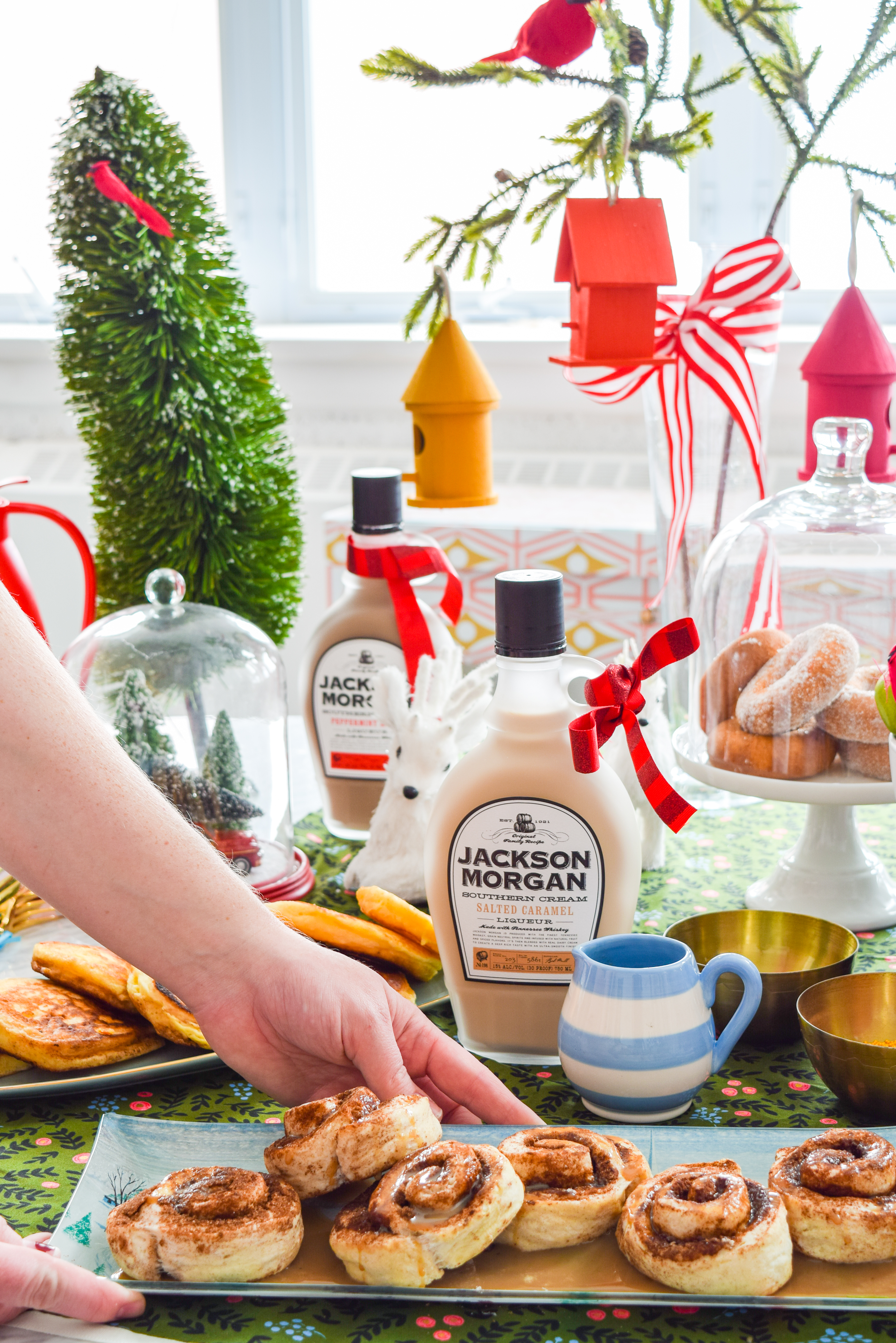 I reduced half a cup on the stove, over medium heat. I didn't want it to be too syrupy, but this consistency poured beautifully, and tasted AMAZING with the freshly baked cinnamon rolls.
You can do the same with any of their flavours, like I did for the toasted marshmallow salted caramel coffee.
I swear there is coffee in that cup, I just didn't pour enough! (clearly) I love a good french press in the morning, so my gold Bodum (from Homesense) is perfect for serving quality roasts.
The red carafe at the end of the table is for the bigger batch brew, and it does the trick one the french press runs out. While you're at it, add a shot of Jackson Morgan's Salted Caramel Whiskey Cream to your coffee. You won't regret it *trust*
Can't forget the maple syrup! Canadian liquid gold at its best.
My pancakes were also on display, and those fluffy circles of goodness are really hard for me to pass-up. I always indulge in a few over the holiday season, and these were just what I needed. Topped off with Canadian Maple Syrup of course.