I've got very few spaces left to show you. That being said, there are still quite a few awkward nooks and crannies, stairwells and vignettes that have yet to be decided or attain their final form. The hallway on the main floor is exactly that – a too narrow hallway that leads from the kitchen // here // to the backyard, the stairs to the second floor and the main floor bathroom // here //. I haven't really done much with it because I was unsure if I wanted to paint, leave it bare, go for a peel and stick wallpaper, or just put one statement piece on each wall.
The theme of this post really should be "watch the pets creep into 7/10 photos as I try to do a photoshoot in my home." This isn't a highway to hell, it's a hallway in my zoo.
Over the past year I've slowly created gallery walls on each wall that have slowly crept towards other spaces. The second they enter  another space I am compelled to define them and their purpose. Because the main floor hallway touches every single space except for the dining room, it had to pull elements from each of them in order to feel like it belonged.
One one wall I've got four pieces in perfect balance with each other; from the frames to their size, this wall feels right, like running your hand over velvet – it's just supposed to work. Here, Boots and Toby are showing-off their art collections
The following product links contain affiliate links. Thank you for supporting the brands that make PMQ for two possible. For my full policies click // here //
To start, we've got a drawn portrait of Trinity College where I went to University. I miss the spires, the history, the Angel's Roost (where I lived in first year) and the quiet beauty of St.Hilda's. Below it we've got a piece from Minted // here // which I had originally acquired for the Dining Room last summer. It has moved around a few times by now and has settled in the hallway where it helps fill a large beige wall with infinitely more interesting things than stains from Bruce's toys as he flings them against the wall. A small Ruby Folk print from Rifle Paper Co. // here //  and a map of where DH is from, courtesy of iLikeMaps // here //, balance the larger frames.
On the other wall we've got a larger collection of pieces and mixed frames. This wall used to be brown frames exclusively, but that was boring as sh*t and didn't really let the art stand on its own. I've since mixes frames and prints around to get this more interesting collection of colours and mediums.
You'll notice Dr.Tobias Funke in most of these photos. See, the cats' food bowls are on the steps going upstairs so they often materialize when they head activity in that vicinity or when it's near dinner time. Since it was nowhere near time for food, Toby just decided to sit in the stairs and yowl at me.
Have you noticed the horrendous tread on the stairs? Sadly that is one thing beyond my control as a tennant in a PMQ – try as I might, I cannot change the flooring. The tread is not only uncomfortable, but ugly, and traps every spec of dirt you could ever imagine. Help!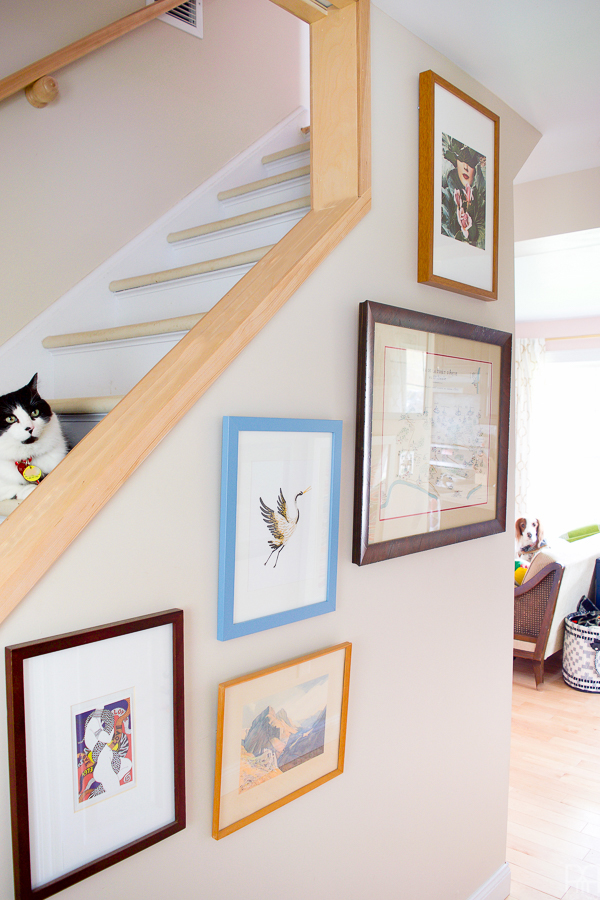 I also kinda love that no matter where I look there is a pet. Here you've got Toby and Bruce both looking at me, completely unaware of the existence of the other. There's something to be said for blissful ignorance is there not? These two normally fight like, well, cats and dogs, so a moment of silence is always nice.
The large map was a wedding gift, the Crane print was purchased from Rifle Paper Co. // here // another space but has found new life in my hallway, the mountain scene is a watercolour I thrifted from Value Village, and the postcard is a YSL print from 1973. It all works together somehow, and I love it.
Before you ask, no, that is not a real Eames coat rack.
It's the amazon version available // here
//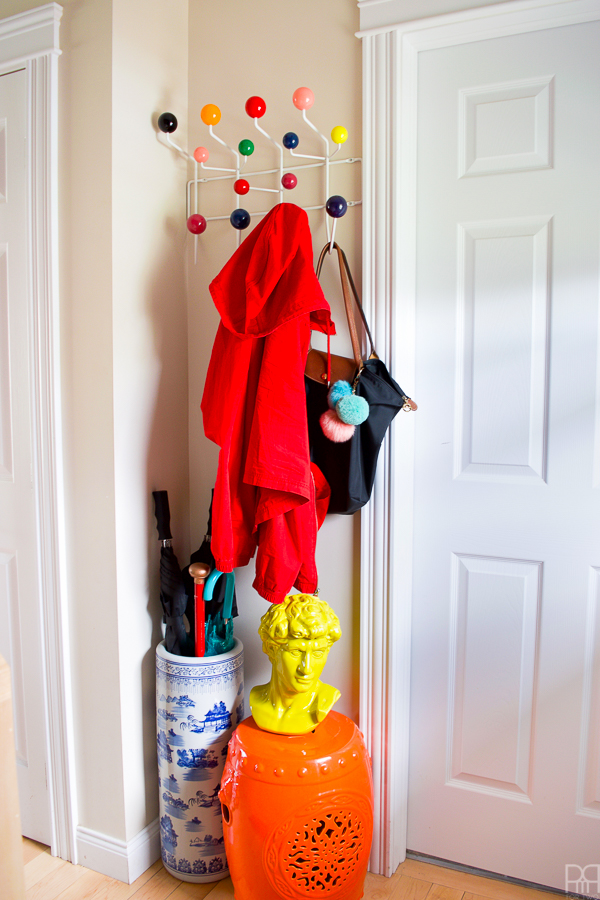 This little corner used to be where Bruce's food tray was; it was a shoe tray with his water dish and food dispenser. He made such a mess of this little space that I was continually mopping up water from his jowels as it flew all over the place and bits of kibble that he or the cats had flung around (don't ask). While doing work outside for the One Room Challenge // here //, we decided it was best if we found a new place for his food. In it's place, we have moved the umbrella stand and the orange garden stool. Now, if we need one more side table or an extra seat outside we don't have to look too far! My yellow / green man has followed us to this very location as well. Check him out in my floral crown DIY // here //
As you begin to climb the stairs towards the second floor you'll see a few well chosen pieces that occupy the last wall on the main floor. One is a wallpaper sample from Spoonflower // here //, another is a Rifle Paper Co print //here // and the third is a piece of art from my local HomeSense that really spoke to me. Call me crazy, just don't call me late to dinner.
The tassels and camel swag are from a fun shop I happened across on Easy called Woman Shop World // here // & // here // & // here //
I told you, a pet is never far, and Bruce is usually underfoot.
Here he is, proudly surveying the yard which will be revealed tomorrow! In the meantime, catch-up on the journey:
Week 1 – introduction
Week 2 – front step
Week 3 – back step
Week 4 – dining area
 Week 5 – lounge area