Now that the cat's outta the bag and you guys have seen the PMQs we got to chose from, and the PMQ we chose I can start sharing my inspiration boards for our new home. I mentioned in my previous post that we'll be downsizing by at least two spaces in our next home, so it's giving me a chance to re-jig some things, play around with floor plans and room utilization, all the while exploring my creative side.
Instead of having a TV room and a sitting room, we're merging them into the good ol' fashioned family room! Ta da!
Now I hope this doesn't look like every other image board and family room out there, but it definitely assembles all the elements I want, while remaining stylish and very "in."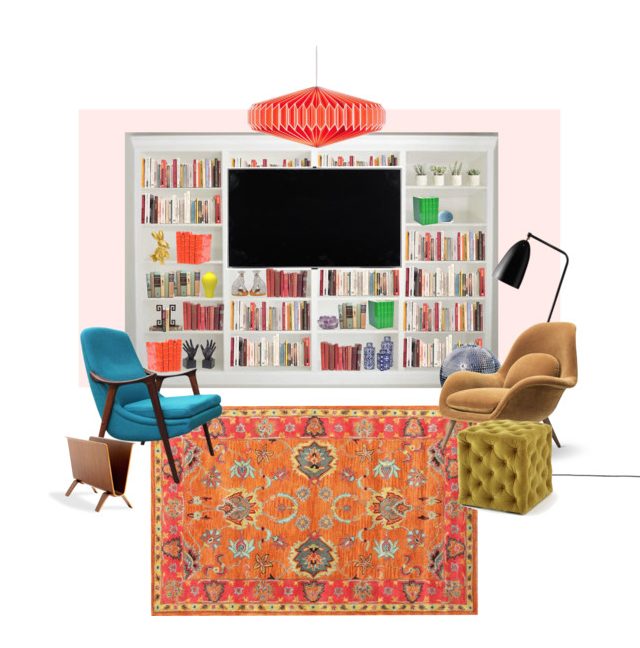 We're planning on finally doing the IKEA built-ins: we'll have room along the big wall in the family room, and in white they will serve well to anchor the darkness from the kitchen.
We ordered the BILLY collection from IKEA the other day, and it should be delivered to our local "pick-up location" just in time for the move. We went for a mix of high and low shelves to give us some utility and space for the TV on the wall.
Unlike in my image board, I won't be able to hang out TV on the shelves themselves. MDF isn't strong enough and I'd be worried about the TV crashing to the floor in the middle of the night.
The curtains in our existing sitting and dining room will go really well along the big wall of windows. I'm looking at some cool new curtain rods that will warm-up the space. Most of our existing rods are black, which won't be useful in any way if we want to lighten things up.
Because the family room will be the first room people see when they walk through the door, I'll be doing a long entryway table behind the touch, which will help create an extra "corridor" ushering you into the house.
The family room is also offering us the unique chance to get an absolutely massive rug. The room is 185″ x 138″ so that leaves a lot of room to work with for furniture and carpets. I've spent quite a few hours looking on Rugs USA and have chosen one! If you follow me on Snapchat you'll have seen the entire selection process, and if you follow me on instagram you'll have seen my selection. I encourage you to go check it out!
I'll be doing an in-depth post about the selection process and what to look for in rugs (for those interested in the subject matter).
One of the things I'm very excited about in this new space is that our sitting room furniture will now be our main set. This lovely set will get some new life breathed into it, and I'll be trying my hand at recovering the green chair. I'm thinking big black and creme buffalo plaid (see below) What do you think?
The last bit that I'm excited to do in our next room is play with "shelfies," that is to say accessorizing and styling our shelves for practical yet stylish purposes. I dearly love our books, but the subject matter is intense (War, COIN, StratCom, Military biographies etc), and all the book bindings are dark colours. Since the library will be moving into DH's man cave, I figured I would use our family room shelves for more glamorous purposes.
All in all, I think this space is going to be crazy colourful and the truest representation of us as a family unit to date. Thanks for dealing with the image boards, it's the best I can do at the moment.
My creative cogs are turning and in action behind the scenes as I order items, sell others, and generally finagle a move! Our house also looks like a disaster zone; nothing is on the walls, there are big empty spaces, dog toys everywhere. You get the picture.
Send me a snap of your home pre-move!