Hello friends!  I am now done tinkering in the bathroom… well, I'm still going to be changing the light fixture…. But let's start there.
If you're joining me from the Wayfair House Warming party, welcome! My name is Ariel and I'm the voice behind PMQ for Two. I aim to bring accessible & affordable home decor and DIYs to military families and those living in base housing. You can read more about me here // find out what a PMQ is here // and visit my project gallery here.
Our current PMQ has two bathrooms! We are so LUCKY! Most Qs only have one and it's usually pretty small.
For the main floor bathroom I wanted to create a colourful yet mature retreat. Mainly colourful. You'll have seen in my post about picking paint colours // here // that we chose to paint the ceiling in the bathroom but leave the walls white. It helps draw the eye upward – giving the illusion of height – while allowing me to chose art and a piece or two that will speak for themselves for the walls! For my post about how to paint a detail like that click // here //
For this space I knew I wanted to incorporate a Hayley Mitchell Print. I fell in love with her work this spring when I spotted an image of hers in an Instagram post. I know right?! Some internet sleuthing led me to her etsy shop and I had to order the print that shares a name with me – The Ariella.
I've kept the little trays from our last bathroom, but split them up between the upstairs and main floor bathroom. This one is holding my little bust, some guest-sized toiletries, and a jewelry holder my brother Anton gave me for Christmas. I added the Rifle Paper Co. postcard because I needed some more green in this space, and the Octopus plate because why not?
The Birds! I love those, and I love that they're facing different directions. The top one in pink is from IKEA (purchased two summers ago) and  it used to live in our TV room gallery wall, while the stork is another Rifle Paper Co. print, snagged on sale at Indigo. The red cockateel? was found at Value Village in Kingston earlier this summer. Do you like my flock?
The counter top is pretty small so we've got all our personal items like toothbrush, creams etc. upstairs. I snagged the blue and white stripped bathroom accessories set at HomeSense, but you can find similar ones on Wayfair in any shade, shape, material you want!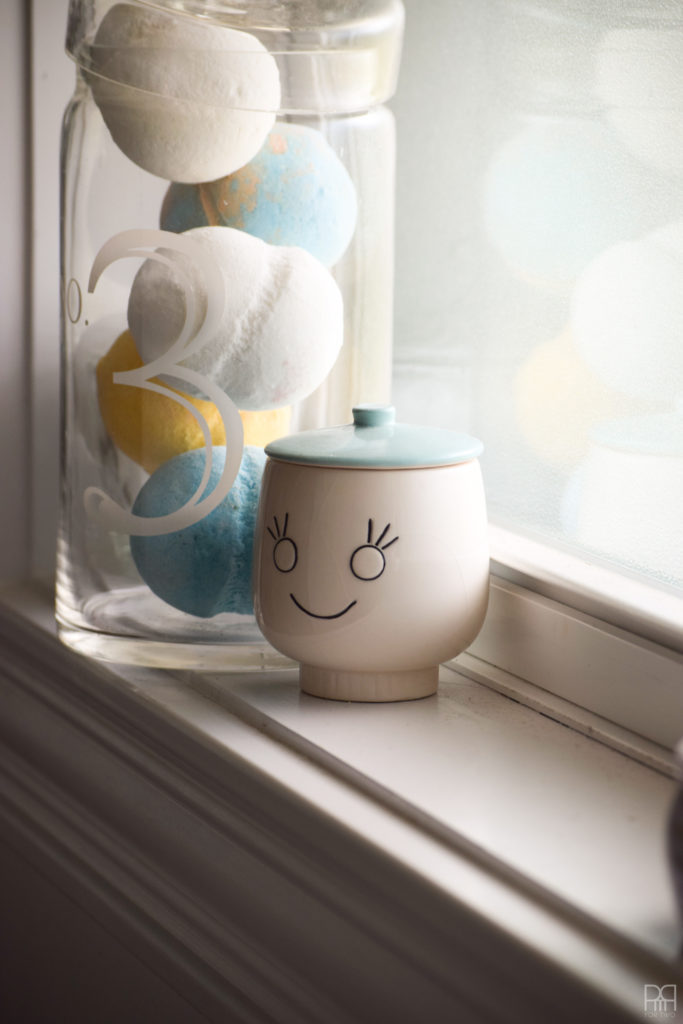 The window ledge is not quite wide enough to do much with, but it's good enough for me! I can fit some jars for our bath bombs and lotions. We fell in love with the hand-made bath bombs from the Urban Almanac in downtown Fredericton (6 for $20), so I've usually got a few on the window sill.
I have wanted a garden stool for about 3 years now. Who would have thought it took moving to NB to get it! I snagged it on Wayfair // here // I LOVE the traditional stools in white with blue chinoiserie, but I wasn't sure how much it would transition from space to space. Orange is equally bold, but at least it's a solid, so I can let surrounding decor speak for itself.
The DIY Bathroom Sign can be found // here //. It is so stinking cute! PLUS, the colours match the space. How about that?!
The shower curtain is from Ikea. They currently have this print on like everything, and after selling our double panel set-up when we left our last posting, I knew I wanted a switch-up and this print does just that.
I'm leaving the photo below in for two reasons a) it's crooked. I mean, at this point I should be taking straight photos right? b) peek-a-boo blogger!
You should also check-out these other amazing bathroom spaces from my fellow Canadian Wayfair Bloggers, inspired by this beautiful and coastal bathroom makeover.
Updating an old bathroom vanity – Pink Little Notebook
Master Bathroom Tour – Amidst The Chaos
How to disguise an ugly bathroom countertop – DIY Passion <– super useful for those of us in PMQs
How to transform a vintage buffet into a DIY bathroom vanity – Making It In The Mountains
How to paint bathroom cabinets – Stephanie White