Painted tabletop flower planters are a simple and colourful way to bring a part of the garden to your table, while still being cute as all heck and discreet if need be.
*originally published May 1 2017
*DecoArt sponsored this post, but all thoughts are my own. Thank you for supporting the brands that make PMQ for two possible.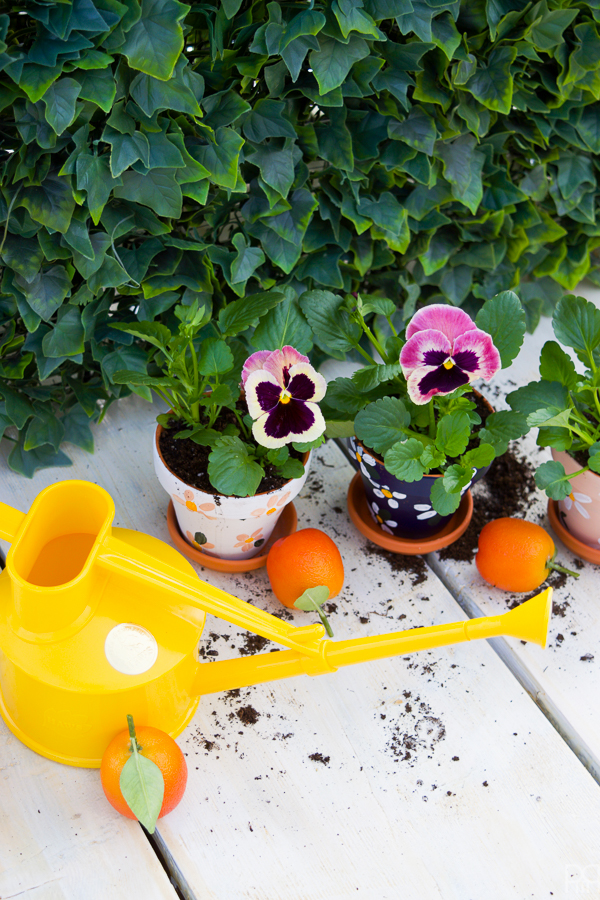 You know that I'm all about the outdoors these days what with my One Room Challenge makeover of all our outdoor spaces // here //, but last Friday I officially declared the patio as open! // here // Therefore it should come as no surprise to you that I am officially setting my sights on outdoor and summery projects.
To kick it off I'm sharing these adorable little painted tabletop flower planters. I've painted them to match the Kate Spade runner and napkins that I've been using all spring, because I want to pair them together all summer as my go-to set of table linens for our giant harvest table. I love the big lose daisies and the simple colours. Normally when I use paint it's a little more complicated // here // & // here // but this one is real simple, a great way for anyone out there to jump on in with.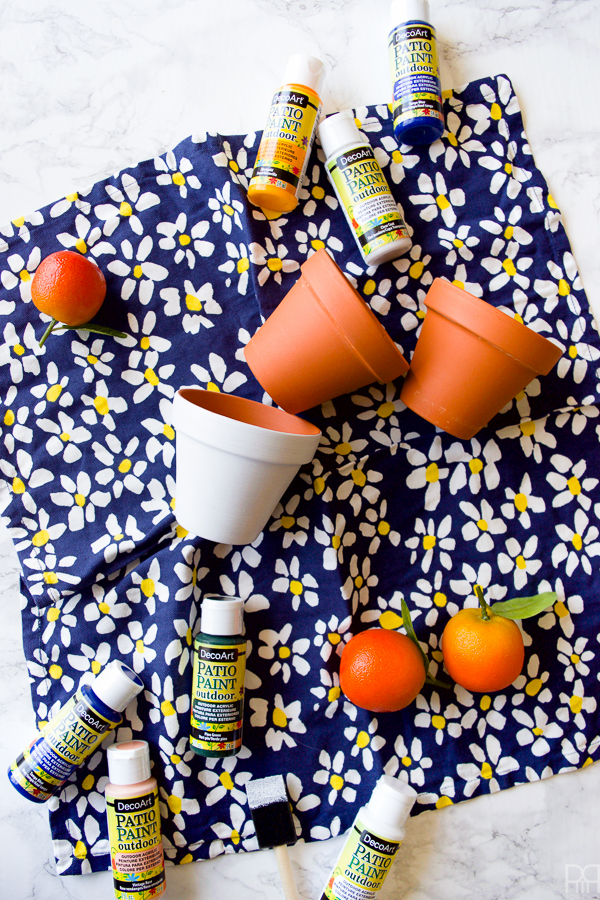 The following product links contain affiliate links. Thank you for supporting the brands that make PMQ for two possible. For my full policies click // here //
Materials
Step 1: Using a foam brush, prime your pots with a base colour. In this case I chose to have 3 different bases (Cloud White, Tago Blue & Vintage Rose), but you could also just pick one or two colours to keep it simple.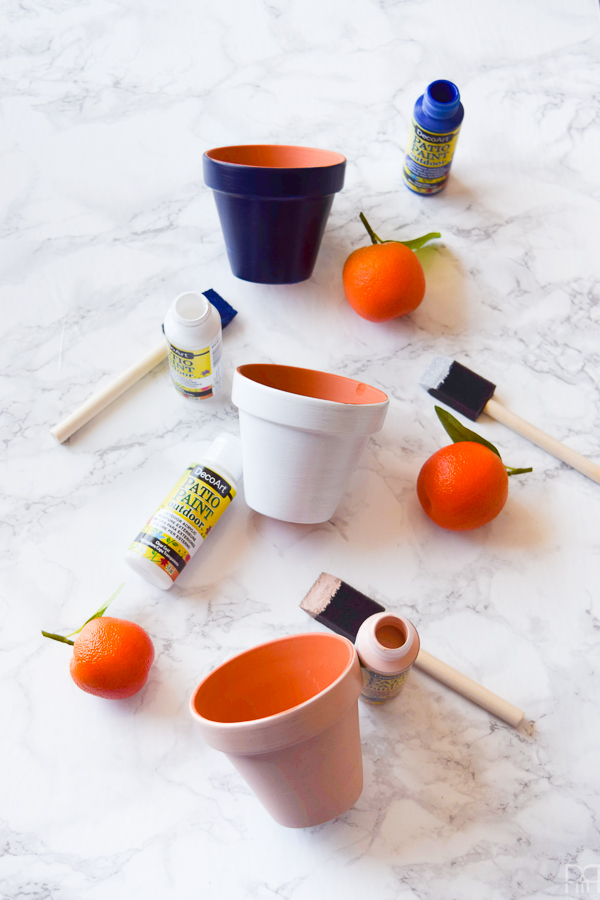 Step 2: Using a wide-isa acrylic paint brush and the Cloud White patio paint, create the petals for your daisy flower. All of mine have 5 petals and are large and flowy. I didn't worry too much about making them life-like as with my other projects, since this pattern is inspired by a very abstract version.
I inverted the white for the Vintage Rose when I painted on the white pot.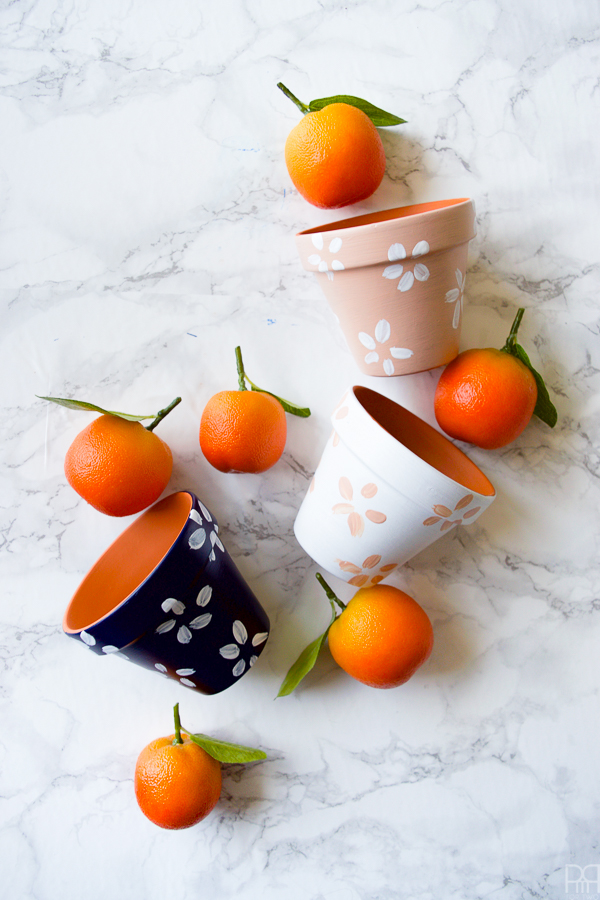 Step 3: Using the Marigold colour I then added a large dollop of paint in the middle of my daisies. This is super simple and doesn't really require much more than that.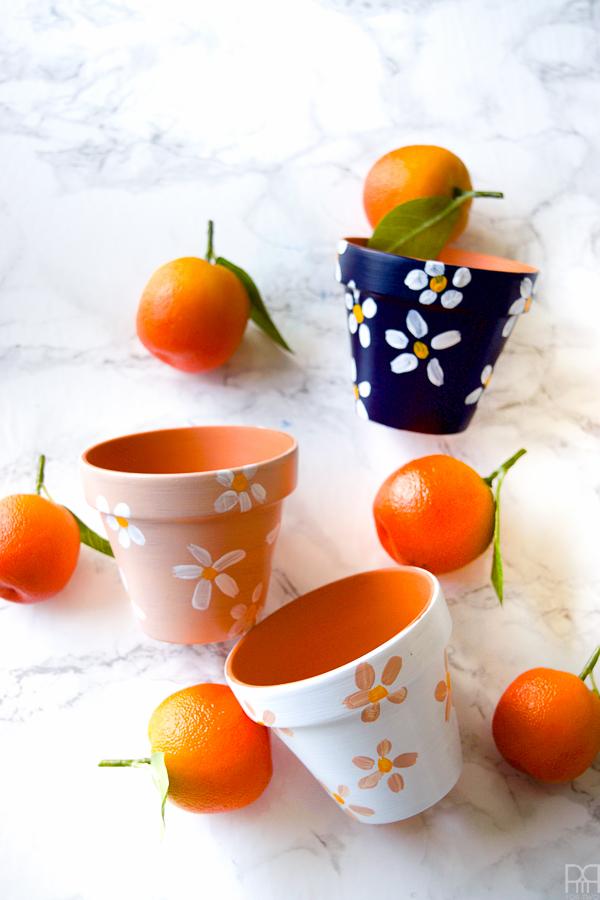 Step 4: I also added a Pine Green leaf on each daisy, but that's an optional step since the original inspiration pattern did not feature it.
What I liked about the DecoArt Patio Paint is that it's self-sealing, so I don't need to bother with sealing it before putting my lovely painted tabletop flower plants to use out back. I think going for a simpler project was the right call for a painted tabletop flower planter since the flowers I had planned were going to be busy enough, and I didn't want them to detract from whatever else I put on the table as part of my tablescapes this summer. Everything should flow in harmony!
While I haven't styled them for a tablescape just yet – wait for the ORC reveal – I did want to plant something in them right away.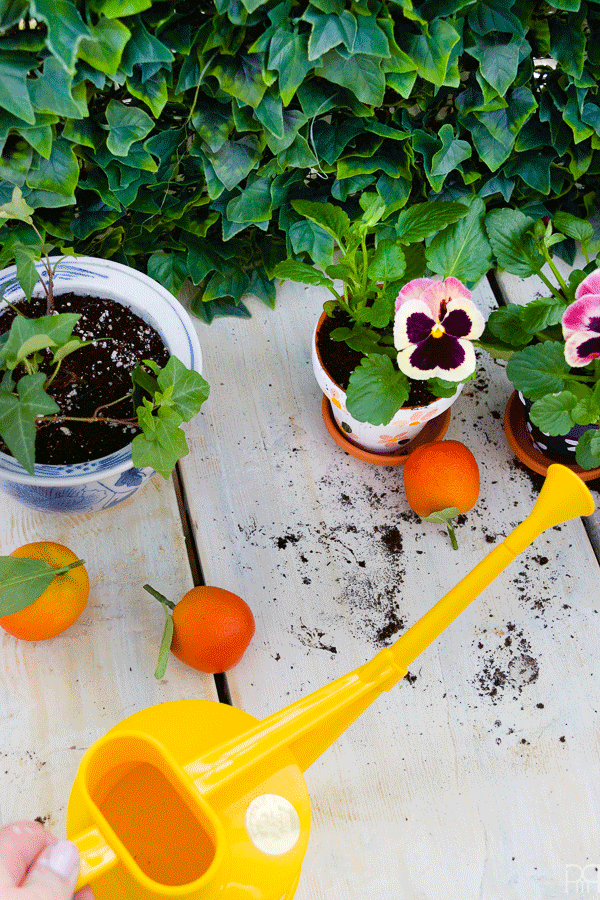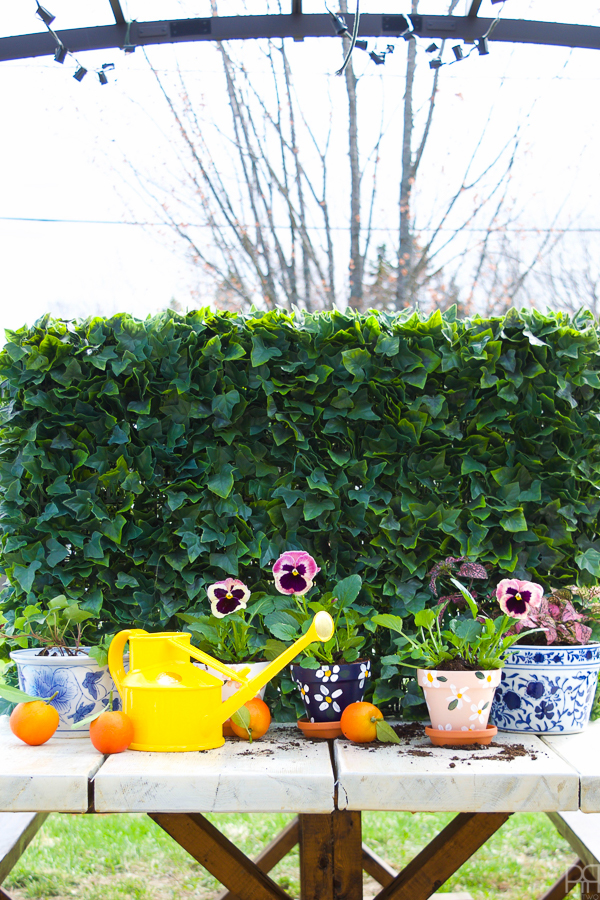 I left the little plates they sit in their natural colour. I wasn't sure if painting them would be the right call and I figured I could always paint them after the fact. I'm glad I listened to my gut! They look cute with the naked plates, and I think it helps ground them.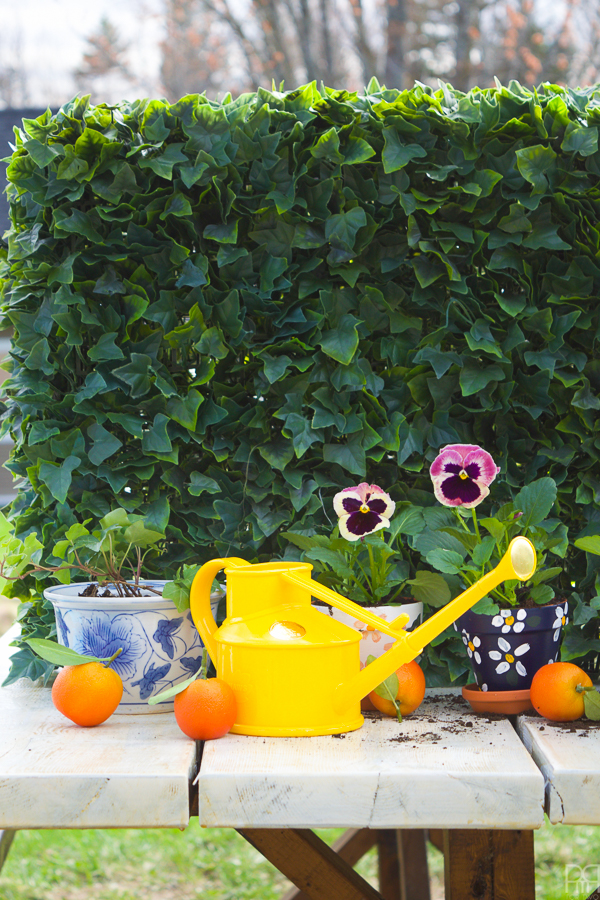 Also, how cute is that little yellow watering can? I snagged it at HomeSense as part of my One Room Challenge shopping and have been enjoying the watering process because of it. We have so so so many plants on the go right now, and keeping the watering amounts and schedule straight has been a bit crazy. Now that they're all outside I can count on all the rain to keep them watered 😉
Which colours would you paint your planters?