Week 3 of the One Room Challenge hosted by Linda of Calling it Home // here // is here! Boy oh boy has it been a busy few days on our end. Before I launch into all that, make sure you go check out the official participants' updates // here // and of course, circle back to the link-up to see the other linking participants' updates // here //.
This week we're talking about the back door and step area. Much like last week I've got things in place and plants where they should be, but nothing looks complete because a) the weather is still too cold b) the grass is only starting to grow c) we still have so much to do in the backyard before it all feels welcoming and looks good.
*HomeSense sponsored this post, but all thoughts are my own.  Thank you for supporting the brands that make PMQ for two possible.
Catch-up on the journey for the Spring 2017 One Room Challenge – The Great Outdoors
// Week 3 //
Week 6
I won't let our To-Do lis get me down though! Remember how last week I showed you what the front door and step look like? I also went over my guide to buying planters and outdoor decor from HomeSense. My favourite piece of advice there was to buy things in pairs, and consider everything wholistically, which I believe I have done here. You'll see a lot of the same colours and design elements from the front, just on the back!
Keep in mind that things will also change between now and Week 6, so don't hold me too drastically to which planter goes where, but I do hope you'll take inspiration from my colour and accessory choices and hit-up your very own HomeSense. You can find the closest one // here // and don't forget to share your finds with us on Instagram using the #MyHomeSense hashtag.
You can see what it looked like before we got started below. As you can see, it wasn't much to write home about. We were / are in the throws of spring cleaning so there are brooms and shovels and coffee cups a little bit of everywhere. Bruce isn't in the window this time because he's outside following DH around.
That being said, a quick push of the broom and some plants, and voila! Presto, bang – style! You'll notice in the GIF below that a few things move around while I'm trying to find the right arrangement and that's totally normal.
I couldn't figure out where to put those lanterns! I know I'll appreciate the heck out of them once we're actually entertaining outdoors, so I want to make sure they have their own little spot. They were 29.99$ and 24.99$ (compared to over 40$ each elsewhere) so I was glad to snag them at this price.
Since we're not done with the cosmetic changes on either side of this stoop, I'm keeping these photos nice and cropped. No need for you to see the pit where the BBQ is going, or the giant pile or recycling currently sitting next to our AC. No need whatsoever!
As such, prepare for some close-ups.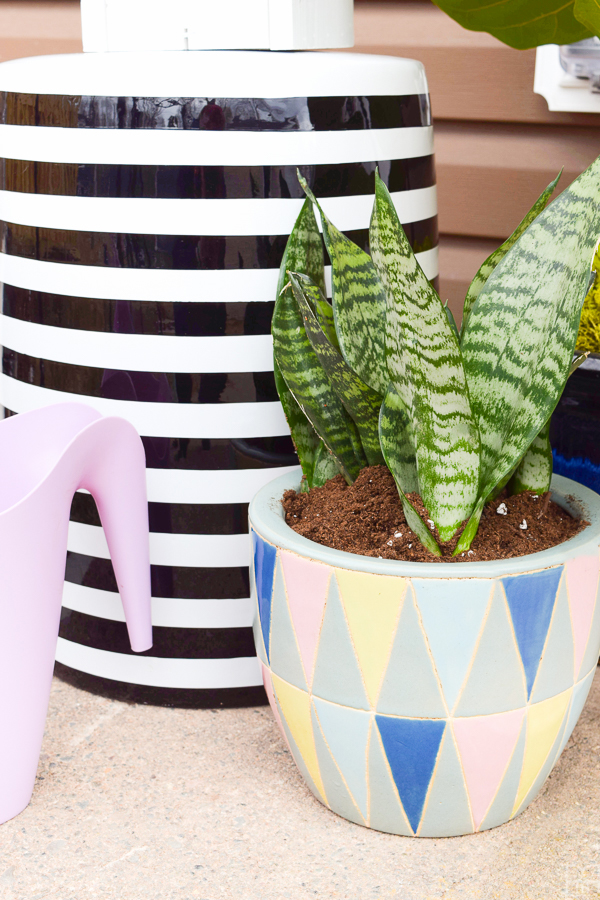 I've actually got a much bigger planter for that fiddle fig, I just haven't replanted it yet. That will also happen this weekend!
I wanted a spot to sit and take my shoes off or put them on when going in/out of the house. That fun graphic garden stool will do just that once the birdhouse is hung. The Snake plant may actually get swapped around with the Crotton that is supposed to sit out front. They prefer wildly different amounts of sunlight and since the back gets the most I may just have to do a switcharoo.
This little arrangement is my favourite. I snagged the bright yellow planter at HomeSense on one of my first ORC shopping trips and then had to re-think so much of my decor because I absolutely wanted that toxic yellow planter. The plant I've chosen is hardy and can sit outside overnight despite the frost, so I'm glad to have one less plant to move in and out until the weather warms up. Some are currently hibernating in my office and others are by the front door in front of the big windows.
I love the contract between it and the smaller planter because the colours are also complimentary, so as they grow into their own this summer everything will look like the 100 emoji.

In the summer I tend to keep towels and wraps  accessible for myself and our guests. I usually toss them in a giant rubbermaid container but that's not chic. I'm trying-out a big ole' basket that can be brought in and out if need be & weather permitting. The jute is hardy, and the stunning ikat towel is from this season's IKEA collection. Dreams come true folks!
What's left to do on the back porch before the final reveal?
Hand the bird house.
Power wash the steps.
Kill the grass growing between the riser and the walkway.
Remove the gunk on the siding
Wash the back door
Add a privacy screen round the AC unit
That's all for this week! Next week's update will be 10x more dramatic since we'll have built something! So stay tuned for that one. In the meantime, tell me what you think! Do you like my choice of planters and plants? what about the colours?