Week 2 of the One Room Challenge // here // hosted by Linda of Calling it Home is here! I hope you'll take the time to check-in with the official participants // here //  and then circle back tomorrow to see what everyone on the link-up is about // here //. I mentioned in my week 1 intro // here // that I would be working on essentially one space a week until the reveal, and only do a partial reveal each-week. So that's what this week is! We're talking about the front door and step. 
If you're joining me from the link-up – Welcome! My name is Ariel and I create bold, bright, colourful & eclectic spaces and DIY. You can read more about me // here // and visit my project gallery // here //.
I'm going to start this week's post with a disclaimer – The pics from this week aren't as dramatic as they could be, but that's for good reason! I'm saving the best for the reveal on week 6.
*HomeSense sponsored this post, but all thoughts are my own.  Thank you for supporting the brands that make PMQ for two possible.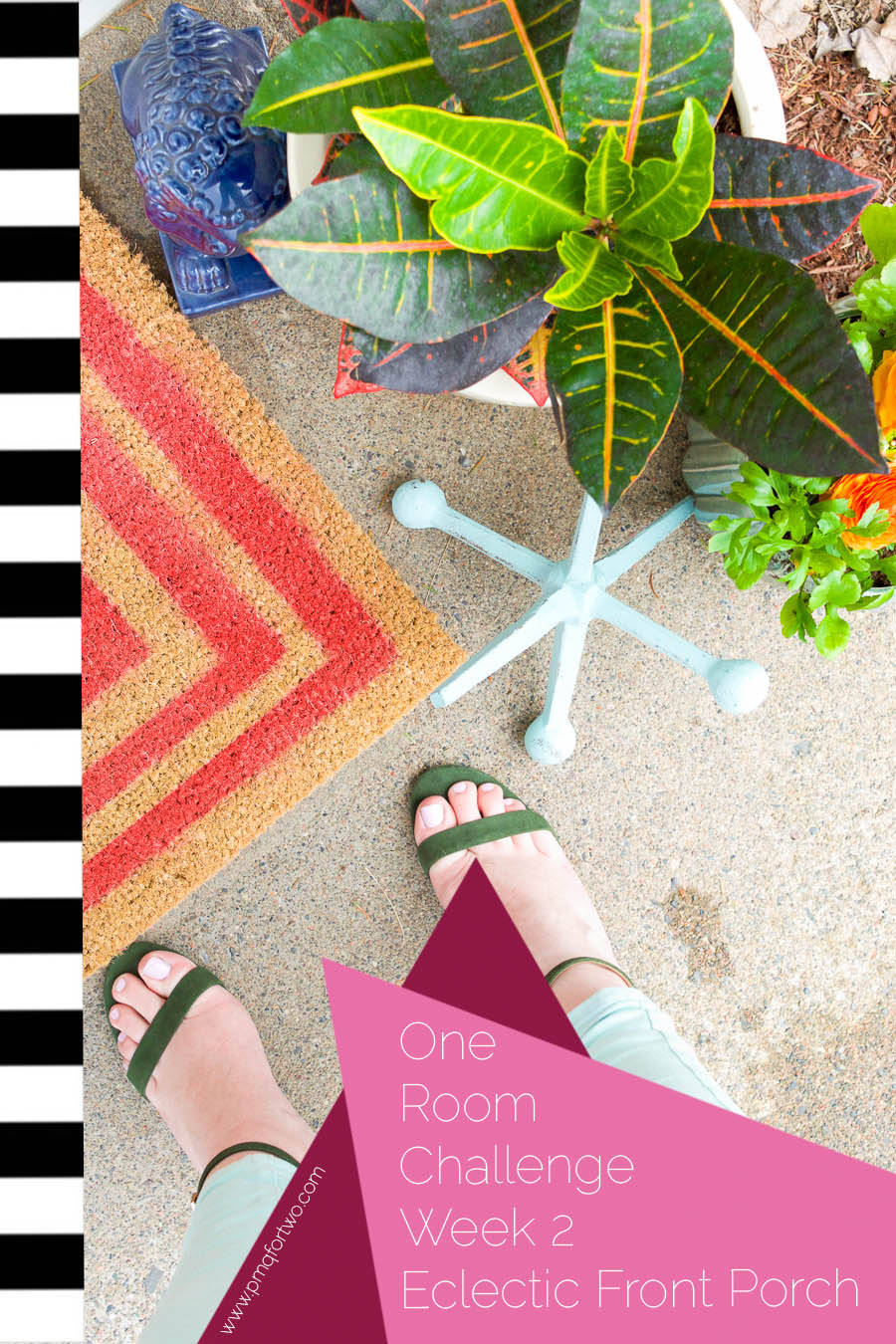 Catch-up on the journey for the Spring 2017 One Room Challenge – The Great Outdoors
// Week 2 //
Week 6
If you're new to the blog you won't have the foggiest clue what the front of our Q looks like – so here it is. // Those of you who were with me last year will remember it from this post here // Poop brown siding, a generic house number (modified here for privacy), builder-grade everything, and door that I can't paint. It's rough out here guys! Rough!
How are you supposed to tell my Q apart from the others on our street?! You're not. That's the whole point. Unless of course you're looking for Bruce – who will likely see you and alert me to that fact – so really it's a crapshoot. *poop brown siding pun intended*
I'm working with HomeSense as my main sponsor throughout the One Room Challenge, so I've spent the past week or two shopping my local store for the best planters and ornaments. Their selection has been phenomenal this year, and I am so glad to be able to pick from such lovely pieces. They had a full range of options for blue, yellow, green, pink, red, white, silver and brass – and that's only in my little store! I was looking for particular tones, and wanted there to be cohesion between the front and back steps, so I bought a lot of things in pairs to facilitate that.   I think the total for my beautiful front porch planters was $80 – not bad considering our local nursery charges about 50$ for a medium sized one. While you're in store, make sure you tag me in any photos or stories about your spring shopping adventures!
Although I had slightly different colours on my mood board for the space, the Homesense selection in-store, and my flower + plant pairings took me in this direction! It's a fun and eclectic colour palette that stands-out against the brown siding.
I'm waiting on my mailbox and house numbers to arrive! I think you guys will dig my choice of mailbox and how we'll change the numbers, as they'll contribute a lot stylistically to the curb appeal without wreaking havoc with the items I'm not allowed to change. 
Because of the magic that is HomeSense, you never really know what you'll find once you're in-store, so I've written-up my tips for shopping for planters & pottery at your local store.
Tips
Buy planters in pairs, but in different sizes. It will avoid the matchy-matchy look of having the same planter out front and out back.
Decide your palette beforehand and stick to it. Of course, allow for some variation because the stock isn't set, but if you go with certain colours in mind it will make shopping that much easier.
Look for pieces that have built-in drainage, otherwise be prepared to buy leca pellets to ensure proper drainage.
Don't forget you can leave your purchase in store for up to 7 days. I bought things and left them there for the week, then when I went back to pick them up, I was able to make substitutions based on the new stock in store (there's a truck full of goods every day) and return pieces without having to bring everything home and then back to the store.
Consider pieces that are sturdy enough to withstand the summer outside. HomeSense sells some beautiful glass and finer clay pots, but those are for indoors. If you purchase them for outdoor use, be prepared to bring them in during severe temperature swings.
So once I had my selection home, I headed off to the local nursery to start planning my plants and flowers.
I knew I only wanted a few flowers out front since we won't ever really get to enjoy them beyond when we're walking up to the house from the driveway. I'm opting to put more flowers out back since we'll be able to enjoy those while sitting under the pergola or in our outdoor lounge. I also know that our front step is shaded half the day, so I should pick plants and flowers accordingly (most flowers prefer larger amounts of sunshine to thrive).
The pansies I chose will require full sun, so I'm positioning them on the part of our step that gets the most sun. They also look really smart in the long green planters I bought at HomeSense.
The Ranuculous flowers (orange blooms) also require full sun, but will do just fine on our porch (according to our local nursery).
English Ivy is notorious for loving shade, so setting this guy back a bit against the house, in the tall hair pin planter will not only allow it to thrive, but the height will allow the Ivy to grow in length comfortably.
My variety of Croton is good in medium light (i.e a shaded porch half the day), so it's a perfect choice for the front step.
The fern I chose will also handle shade nicely, and by opting for a smaller one I'm less likely to spend all summer cleaning-up after it.
The heather is a hardy plant and will survive the summer no problem. I have it a big pot since I want it develop a large root system in the hopes of transplanting it later.
The following product links contain affiliate links. Thank you for supporting the brands that make PMQ for two possible. For my full policies click // here //
Like I mentioned above, if you don't chose planters with drainage, you'll have to add leca pellets to insure the roots don't sit in water. This is an easy fix as any nursery can sell you a large bag, or you can order them on Amazon // here
//. I also recommend a sturdy set of garden gloves and digging implements, all available at your local HomeSense for a very good price (8.99$ for a spade and up to 20$ for some sexy garden gloves that go to the elbow).
Your choice of dirt will also have a huge impact on the quality of your blooms and the life of your plants. I opted for some higher-end stuff, because when you're dropping dollar dollar bills on flowers and plants, you want them to last the summer!
I also customized a doormat from The Home Depot because our old one was losing more bristles than was helpful. I used Krylon spraypaint and painters tape to create the outline and got to work. Easiest project this whole ORC!
I think from what you can see, the space will be welcoming, colourful and shine through the summer. Don't worry though, I'm saving the bulk of my pizzaz for the next few weeks. Wait till you see what the back step is going to look like! Don't forget to circle back on the last week to see all the spaces realized to their fullest potential with all the finishing touches.
Who doesn't love a stylish shoe game selfie?! These babies are going to be my heels for the Spring Ball at the school here, so I'm breaking them in with small trips around town.
Who's with me when I say that the brown siding is just awful?! Last year when we were house-hunting we could have chosen a different Q with different siding, but the we would have had a terrible interior. I like to think we made the right choice and that poop brown is temporary. But it's not. It's with us till we move!
I think the colours are well balanced in this area: not only with the planters, but with the greenery and blooms I chose. I'm also picking-up on the colours in the croton and the croton's planter! Hooray!
I'm not your typical lawn ornament gal, so a good luck dragon and bright blue jack are good enough for me out front. I think I'll get a bit more playful with the ornaments out back though. Tune-in for that!
I particularly love how the cobalt blue planter and heather complement each other. Whod'a thought eh?! And can we talk about the ranunculus?! Those blooms are stunning. I can't wait to see them evolve over the summer. I would have snagged some in pink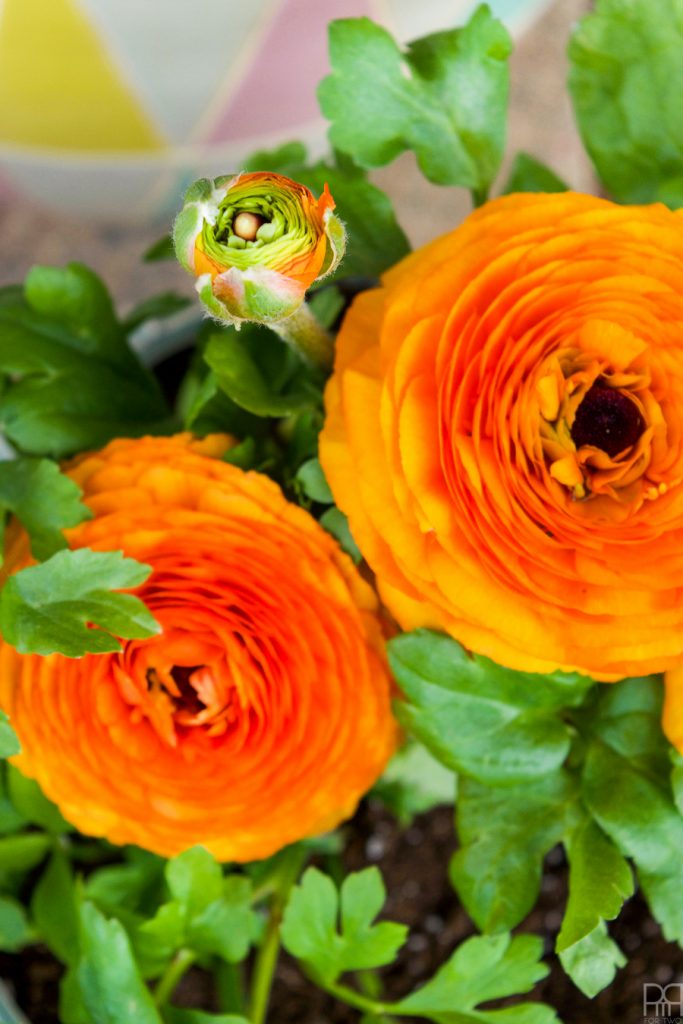 What's left to do in this space before the reveal on week 6?
Change the mailbox for something colourful & funky.
Change the house number!
Sort-out some more plants for the area.
Wash the door and kick plate.
Mulch the bushes on either side of the step and try to coax some life into them!