In case you guys have been hiding under a rock at the bottom of the sea a la Patrick Star, I'm in the middle / home stretch of the Spring One room Challenge – You can catch-up // here // – and I've been working on all of our outdoor spaces. So I'm technically in the process of creating my very own backyard destination already, in fact I'm almost done.
As such, when Wayfair said they wanted hear our advice for making our patio a destination for dinners and drinks all spring and summer long, I jumped at the opportunity! I love hosting, and you'd think that after many events and occasions that I've become somewhat good at it. We always plan for the big stuff, but making sure you have what you need for a casual drink with a friend or an un-expected visit is a bit trickier, especially this early in the season. To quote Bob the Draq queen "Stay ready, that way you ain't got to get ready."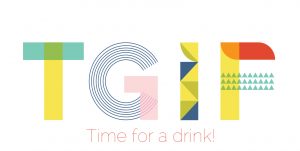 Other drinks in the TGIF Cocktail series:
Maple Whisky Milkshake  // Chocolate & Coffee Icecubes // Spicy Pomegranate Margarita // Cocktail Freezies // Pink Pearl //  London Lemonade // Blackberry Mint Julep //  Peach & Honey Moscow Mule
*Wayfair Canada sponsored this post, but all thoughts are my own.  Thank you for supporting the brands that make PMQ for two possible.
After much head scratching and lots of humming and hawing, I've come up with my list of tips for opening the patio this season! You guys will like this, my list is really short and consists of 2 things:
Have a go-to drink at all times
Depending on where we are in the summer's calendar I've got a hankering for a different drink, and can be anything for a Gin & Tonic, to a London Lemonade (anything to keep those mosquitos at bay) and even a Ceasar.
Speaking of which, my first patio drink this season was a Canadian classic // here // – the Ceasar! I like mine loaded a little differently with a pickled green bean and some bacon.
I've included a quick recipe below for your enjoyment in case you're not familiar with this Canadian cocktail:
1 oz (30 mL) vodka
2 dashes hot sauce * I only added 1 dash
4 dashes Worcestershire sauce *I only add 2 dashes
3 grinds fresh cracked salt and pepper
4 oz (120 mL) Mott's Clamato Cocktail
for rim:
celery salt or Mott's Clamato Rimmer
for garnish:
pickled green bean // here // 
Bacon slice
Step 1: Mix all wet ingredients in a shaker (or each in each glass as you go). I use my vintage shaker because it looks cool, but also because it has drink recipes on the side in case I run out of ideas.
Step 2:  Rim a highball glass with citrus and rimmer. If you've never seen this done, run a lemon wedge around the rim of the glass so that it's coated in citrus. Then up-end the cup on a plate with celery salt and turn it until all sides are coated.
Step 3: Add more ice to the shaker and stir. * you don't want a warm Ceasar – trust me.
Step 4: Load your freshly created drinks onto a tray and head out the door to your seating area!
Back to that list of things to do to make your deck welcoming and inviting this season:
2. Make yourself a quiet little spot to sit in the shade, read a book, and enjoy a drink
I found a darling conversation set locally, but I've had my eye on a few through Wayfair // here // & // here // & // here //.
I'm not usually keen on matching furniture and sets, but for a yard you kinda want everything to work together, and they don't usually sell comfy club chairs on their own, so going with a set is best!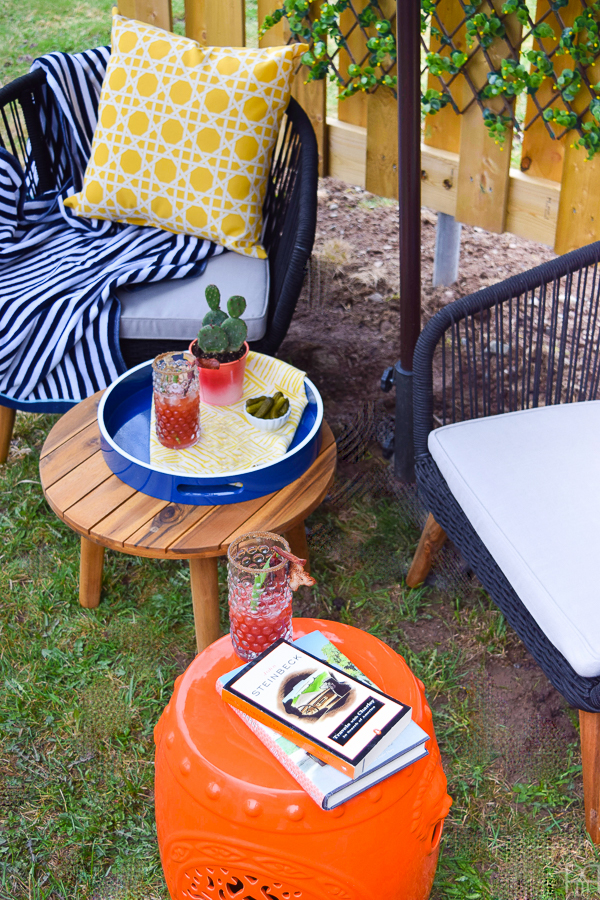 I've moved my trusty orange garden stool outside for the season // here // **They've sold-out of the model I have** . It will be a roving side-table for whoever needs it, wherever! You're not likely to miss it against the grass, and it's high enough that on those hot summer days you won't have to drastically adjust your arm height when it swoops off the chair to graze the rim of the glass and pick it up.
One thing I am very excited to showcase is this expandable privacy screen with faux boxwood and berries // here //. It's all UV resistant (so it won't fade), it's graded for hot summer days, and can be expanded or retracted accordingly. We've added it against the newly installed fence between our yard and our neighbours'.
I have a funny story about the fence though, it was added in January by the housing association… in January.  So of course they left a mess and churned-up our yard in the process, but at least we have a little bit more privacy now. It's also only 16ft long, so it doesn't do much, but hey! We didn't have to do it.
The large umbrella is a treat to ourselves this summer // here //. I am very happy to have a sexy new umbrella for some portable shade. We had an older one that I painted last summer // here // but it didn't last the winter in the garage after it fell to the ground -unbeknownst to us – and froze / unfroze in the water the seeped through the doors all spring. Needless to say, it was caput when we finally extricated it from it's icy hell.
What would you do to open your patio this season? Tell me! I'm still looking for ideas.