As you may or may not know I am an official Wayfair Homemaker! What what! That means I get to partner with them on all kinds of cool projects and campaigns that are bursting with creativity. For my first campaign I'm doing the #DIYMyWay serving tray challenge. This month we were challenged to turn this bamboo serving tray into something amazing. Challenge accepted. I decided to make a breakfast in bed tray!
I've been jonesing for a breakfast in bed tray. Sadly, there aren't a whole bunch of super cute and affordable ones. To make up for this, I've turned the bamboo tray into my own MCM breakfast in bed tray!
I had originally wanted to do something cool with acrylic sheets (which are surprisingly affordable on Amazon), but the shipping was too costly for the amount I needed. I wanted to do something funky, something interesting, and I wanted to paint!
So I painted 12 constellations on the tray!
The following product links contain affiliate links. Thank you for supporting the brands that make PMQ for two possible. For my full policies click // here //
Materials
Step 1: Make sure your tray is clean and dry before you spray paint it.
Step 2: Spray paint at will! It will take two to three coats to ensure even coverage and a good hue.
Remember to spray from about 20cm away and in a sweeping motion to avoid pooling paint and splotches.
Step 3: Stain your furniture feet, spray paint the metal portion, and seal.
When I bought the feet they were untreated wood, so I used some stain we had kicking around the house to cover them up nicely. I then used some gold spray paint to transform the feet from brushed nickel to gold, and then I coated them with a seal to ensure their longevity.
Step 4: Glue the furniture anchors to the bottom of your dry tray. You'll be using a wood/metal epoxy, likely in a double syringe injector that requires mixing on the surface, so make sure you have a stick near by to mix them on the back of the tray.
P.S. I use a website called This to That to help me figure-out what adhesives to use when doing projects.
The drying time on the epoxy I used was about 10 minutes, so I glued them and went off to the gym!
Step 5: Paint your design on the surface of the tray. I used a couple of constellation artistic renderings to inspire me in my choices. I like the more gamine images since they're easier to recreate without looking like a hack-job. I did the same with my Painted Florals on Glassware.
Pinterest is a great place to look for inspiration, but you could also just paint little stars and gold dots, call it a day, and it would still look fabulous! FA- BU-LOUS I tell you!
Step 6: Once your masterpiece is dry – and I mean bone dry – coat the surface, sides, handles, etc. with Mod Podge to seal the tray and prevent damage while using it. You can lightly sand between coats to erase any ridges (like in my pictures), but I honestly don't mind them. If I was working with polyurethane I would be sanding, but not Mod Podge.
Step 7: Screw-in the feet to the anchors under the tray, and you're off to the races!
What I like about the screw-in feet is that you can easily take them off for easy storage in your cupboards.
Step 8: Enjoy!
What I love about painting is the layering process that goes into creating life-like renderings. Building colours on top of colours, with finer and finer lines is complex and completely mesmerizing. I love it. When I did this breakfast in bed tray I was working with a very paired-down palette, so it was a question of lightening one or two colours for added detail.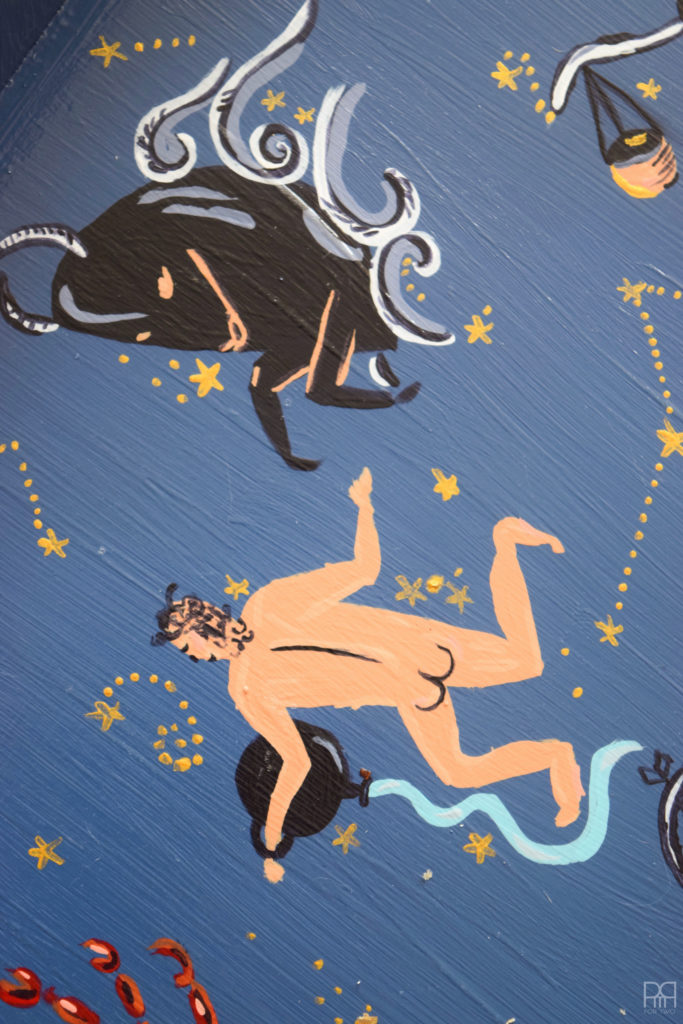 I've never been a huge fan of carnations, but the colours on these ones caught my eye. I must say, I am a convert! Done are the days of primary colour carnations that just look cheap – let's embrace beautifully dynamic colours.
What breakfast in bed tray is complete without a little bowl for jam and cute spoon to go with?! I don't know, but you can find cute alternatives on Wayfair.
Bruce was my very handsome and cooperative model for this shoot. The space looked empty without him, and since he's almost always in bed with us, I figured I'd let him into the room for the shoot.
Those bum cheeks! hehehehe
I love the taper on the legs – I think they're the perfect addition to this tray.
And yes, we don't sleep with curtains. We don't have eastern exposure in the bedroom so we don't get the sun in our eyes each morning, and there's something to be said for sleeping under the stars out here.
If you need me, I'll be enjoying breakfast in bed tomorrow ✌????